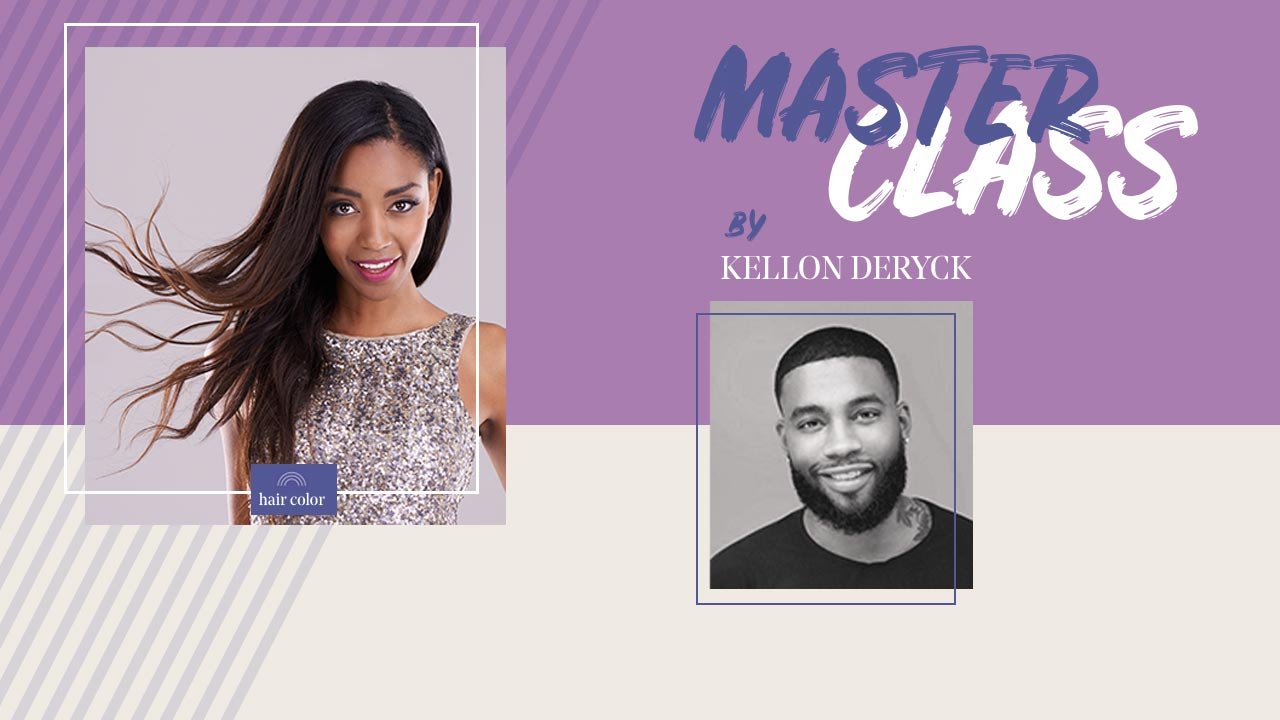 There's no doubt about it, hair color is huge these days. Whether you want to rock a platinum blonde hair color or rainbow hair color, you'll be in good company, as plenty of celebs and everyday women alike are dyeing their hair a variety of beautiful shades. We spoke with Kellon Deryck, L'Oréal Paris expert and Atlanta-based hairstylist who specializes in wigs and extensions, for his insight into how to color wigs and extensions and care for color-treated hair.
L'Oréal Paris Beauty Magazine: What got you started in the business?
Kellon Deryck: Growing up going to the salon once a week with my mother sparked my interest in hair. Seeing women walk into salons looking one way and leaving a whole new person was always exciting to see.
LOP BMAG: What is it about weaves and wigs that you love so much?
KD: My love for transformations fueled my passion for wigs and weaves.
LOP BMAG: What are the most popular services at your salon?
KD: At the Kellon Deryck Salon, we specialize in color, extensions, and wig applications. People fly from all over the world for these services, as we are known as "the best in the game."
LOP BMAG: What's your Flawless Illusion Technique?
KD: The Flawless Illusion Technique is demonstrative, combining the techniques of hair knowledge, styling knowledge, and color knowledge.
LOP BMAG: What's the prep like for dyeing a lace front wing?
KD: In order to color a lace front wig, you must protect the lace of the wig from being colored. After that is done you can perform a normal color application to the unit as if it is a human head of hair.
LOP BMAG: Do you need to tint the lace on a lace front wig?
KD: Tinting of a lace varies upon the skin color of the person who is wearing the wig. It also depends on the color of lace that was used to create the wig.
LOP BMAG: How do you make a lace front wig look natural?
KD: Manipulating the hairline to look natural, followed by cutting and styling will create a natural look for the hair unit.
LOP BMAG: How do you clean the lace properly after it's been colored?
KD: It is very hard to get permanent color out of the lace of a wig, so it is very important to protect the lace from the color service. If colored carefully you will not ruin the lace of the wig and it could be shampooed normally.
LOP BMAG: What are some of the benefits of wearing a wig?
KD: Wigs are great for versatility! Many women of this millennium love to be able to change their hair color and texture without compromising the integrity of their natural hair.
LOP BMAG: What precautions do you have to take before coloring a weave or wig?
KD: Just like natural hair, it is best to "swatch test" on wigs because they are constructed with human hair. Hair comes from different donors and it is hard to tell if it has been color treated prior to the construction of the wig.
LOP BMAG: Is the coloring process different depending on whether your weave is made from synthetic or human hair?
KD: Human hair wigs can be color treated as if it is someone's natural hair. There is no way to lift the color of synthetic wigs, although the L'Oréal Paris Colorista 1-Day Spray is great for adding some funky colors to synthetic wigs.
LOP BMAG: If you want to rock blonde hair or a rainbow hair color, what's the best way to go about doing so?
KD: The best way to achieve a high lift blonde wig, or rainbow-colored wig is to start off with a 613-blonde wig. When starting off with a high lift blonde wig, it will be less harsh on your hair unit.
LOP BMAG: Do you have to color your own roots?
KD: It is important to match your hair color with the color of the extensions of your choice.
LOP BMAG: What are some trendy hair colors you're seeing this year?
KD: In 2018, I see everyone transitioning from the trend of the high lift blondes to very soft pastel fantasy colors.
LOP BMAG: How do you conceal roots on a weave?
KD: When wearing weaves in extensions, the L'Oréal Magic Root Cover Up Spray can help covering the tracks from the extensions. By spraying root cover up in between your leave out and the tracks, it creates a seamless transition from your natural hair and the extensions.
LOP BMAG: Could someone color their weave at home or is the process best left to a professional?
KD: To avoid compromising the integrity of your extensions, its best to get color services done from a licensed professional.
LOP BMAG: What's the best way to care for a color-treated weave? Any tips for washing hair to help care for and maintain color?
KD: When shampooing color treated extensions, it's best to use shampoos that are low in sulfates.
LOP BMAG: Is there anything that you should be careful about after coloring your weave?
KD: Trying to keep your shampoos to a minimum and replacing your shampoos with co-washing will keep your color vibrant.
LOP BMAG: What's the touchup process like for weaves and lace front wigs?
KD: When wearing weaves and wigs, it's best to schedule hair appointments every 2-3 weeks for touchups and maintenance.
{ "@context": "https://schema.org/", "@type": "WebPage", "speakable": { "@type": "SpeakableSpecification", "cssSelector": ["speakable-content"] }, "url": "https://es.lorealparisusa.com/revista-de-belleza/coloracion/tutoriales-coloracion/coloring-wigs-weaves-extensions" }
Descubrir más trucos y consejos
Ver todos los artículos
Shop Featured Hair Color products
Discover More
{ "@context": "http://schema.org", "@type": "BreadcrumbList", "itemListElement": [ { "@type":"ListItem", "position": 1, "item": { "@id": "/", "name": "Home" } } , { "@type":"ListItem", "position": 2, "item": { "@id": "https://es.lorealparisusa.com/revista-de-belleza", "name": "Revista de belleza" } } , { "@type":"ListItem", "position": 3, "item": { "@id": "https://es.lorealparisusa.com/revista-de-belleza/coloracion", "name": "Ideas atrevidas de profesionales de la coloración" } } , { "@type":"ListItem", "position": 4, "item": { "@id": "https://es.lorealparisusa.com/revista-de-belleza/coloracion/tutoriales-coloracion", "name": "Tutoriales de coloración" } } , { "@type":"ListItem", "position": 5, "item": { "@id": "https://es.lorealparisusa.com/revista-de-belleza/coloracion/tutoriales-coloracion/coloring-wigs-weaves-extensions", "name": "coloring-wigs-weaves-extensions" } } ] }