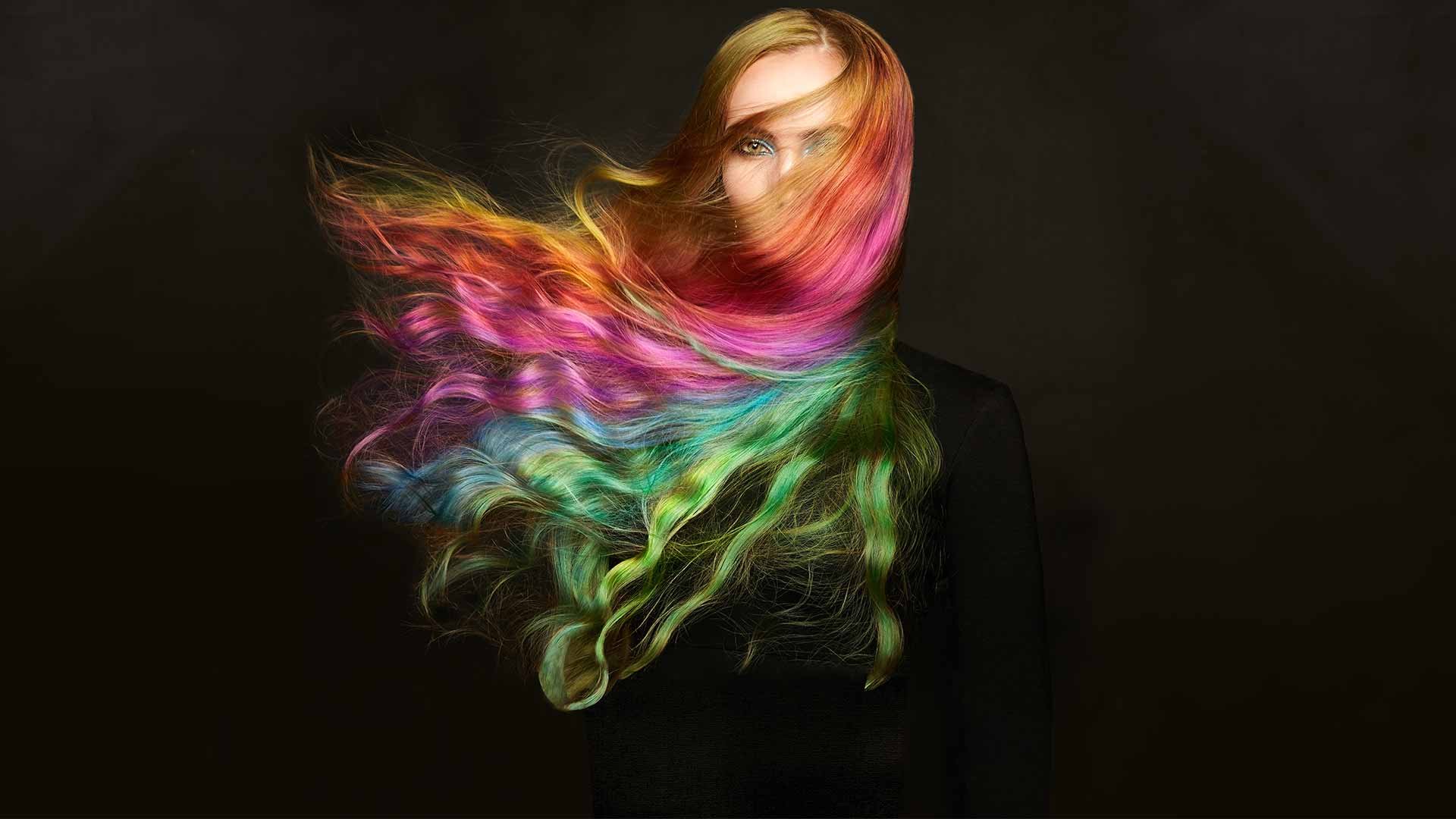 If you're looking to change up your hair color with a trend that's going to make a statement, allow us to point you in the direction of rainbow hair. The rainbow hair color trend is going strong, with no evidence of slowing down. In other words: Now is as good a time as any to saturate your strands with color for a truly head-turning 'do! But where should you start? You need to know what rainbow hair color you should choose and what the best rainbow hair dye is to get your desired look.
Since deciding between blonde hair, brown hair, and red hair can be tough enough, trying to figure out which rainbow hair color is right for you is no easy task. To eliminate the added stress, we're sharing 31 rainbow hair color ideas—from a pastel option to hidden rainbow hair—for you to achieve your most magnificent mane.
#1. MOONSTONE
Crystal hair colors are trending at the moment, with moonstone hair being one such trend. This hair color idea is a version of hidden rainbow hair. On the outside, instead of a blonde or brown shade, you'll sport a silver, near-white hue that conceals a handful of soft rainbow colors beneath the top layer. When you wear your hair down, it'll be your own little secret!
Get the look at home: L'Oréal Paris Superior Preference Fade-Defying Shine Permanent Hair Color in Soft Silver Blonde, L'Oréal Paris Féria in Smokey Blue, Purple Smoke, and Rose Gold
#2. PASTEL RAINBOW HAIR
Is a bold, rainbow hair color a little too intimidating? You can take things down a notch by coloring your mane with a subtler alternative: pastel rainbow hair dye. This hue will still include all the beautiful colors of the rainbow—red, orange, yellow, green, indigo, and violet—but with softer, less saturated versions of each shade.
Get the look at home: L'Oréal Paris Colorista Semi-Permanent Hair Color in SoftPink, Blue, and Purple
#3. RAINBOW UNDERCUT
If you want a work-friendly rainbow hair color, a rainbow undercut may be a good option. Since some offices simply aren't on board with the whole rainbow hair color trend that has taken social media by storm, it's time to get a little creative. This hidden rainbow undercut is a great way to do that. With an undercut, the bottom third of your hair on the underside of your head is shaved off.
You can get custom patterns shaved into this section of hair, and best of all, you can create one-of-a-kind colorful looks that will be hidden from sight when the rest of your hair is cascading over it. Until casual Friday, that is—in which case you can show your hidden rainbow hair color off with an updo! (Here's Everything You Need to Know About Shaving Your Head.)
#4. GEMSTONE HOLOGRAM
Sometimes it seems as though all the fun colors are meant for blondes, but not this one! This hair color embraces a series of gemstone colors placed throughout brown hair. Gemstone hologram hair is known for the way it's both bright and reflective while remaining true to fall's darker hues.
Get the look at home: L'Oréal Paris Colorista Hair Makeup Temporary 1-Day Color in Green, BronzeAuburn, and Raspberry
#5. HIDDEN RAINBOW ROOTS
We understand that using rainbow hair dye can be a little intimidating. If you're not quite ready to fully embrace the rainbow trend, consider getting hidden rainbow roots. Only visible when you run your hand through your hair, rock braided hairstyles, or perform the occasional hair flip, this hair color idea is perfect for those who want to experience the magic of a rainbow hair color without going all in.
#6. OIL SLICK
Here's the scene: You're walking to your car, only to get mesmerized by the dark puddle of oil you have to step over. As you go to step over it, you notice how the shades begin to change, revealing a gorgeous mermaid-like rainbow of colors. Now picture that same effect on your hair. Oil slick hair is all about having a solid surface hue with rainbow tints blended within it. Most often, the base color will be somewhere along the spectrum of blue smoke to ashy black, with bright rainbow colors of magenta, purple, cobalt, and green painted throughout.
Get the look at home: L'Oréal Paris Colorista Hair Makeup Temporary 1-Day Hair Color Spray in Blue, Hot Pink, and Purple.
#7. PEEK-A-BOO HAIR
Not ready to shave off a third of your hair but still want to keep your rainbow hair on the DL? Girl, we feel you. Instead, consider getting a peek-a-boo rainbow hair color. To the naked eye, your hair will look totally professional—but as soon as you have the opportunity for a hair flip (or wear an updo), you can let your pretty rainbow hair color stand center stage.
#8. RAINBOW CEREAL HAIR
Interested in taking your rainbow hair to brighter and bolder heights? Feast your eyes on rainbow cereal hair. One of the hottest hair color trends, this hue keeps your base hair color intact and adds streaks of hot pink, yellow, orange, and green to your hair. Ideal for those looking to shake things up without a full-color change, rainbow cereal hair can't be beat. Visit our article, How to Do Rainbow Cereal Hair, to transform your mane.
#9. RAINBOW GRUNGE HAIR
If you love to take hairstyle cues from your favorite rock stars, rainbow grunge hair will surely tickle your fancy. Featuring a grey base that transitions into rainbow shades painted throughout your mane, this hair color trend serves up the right amount of dimension and depth. We also dig that you can customize this look to suit your style. Sounds like an idea you can get behind? Click through our article, How to Get Rainbow Grunge Hair, for all the details.
#10. NEON RAINBOW HAIR
It's safe to say that you have to love playing with color to give the rainbow hair trend a go. If you're also partial to stepping outside-of-the-box, you may want to add neon rainbow hair to your must-try list. Offering everything you love about the colorful trend, this look provides your mane with a bolder, more dramatic hue that won't go unnoticed.
Get the look at home: L'Oréal Paris Colorista Hair Makeup Temporary 1-Day Hair Color in Neon Green, Neon Yellow, and Neon Pink
#11. RAINBOW OMBRÉ HAIR
Prefer to mix all your favorite hair color trends into one? It's time to get acquainted with rainbow ombré hair. Serving up a gorgeous transition of color from the root to the tip with dark roots and lighter ends, this trendy hair color is just what you need to make a stylish statement.
#12. RAINBOW SOMBRÉ HAIR
For those who love the look of ombré hair, but prefer a more subtle approach, rainbow sombré hair may be your perfect match. Known as a softer variation of the trend, this look is all about blending various colors into your mane without the super bold finish. Ideal for anyone that's hesitant about highlights, this look is a great way to test the waters.
#13. GLOW IN THE DARK RAINBOW HAIR
What's better than rainbow hair? Rainbow hair that glows in the dark, of course! A popular Pinterest trend, this super-chic and futuristic take helps you make a lasting impression. So, whether you're heading to the movies or enjoying date night, you can count on your mane to do all of the talking.
Editor's tip: Want to pair your glow in the dark rainbow hair with another trend? Add some rainbow braiding hair into the mix to rev up the texture for a beautifully woven look.
#14. DARK RAINBOW HAIR
While bright rainbow hair is totally on-trend, you can switch things up with a darker hue, too. Perfect for those who love to take a walk on the dark side, a blend of dark blues, purples, and greens will add the right amount of edge and mystique to your look.
#15. SUNSET HAIR
Are you game for emulating one of nature's best views? If so, it's time to get familiar with sunset hair. This multi-colored masterpiece consists of a deep blue or purple base color with lengths and ends that fade from orange to pink to yellow or red. A romantic way to bring the rainbow hair trend to life, your locks will sport a vivid wash of color that you'll adore. Want in? Read our article, How to Achieve a Sunset Hair Color, to get the look.
#16. MUTED RAINBOW HAIR
If you're looking for a way to tone down the rainbow hair trend, it may be smart to try a muted spin. Featuring an array of dusty hair colors with warm and neutral tones, this rainbow hair variation is a solid pick for those who love to flaunt color without the dramatic finish.
Get the look at home: L'Oréal Paris Colorista Hair Makeup Temporary 1-Day Hair Color in Silver Blue, Lilac, and Grey
#17. MERMAID HAIR
Care to get your feet wet with the rainbow hair trend? Mermaid hair will rise to the occasion. This look consists of blue, green, and purple shades that come together to create a swoon-worthy hue. A nice change of pace for anyone looking to step into the world of bold hair color, this offering will become your go-to pick in no time. Click through to our article, How to Get a Mermaid Hair Color, to sport a mythical mane.
#18. PEARL HAIR
While there are plenty of rainbow hair trends to try, there's something about pearl hair that we can't get enough of. A surefire way to amp up your beauty look with iridescent locks, this hair color flaunts silver, pink, blue, and purple shades for an ethereal vibe. Visit our article, Mother of Pearl Hair: How to Get This Summer's Hottest New Hair Color Trend, for more information.
#19. SUCCULENT HAIR
Another rainbow hair trend that's too cute to boot? Succulent hair! Featuring a layered dyed technique that flaunts green, red, and purple shades, this hair color emulates the look of succulents for the ultimate plant-inspired mane. We also appreciate that this trend flaunts expertly placed colors for a natural-looking fade. Are you game to try the look? Head on over to our article, How to Do Succulent Hair, to bring this chic color to life.
#20. KALEIDOSCOPE HAIR
Love to add a dose of nostalgia to your hair color? Consider it done with kaleidoscope hair! Similar to those colorful patterns you'd admire through toy kaleidoscopes as a kid, this hair color consists of weaving ultra-light pastel colors through your strands for a prismatic look. Leave traditional rainbow hair behind and learn How to Get Kaleidoscope Hair to upgrade your strands.
#21. UNICORN HAIR
Magical-looking hair is all the rage, and unicorn hair is one of the best ways to rock the trend. Equal parts versatile and chic, unicorn hair combines an array of different pastel colors and uses a balayage technique for a super-pretty look. A nice option for those who adore gradient color, you're guaranteed to be smitten. Head on over to our article, How to Get a Unicorn Hair Color, to master the trend.
#22. SHERBET HAIR
Indulging in a bowl of sherbet is always a great idea. So, why not extend your love for the frozen treat to your locks with sherbet hair. Another member of the rainbow color family, this variation involves blending pink, orange, and peach shades for a light and bright finish. What's not to love? Click through our article, How to Do Sherbert Hair, to give your locks a dessert-inspired spin.
#23. GEODE HAIR
The last thing on your mind may be to emulate a rock-inspired hair color, but in the case of geode hair, you may want to hop on the bandwagon. Featuring sparkling purple and blue tones that are used to mimic the look inside of a geode, it's a creative and unique way to rock a faded rainbow hair color. Have we piqued your interest? We thought so! Learn How to Get Geode Hair for an unforgettable look.
#24. TIE-DYED HAIR
Tie-dye was a popular trend back in the '90s, and now it's resurfaced on the hair color front. Inspired by the rainbow hair trend, this look requires the use of a hair marbling technique to swirl your hair color to perfection. The true epitome of a unique and quirky look, this hair color will make your locks the talk of the town. If you're ready to turn heads, learn How to Get Tie-Dye Hair with Hair Marbling.
#25. DIP-DYED RAINBOW HAIR
Now that we have the dyed hair trend on your brain, it's only right that we put dip-dyed rainbow hair on your radar. A fabulous low-maintenance option, this look involves coloring just the ends of your hair, so you don't have to worry about any touch-ups or uneven color during the growing out phase.
#26. LAVENDER RAINBOW HAIR
Purple hues your forte? Give your locks a tasteful and stylish mix of color with lavender rainbow hair. Blending dark blue, purple, and pink shades for a dark and lovely combination, this mystic look tips the style scales in your favor.
Get the look at home: L'Oréal Paris Colorista Hair Makeup Temporary 1-Day Hair Color in Blue, Purple, and Pink Violet
#27. CHUNKY RAINBOW HIGHLIGHTS
If you're in the mood for bold highlights, consider elevating your look with chunky rainbow highlights. As the name suggests, this trend gives you thick and bold tinges of color weaved through your mane for a glorious pop of color.
#28. UNDERLIGHTS
We've already discussed the wonders of peek-a-boo hair, but underlights deserve some love and attention as well. A spin-off of the hair color trend, this look involves highlighting the bottom layer of your mane with an array of vibrant, colorful hues for a modern touch. Ready to play with color? Visit our article, The Underlights Trend Is All About an Unexpected Pop of Color, to jazz up your hair.
#29. HALF-PASTEL, HALF-RAINBOW
With a dozen new hair color trends popping up every day, it makes perfect sense to mix and match your favorite looks from time to time. We're currently swooning over the half-pastel and half-rainbow hair trend. Providing your locks with a taste of the two-toned look, one side of your head sports a pretty pastel shade while the other flaunts a multi-tonal look. Chic, creative, and edgy, this hair color is just what you need to up the ante.
#30. ROSE & LILAC PASTEL HAIR
Can't resist soft rainbow hair color? We don't blame you! After all, there's something extra special about pastel hair that sets it apart from the rest. So, it's no surprise that rose and lilac pastel hair is trending. This look features blonde roots that gradually fade into gorgeous rose and lilac shades at the ends. It's just as pretty as you would imagine!
Get the look at home: L'Oréal Paris Colorista Hair Makeup Temporary 1-Day Hair Color Spray in RoseGold and Pastel Lavender
#31. RAINBOW COLOR MELT
Last but certainly not least, we have the rainbow hair color melt. Known as the stylish result of using ombré and sombré highlight trends, this offering blends highlights with your base hair color for a "melted" effect, so you can't tell where one color starts and the other ends. Whether you're working with brunette, blonde, or black strands, this technique will do your rainbow hair justice. Intrigued? Our article on What You Need to Know About the Color Melting Hair Trend awaits.
HOW TO CARE FOR A RAINBOW HAIR COLOR
Hair care for bold rainbow hair colors is two-fold. In short, it really all depends on the rainbow hair dye you use. If you opt for a semi-permanent rainbow hair color, you don't really need to worry about maintenance, as it will wash out in just a few washes regardless. Now, if you choose to go with a more permanent option, that's another story. As with all permanent hair colors, in order to keep your rainbow hair color vibrant, there are a few hair care tips you'll want to follow—see below for those.
RAINBOW HAIR CARE TIP #1: UPGRADE YOUR HAIR CARE ROUTINE
Since you switched things up with a new hair color, you'll need to follow suit with your hair care products. Stock your shower with a system of nourishing shampoo and conditioner formulated for color-treated hair, such as the L'Oréal Paris EverPure Repair & Defend Shampoo and the L'Oréal Paris EverPure Repair & Defend Conditioner. Once or twice a week, swap out the conditioner for the L'Oréal Paris EverPure Repair Remedy Balm to give your rainbow hair color the extra TLC it deserves.
RAINBOW HAIR CARE TIP #2: TURN DOWN THE HEAT
It's not just about the products you use, either. Show your rainbow hair color some love by turning down the dial in the shower—after all, scalding hot water can strip your hair of essential oils, which can leave your hair feeling dry and looking dull. Rinse off in lukewarm water instead.
RAINBOW HAIR CARE TIP #3: EMBRACE YOUR HAIR'S NATURAL TEXTURE
Rainbow hair colors look especially pretty when paired with curls or waves, so apply a generous amount of the L'Oréal Paris Advanced Hairstyle CURVE It Elastic Curl Mousse onto damp hair. Scrunch from the roots to ends and let your hair air dry. The end result: Soft, bouncy curls!
RAINBOW HAIR CARE TIP #4: ALWAYS USE HEAT PROTECTANT
There's no denying that certain styles call for your heat styling tools. Since excessive heat usage can take a toll on your strands, it's essential to use a heat protectant. The L'Oréal Paris Advanced Hairstyle SLEEK IT Iron Straight Heatspray protects your hair from heat, calms frizz, and seals in shine for healthy-looking locks.
Next up: Want another colorful hair color idea to try? Here's How to Get Galaxy Hair.
{ "@context": "https://schema.org/", "@type": "WebPage", "speakable": { "@type": "SpeakableSpecification", "cssSelector": ["speakable-content"] }, "url": "https://es.lorealparisusa.com/revista-de-belleza/coloracion/tendencias-coloracion/rainbow-colored-hair" }
Descubrir más trucos y consejos
Ver todos los artículos
Shop Featured Hair Care products
Discover More
{ "@context": "http://schema.org", "@type": "BreadcrumbList", "itemListElement": [ { "@type":"ListItem", "position": 1, "item": { "@id": "/", "name": "Home" } } , { "@type":"ListItem", "position": 2, "item": { "@id": "https://es.lorealparisusa.com/revista-de-belleza", "name": "Revista de belleza" } } , { "@type":"ListItem", "position": 3, "item": { "@id": "https://es.lorealparisusa.com/revista-de-belleza/coloracion", "name": "Ideas atrevidas de profesionales de la coloración" } } , { "@type":"ListItem", "position": 4, "item": { "@id": "https://es.lorealparisusa.com/revista-de-belleza/coloracion/tendencias-coloracion", "name": "Tendencias de coloración" } } , { "@type":"ListItem", "position": 5, "item": { "@id": "https://es.lorealparisusa.com/revista-de-belleza/coloracion/tendencias-coloracion/rainbow-colored-hair", "name": "rainbow-colored-hair" } } ] }