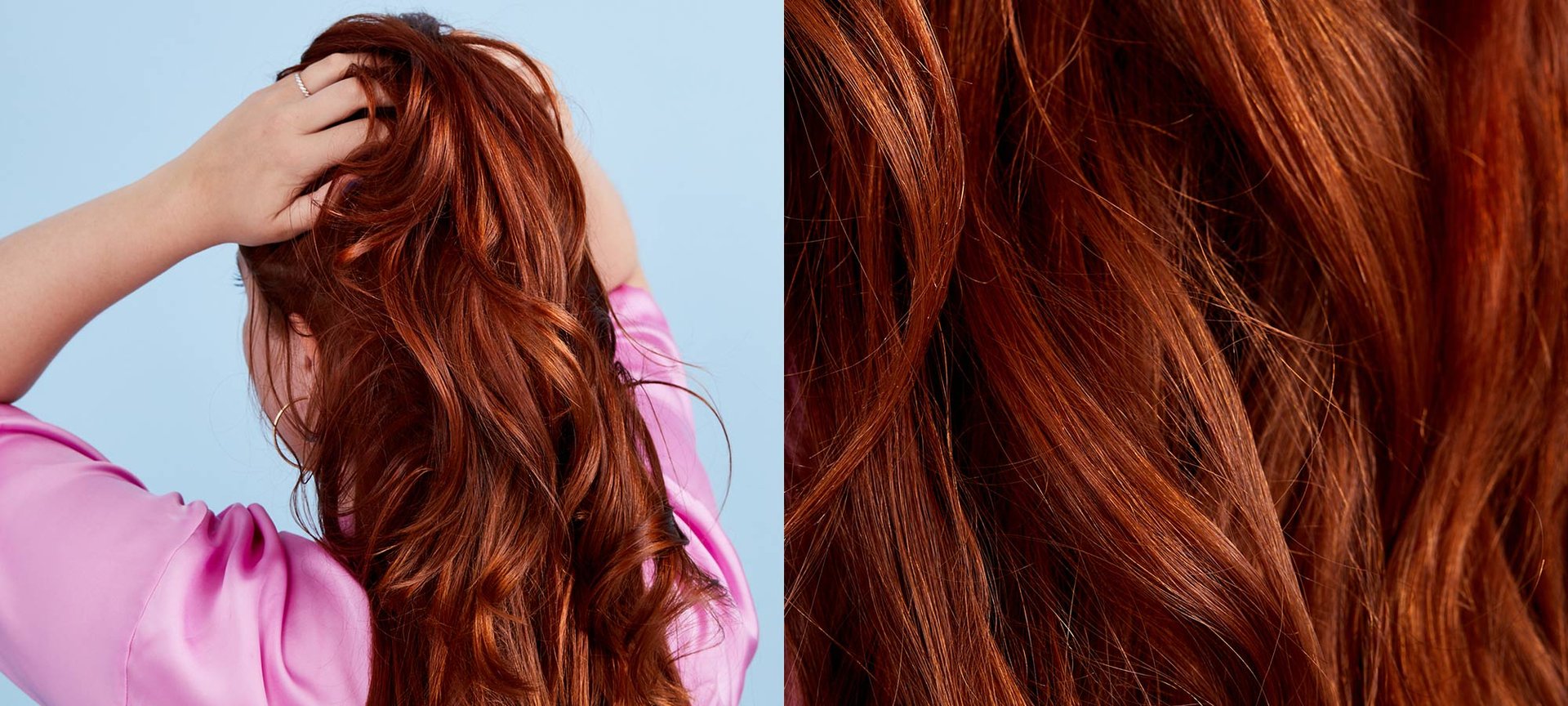 If you were born with fiery red locks consider yourself lucky. Natural red hair isn't all that common—which might explain why it's such a popular hair color idea. With a wide range of color shades—from strawberry blonde and pumpkin spice to copper and fire engine red, the opportunities to embrace the red hair color trend are virtually endless.

Thinking of seeing red in your hair color future? Let us help you find the perfect shade match for your sassy siren strands. Whether you're looking for the best red hair dye or in need of some hair care tips for maintaining your crimson tint, we've got you covered!

Is Red Hair Right For You?
The best part of changing your hair color is that there are so many colors in the rainbow to choose from. However, some colors may compliment your hair type and skin tone better than others. Curious if red will be a good hue for you? Get expert advice from the L'Oréal Paris Haircolor Concierge and read on for a few other things to consider:

Consider Your Hair Type
What's your natural hair color? This is extra-important for at-home hair color application. It's easy to know just how far you can push your strands when you have a realistic starting point. And knowing your natural hair color makes those pictures on the side of each box the ultimate color guide.


Has your hair been color-treated previously? it's always easier to make your hair richer and darker than lighter—especially if you already have color in your hair. But if your frequently dyed tresses are looking dry or brittle, it might not be your best bet to go ruby red. Since it could be hard to apply the color evenly all over.

Assess Your Skin Tone
To determine which red hair colors you can and can't pull off, a good rule of thumb is to choose a red with the same undertones as your skin. For instance, girls with pink undertones (generally fair-skinned gals) can go lighter—think coppery reds—but the level of blue color in, say, chestnut brown hair could make them look too pale. Ladies with medium, olive skin tones can carry more pigmented hues, like auburn hair color or burgundy hair, both of which are reddish-brown. And if you have a darker skin tone, you'll look show-stopping with fiery cherry-red strands.

Editor's Tip: Keep in mind, however, there's no one rule across the board. At the end of the day, beauty is all about exploration and you should feel free to experiment with any hair color regardless of your skin tone or undertones.

Our Best Red Hair Dyes
Ready to rock the red? Choose one of the red shades from the L'Oréal Paris Superior Preference, L'Oréal Paris Féria, or L'Oréal Paris Excellence Creme collections and you'll be well on your way—just be sure to follow the included instructions.

How To Care For Red Hair
Once you've gone red, it's important to put together a hair color maintenance routine. Here's what you can do to stretch out your dye job:

1. Use Color-Safe Shampoo and Conditioner
Red hair colors can fade fast, so it's vital to use hair care products that are meant for color-treated hair. Swap out your regular shampoo and conditioner for a sulfate-free, color-safe hair care system, like the L'Oréal Paris EverPure Sulfate Free Bond Strengthening System. Using the L'Oréal Paris EverPure Sulfate Free Bond Strengthening Color Care Shampoo with L'Oréal Paris EverPure Sulfate Free Bond Strengthening Color Care Conditioner is exactly what you need to bring your dull, over-processed mane back to a timeline-worthy state. Perfect for all hair types and textures, it deeply moisturizes and nourishes damaged hair.

2. Freshen Color With A Hair Gloss
To keep your red color shiny and fresh, a hair color gloss like the L'Oréal Paris Le Color Gloss One Step In-Shower Toning Gloss can help keep your hair from becoming dull and appearing damaged. Hair gloss can help you maintain a longer-lasting and more vibrant hair color, as well as reduce split ends, frizzy hair, and overall dryness. Think of a hair color gloss as a sort of refresher treatment for your current color, helping enhance and revive both your shade and your strands.

3. Opt For Dry Shampoo Between Washes
Need to freshen up your hair in general—not just your color? That's what dry shampoo is for! The L'Oréal Paris Elvive Dream Lengths Air Volume Dry Shampoo instantly absorbs oil and won't leave behind any white residue. Spray the dry shampoo directly onto your roots, then brush through your hair. Whether you're looking to add volume to dull day-old hair or want to give texture to bone straight strands, this will help you do that, and more.


Next: The Ultimate List of Flattering Makeup for Redheads
Photo Credit: Chaunte Vaughn, Art Director: Hannah Packer, Associate Creative Producer: Becca Solovay
{ "@context": "https://schema.org/", "@type": "WebPage", "speakable": { "@type": "SpeakableSpecification", "cssSelector": ["speakable-content"] }, "url": "https://es.lorealparisusa.com/revista-de-belleza/coloracion/tutoriales-coloracion/dyeing-hair-red" }
Descubrir más trucos y consejos
Ver todos los artículos
Shop Featured Hair Color products
Discover More
{ "@context": "http://schema.org", "@type": "BreadcrumbList", "itemListElement": [ { "@type":"ListItem", "position": 1, "item": { "@id": "/", "name": "Home" } } , { "@type":"ListItem", "position": 2, "item": { "@id": "https://es.lorealparisusa.com/revista-de-belleza", "name": "Revista de belleza" } } , { "@type":"ListItem", "position": 3, "item": { "@id": "https://es.lorealparisusa.com/revista-de-belleza/coloracion", "name": "Ideas atrevidas de profesionales de la coloración" } } , { "@type":"ListItem", "position": 4, "item": { "@id": "https://es.lorealparisusa.com/revista-de-belleza/coloracion/tutoriales-coloracion", "name": "Tutoriales de coloración" } } , { "@type":"ListItem", "position": 5, "item": { "@id": "https://es.lorealparisusa.com/revista-de-belleza/coloracion/tutoriales-coloracion/dyeing-hair-red", "name": "dyeing-hair-red" } } ] }