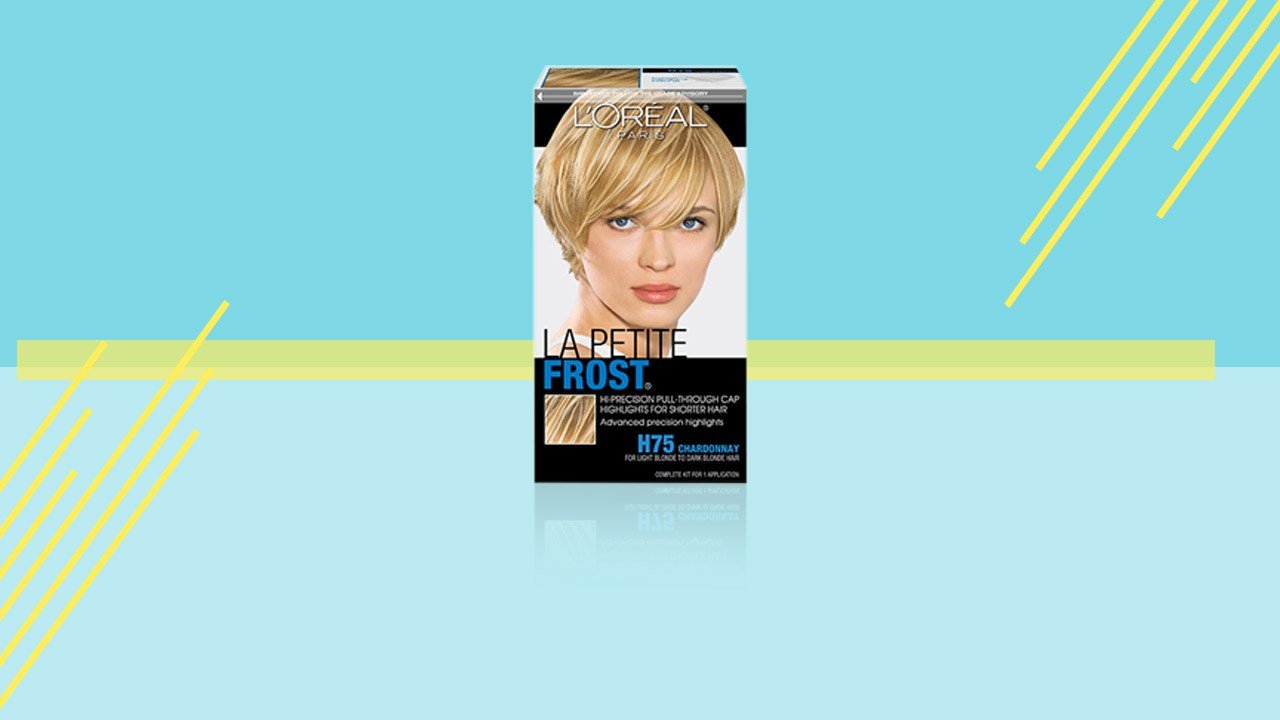 So, you want to experiment with highlights, but you don't want to hit up the salon to get a new hair color. Girl, we totally feel you. Luckily, there are quite a few at-home hair color kits you can use to get highlights. We're big fans of highlights because they can help brighten the overall appearance of your hair and give you a sun-kissed look that scream beach babe. Today, we're here to highlight (pun intended!) our L'Oréal Paris La Petite Frost kit. Keep reading to find out everything you need to know about coloring your hair with La Petite Frost and taking care of highlighted hair post-dye job. Follow along!
What Should You Know Before Using La Petite Frost for At-Home Highlights?
Before you break out your box of La Petite Frost and start highlighting your hair, there are a few things you should keep in mind. For starters, by their very nature, highlights are lighter than your natural hair color, and that means they require bleaching. If you're starting with a dark base shade, then it could even take multiple sessions to reach your desired level of highlight. Also, highlights can require a bit of maintenance, too. Once your roots start growing in, you'll want to touch up your highlights—so it's a good idea to keep an extra box of La Petite Frost stocked in your bathroom so that you can touch up your hair color when necessary. La Petite Frost is ideal for short hair or adding a few face-framing highlights. The easy highlighting cap lets you create perfectly placed, precise, even highlights. (To learn about trendy balayage highlights, read Balayage 101: Everything You Need to Know About This Highlighting Technique.)
How Do You Highlight Your Hair at Home with La Petite Frost?
Highlighting your hair at home involves a slightly different application technique than allover color. Whereas you'd apply allover color starting at your roots and working your way down, you'd apply at-home highlights with a cap. To use the La Petite Frost At-Home Highlights, make sure to follow the instructions included with the packaging. This at-home hair color kit comes with a conditioning crème and a non-drip formula. You can use the highlighting cap to create precise highlights that are thin or thick—the end look is up to you! (Here are 6 Hair Highlight Trends for Fall 2017.)
How Do You Take Care of Highlighted Hair?
Now that you know how to highlight your hair at home using La Petite Frost Pull-Through Cap Highlights, it's time to move on to learning how to take care of highlighted hair. Colored hair requires special care, so look for a system of shampoo, conditioner, and hair mask formulated for color-treated hair. Try the L'Oréal Paris Elvive Color Vibrancy Intensive Protective Shampoo, L'Oréal Paris Elvive Color Vibrancy Intensive Protecting Conditioner, and L'Oréal Paris Elvive Color Vibrancy Repair and Protect Balm. Swap out the conditioner once or twice a week for the hair mask, which should be used after washing with the shampoo.
Beyond the shower, when it comes to styling your color-treated hair, make sure to use a heat protectant, like the L'Oréal Paris Advanced Hairstyle BOOST IT Blow Out HeatSpray or the L'Oréal Paris Advanced Hairstyle SLEEK IT Iron Straight HeatSpray before blow-drying or flat ironing your hair. If you choose to go with a heat-free look for the day, try using a hair mousse, hair spray, or hair cream, like the L'Oréal Paris Advanced Hairstyle AIR DRY IT Ruffled Body Mousse, L'Oréal Paris Advanced Hairstyle AIR DRY IT Wave Swept Spray, or L'Oréal Paris Advanced Hairstyle AIR DRY IT Undone Style Cream, before air drying your hair. (Here are 8 Adorable No-Heat Hairstyles.)

La Petite Frost isn't the only at-home highlighting kit we have to offer. Check out How to Use Frost & Design for At-Home Highlights to learn about another one of our at-home highlight kits.
{ "@context": "https://schema.org/", "@type": "WebPage", "speakable": { "@type": "SpeakableSpecification", "cssSelector": ["speakable-content"] }, "url": "https://es.lorealparisusa.com/revista-de-belleza/coloracion/tutoriales-coloracion/la-petite-frost-application-instructions" }
Descubrir más trucos y consejos
Ver todos los artículos
Shop Featured Hair Color products
Discover More
{ "@context": "http://schema.org", "@type": "BreadcrumbList", "itemListElement": [ { "@type":"ListItem", "position": 1, "item": { "@id": "/", "name": "Home" } } , { "@type":"ListItem", "position": 2, "item": { "@id": "https://es.lorealparisusa.com/revista-de-belleza", "name": "Revista de belleza" } } , { "@type":"ListItem", "position": 3, "item": { "@id": "https://es.lorealparisusa.com/revista-de-belleza/coloracion", "name": "Ideas atrevidas de profesionales de la coloración" } } , { "@type":"ListItem", "position": 4, "item": { "@id": "https://es.lorealparisusa.com/revista-de-belleza/coloracion/tutoriales-coloracion", "name": "Tutoriales de coloración" } } , { "@type":"ListItem", "position": 5, "item": { "@id": "https://es.lorealparisusa.com/revista-de-belleza/coloracion/tutoriales-coloracion/la-petite-frost-application-instructions", "name": "la-petite-frost-application-instructions" } } ] }