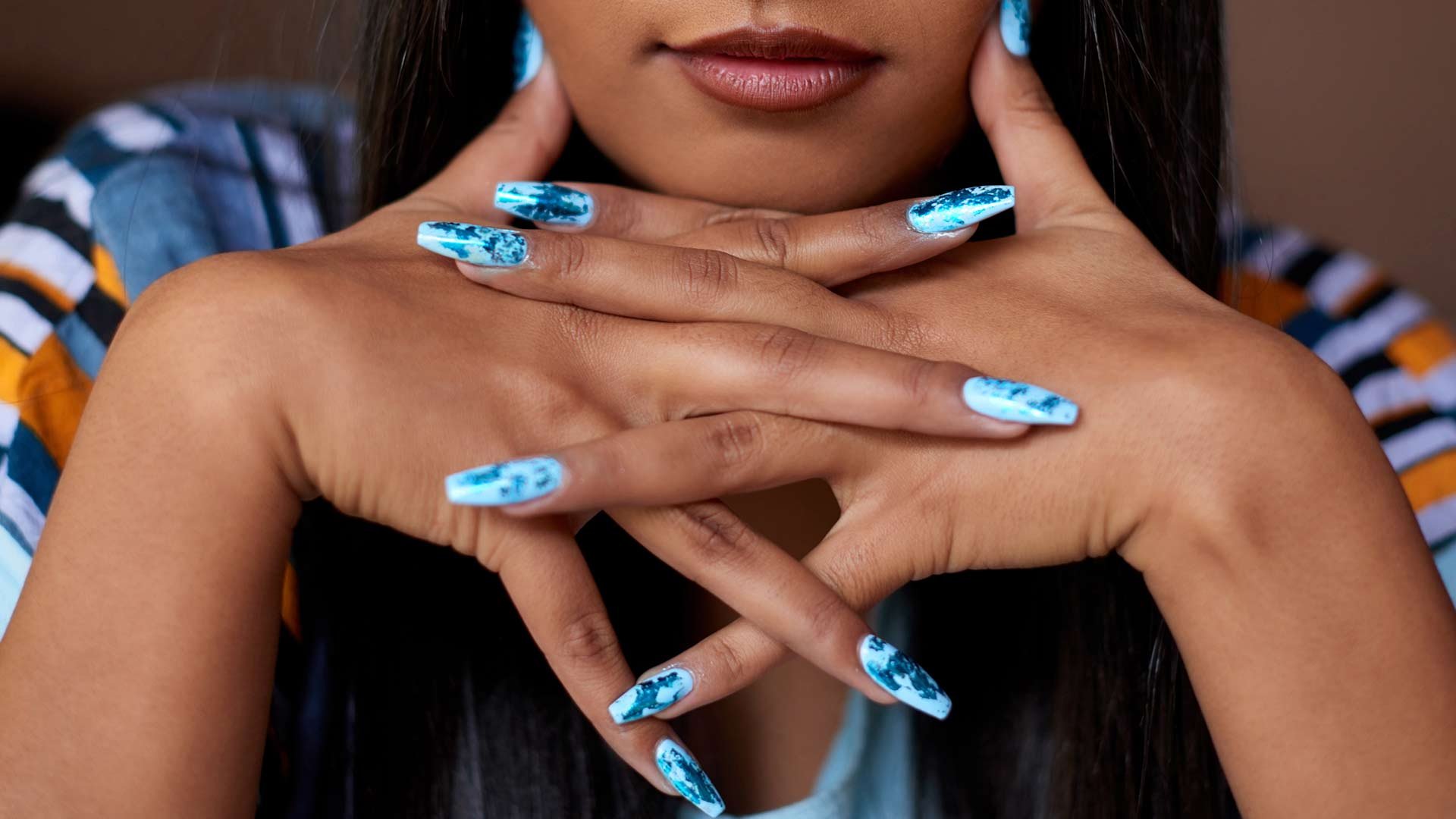 If you consider yourself to be a nail expert, then you know that there is something truly special about coffin nails. Known for their elegant shape, coffin-shaped nails are an excellent choice for those who are partial to short and long nails. While there is plenty of ways to rock a chic set, it can be hard to pinpoint the right design. Lucky for you, we're here to help. From geometric designs to animal print and everything in between, the possibilities are endless for a head-turning manicure. Want to level up your coffin nail game? Keep reading for 17 coffin nail designs that will make the perfect finishing touch to your 2020 beauty looks.
1. ANIMAL PRINT
If you're looking for a chic way to make your coffin nails the star of your look, animal print designs are a great place to start. A wise choice for those who love a daring design, animal print gives you free rein to get creative and make the design all your own. With the option of leopard print, zebra nails, cow designs, and more, we have a feeling this pick will become your favorite in no time.
2. PEARL-EMBELLISHED NAILS
Are you the type of gal that fancies sophisticated nail designs? Well, pearl-embellished coffin nails fit the bill. Perfect for days when you want to add a glamorous touch to your look, this design makes it oh-so-easy to create a luxurious vibe. We also dig that you can create this design in a matter of minutes. Simply stick pearls onto your nails with a dab of nail glue to score the look.
3. ZIG-ZAG NAILS
For those who don't mind stepping outside of the box, zig-zag nails will meet your standards. Flaunting thin gold lines and pink zig-zag detailing, this design takes things to the next level for a look that demands attention. Of course, you can totally switch up the color scheme to suit your needs. We especially love how the design looks on coffin acrylic nails for some extra length.
4. OMBRÈ MANICURE
You may think that ombré is reserved for your hair, but once you take a look at this gradient technique on coffin nails, you'll be totally smitten. Offering a gorgeous transition of color, this design allows you to rock two nail colors in one. Now that's what we call a chic design!
Need help creating a DIY ombré manicure? Here's How to Do Pink Ombré Nails All On Your Own.
5. FLORAL TEXTURED NAILS
If you're game to add a floral spin to your nails, this super pretty design will become your go-to pick. Another great option for coffin acrylic nails, the design uses powder to create a textured floral design that gives your manicure vintage flair. You can create a full set of floral textured nails or opt for accent nails—it's all up to you.
6. BLACK HENNA NAILS
Black henna nails have been gaining major traction in the beauty world, and it's easy to see why. They're a gorgeous option for incorporating intricate art onto your nails, and the design will surely complement the henna you flaunt on your palms and hands perfectly. Equal parts bold and chic, this coffin nail design should definitely make your must-try list.
7. THE FRENCH TWIST
Want to rock a modern take on a classic nail design? Feast your eyes on the French twist! A step-up from the traditional French manicure, this design features a curved white tip with an extra horizontal line underneath for a winning look.
8. FRENCH TRIANGLE TIPS
Now that we've stepped into Parisian territory on the manicure front, it's only right that we introduce you to French triangle tips. Instead of flaunting a white line straight across the tip of your nail, this design takes the look a step further with two diagonal stripes of color for a new and improved look. Best of all, you can mix and match different colors to make a bold statement.
9. GOLD STRIPED NAILS
Prefer to keep things simplistic with your coffin-shaped nails? Gold striped detailing won't disappoint. The true epitome of minimalist vibes, you can flaunt a thin line along your cuticles, add a few lines straight across your nail bed, or play with angular stripes to score an ultra-feminine look.
10. GALAXY NAILS
If you're looking to give short coffin nails a bit more personality, a galaxy nail design may be the answer. An amazing idea for showing off your love for the stars, this design boasts a space-inspired aesthetic that will give your nails an intergalactic finish.
11. GEOMETRIC DESIGN
Love to show off your coffin nails on Instagram? Well, prepare to stun your followers with this geometric coffin nail idea. Featuring various shapes painted strategically on your nails, the design takes nail art to new heights. Whether you prefer to keep things simple or intricate, your geometric nails will surely make a lasting impression.
12. POLKA DOTS
Another coffin nail idea you need to try? Polka dots! An excellent way to steer away from traditional coffin nail designs, polka dots allow you to express your creativity while allowing you to play with color. From small polka dots to large dots, you can totally spice things up without the fuss. Simply use the rounded tip of a bobby pin dipped into a little colorful nail polish to create your dots. Easy, peasy!
13. RHINESTONE NAILS
If you ask us, nothing beats a sparkly set of coffin-shaped nails, and rhinestones set the tone for a flirty look. Rhinestones add a glamorous yet luxurious element to your nails that won't go unnoticed. Like other embellishments, all you need is a bit of nail glue and your favorite rhinestone shapes to create some magic.
14. MARBLE NAILS
Now that we have luxury on your mind, it's only right that we introduce you to marble nails. Sporting a unique look that resembles marble surfaces, this design sets your nails apart from the rest. To get the look, simply use a small detail brush to paint grey veining onto white nails, then seal everything in with a thick top coat.
15. TWO-TONE NAILS
What's better than one nail color? We think two—and that's what you get when you give two-tone nails a try! Instead of having to worry about deciding between your two favorite shades, you can rock both colors in one. To start, choose two coordinating shades and paint half of each nail with one polish and the other side with your remaining shade.
16.EXTRA LONG NEGATIVE SPACE COFFIN NAILS
If you're ready to hop on the cool-girl bandwagon, extra-long negative space coffin nails are just the ticket. This option for long coffin nails is all about creating a transparent design that shows off your natural nails in a chic fashion. All you need to do is apply a strip of tape to your nails before painting them. Once your polish is dry, remove the tape to reveal a see-through design.
17. NAIL FOILS
If you're looking for one of the easiest coffin nail ideas that will catch major attention, using nail foils is the ticket. They're the perfect way to create nail art regardless of your skill level. Start by polishing your nails, then let them dry just until they're tacky. Press the foils directly onto your nails to transfer their metallic finish. You don't need to cover the whole nail; instead, add splotches of foil for a luxe-meets-grunge look.
{ "@context": "https://schema.org/", "@type": "WebPage", "speakable": { "@type": "SpeakableSpecification", "cssSelector": ["speakable-content"] }, "url": "https://es.lorealparisusa.com/revista-de-belleza/consejos-de-belleza/tendencias-belleza/coffin-nails-designs-and-ideas" }
Descubrir más trucos y consejos
Ver todos los artículos
Mejora tu rutina
Muestra más amor a tu nuevo look:
makeup
{ "@context": "http://schema.org", "@type": "BreadcrumbList", "itemListElement": [ { "@type":"ListItem", "position": 1, "item": { "@id": "/", "name": "Home" } } , { "@type":"ListItem", "position": 2, "item": { "@id": "https://es.lorealparisusa.com/revista-de-belleza", "name": "Revista de belleza" } } , { "@type":"ListItem", "position": 3, "item": { "@id": "https://es.lorealparisusa.com/revista-de-belleza/consejos-de-belleza", "name": "Ideas profesionales para tu look único" } } , { "@type":"ListItem", "position": 4, "item": { "@id": "https://es.lorealparisusa.com/revista-de-belleza/consejos-de-belleza/tendencias-belleza", "name": "Tendencias de belleza" } } , { "@type":"ListItem", "position": 5, "item": { "@id": "https://es.lorealparisusa.com/revista-de-belleza/consejos-de-belleza/tendencias-belleza/coffin-nails-designs-and-ideas", "name": "coffin-nails-designs-and-ideas" } } ] }