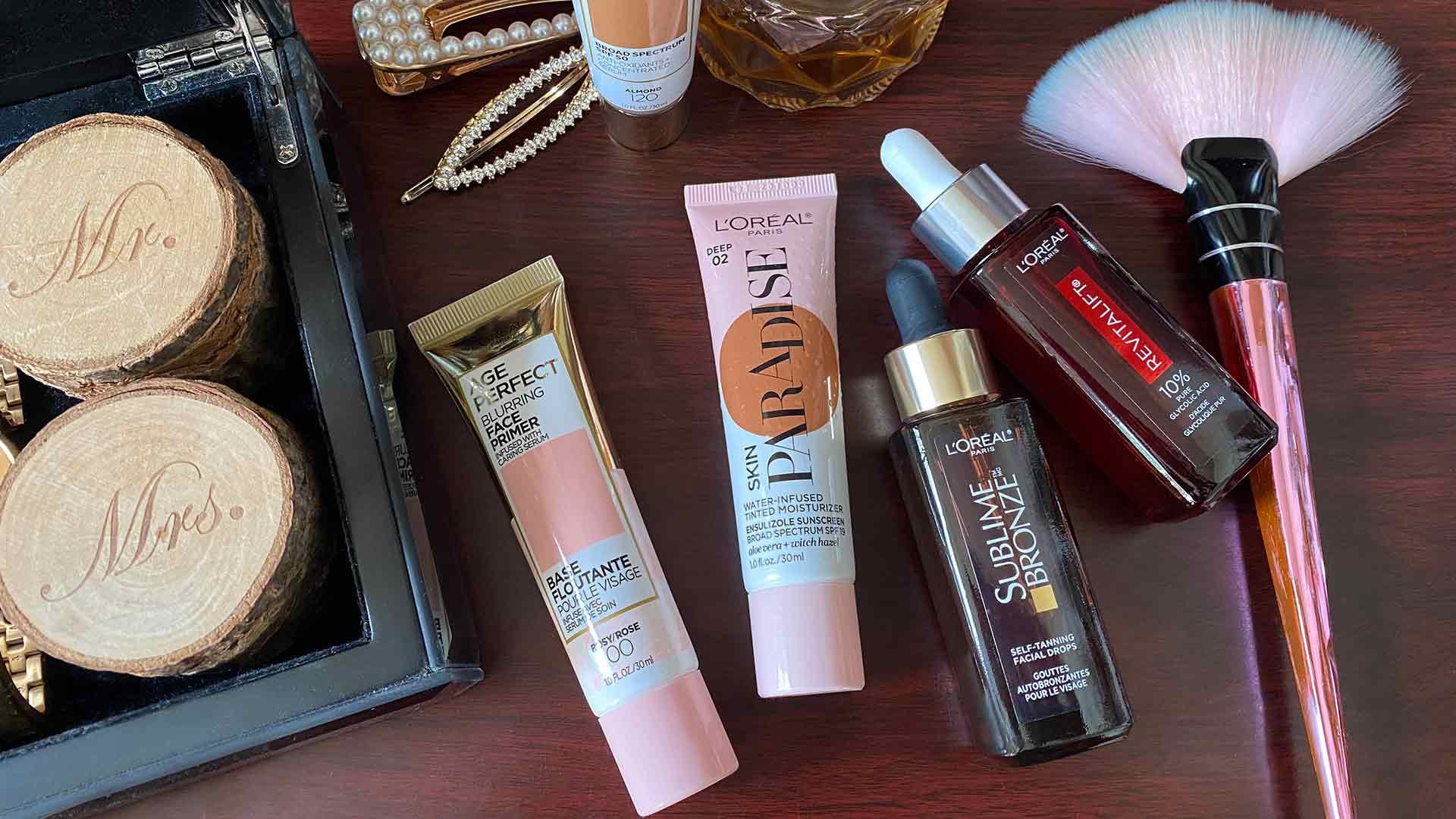 National Selfie Day is just around the corner but you may already be on overload from countless closeups of your besties, favorite celebs and influencers you follow. Sometimes we can't get enough of good selfies, and other times it feels like they'll never end. But with a post-vaccination summer in many of our futures, and even the prospect of putting on full glam again, we're excited for all the photos to come—even shelfies. Yup, we love pictures of shelves and vanities filled with products that help us get our best skin, brows, lips and other looks together season after season. There are just some products that are so pretty you want to take a picture of them. The bonus: These products are great for photos but they're even better for your skin care and makeup routines. Keep reading to get the 4-1-1 on these beauty must-haves from L'Oréal Paris that will inspire your next shelfie—and selfie too!
These self-tanning facial drops will get you likes on social media and IRL. Simply mix a few drops with your moisturizer and watch your streak-free, natural-looking tan develop in just hours. It's the perfect way to keep your glow going all summer and beyond, sans the unwanted UV damage.
If you haven't already come across countless shelfies and selfies that include this waterproof, heatproof and sweatproof foundation then you must have been on a social media diet. This powder foundation has TikTokers racing down the aisles of their local drugstores to get their hands on it—and for good reason. It's lightweight but full coverage, it has a matte finish but doesn't look cakey, and it can double as a foundation or a finishing powder for your liquid formulas.
If you prefer sheer, natural coverage, opt for this tinted moisturizer infused with witch hazel, aloe vera and broad spectrum SPF 19. Sure, it looks great in a photo with its pretty, pale pink packaging. But it'll look even better on your face, with its oil-free, radiant-finish formula.
One of our favorite beauty products to shelfie is lipstick and with so many colors in elegant gold packaging, this lipstick is an easy pick. Not to mention, it has a smooth and comfortable wear that doesn't smudge or feather. It's also non-drying so your lips can stay just as soft as they look kissable.
Graphic colored eyeliner has taken over our feeds as of late, and so has photos of the pretty eyeliner used to achieve the looks. We love this pick for its high-impact color that glides on smooth and stays put all day. It looks and feels liParis Skin Paradise Water Infused Tinted Moisturizerke ink but is as easy to use as a mechanical pencil. Try several colors at once to create a unique eye makeup look.
Taking your lashes to new heights is as easy as applying this mascara with a lightweight, air-whipped formula. The double-bristle brush separates and coats every lash from the base to the tip for weightless volume and a blown out lifted look. And the gorgeous package that reminds you of a hot air balloon is so Instagramable, you won't know whether to take a shelfie or a selfie first.
Editor's Tip: On the hunt for the perfect mascara based on your lash type? Use our Mascara Finder to help you compare different formulas, looks, benefits and even brush types to discover your favorite mascara (or two, or three).
This serum-infused primer will have your shelfies and your complexion coming up roses. Okay, that was corny, but the blurring face primer gives skin such a radiant and soft appearance, we couldn't help ourselves. Lines and pores are smoothed with a natural-looking soft-focus effect. Just make sure your photos are in full focus when you snap a few shots of its eye-catching gold and pearl pink tube.
The bold, red glass bottle of this serum might be the first thing to catch your eye, but it's the silky feel of the formula that will make you want to boast about it on social media. After just one week of use your skin will look younger and smoother. And over time the serum will help to even skin tone, and reduce the appearance of dark spots and wrinkles. Get ready to upgrade your selfie game!
Once you've applied your serum, then your moisturizer, don't forget your eye cream—and then take a photo! With a cooling formula and depuffing rollerball wand, this nourishing eye gel will bring moisture to the under-eye area while reducing dark circles and bags. Your eyes will appear brighter and more youthful in just one week. Bye, bye filters!
Photo Credit: Shalwah Evans
{ "@context": "https://schema.org/", "@type": "WebPage", "speakable": { "@type": "SpeakableSpecification", "cssSelector": ["speakable-content"] }, "url": "https://es.lorealparisusa.com/revista-de-belleza/consejos-de-belleza/tendencias-belleza/pretty-beauty-products-for-shelfie" }
Descubrir más trucos y consejos
Ver todos los artículos
Shop Featured products
Discover More
{ "@context": "http://schema.org", "@type": "BreadcrumbList", "itemListElement": [ { "@type":"ListItem", "position": 1, "item": { "@id": "/", "name": "Home" } } , { "@type":"ListItem", "position": 2, "item": { "@id": "https://es.lorealparisusa.com/revista-de-belleza", "name": "Revista de belleza" } } , { "@type":"ListItem", "position": 3, "item": { "@id": "https://es.lorealparisusa.com/revista-de-belleza/consejos-de-belleza", "name": "Ideas profesionales para tu look único" } } , { "@type":"ListItem", "position": 4, "item": { "@id": "https://es.lorealparisusa.com/revista-de-belleza/consejos-de-belleza/tendencias-belleza", "name": "Tendencias de belleza" } } , { "@type":"ListItem", "position": 5, "item": { "@id": "https://es.lorealparisusa.com/revista-de-belleza/consejos-de-belleza/tendencias-belleza/pretty-beauty-products-for-shelfie", "name": "pretty-beauty-products-for-shelfie" } } ] }