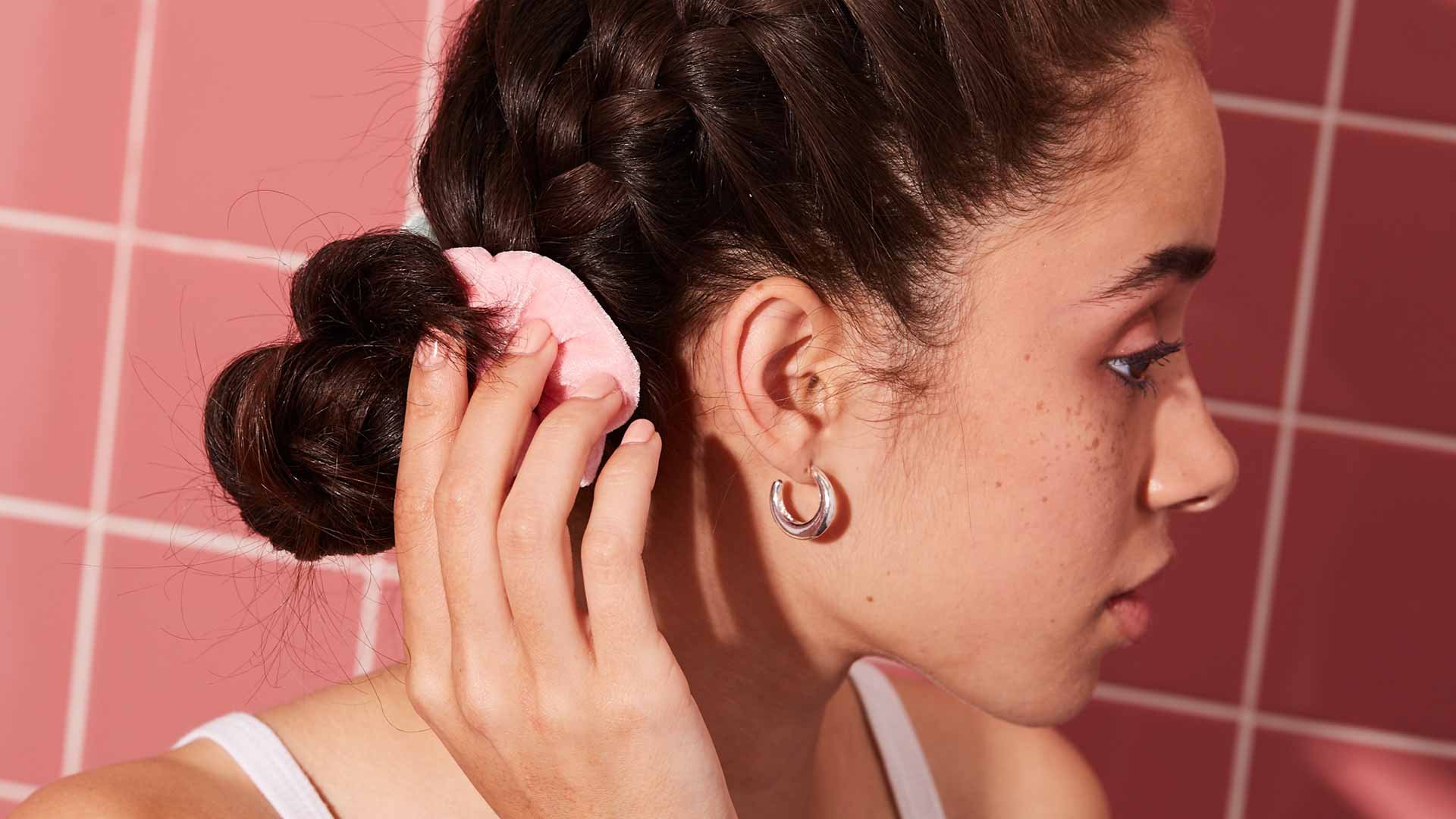 cabello dañado
Split Ends 101: How To Identify, Treat and Prevent Them
If you're tired of frizz, flyaways and hairstyles that don't last you probably can't imagine there's anything worse than split ends. Whether you're trying to grow your hair out for a super long hairstyle or simply want a well-manicured, finished look, dead-looking hair caused by split ends can really rain on your parade. And while split ends aren't totally avoidable, there's a chance you've developed certain hair habits—like washing with super-harsh shampoo—that aren't doing your ends any favors.
In an effort to get rid of split ends and prevent them in the first place, we've dug into all things split ends, including what causes split ends, how to prevent split ends, how to trim split ends, and the best split end repair tips and hair care products. So if you're at a loss for how to stop hair breakage that leads to split ends, keep reading, and get on a journey of gorgeous, healthy hair.
WHAT ARE SPLIT ENDS?
Before diving into the nitty-gritty of how to address split ends, it's important first to know what you're dealing with. Essentially, split ends occur when the outermost protective layer of your hair's cuticle deteriorates over time due to environmental factors, as well as normal wear and tear. Think: excess sun exposure, heat styling, chemical processes, etc.
Split ends are often dry and brittle, so it can be easy to identify them. If you really want to know if your strands are splitting, take a look at an individual piece of hair. There will be small breaks toward the end of the strand. They often look like little trees with branches shooting off in different directions.
WHAT CAUSES SPLIT ENDS?
There are quite a few factors that contribute to split ends. In fact, the American Academy of Dermatology (AAD) states that many of the hair care myths you once thought to be true can actually do more damage than good. Check out these common practices that could be the culprits for your split ends.
SPLIT END CAUSE #1: OVER-BRUSHING
Remember that saying about brushing your hair for 100 strokes a day? Scratch that! The AAD states that brushing should be kept to a minimum, as those 100 strokes can actually result in split ends.
SPLIT END CAUSE #2: HEAT STYLING
It's no secret that heat tools can cause damage to your strands—and lead to split ends. The AAD recommends using flat irons on dry hair on a low or medium heat setting, no more often than every other day. Curling irons, according to the AAD, should only be left in place for a second or two.
SPLIT END CAUSE #3: YOUR HAIRSTYLE
Not only can heat styling do damage, but certain hairstyles—even heat-free ones—can do harm. The AAD warns against continuously wearing different braided hairstyles, cornrows, ponytails, and hair extensions, as these styles pull on the hair and can cause tension that leads to breakage.
HOW TO GET RID OF SPLIT ENDS
The real question is—how do you get rid of split ends? Unfortunately, the only way for full split end repair is to cut off your damaged ends. However, if you're heading to social media to find tutorials on how to trim split ends, we should warn you that it's best to turn to a salon over an at-home DIY process. The last thing you want is for your damaged hair fix to turn into a haircut nightmare!
Cutting your ends can be an excuse to embrace a new hairstyle, so losing a bit of length doesn't have to be a total tragedy. One beauty look we're loving right now is the lob (long bob) that's longer in the front and shorter in the back. It's the best of both worlds, plus you get rid of that undesirable damaged hair.
HOW TO PREVENT SPLIT ENDS
The good news in all of this is that there are a variety of steps you can take to help prevent split ends from forming in the first place. Below are a few tips you should try to maintain your hair's healthy look.
1. ADD A SPLIT END TREATMENT TO YOUR ROUTINE
While hair mousse and hair gel are fabulous on their own, what if you could find a product that not only helps to style your hair, but also helps to protect your strands and reduce future damage, too? Well, that's exactly what the L'Oréal Paris Elvive Dream Lengths No Haircut Cream Leave In Conditioner does. This split end treatment seals split ends and strengthens long hair while offering 450-degree heat protection. Apply it as a leave-in treatment, then style as usual.
Alternatively, you can use the L'Oréal Paris Elvive Total Repair 5 Protein Recharge Treatment. This leave-in conditioner and heat protectant nourishes hair to protect against every day damage, including the type that causes split ends.
2. USE THE RIGHT DAILY SHAMPOO AND CONDITIONER
Split ends occur when you have dry, damaged hair, which can easily break. To avoid this, be sure to ditch overly harsh hair care systems and opt to add a moisturizing shampoo and conditioner duo like the L'Oréal Paris EverPure Repair & Defend Shampoo, L'Oréal Paris EverPure Repair & Defend Conditioner. We also recommend the L'Oréal Paris Elvive Total Repair 5 Repairing Shampoo and L'Oréal Paris Elvive Total Repair 5 Repairing Conditioner which are designed to rebuild hair fibers and fight split ends.
3. FOLLOW UP WITH A HAIR MASK FOR SPLIT ENDS
Wouldn't it be great if there was a hair mask that could help repair split ends, as well as other types of hair damage while providing your tresses with some much needed love? Lucky for all of us, there is! The L'Oréal Paris Elvive Total Repair 5 Damage Erasing Balm rinse-out hair mask is formulated specifically to repair five different signs of hair damage: split ends, weakness, rough texture, dull appearance, and dehydration. This powerful and luxurious treatment mask can repair up to one year's worth of damage to your strands. Simply swap it into your routine a couple of times a week in place of your conditioner.
4. CHANGE THE WAY YOU DETANGLE
It's probably your first instinct to grab a paddle brush and run it through your freshly-washed tresses. But hair is actually most susceptible to being damaged when it's wet—which means when you're brushing out tangles post-shower, you're actually causing breakage. Instead of using a brush to detangle knotty hair, opt for a wide-tooth comb to gently work out knots while your hair is wet.
5. WEAR A PONYTAIL WISELY
It's true—your tried-and-true ponytail could be causing split ends. When you're constantly putting your hair up, you can cause stress on your hair, which can lead to breakage from roots to ends. If you want to reduce the appearance of split ends for as long as possible, decrease the frequency with which you sport a pony. We're not delusional, we know you're going to want to rock a messy bun every now and again. When you do, just steer clear of hair ties with any metal accents and let your hair down as soon as you can. It's a sacrifice your locks will thank you for.
HOW TO MANAGE FACIAL HAIR SPLIT ENDS
While most of us only think of the hair on our heads having split ends, beards can fall victim to split ends, too. Yup, fellas, you need to know this. The key to avoiding and managing beard split ends is similar to how you should take care of the rest of your mane: regular trims and hydration. Here's the breakdown.
STEP #1: TRIM REGULARLY
You don't necessarily have to keep your beard short (#longbearddontcare we see you), but you do have to keep it trimmed. An unruly beard that isn't groomed can result in some unflattering split ends.
STEP #2: KEEP IT MOISTURIZED
Hydration is key—we really can't stress this enough when it comes to keeping any hair healthy! While you shouldn't use a conditioner on your beard, you should use a moisturizer formulated specifically for facial hair. The L'Oréal Paris Men Expert 3-Day Beard Moisturizer is infused with vitamin E to keep your facial hair in its best condition while you rock your signature scruff. Apply it as the last step in your skin care routine morning and evening.
No matter how much you want to avoid trimming your ends, even if you take the best care of your hair ever, eventually the day will come when you'll need a haircut. If you plan to DIY, make sure you're prepared.
Photo Credit: Chaunte Vaughn
{ "@context": "https://schema.org/", "@type": "WebPage", "speakable": { "@type": "SpeakableSpecification", "cssSelector": ["speakable-content"] }, "url": "https://es.lorealparisusa.com/revista-de-belleza/cuidado-capilar/cabello-danado/how-to-get-rid-of-split-ends" }
Descubrir más trucos y consejos
Ver todos los artículos
Shop Featured Hair Care products
Discover More
{ "@context": "http://schema.org", "@type": "BreadcrumbList", "itemListElement": [ { "@type":"ListItem", "position": 1, "item": { "@id": "/", "name": "Home" } } , { "@type":"ListItem", "position": 2, "item": { "@id": "https://es.lorealparisusa.com/revista-de-belleza", "name": "Revista de belleza" } } , { "@type":"ListItem", "position": 3, "item": { "@id": "https://es.lorealparisusa.com/revista-de-belleza/cuidado-capilar", "name": "Todo sobre el cabello sano" } } , { "@type":"ListItem", "position": 4, "item": { "@id": "https://es.lorealparisusa.com/revista-de-belleza/cuidado-capilar/cabello-danado", "name": "Cuidado del cabello dañado" } } , { "@type":"ListItem", "position": 5, "item": { "@id": "https://es.lorealparisusa.com/revista-de-belleza/cuidado-capilar/cabello-danado/how-to-get-rid-of-split-ends", "name": "how-to-get-rid-of-split-ends" } } ] }