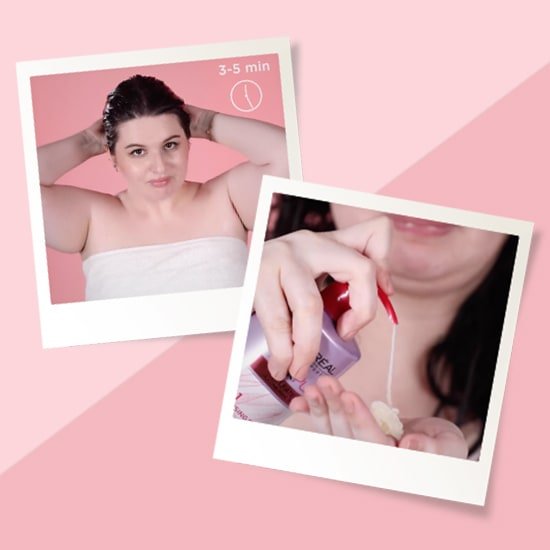 You've probably grown up on the notion that shampoo is essential for every texture, along with a solid conditioner for a well-rounded washing duo. However, it's common to find that your locks may not be too fond of your choice in shampoo. And if you realize that your mane requires more TLC after each time you use the hair-care product, you may be looking to make a change in your wash routine. This is where the co-wash technique can work its magic.
Co-washing hair is all about using a cleansing conditioner to cleanse, condition, and provide your locks with the nourishment that they need. If you're ready to take your hair care routine to the next level, it's time to learn exactly how to use co-wash so you can reap the benefits. Here's everything you need to know.
WHAT IS CO-WASHING HAIR?
Let's cut to the chase—What is co-wash? As mentioned above, co-washing hair, a.k.a conditioner washing, involves using only a cleansing conditioner or cleansing balm to provide your hair with extra nourishment. You may even hear people refer to co-wash as a particular product they fancy. The general idea is the same, no matter which way you look at it. Co-washing hair consists of removing dirt, oil, debris, and other impurities from your locks and using a conditioning formula to do so to improve the level of hydration in your hair at the same time. It also works in your favor to help detangle your hair and address other hair care concerns for a happy and healthy-looking mane.
CONDITIONER VS. CO-WASH: WHAT IS THE DIFFERENCE?
It's common for people to believe that conditioner and co-wash products are one and the same. While there's no denying that they both make the cut as conditioning products, each of these hair care essentials has key differences. The primary purpose of a traditional conditioner is to provide your hair with moisture while aiding in detangling. It's standard practice to use a conditioner after shampooing your hair to make your hair softer and easier to manage.
On the other hand, co-washing ups the ante on your wash routine. This product allows you to cleanse and condition your locks in one step, sans any harsh ingredients. Unlike regular conditioner, you don't need to shampoo before using this product. Co-wash options are formulated with special cleansing agents that remove product buildup and impurities from your hair. It also helps to boost your strands with moisture for soft, clean, and healthy-looking hair.
CAN YOU USE ANY CONDITIONER TO CO-WASH HAIR?
It's not the best idea to use any conditioner to co-wash your hair. As we mentioned above, co-washing consists of cleansing and conditioning your hair at the same time. Classic conditioners are not formulated to clean your hair the right way, and to use one solo can cause product buildup, debris, and more to rear its ugly head. This is not what you want. Keep things simple and use a cleansing balm or a cleansing conditioner.
WHAT HAIR TEXTURES ARE BEST FOR A CO-WASH?
You may be familiar with co-washing curly hair, but this technique is not reserved for one hair type. If you find that you're tackling dry hair or frizzy strands, it may be worth adding a co-wash into your routine. Keep in mind, it's important to find the right co-wash for your hair type since not all formulas can provide your hair with the same benefits. After all, what may work for one hair type might not necessarily be the best option for another hair type.
OUR BEST CLEANSING CONDITIONER
All it takes is picking the best cleansing conditioner for your co-wash routine to transform your mane. The L'Oréal Paris EverPure Cleansing Balm is a six-in-one hair care multitasker that cleanses, conditions, treats, detangles, softens, and adds shine. It's a fabulous option for all hair types, including color-treated hair, thanks to its sulfate-free formula. You'd apply this cleansing conditioner to wet hair in the shower and call it a day after rinsing it out. It takes the place of shampoo, conditioner, detangler, and more so that you can cut down on the number of steps in your hair care routine.
HOW TO CO-WASH HAIR
Co-washing hair is a simple process that can go a long way in improving the overall health of your hair. Follow our step-by-step routine below to learn how to co-wash hair the right way.
STEP #1: WET YOUR HAIR
Kick things off by soaking your hair in the shower. You'll want to make sure that your hair is nice and wet so your co-wash can do its thing.
STEP #2: APPLY YOUR CLEANSING CONDITIONER
It's time to add our best cleansing conditioner into the equation. Apply six to eight pumps to wet hair. Feel free to use additional pumps if you have long hair. Gently massage it onto your hair and distribute it evenly throughout your locks until fully saturated. Leave it in for three to five minutes.
STEP #3: RINSE & GO
Once the time is up for your cleansing conditioner, rinse thoroughly with lukewarm water. Allow your strands to air dry or use a blow dryer your hair to speed things up. Of course, you'll need to reach for a heat protectant to keep your strands in proper shape. Curly-haired baddies can also rely on a hair diffuser to create voluminous and defined curls.
HOW OFTEN SHOULD YOU CO-WASH HAIR?
Now that you know all about the benefits of co-washing hair, you may be wondering how often you can use the technique. The truth is, it really depends on your hair type and your needs. Typically, you should co-wash hair once or twice a week, depending on the number of hair-styling products you use in your routine.
One way to get the most out of co-washing is to alternate with a clarifying shampoo at least once a month. This tip will allow you to give your scalp a deep clean regularly without ending up with a dried-out feel. Just be sure to follow up the shampoo with a coordinating conditioner for the best results.
You've explored the wonders of co-washing hair, and now is a perfect time to expand your knowledge on other hair care essentials. Check out our articles, Our Best Curly Hair Products and Our Best Shampoos for Color-Treated Hair.
{ "@context": "https://schema.org/", "@type": "WebPage", "speakable": { "@type": "SpeakableSpecification", "cssSelector": ["speakable-content"] }, "url": "https://es.lorealparisusa.com/revista-de-belleza/cuidado-capilar/todos-los-tipos-de-cabello/cleansing-conditioner" }
Descubrir más trucos y consejos
Ver todos los artículos
{ "@context": "http://schema.org", "@type": "BreadcrumbList", "itemListElement": [ { "@type":"ListItem", "position": 1, "item": { "@id": "/", "name": "Home" } } , { "@type":"ListItem", "position": 2, "item": { "@id": "https://es.lorealparisusa.com/revista-de-belleza", "name": "Revista de belleza" } } , { "@type":"ListItem", "position": 3, "item": { "@id": "https://es.lorealparisusa.com/revista-de-belleza/cuidado-capilar", "name": "Todo sobre el cabello sano" } } , { "@type":"ListItem", "position": 4, "item": { "@id": "https://es.lorealparisusa.com/revista-de-belleza/cuidado-capilar/todos-los-tipos-de-cabello", "name": "Todos los tipos de cabello" } } , { "@type":"ListItem", "position": 5, "item": { "@id": "https://es.lorealparisusa.com/revista-de-belleza/cuidado-capilar/todos-los-tipos-de-cabello/cleansing-conditioner", "name": "cleansing-conditioner" } } ] }