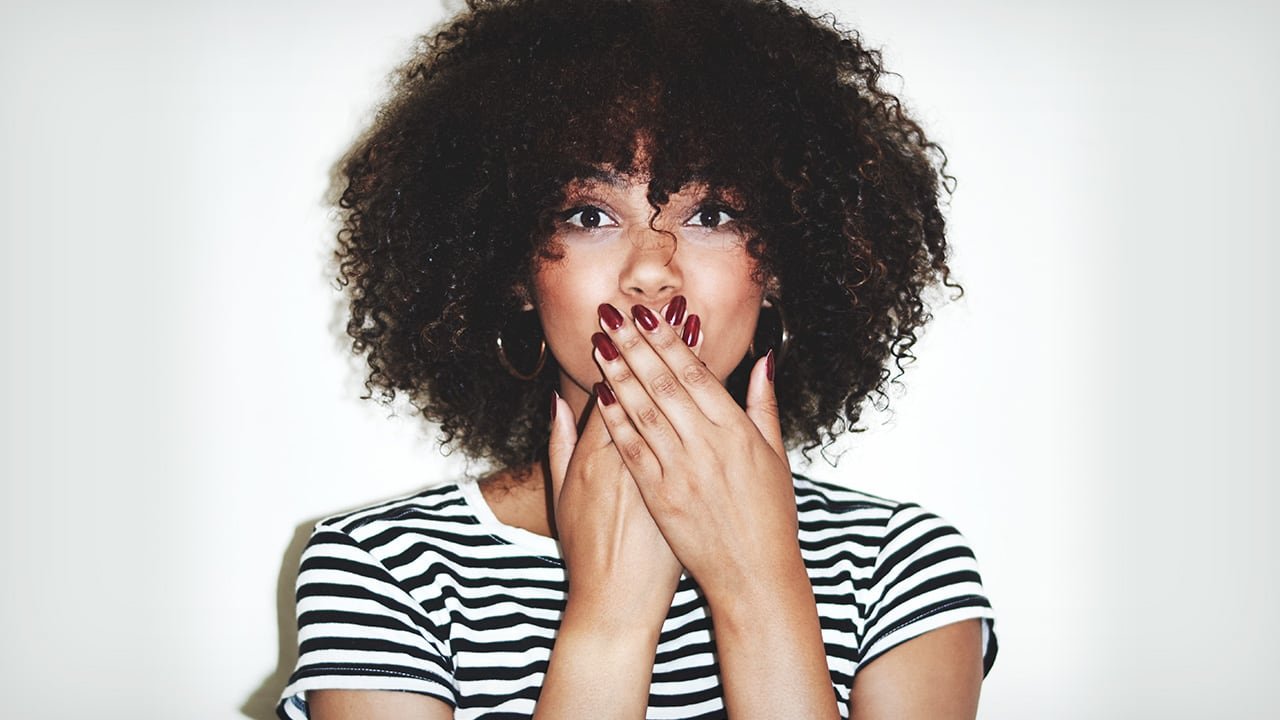 It's no myth that curly hair can require demanding upkeep. For those of us with naturally curly hair, our curls are a part of our identity, and we take them very seriously! However, with a ton of information circulating about curly hair—some true and some not so true—it can be confusing to know the right way to navigate curly hair care. Should you skip out on regular shampooing? Will a leave-in hair treatment weigh down your curls? We're here to set the record straight about some of the biggest curly hair myths, plus sharing our top curly hair care and hair styling tips to keep your curls looking their best.
CURLY HAIR MYTH #1: CURLY HAIR SHOULDN'T BE WASHED FREQUENTLY
While it is true that constant shampooing without replenishment of moisture can leave your curls starved for nourishment, not washing your curls isn't the answer to this dilemma. Regardless of your hair type, you'll want to create a consistent curly hair care routine that includes regularly using a shampoo and conditioner that are formulated to keep your curls hydrated. We're fans of the L'Oréal Paris Elvive Extraordinary Oil Curls Shampoo and the L'Oréal Paris Elvive Extraordinary Oil Curls Conditioner, if you need a recommendation!
CURLY HAIR MYTH #2: ALWAYS USE CONDITIONER AND LEAVE-IN CONDITIONER
By now, you likely know that curly hair needs all the moisture it can get. So, it's always smart to use a conditioner in your curly hair care routine. Leave-in conditioner is considered a holy grail in curly hair care, but if your conditioner moisturizes your hair to your liking, it's totally normal to have some reservations about adding yet another product to your routine. See, curly hair comes in a myriad of textures, so what may work for one curly girl may not work for the next. This means even if a product is considered a must-have, it may not work for your hair. The key is to pinpoint your exact texture to figure out what products will shower your strands with TLC. Head on over to our article, Hair Textures: Understanding Different Natural and Curly Textures for some pointers.
CURLY HAIR MYTH #3: ALL CURLY HAIR HAS A FINE TEXTURE
Speaking of curly textures, it's pretty common to hear that all curly hair has a fine texture. This myth is just that—a myth. As we mentioned above, curly hair comes in a variety of textures. From fine waves to thick spirals to coarse curls, the possibilities are endless. In many cases, you may even find that you have multiple curl textures in your mane. Hence, why it's super important to lock down the right curly hair care routine for you.
CURLY HAIR MYTH #4: IT'S IMPOSSIBLE TO AVOID DRYNESS
Curly hair may be prone to dryness, but that doesn't mean dry hair is a life sentence. In addition to using an oil-based shampoo and conditioner system that's formulated for curly hair, add a hydrating hair mask, such as the L'Oréal Paris Elvive Extraordinary Oil Curls Re-Nourish Mask, into your regular curly hair care regimen to help combat and ward off dryness. This particular mask is formulated to help re-hydrate hair for more defined, lustrous curls. Swap it into your routine in place of your regular conditioner once or twice a week and leave on for up to five minutes before rinsing out completely.
A hair treatment or oil can also help. When your lengths and ends are feeling especially dry or brittle, apply a dime-sized amount of the L'Oréal Paris Elvive Extraordinary Oil Treatment. You can use the oil treatment on damp or dry hair, so you have a method of defense whether you notice dryness after a shower or toward the end of a hair styling session.
CURLY HAIR MYTH #5: TANGLES ARE A WAY OF LIFE
The signature twists and turns that create curly hair may make your mane more susceptible to tangles, but there are ways to get around this. Try applying an oil-based hair serum onto the lengths and ends of damp or wet hair to add slip to hair and avoid knots. Another trick is to sleep with your hair wrapped in a silk scarf or wear a silk bonnet to help reduce friction and minimize tangling. If you try these tips and your hair still resembles a rat's nest, it could be that the way you dry your hair is to blame. Rough drying with a towel can cause more tangles, so consider switching to drying your hair with a soft cotton T-shirt.
CURLY HAIR MYTH #6: CURLY HAIR GROWS SLOWER THAN OTHER HAIR TYPES
It can seem like curly hair takes forever to grow, but really it just takes longer to see the growth because of the shape of your spirals. According to the American Academy of Dermatology, generally speaking, everyone's hair grows about six inches a year, although male hair does grow slightly faster than female hair. So, don't lose hope! It is possible to have curly, long hair, but it requires a bit of patience. Here are our best tips on How to Style Short Curly Hair While Growing It Out to help you through the grow-out phase.
CURLY HAIR MYTH #7: CURLY HAIR CAN'T BE BLOW-DRIED
While it's true that heat styling should be avoided when possible, curly hair can be blow-dried just like any other hair type! When you do blow-dry your curls, use a diffuser, and keep your blow-dryer on the lowest heat setting possible that will still get the job done.
CURLY HAIR MYTH #8: CURLY HAIR CAN'T BE STRAIGHTENED
If you have natural curls, don't think your only option for straighter locks is a chemical treatment. Although that is one way to straighten your curls, you can also use a flat iron to do so—just be sure to do it correctly. Most importantly, you need a heat protectant, such as the L'Oréal Paris Advanced Hairstyle SLEEK IT Iron Straight Heatspray, to help protect your tresses.
CURLY HAIR MYTH #9: YOU CAN BRUSH YOUR CURLY HAIR STRAIGHT
With straightening curly hair on the brain, you may have heard the myth that you can brush your curly hair straight—wrong! Every time you brush your curly hair, you disturb your curl pattern, which can leave you with a frizzy mane. Not cool! Instead, if you desire to straighten your curly locks, head on over to our article, How to Straighten Curly Hair—The Right Way for a step-by-step tutorial.
CURLY HAIR MYTH #10: YOU ONLY NEED TO CUT YOUR CURLY HAIR ONCE A YEAR
Like it or not, when it comes to curly hair, getting regular trims is an absolute must. Simply put, hair trims help to get rid of damaged ends that can get in the way of your curls looking their very best. If you want your ringlets to remain in tip-top shape, get a trim every six to eight weeks. Trust us, your bouncy, healthy-looking curls will thank you.
CURLY HAIR MYTH #11: YOU SHOULD BRUSH YOUR CURLS WHEN WET
While you may have had success brushing your curly strands while wet, if you don't use the right brush for your hair, it can have adverse effects on your mane. You know, pulling and tearing that can lead to massive breakage. If you're using a brush to detangle your mane, trade in the tool for a wide-tooth comb. Using a wide-tooth comb along with a leave-in conditioner is a great way to smooth out curly hair. Head on over to our article, How to Brush and Detangle Curly Hair, for all the details.
Next up: Want more curly hair styling tips? Here are 6 Heat-Free Ways to Style Curly Hair.
{ "@context": "https://schema.org/", "@type": "WebPage", "speakable": { "@type": "SpeakableSpecification", "cssSelector": ["speakable-content"] }, "url": "https://es.lorealparisusa.com/revista-de-belleza/cuidado-capilar/todos-los-tipos-de-cabello/curly-hair-myths-dispelled" }
Descubrir más trucos y consejos
Ver todos los artículos
Shop Featured Hair Care products
Discover More
{ "@context": "http://schema.org", "@type": "BreadcrumbList", "itemListElement": [ { "@type":"ListItem", "position": 1, "item": { "@id": "/", "name": "Home" } } , { "@type":"ListItem", "position": 2, "item": { "@id": "https://es.lorealparisusa.com/revista-de-belleza", "name": "Revista de belleza" } } , { "@type":"ListItem", "position": 3, "item": { "@id": "https://es.lorealparisusa.com/revista-de-belleza/cuidado-capilar", "name": "Todo sobre el cabello sano" } } , { "@type":"ListItem", "position": 4, "item": { "@id": "https://es.lorealparisusa.com/revista-de-belleza/cuidado-capilar/todos-los-tipos-de-cabello", "name": "Todos los tipos de cabello" } } , { "@type":"ListItem", "position": 5, "item": { "@id": "https://es.lorealparisusa.com/revista-de-belleza/cuidado-capilar/todos-los-tipos-de-cabello/curly-hair-myths-dispelled", "name": "curly-hair-myths-dispelled" } } ] }