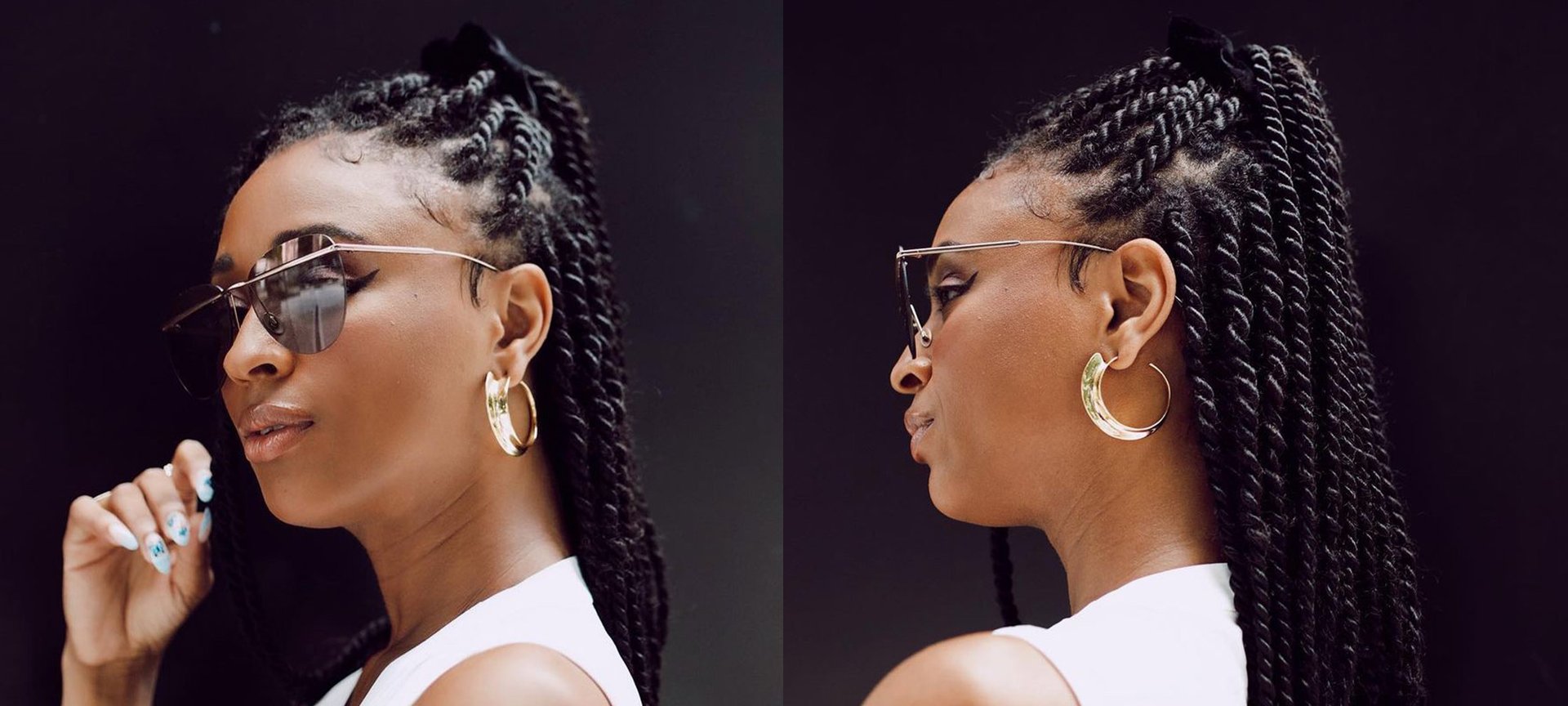 The wonderful thing about natural hair is there are so many ways to style it. For those times when you want to give your curls a break that's when protective styles come into play. Protective styles help you shield your strands from the elements without sacrificing a stylish 'do. From box braids to lace front wigs to crochet braids and more, the possibilities are truly endless.


However, just because your strands are stylishly tucked away doesn't mean that your hair care routine stops. It's essential to shower your strands with TLC to keep your protective style and your natural hair in the best shape. Not quite sure how to wash box braids or care for your protective styles without sacrificing your look? Below, we're sharing tips on caring for your hair while you protect it with style.

How To Wash Box Braids
While you certainly won't need to wash braids or other protective hairstyles every day, it is necessary to keep a wash day routine when sporting one. Since it's super easy for dirt, oil, and other impurities to build up on your scalp over time, you'll want to make sure you give your style a good cleansing session once every two weeks. If not, you could end up with dry and dull-looking hair, frizzy curls, not to mention buildup that can cause breakage and damage.

Grab the L'Oréal Paris EverPure Moisture Shampoo and L'Oréal Paris EverPure Moisture Conditioner to get the job done. This sulfate-free system works to deeply nourish hair while providing a luminous shine for a healthy-looking finish.
For box braids, be generous with applying your shampoo to your scalp. Be gentle when massaging the shampoo over your scalp—you don't want to disturb your braids and loosen your roots. Rinse out the shampoo, making sure you get every last sud, then apply conditioner. Be sure to apply it all over your braids, starting an inch down from your roots all the way to the ends. Rinse once more and allow your hair to air dry.

7 Hair Care Tips For Protective Hairstyles
There's a lot more to caring for your protective hairstyle than keeping it clean. Once you know how to wash your braids (or any other protective hairdo), brush up on the following hair care tips.

1. Install The Right Way
Caring for your protective hairstyle is important from the get-go, starting during the installation process. To ensure your style looks amazing and make care easier, in the long run, go to a hairstylist who is experienced with protective styles for your install. If you're interested in DIY styling, make sure you do your research. One of our favorite styles to try at home is marley twists. Check out this article to learn how to get the look: Marley Twists: How To Create and Keep This Hair Trend

2. Don't Wear Your Hair Up All The Time
We can all agree that there is almost nothing better than getting your strands out of your face when they've been bothering you. But if you're working with box braids, knotless box braids, or other braided looks, consistently styling your hair in ponytails and other updos can take a toll on your baby hairs and your hairline. Not to mention, it can also cause your hair to loosen at the roots, which can age your style over time. Limit wearing your hair up to one or two times a week.


The same rules apply to constant pulling and tugging at your style during the styling process. Keep things light and style your hair gently to avoid damage.

3. Protect Your Hair At Night
Sometimes you just want to hop into bed, but you need to protect your hair every night. Wrapping your hair with a silk scarf or bonnet can help to keep your style in mint condition and is one of the easiest ways to care for your protective style. Not to mention, silk works wonders to protect your hair from frizz, keep your protective style intact, and keep your hair moisturized. After all, the last thing you want is to spend all that time and money on an install just for your style to have a shortened shelf life.

4. Oil Your Hair And Scalp Regularly
Just like your natural hair, your protected strands need additional moisture to look and feel their very best. Use your go-to hair oil on your mane once a week to keep your moisture levels up and your hair in shape.

Editor's note: If you're wearing a lace front wig you can totally skip this step!

5. Replenish With Leave-in Conditioner
With time, box braids and other protective hairstyles are prone to becoming dry. A light, leave-in conditioner can be a lifesaver for restoring moisture and keeping your style looking its best.
6. Get Touch Ups
As much as you may take good care of your protective style, over time, your hair will come to sport a lived-in look. To help combat this issue, it's best to retouch your hair every four weeks to help your style maintain a fresh look. If you're working with braids or twists, ask your stylist to re-do the style around the perimeter of your hairline (your front line and nape).


On the other hand, if you're wearing a lace frontal with sewn-in hair in the back, you'll want to get a replacement every week. Ask your stylist to just remove the existing lace front portion and replace it with a new frontal. It's a budget-friendly way to refresh your style instead of starting over with a new wig.

7. Don't Keep Your Protective Style In For Too Long
Even with the proper care, your protective style will eventually run its course. To keep your hair from sporting a matted appearance, you'll need to remove your style after six to eight weeks.
Next: 20 Stunning Cornrow Hairstyles To Try Right Now

Photo Credit: Ria Michelle, IG@riamichelle
{ "@context": "https://schema.org/", "@type": "WebPage", "speakable": { "@type": "SpeakableSpecification", "cssSelector": ["speakable-content"] }, "url": "https://es.lorealparisusa.com/revista-de-belleza/cuidado-capilar/todos-los-tipos-de-cabello/how-to-care-for-braids-protective-styles" }
Descubrir más trucos y consejos
Ver todos los artículos
Shop Featured Hair Care products
Discover More
{ "@context": "http://schema.org", "@type": "BreadcrumbList", "itemListElement": [ { "@type":"ListItem", "position": 1, "item": { "@id": "/", "name": "Home" } } , { "@type":"ListItem", "position": 2, "item": { "@id": "https://es.lorealparisusa.com/revista-de-belleza", "name": "Revista de belleza" } } , { "@type":"ListItem", "position": 3, "item": { "@id": "https://es.lorealparisusa.com/revista-de-belleza/cuidado-capilar", "name": "Todo sobre el cabello sano" } } , { "@type":"ListItem", "position": 4, "item": { "@id": "https://es.lorealparisusa.com/revista-de-belleza/cuidado-capilar/todos-los-tipos-de-cabello", "name": "Todos los tipos de cabello" } } , { "@type":"ListItem", "position": 5, "item": { "@id": "https://es.lorealparisusa.com/revista-de-belleza/cuidado-capilar/todos-los-tipos-de-cabello/how-to-care-for-braids-protective-styles", "name": "how-to-care-for-braids-protective-styles" } } ] }