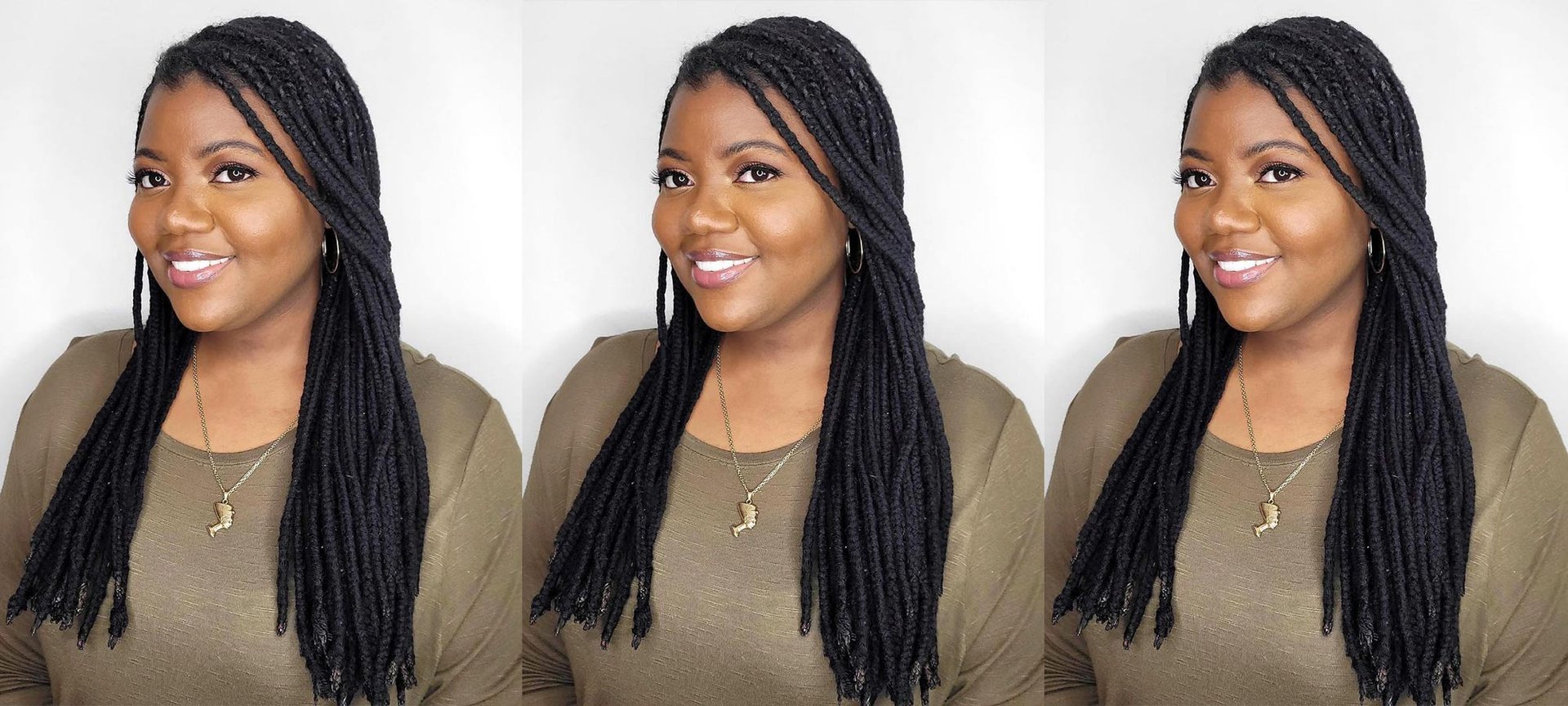 peinados con trenzas
10 Yarn Braid Hairstyles To Try In 2022
The craftiest way to transform your tresses.
Braided hairstyles are one of those timeless looks that never seem to go out of fashion. With such a wide variety of braided styles to try, from cornrows to Fulani braids, the plaited possibilities are endless. If you're searching for a version that's low maintenance but high style, you can't go wrong with yarn braids. Known for being versatile and affordable, yarn braids are a hot '90s hairstyle that has woven itself back into the spotlight again. If you're ready to get wrapped up in this braided 'do, keep reading to learn more about yarn braids plus ten hairstyles to inspire you and help you get in on the trend.

What Are Yarn Braids?
Yarn braids are a protective hairstyle that uses acrylic or synthetic yarn instead of the traditional braiding hair. Yarn braids offer the same hair protection, growth, and styling benefits as other braided styles while also helping your hair to retain more moisture, plus they're super lightweight.

Editor's Tip: Yarn comes in a variety of textures and colors, but it's best to use acrylic yarn or synthetic yarn since natural yarn or wool yarn is known to tangle pretty quickly.

10 Yarn Braid Hairstyles To Try
One of the best things about yarn braids is that you can be super creative. From colorful bobs to long twists, there's a type of braid and color of yarn to fit everyone's style. Below, find some of our favorite yarn braid hairstyles to help bring your new look to life.

1. Jumbo Yarn Braids
Jumbo braids work wonders to cut down your styling time, and the yarn variation is no exception. They're a chic way to add a playful vibe to your look, plus you have the option of rocking one jumbo braid or splitting your style into two—it's all up to you.


To get the look, split your hair down the middle into two even sections, and clip one side out of the way. Apply a touch of hair gel, like the L'Oréal Paris Studio Line Clean Gel, to your roots. Divide the section you're working with into three equally-sized strands and weave a braid. After a few links, add thick pieces of yarn to your hair just as you would with the feed-in braid technique, adding it to your braids just a few inches from the start of your hairline. Be sure to add more as you go. Once you reach the ends, secure your braid with a hair elastic and repeat on the other side. Then, seal the deal with an extra hold hairspray to keep your braids neat.

2. Yarn Braid Bun
This look combines the trendy look of the classic bun with a gorgeous woven pattern for stylish detailing. As an updo style, it also helps you to keep your braids tucked out of the way. Just gather your hair toward the center of your head, and pull it into a ponytail. Roll the length around its base to form a bun, and your look is complete.

3. Pastel Yarn Braids
Pastel yarn braids offer up a cool way to show off your creative side. You can choose to flaunt a solo shade or ask your stylist to weave various pastel shades into your braids for an unforgettable 'do.

4. Yarn Feed-In Cornrows
Yarn feed-in cornrows are a modern spin on the classic look that gives you a more natural, fuller finish. Head on over to our article, 4 Feed-In Braid Tutorials To Try, for everything you need to know.

5. Dutch Yarn Braids
Dutch yarn braids are a timeless style that also gives you the option to play with color. To get this style, split your hair down the middle, and clip one side out of the way. Apply a small amount of hair gel onto your roots. Divide your hair into three pieces and build your braid. After a few braided links, add synthetic yarn and work your way down, just as you would with the feed-in braid technique. Once you reach the ends, secure your Dutch braid with a hair elastic and repeat on the other side.

6. Knotless Yarn Box Braids
This braided masterpiece is a cinch to style and can be created all on your own. They rely on the feed-in braid technique to add small amounts of hair at a time for a lightweight feel. You'll also be able to limit tension on your scalp. Click through to our article, What Are Knotless Box Braids? for a guide.

7. Yarn Box Braids
Yarn box braids pair perfectly with all hair lengths, making them a solid hairstyle pick. This style also comes in handy to keep your braided look as classic as possible. Grab your synthetic yarn and read through our article, How To Create Box Braids.

8. Yarn Braid Space Buns
Space buns are a popular hairstyle that brings a playful aesthetic to every look. Start by splitting your braids with a middle part, and clip one side out of the way. Gather one section, and fasten your braids into a ponytail toward the top back of your head. Repeat on the other side, making sure your ponytails line up perfectly. Finish up by twisting each ponytail around its base, and use a large hair tie to secure the style.

9. Medium-Length Yarn Braids With Underlights
This trend involves adding color to the bottom layer of your hair while leaving the top section of your mane its natural hue. It's a clever option that allows you to experiment with various shades without the full commitment. Ask your stylist to weave the braids at the back of your head with colorful yarn and keep your top section its natural color. For a colorful DIY option at home, pick a shade or two of the L'Oréal Paris Colorista Hair Makeup Temporary 1-Day Hair Color Spray.

10. Center Part Yarn Braids
This is a face-framing hairstyle that adds an edgy touch to your look while calling attention to your features. Ask your stylist to incorporate different braid sizes into your mane for an intricate look.
How To Take Care Of Yarn Braids
Once your yarn braids are installed, you'll need to adjust your hair care routine so your style will stay in shape. Make sure to oil your scalp regularly, wear your braids down as much as you can and protect your hair at night to maintain your look.

To keep your yarn braids and natural hair clean, try to wash them at least every two weeks. For a quick cleanse, use a clarifying system like the L'Oréal Paris EverPure Sulfate-Free Scalp Care + Detox Shampoo and Conditioner on just your roots and scalp. When it's time to freshen your braids, opt for a co-wash or an apple cider vinegar rinse, which can remove buildup and boost shine without disturbing your style. After each wash, add some moisture back in the mix with a leave-in conditioner, like the L'Oréal Paris Elvive Dream Lengths No Haircut Cream Leave In Conditioner. Keep in mind, yarn braids can be very heavy when wet and take a long time to fully dry.

If you make it a point to take good care of your yarn braids, you can expect this style to last anywhere from five to eight weeks. Once you reach the eight-week mark, it's best to remove your braids to keep your natural hair in healthy shape.
Next: 7 Hair Care Tips For Box Braids And Protective Styles

Edited by: Lauren Paige Richeson, Photo Credit: Hellen
{ "@context": "https://schema.org/", "@type": "WebPage", "speakable": { "@type": "SpeakableSpecification", "cssSelector": ["speakable-content"] }, "url": "https://es.lorealparisusa.com/revista-de-belleza/peinado/peinados-de-trenzas/yarn-braids-ideas" }
Descubrir más trucos y consejos
Ver todos los artículos
Shop Featured Hair Style products
Discover More
{ "@context": "http://schema.org", "@type": "BreadcrumbList", "itemListElement": [ { "@type":"ListItem", "position": 1, "item": { "@id": "/", "name": "Home" } } , { "@type":"ListItem", "position": 2, "item": { "@id": "https://es.lorealparisusa.com/revista-de-belleza", "name": "Revista de belleza" } } , { "@type":"ListItem", "position": 3, "item": { "@id": "https://es.lorealparisusa.com/revista-de-belleza/peinado", "name": "Encuentra tu próximo look sexy" } } , { "@type":"ListItem", "position": 4, "item": { "@id": "https://es.lorealparisusa.com/revista-de-belleza/peinado/peinados-de-trenzas", "name": "Peinados con trenzas" } } , { "@type":"ListItem", "position": 5, "item": { "@id": "https://es.lorealparisusa.com/revista-de-belleza/peinado/peinados-de-trenzas/yarn-braids-ideas", "name": "yarn-braids-ideas" } } ] }