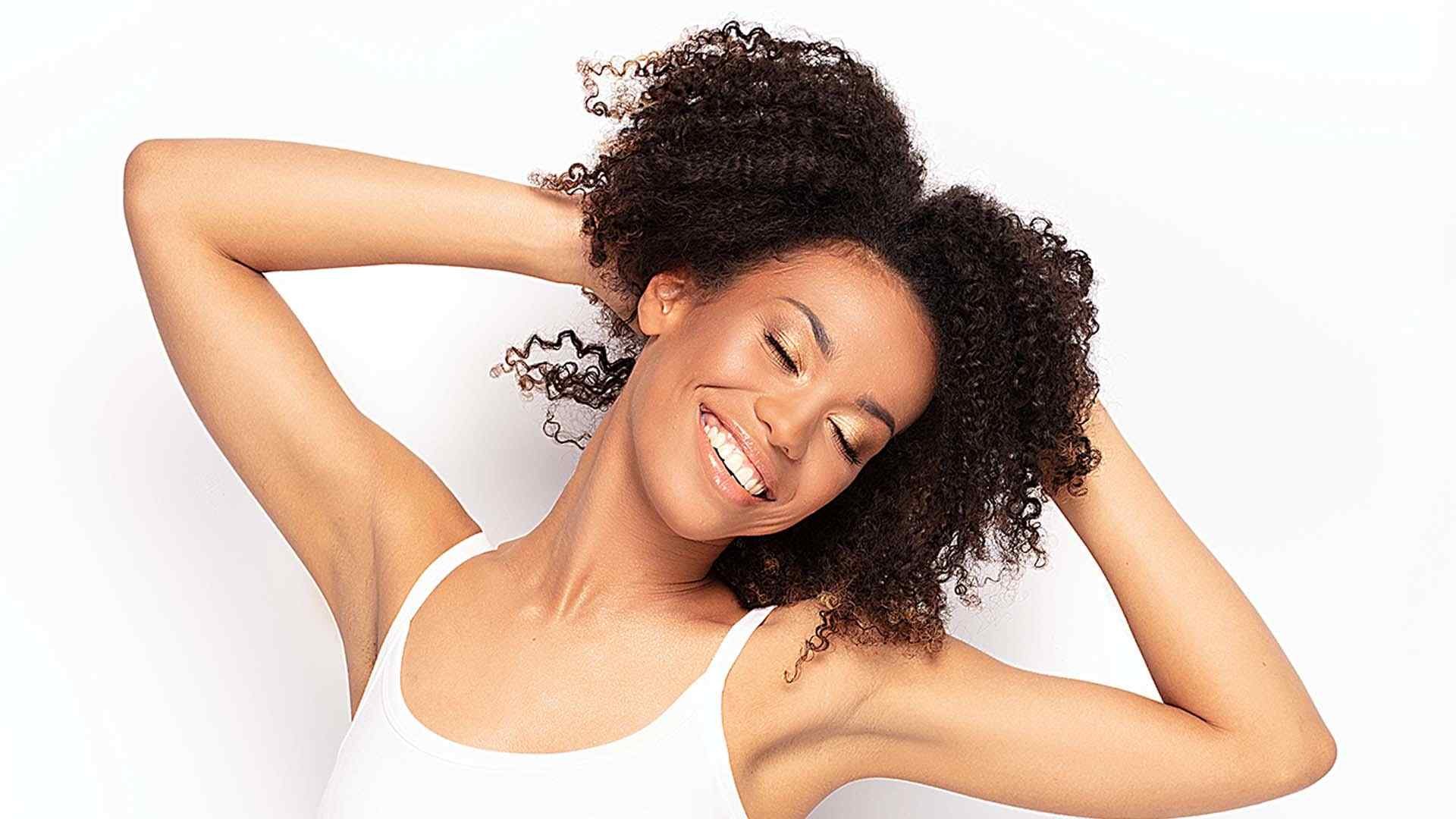 Regardless of your hair type or length, the ultimate #hairgoal is to have healthy hair. Whether you're dealing with damaged hair, color-treated hair, or simply want to give your strands a boost, you've likely been scouring Google in an attempt to learn all the tricks, including consuming vitamins and foods for healthy hair, using healthy hair products, and general hair care tips to promote healthier-looking strands. This is likely especially true if you're trying to grow your hair faster, which let's be real—we all are. On a quest for a healthy mane? Keep reading for nine tips on how to get healthy hair.
HEALTHY HAIR CARE TIP #1: WHIP OUT THE HAIR TREATMENTS
According to the American Academy of Dermatology, factors like the sun and chlorine can cause dryness and damage to your strands. To relieve some of this, it's a good idea to integrate key hair treatments into your routine. A nourishing mask can work wonders for your hair once or twice a week, and a hydrating, oil-based hair serum (or other leave-in products formulated with oils, such as the L'Oréal Paris Elvive Extraordinary Oil-In-Cream) makes for a perfect on-the-go, nourishing hair care product.
HEALTHY HAIR CARE TIPS #2: DON'T RELY ON MIRACLE VITAMINS FOR HEALTHY HAIR
Vitamins for healthy hair get a lot of hype, but we'd recommend prioritizing a solid hair care routine over vitamins or supplements. Biotin is one of the most popular purported vitamins for hair, and according to the National Institutes of Health, while biotin is widely reported as helping promote nail and hair growth, there is limited research to support this. If you're interested in introducing a vitamin or supplement to your diet, you can always consult your doctor to see what will be best for you.
HEALTHY HAIR CARE TIP #3: PICK THE RIGHT SHAMPOO
The shampoo you use is super important, and which one you should reach for all depends on your hair type. Dry hair needs a nourishing shampoo and conditioner to replenish strands with conditioning agents. If your strands are parched, look for a hair care system that offers rich moisture and is formulated with oils or other ultra-nourishing ingredients, like the L'Oréal Paris EverCreme Deep Nourish Shampoo and the L'Oréal Paris EverCreme Deep Nourish Conditioner.
Oily hair, on the other hand, calls for a formula to tackle oily roots. The L'Oréal Paris Elvive Extraordinary Clay Shampoo, paired with the L'Oréal Paris Elvive Extraordinary Clay Conditioner, purifies oily roots and hydrates dry lengths for hair that looks beautifully fresh and clean from root to tip.
HEALTHY HAIR CARE TIP #4: ALWAYS FOLLOW WITH CONDITIONER
Don't skip out on conditioner! The AAD states that using a conditioner can significantly improve the look of damaged or weathered hair by increasing shine, decreasing static electricity, improving strength, and offering some protection from harmful UV rays. So, be sure to apply the conditioner that coordinates with your shampoo once you finish cleansing.
HEALTHY HAIR CARE TIP #5: BE GENTLE
Your hair is delicate, and if you want it to be healthy, you'll have to treat it gently. The AAD recommends wrapping your hair in a towel to absorb water rather than rubbing it, as this can cause friction and breakage. To be extra gentle, you can even use an old cotton T-shirt to dry your strands. Additionally, the AAD advises against brushing your hair while it's wet. Instead, allow your hair to air-dry partially before brushing it with a wide-tooth comb.
HEALTHY HAIR CARE TIP #6: STYLE SMART
We all love loose waves, but leaving thick or curly hair to its own devices can result in tangles that cause breakage. Save yourself some exasperation at the end of the day with a style that keeps hair in check. Add a generous amount of curl mousse, like the L'Oréal Paris Advanced Hairstyle CURVE It Elastic Curl Mousse to towel-dried hair, scrunch from the roots to ends and let hair dry.
HEALTHY HAIR CARE TIP #7: KEEP FRIZZ TO A MINIMUM
Nothing makes hair look drier and less healthy-looking than frizz—with dry, split ends being a close second. Frizz is often the result of dehydration, which can happen if the natural oils your scalp produces don't make it all the way down the length of your hair. This frequently happens with curly hair, so take caution if your strands resemble spirals! One way to manage frizz is with frizz-taming products, which help replenish hair with moisture, making your mane smoother and less frizzy. We recommend the L'Oréal Paris EverSleek Frizz Finish Oil-In-Serum, which provides humidity and frizz control and can be applied to dry or damp hair, making it one of our favorite healthy hair products.
HEALTHY HAIR CARE TIP #8: PAY EXTRA ATTENTION TO YOUR ENDS
Speaking of dry ends, pay extra attention to this vulnerable part of your mane year-round, as the elements can make them dryer and more prone to damage. Focus shampoo on the scalp rather than the ends of your hair and do the opposite with conditioner. For extra protection, add the L'Oréal Paris EverStrong Break Proof Lotion to your daily routine. Formulated with fortifying goji, this hair treatment helps protect against breakage, repair split ends, and defend against UV rays and heat styling.
HEALTHY HAIR CARE TIP #9: AVOID CERTAIN HAIRSTYLES
Did you know your hairstyle can play a role in how healthy your strands are? The AAD states that pulling your hair back tightly into a ponytail or cornrows, as well as wearing hair extensions, can cause damage to your mane. Instead, loosely pull your hair back and use hair accessories that will be softer on your strands, like a scrunchie, in place of hair elastics.
Speaking of hairstyles, if you have natural hair, you may want to consider a protective hairstyle to help you on your healthy hair journey. Interested? Here are The 30 Best Protective Hairstyles for Natural Hair.
{ "@context": "https://schema.org/", "@type": "WebPage", "speakable": { "@type": "SpeakableSpecification", "cssSelector": ["speakable-content"] }, "url": "https://es.lorealparisusa.com/revista-de-belleza/cuidado-capilar/todos-los-tipos-de-cabello/how-to-get-healthy-hair" }
Descubrir más trucos y consejos
Ver todos los artículos
Shop Featured Hair Care products
Discover More
{ "@context": "http://schema.org", "@type": "BreadcrumbList", "itemListElement": [ { "@type":"ListItem", "position": 1, "item": { "@id": "/", "name": "Home" } } , { "@type":"ListItem", "position": 2, "item": { "@id": "https://es.lorealparisusa.com/revista-de-belleza", "name": "Revista de belleza" } } , { "@type":"ListItem", "position": 3, "item": { "@id": "https://es.lorealparisusa.com/revista-de-belleza/cuidado-capilar", "name": "Todo sobre el cabello sano" } } , { "@type":"ListItem", "position": 4, "item": { "@id": "https://es.lorealparisusa.com/revista-de-belleza/cuidado-capilar/todos-los-tipos-de-cabello", "name": "Todos los tipos de cabello" } } , { "@type":"ListItem", "position": 5, "item": { "@id": "https://es.lorealparisusa.com/revista-de-belleza/cuidado-capilar/todos-los-tipos-de-cabello/how-to-get-healthy-hair", "name": "how-to-get-healthy-hair" } } ] }