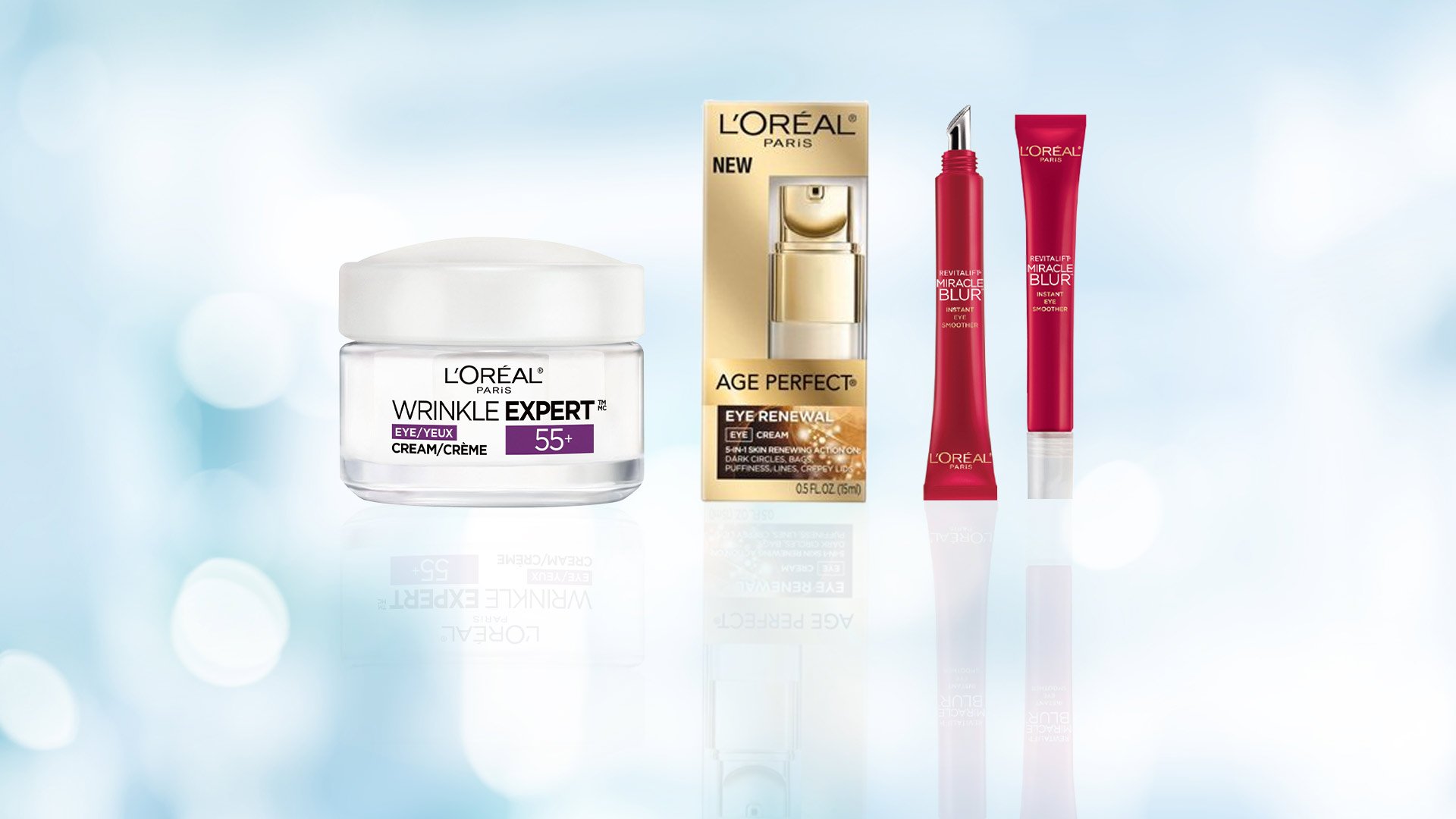 It's a fact of life, as you get older, visible signs of aging will become a factor. And they seem to show up in the most inopportune spots, like surrounding your eyes. One skin care concern in particular, fine lines and wrinkles, can become a particular nuisance to deal with in that area. But with the right routine—complete with an eye wrinkle cream—you can perk up your eye area.
If you have crow's feet and other wrinkles around your eyes, it's time to make sure your skin care cabinet is stocked with the right eye cream for wrinkles. You'll need something pretty potent, so we've rounded up our best anti-wrinkle eye creams and treatments and are sharing them all below.
WHAT CAUSES UNDER-EYE WRINKLES?
First things first, it's essential to know why you're getting under-eye wrinkles to begin with; otherwise, you won't really know the proper way to manage them. According to the Cleveland Clinic, the main culprit for the development of wrinkles is none other than skin aging. As skin ages, moisture levels decrease, which causes skin to lose its elasticity and its ability to heal. As a result, skin starts to loosen, and fine lines and wrinkles become more prominent.
Keep in mind, skin aging is not the sole cause of wrinkles. The Mayo Clinic shares that sun damage, smoking, repeated facial expressions, and genetics are other factors that can be involved in their development.
THE 5 BEST EYE CREAMS FOR WRINKLES FROM L'ORÉAL PARIS
Now that you have the 4-1-1 on causes of under-eye wrinkles, it's time to get to work on minimizing their appearance. Keep reading for the best anti-wrinkle eye creams from L'Oréal Paris.
L'Oréal Paris Revitalift Miracle Blur Eye: Contrary to popular belief, under-eye wrinkles can start to appear as early as your 20s. To help you stay ahead of the game, it may be worth adding this soothing eye cream to your skin care routine. This under-eye treatment is formulated with light-diffusing pigments to help instantly reduce the appearance of crow's feet, dark circles, and puffiness. To use, dot a small amount onto the eye area with your fingertips and gently blend out.
L'Oréal Paris Age Perfect Eye Renewal Eye Cream: Like it or not, skin cell renewal slows down as you age, which may leave you thinking that radiant and youthful-looking skin is out of reach. Take back control of your skin with the help of this anti-wrinkle eye cream. Infused with a powerful antioxidant, this offering works to hydrate your skin and immediately diminish signs of aging, including lines under eyes. Using your fingertips, apply a small amount around your eyes, and pat gently until absorbed.
L'Oréal Paris Revitalift Triple Power Eye Treatment: Help restore your under-eye area with this under-eye wrinkle treatment. Formulated with caffeine, hyaluronic acid, and Pro-Xylane, this lightweight pick works to reduce the appearance of wrinkles and brighten the under-eye area for a radiant finish. Massage the eye cream gently around your eyes with the treatment's metal tip until thoroughly absorbed.
L'Oréal Paris Revitalift Anti-Wrinkle + Firming Eye Cream: Since your skin naturally starts to lose firmness as you age, this eye cream can pick up the slack. Formulated with Pro-Retinol A and Stimuplex, this anti-wrinkle cream provides 360-action around the eyes to reduce wrinkles and firm skin with continued use over time. Apply this eye cream in small dots around your eyes and smooth gently onto skin until absorbed. Be sure to use this beauty staple morning and night, to reap all of the benefits.
L'Oréal Paris Wrinkle Expert 55+ Anti-Wrinkle Eye Treatment: It's safe to say that once you enter your 50s, your skin care routine needs some updates—including making the switch to the right eye cream. Formulated with calcium, this eye wrinkle cream strengthens thinning skin around the eye and improves smoothness to reduce the appearance of under-eye wrinkles in as little as four weeks. Apply a small amount around your entire eye using your fingertips and pat gently until fully absorbed. Use morning and night to achieve desired results.
HOW TO ADD AN EYE WRINKLE CREAM TO YOUR SKIN CARE ROUTINE
Besides applying sunscreen, eye cream should come last in your skin care routine, meaning there are a number of things to do before you can put your eye wrinkle cream to use. Follow this easy routine morning and night to incorporate an eye cream for under-eye wrinkles into your daily regimen.
STEP #1: REACH FOR A CLEANSER
This step should be the foundation of every skin care routine. No matter what skin type you're working with, you should always start with a facial cleanser to remove dirt, oil, and pollutants from skin. Kick things off with the L'Oréal Paris Age Perfect Nourishing Cream Cleanser, which is formulated to replenish skin with oils and gently remove impurities from skin for a smooth and supple finish.
STEP #2: EXFOLIATE YOUR SKIN
Now that your face has been cleansed, it's time to take things up a few notches with a round of exfoliation. While some people can handle everyday exfoliation, others can only exfoliate once or twice a week. Always pay attention to your skin to find the right fit for you, and if you've already exfoliated recently, go ahead and skip this step.
If you're in need of an exfoliator, try the L'Oréal Paris Revitalift Bright Reveal Brightening Daily Scrub Cleanser. This scrub helps to exfoliate dullness and improve skin tone, texture, and clarity for renewed skin.
STEP #3: REACH FOR A FACE SERUM
Since under-eye wrinkles are a clear indicator that your skin could use more moisture, you'll want to supply your skin with plenty of hydration via a face serum. Try the L'Oréal Paris Revitalift Derm Intensives 1.5% Pure Hyaluronic Acid Serum, which works to replenish skin with hydration and visibly reduce wrinkles in just two weeks.
STEP #4: DON'T FORGET ABOUT MOISTURIZER
We can't tell you your skin needs moisture and not talk about moisturizer. Reach for the L'Oréal Paris Anti-Wrinkle + Firming Moisturizer Fragrance Free to help to visibly reduce wrinkles and firm skin.
STEP #5: PICK UP YOUR EYE CREAM
Last but certainly not least, it's time to apply your eye cream. Take whichever anti-wrinkle eye cream you prefer and place small dots in a semi-circle shape underneath your eyes. Use the pad of your ring finger to gently pat the eye cream so it absorbs. There's no need to rub the cream in, as repeatedly rubbing your skin can actually make wrinkles worse.
{ "@context": "https://schema.org/", "@type": "WebPage", "speakable": { "@type": "SpeakableSpecification", "cssSelector": ["speakable-content"] }, "url": "https://es.lorealparisusa.com/revista-de-belleza/cuidado-piel/fundamentos-del-cuidado-de-la-piel/best-eye-cream-for-wrinkles" }
Descubrir más trucos y consejos
Ver todos los artículos
Shop Featured Skin Care products
Discover More
{ "@context": "http://schema.org", "@type": "BreadcrumbList", "itemListElement": [ { "@type":"ListItem", "position": 1, "item": { "@id": "/", "name": "Home" } } , { "@type":"ListItem", "position": 2, "item": { "@id": "https://es.lorealparisusa.com/revista-de-belleza", "name": "Revista de belleza" } } , { "@type":"ListItem", "position": 3, "item": { "@id": "https://es.lorealparisusa.com/revista-de-belleza/cuidado-piel", "name": "Tratamiento de la piel para todas las edades" } } , { "@type":"ListItem", "position": 4, "item": { "@id": "https://es.lorealparisusa.com/revista-de-belleza/cuidado-piel/fundamentos-del-cuidado-de-la-piel", "name": "Esenciales del cuidado de la piel" } } , { "@type":"ListItem", "position": 5, "item": { "@id": "https://es.lorealparisusa.com/revista-de-belleza/cuidado-piel/fundamentos-del-cuidado-de-la-piel/best-eye-cream-for-wrinkles", "name": "best-eye-cream-for-wrinkles" } } ] }