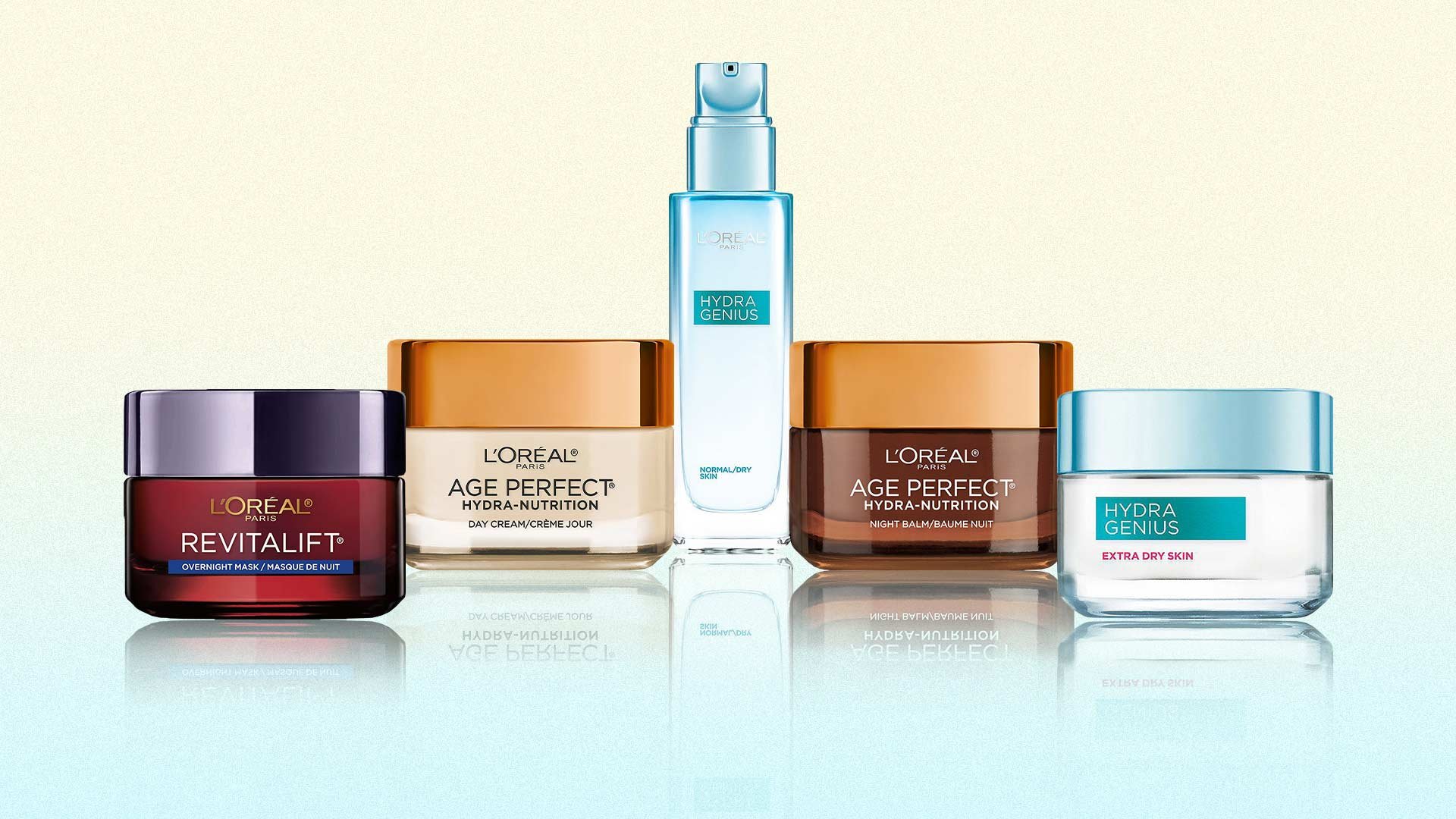 When your skin is parched, there's just about nothing more critical than making sure you're using the best moisturizer for dry skin. Moisturizing twice a day is non-negotiable if you want your skin to stop sporting a dull, lackluster-looking complexion, not to mention that uncomfortable, stiff feel, and not just any face moisturizer for dry skin will do. To point you in the right direction, we're introducing you to five of our favorite face creams and lotions for dry skin. Shall we?
WHY DRY SKIN TYPES NEED TO MOISTURIZE
Before we tell you all about our best face moisturizer for dry skin picks, it's important to understand why dry skin types need to moisturize. As you've likely realized, it's super easy for dry skin to sport a dull appearance when moisture is lost. While there is a myriad of causes for dry skin, including weather conditions, lack of exfoliation, and over-cleansing, using the right moisturizer for dry skin morning and night can help to pick up some of the slack and get your skin back in shape. When your skin is calling out for hydration, smoothing on a nourishing moisturizer isn't only the easiest thing you can do, it's also one of the best.
HOW TO PICK THE BEST MOISTURIZER FOR DRY SKIN
Not sure what to look for in a moisturizer for dry skin? Here are three things to consider.
1. Texture. Lightweight lotions and gel moisturizers may be preferred by those with oily skin, but dry skin tends to call for something heavier. A thicker face cream is typically the better choice if you have dry skin. Of course, that doesn't mean the moisturizer has to feel heavy on your skin—look for one that absorbs quickly.
2. Ingredients. The right ingredients are key. A face moisturizer formulated with nourishing oils can go a long way in moisturizing your skin. Hyaluronic acid moisturizers are also popular for a good reason—it's an amazing moisturizing ingredient.
3. Lasting power. Your skin may feel amazing right after moisturizing, but that isn't enough. Your face moisturizer for dry skin should lock in moisturizer for as long as possible. Look for moisturizers that offer all-day hydration.
OUR BEST FACE MOISTURIZERS FOR DRY SKIN
Want to add a good moisturizer for dry skin to your routine? Have your pick from the following five options.
L'Oréal Paris Hydra Genius Daily Liquid Care – Normal/Dry Skin: Like it or not, external factors such as UV rays and pollution can take a toll on dry skin. From damaging skin's moisture barrier to increasing loss of moisture and causing drier skin to develop, it can leave you with unhappy skin. Bring your skin back to life with this moisturizer formulated with aloe vera water and hyaluronic acid. The formula quenches skin with moisture and locks it in for an ultra-hydrated and healthy-looking glow.
L'Oréal Paris Hydra Genius Daily Liquid Care – Extra Dry Skin: Since extra dry skin has a very fragile moisture barrier, dehydration can become a factor pretty quickly. So, it's essential to enlist the help of a moisturizer that can restore skin instantly. Formulated with hyaluronic acid and aloe vera water, this moisturizer envelops skin with moisture, leaving you with comfortable, refreshed, and hydrated skin.
L'Oréal Paris Age Perfect Hydra Nutrition Honey Day Cream: Sometimes, dry skin can be a tell-tale sign that your skin is maturing. As you age, your skin's natural moisture levels decrease, which causes dry skin to rear its head. While aging is inevitable, what you can do is use skin care products formulated for mature skin to fight back against the dryness. This rich moisturizer is formulated with manuka honey extract and nurturing oils for a face cream that works to nourish with a soft, silky layer of hydration. As a result, this day cream for dry skin penetrates the skin's surface layer to restore comfort and nourishing moisture to mature skin. Be sure to extend the love to your neck and décolletage, too, for balanced skin.
L'Oréal Paris Age Perfect Hydra Nutrition Honey Night Balm: If you opt for a day cream in the morning, once nighttime hits, you'll need to switch things up with a moisturizer that provides long-lasting hydration while you sleep. Formulated with manuka honey extract and infused with antixodiants, this moisturizer for dry skin deeply moisturizes your skin at night. This pick also provides skin with comfort and helps improve resilience, which is a must for mature skin.
L'Oréal Paris Revitalift Triple Power Anti-Aging Overnight Mask: Masks and moisturizers are two separate skin care products, but overnight masks blur the lines a bit. See, this leave-on option works to provide skin with hydration that goes the distance. After leaving it on your skin overnight, your complexion will sport a more radiant, moisturized, and refreshed appearance, which is just what dry skin needs. Simply apply this offering to skin right before you head to bed so it can work its magic.
HOW TO MOISTURIZE DRY SKIN
Whichever moisturizer for dry skin you pick, you'll want to make sure you're using it the right way. Slapping a face cream onto your skin may do a bit of good, but follow this step-by-step routine to reap all the benefits.
STEP #1: CLEANSE YOUR SKIN
No matter what skin type you're working with, you'll always want to kick things off with a round of cleansing. After all, dirt, oil, and debris can also make your skin look even drier. Keep things simple by reaching for the L'Oréal Paris Micellar Cleansing Water Complete Cleanser Waterproof – All Skin Types. This no-rinse option allows you to cleanse skin quickly and efficiently for a hydrated finish. Simply saturate a cotton pad and wipe it gently over skin. Voila!
STEP #2: BRING ON THE EXFOLIATION
A quick exfoliation session can help slough off dry, dead skin cells to reveal smooth and radiant skin underneath. Get the job done with the help of the L'Oréal Paris Pure-Sugar Nourish & Soften Cocoa Scrub. Formulated with three pure-sugars, finely crushed cocoa, and luxurious coconut oil, this scrub goes the extra mile to gently polish away dull skin and soften and brighten skin for a healthy-looking glow.
STEP #3: APPLY A FACE SERUM
Sometimes, one layer of moisture is not enough for dry skin. Instead of relying solely on your face moisturizer to get the job done, add a face serum into the mix to up the ante. Our favorite face serum for dry skin? The L'Oréal Paris Revitalift Derm Intensives 1.5% Pure Hyaluronic Acid Serum is perfect for boosting hydration and prepping your skin for moisturizer.
STEP #4: MOISTURIZE, MOISTURIZE, MOISTURIZE
Now it's time to apply your face lotion or cream for dry skin! Smooth your moisturizer over your damp face and neck (don't let your serum dry completely first) to help lock in moisture—that's all there is to it.
{ "@context": "https://schema.org/", "@type": "WebPage", "speakable": { "@type": "SpeakableSpecification", "cssSelector": ["speakable-content"] }, "url": "https://es.lorealparisusa.com/revista-de-belleza/cuidado-piel/fundamentos-del-cuidado-de-la-piel/best-moisturizer-for-dry-skin" }
Descubrir más trucos y consejos
Ver todos los artículos
Shop Featured Skin Care products
Discover More
{ "@context": "http://schema.org", "@type": "BreadcrumbList", "itemListElement": [ { "@type":"ListItem", "position": 1, "item": { "@id": "/", "name": "Home" } } , { "@type":"ListItem", "position": 2, "item": { "@id": "https://es.lorealparisusa.com/revista-de-belleza", "name": "Revista de belleza" } } , { "@type":"ListItem", "position": 3, "item": { "@id": "https://es.lorealparisusa.com/revista-de-belleza/cuidado-piel", "name": "Tratamiento de la piel para todas las edades" } } , { "@type":"ListItem", "position": 4, "item": { "@id": "https://es.lorealparisusa.com/revista-de-belleza/cuidado-piel/fundamentos-del-cuidado-de-la-piel", "name": "Esenciales del cuidado de la piel" } } , { "@type":"ListItem", "position": 5, "item": { "@id": "https://es.lorealparisusa.com/revista-de-belleza/cuidado-piel/fundamentos-del-cuidado-de-la-piel/best-moisturizer-for-dry-skin", "name": "best-moisturizer-for-dry-skin" } } ] }