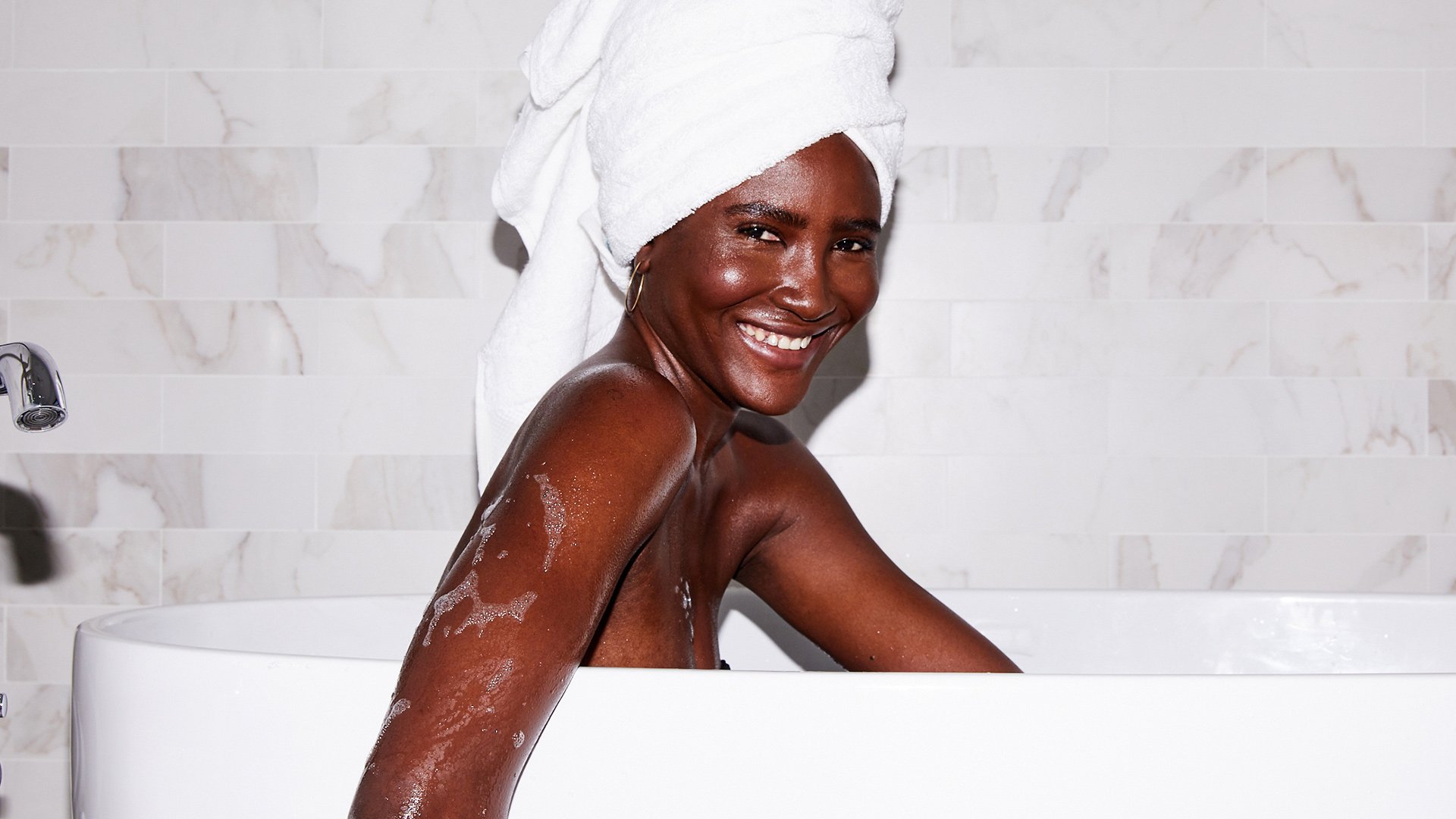 There's nothing like a long, relaxing bath after a hectic week. Sure showers are quick and efficient most days, but when you need to unwind a bath is the way to go. But do you pull out all the stops when it's time to treat yourself to a luxurious bath experience? We all deserve some quality time to wind down (after all, self-care has become a lifestyle must for a reason), and a bath that's as spa-like as possible will give you just that. With the help of face masks, scalp scrubs, and some other affordable products and personal touches you can make the most out of your soak in the suds. Here, your guide to upgrading your tub time into a truly luxurious experience to give you the best bath ever.
HOW TO TAKE A BATH—THE BEST WAY POSSIBLE
Ready to relearn the basics? We're teaching you how to take a bath the right way with seven simple bath time upgrades.
1. SET THE RIGHT TEMPERATURE
Bathing in cold water has its benefits but when it comes to relaxation you'll want your water warm. While many might be tempted to set that temperature to inferno levels, sitting in scorching hot water can actually dry out your skin. That comfort now will cost you discomfort later. Stick with a lukewarm temp, and you can always top off the tub with more water if it starts to cool down too much.
2. SMOOTH ON A FACE MASK
Treat yourself before you even step foot in the bathtub. While the water's filling up, start with a face mask. First, use a mild facial cleanser to wash your face, then apply the L'Oréal Pure-Clay Exfoliate & Refining Face Mask, which is perfect for smoothing rough skin texture and cleansing pores. Masking when you take baths is the perfect way to treat your complexion while the rest of your body soaks.
3. CREATE THE PERFECT AMBIANCE
While your bathroom might not be able to compete with your favorite spa, that doesn't mean that you can't create the perfect ambiance all on your own. Take the time to light some candles, turn on a soothing playlist, or bring a sweet-smelling home diffuser into the room. Personal touches will help turn your bathroom (however big or small) into an oasis for maximum relaxation. Don't forget to keep your robe and towel nearby.
4. TRY DIFFERENT BATH PRODUCTS
There are a lot of different ways to make your bath therapeutic, including using scented bath products to add a luscious aroma to your suds. From bath bombs to bubble bars and bath oils, each of which is available in a myriad of shapes, smells, and sizes, there's sure to be something out there that suits your bath time needs. Dealing with sore muscles? Add some epsom salt to ease aches and pains in various parts of the body.
5. BRING AN ACTIVITY
For some people, laying in a tub doing nothing can actually be more stressful than not. If that's the case for you and you'd prefer to find a way to be productive while relaxing, grab that book you've been wanting to read or listen to your favorite podcast.
6. GO ALL OUT WITH YOUR BODY ROUTINE
There's no better time to pamper every inch of you when you're in the tub. That means shaving your legs, doing a body scrub, or even using a scalp scrub when you take baths. The L'Oréal Paris EverPure Sulfate Free Scalp Care + Detox Scrub has a soothing menthol smell reminiscent of the spa and it removes build-up from the scalp pre-shampoo. Or add some exfoliation into the mix with the help of exfoliating gloves. Gently rub your skin in circular motions to remove dead skin cells from the surface. If you're taking the time to take care of yourself, go all out from head to toe.
7. BRING A DRINK
Pairing a face mask and a glass of wine can make for the perfect self-care night. Know what could make it better? A bath, of course! Take that post-face mask glass of red, white or bubbly to the tub with you and enjoy it while you soak and take the day off. It's the true epitome of a wine-down. How far our bath toys have come from that little ol' rubber duckie!
Editor's tip: Not much of a wine drinker? A cup of soothing tea like chamomile or peppermint can do the trick. Just be careful when drinking the hot liquid. A bad spill can quickly ruin a night of R&R.
Wondering if you're really clean after your bath? You're not alone! For many people baths are simply for relaxing and showers are where they feel like they get clean. If you have sensitive skin and used products, or hopped in the bath after a sweaty workout you might want to rinse off with a quick shower. It's also a good time to rinse off any hair masks or treatments you used. Otherwise, you're good to go. Either way, don't forget to moisturize your body while your skin is still wet. We love L'Oréal Paris Age Perfect Hydra Nutrition Honey Night Balm for its non-sticky, nourishing formula and L'Oréal Paris Age Perfect Hydra Nutrition Manuka Honey All Over Balm - Face, Neck, Chest and Hands. It gives the skin a more youthful glow, and has a decadent honey-inspired fragrance to keep the spa-like mood going past the tub.
Next:
The Aromatherapy Benefit of Eucalyptus
{ "@context": "https://schema.org/", "@type": "WebPage", "speakable": { "@type": "SpeakableSpecification", "cssSelector": ["speakable-content"] }, "url": "https://es.lorealparisusa.com/revista-de-belleza/cuidado-piel/fundamentos-del-cuidado-de-la-piel/how-to-take-a-bath" }
Descubrir más trucos y consejos
Ver todos los artículos
Shop Featured Skin Care products
Discover More
{ "@context": "http://schema.org", "@type": "BreadcrumbList", "itemListElement": [ { "@type":"ListItem", "position": 1, "item": { "@id": "/", "name": "Home" } } , { "@type":"ListItem", "position": 2, "item": { "@id": "https://es.lorealparisusa.com/revista-de-belleza", "name": "Revista de belleza" } } , { "@type":"ListItem", "position": 3, "item": { "@id": "https://es.lorealparisusa.com/revista-de-belleza/cuidado-piel", "name": "Tratamiento de la piel para todas las edades" } } , { "@type":"ListItem", "position": 4, "item": { "@id": "https://es.lorealparisusa.com/revista-de-belleza/cuidado-piel/fundamentos-del-cuidado-de-la-piel", "name": "Esenciales del cuidado de la piel" } } , { "@type":"ListItem", "position": 5, "item": { "@id": "https://es.lorealparisusa.com/revista-de-belleza/cuidado-piel/fundamentos-del-cuidado-de-la-piel/how-to-take-a-bath", "name": "how-to-take-a-bath" } } ] }