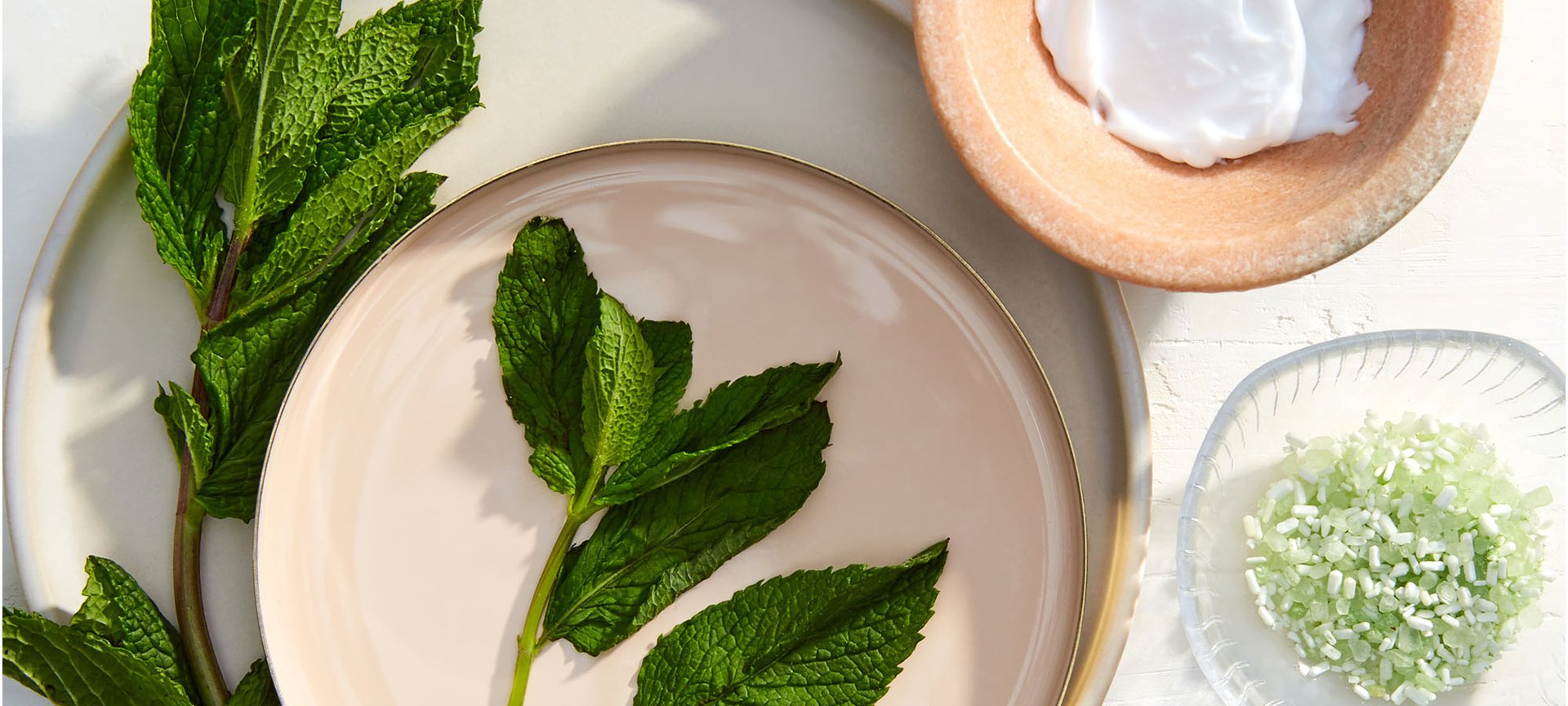 These days there's so much information available about our skin care products that it's hard to believe that any ingredient could elude us. But sometimes an overabundance of information is exactly what makes it difficult to understand these ingredients—especially ones with complex sounding scientific names. And even if you were to read all the ingredients on the back of a product, it's likely you don't actually know what any of them are or why they are in the formula. So we have the need-to-know info on some of the most popular skin care ingredients, plus product recommendations if you're looking to add that ingredient to your routine. After all, if you're trying to take care of your skin, you should know exactly what you're putting on it.


Skin Care Ingredient #1: Aloe Vera
During the summer months, your beach bag is probably stocked with aloe vera—and you aren't alone. According to the Skin Cancer Foundation, one of the most popular uses for aloe vera gel—a byproduct of the aloe vera plant—is for soothing sunburns. This ingredient also provides antioxidant benefits. Aloe vera is also often found in moisturizing formulations and can be suitable for any skin type.
Product pick: L'Oréal Paris Skin Paradise Water Infused Tinted Moisturizer


Skin Care Ingredient #2: Ceramides
Ceramides are key to maintaining your skin's barrier because of their hydrating properties. The American Academy of Dermatology (AAD) shares that moisturizers formulated with lipids, such as ceramides, are usually well tolerated and improve the barrier that is often compromised in people with rosacea.

Skin Care Ingredient #3: Azelaic Acid
You might have started noticing more people talking about this powerhouse ingredient more in the past few years. While it's part of a drug classification called dicarboxylic acids, it's often included in skin care products due to its anti-inflammatory properties. According to the National Center for Biotechnology Information (NCBI) creams containing azelaic acid are effective in treating inflammatory acne while gels containing the ingredient are effective in treating mild to moderate rosacea.
Skin Care Ingredient #4: Caffeine
You're familiar with caffeine as the ingredient that gives your coffee its kick, but it also has topical benefits for your skin. Eye creams formulated with caffeine can help awaken the appearance of your eye contour area and help combat the appearance of dark circles under eyes.
Product pick: L'Oréal Paris Revitalift Derm Intensives 1.5% Hyaluronic Acid 1% Caffeine Eye Serum


Skin Care Ingredient #5: Retinol
Retinol is definitely one of the power players in skin care ingredients. Retinol is a vitamin A compound and—according to Mayo Clinic—the first antioxidant to be widely used in non-prescription wrinkle creams. In addition to helping with the appearance of fine lines and wrinkles, retinol is recommended for addressing the development and maintenance of acne.
Product pick: L'Oréal Paris Revitalift Derm Intensives Night Serum 0.3% Pure Retinol


Skin Care Ingredient #6: Bakuchiol
While you may not find it easy to say this particular ingredient, it might be easier to identify in your products. An alternative to retinol as per the NCBI, bakuchiol is an effective anti-aging compound. Derived from a plant extract, it offers many of the same benefits of retinol—evens skin tone, reduces fine lines and wrinkles—without the dryness and irritation often associated with retinol.

Skin Care Ingredient #7: Hyaluronic Acid
Hyaluronic acid may have acid in its name but it isn't quite the same as the other acids in this guide. Hyaluronic acid doesn't exfoliate, instead it helps moisturize. It's a naturally occurring substance in the body, and according to NCBI has a unique capacity to bind and retain water molecules. In humans, it's most abundant in the skin but also lubricates joints and regulates several parts of tissue repair. Add hydrating serums or moisturizers formulated with hyaluronic acid to your routine to amp up hydration on your skin's surface.
Product pick: L'Oréal Paris Revitalift 1.5% Pure Hyaluronic Acid Serum


Skin Care Ingredient #8: Niacinamide
Inflammation can have many causes, but thankfully, niacinamide is an anti-inflammatory ingredient that can be used to reduce irritation on the skin's surface. The AAD specifies that skin care products formulated with niacinamide can be used to help those who are prone to experiencing irritation or have acne prone skin.
Product pick: L'Oréal Paris Revitalift Pressed Night Moisturizer With Retinol, Niacinamide


Skin Care Ingredient #9: Benzoyl Peroxide
If you've ever dealt with acne, then you know benzoyl peroxide. The American Academy of Dermatology (AAD) recommends benzoyl peroxide as a topical treatment for acne because it's an antibacterial agent. It can be found in cleansers, creams, and gels and can be used as a leave-on or wash-off product.

Skin Care Ingredient #10: Lactic Acid
Derived from sour milk, lactic acid is a chemical exfoliator, meaning it uses chemicals to remove dead cells from the skin. The Mayo Clinic recommends using over the counter creams formulated with lactic acid to help with dry, scaly skin.

Skin Care Ingredient #11: Citric Acid
You may not have heard of citric acid, but if you love skin care, you're certainly already in the know about AHAs (alpha hydroxy acids). Alpha hydroxy acids have risen in popularity for their ability to help exfoliate dead skin cells from the surface of the skin. Citric acid is one such AHA, which can be found in a variety of products from sheet masks to face serums.

Skin Care Ingredient #12: Clay
Clay is another ingredient that has rapidly gained fans and been added to more and more skin care formulas as of late. Most often, clay can be found in face masks but there are facial cleansers formulated with clay too.
Product pick: L'Oréal Paris Pure-Clay Exfoliate & Refine Cleanser


Skin Care Ingredient #13: Glycolic Acid
Glycolic acid is another AHA, and as such, its main purpose in skin care product formulas is to help polish away dead skin cells from the surface of the skin. Glycolic acid is an example of a chemical exfoliator, so it's important to introduce products containing glycolic acid slowly at first to avoid over-exfoliating and irritation. It's also important to know that AHAs can increase sun sensitivity, so be sure to pair your glycolic acid products with a broad-spectrum sunscreen daily, in addition to taking other sun protection measures.
Product pick: L'Oréal Paris Revitalift Derm Intensives 5% Glycolic Acid Peeling Toner


Skin Care Ingredient #14: Salicylic Acid
You may know by now that hydroxy acids are split into two categories: AHAs and beta hydroxy acids (BHAs). We've already covered AHAs, but do you know the difference between AHAs and BHAs? Both help to remove dead skin cells on the skin's surface but BHAs are more commonly found in acne formulations. Case in point, the most common BHA is salicylic acid, which the AAD notes as an over-the-counter acne ingredient that works.

Skin Care Ingredient #15: Vitamin C
Vitamin C isn't just in your orange juice, it's in skin care products too! The AAD recommends adding topical vitamin C to your routine to help reduce the appearance of dark spots over time—with continued use.
Product pick: L'Oréal Paris Revitalift Derm Intensives 10% Pure Vitamin C Serum


Skin Care Ingredient #16: Lipohydroxy Acid
While lipohydroxy acid may not be as widely discussed as AHAs and BHAs, it's commonly used in skin care and personal care products. As the NCBI explains, lipohydroxy acid is a derivative of salicylic acid with acne treating and exfoliating properties, as well as comedolytic properties—meaning it inhibits pore clogging. As it appears to be antimicrobial and anti-inflammatory, it's often effective in fighting acne.
Product pick: L'Oréal Paris Age Perfect Rosy Tone Broad Spectrum SPF 30 Sunscreen

Skin Care Ingredient #17: Collagen
We couldn't end a list of popular skin care ingredients without discussing a tried-and-true—collagen. In the past ten years we've seen the popularity of collagen grow, so much so that it's become available in several forms, even ingestibles (collagen juice anyone?). This natural protein found in the body is used to improve skin elasticity, ward off fine lines and wrinkles, and improve skin barrier function. In other words, if you're starting to notice your skin sagging, you may want to incorporate collagen into your skin care routine.
Product pick: L'Oréal Paris Age Perfect Collagen Expert Day Moisturizer with SPF 30
Next: 10 Anti-Aging Ingredients At The Top Of Our List For 2021
Written by: Shalwah Evans, Photo Credit: Chaunte Vaughn
{ "@context": "https://schema.org/", "@type": "WebPage", "speakable": { "@type": "SpeakableSpecification", "cssSelector": ["speakable-content"] }, "url": "https://es.lorealparisusa.com/revista-de-belleza/cuidado-piel/fundamentos-del-cuidado-de-la-piel/skin-care-ingredient-guide" }
Descubrir más trucos y consejos
Ver todos los artículos
Shop Featured Skin Care products
Discover More
{ "@context": "http://schema.org", "@type": "BreadcrumbList", "itemListElement": [ { "@type":"ListItem", "position": 1, "item": { "@id": "/", "name": "Home" } } , { "@type":"ListItem", "position": 2, "item": { "@id": "https://es.lorealparisusa.com/revista-de-belleza", "name": "Revista de belleza" } } , { "@type":"ListItem", "position": 3, "item": { "@id": "https://es.lorealparisusa.com/revista-de-belleza/cuidado-piel", "name": "Tratamiento de la piel para todas las edades" } } , { "@type":"ListItem", "position": 4, "item": { "@id": "https://es.lorealparisusa.com/revista-de-belleza/cuidado-piel/fundamentos-del-cuidado-de-la-piel", "name": "Esenciales del cuidado de la piel" } } , { "@type":"ListItem", "position": 5, "item": { "@id": "https://es.lorealparisusa.com/revista-de-belleza/cuidado-piel/fundamentos-del-cuidado-de-la-piel/skin-care-ingredient-guide", "name": "skin-care-ingredient-guide" } } ] }