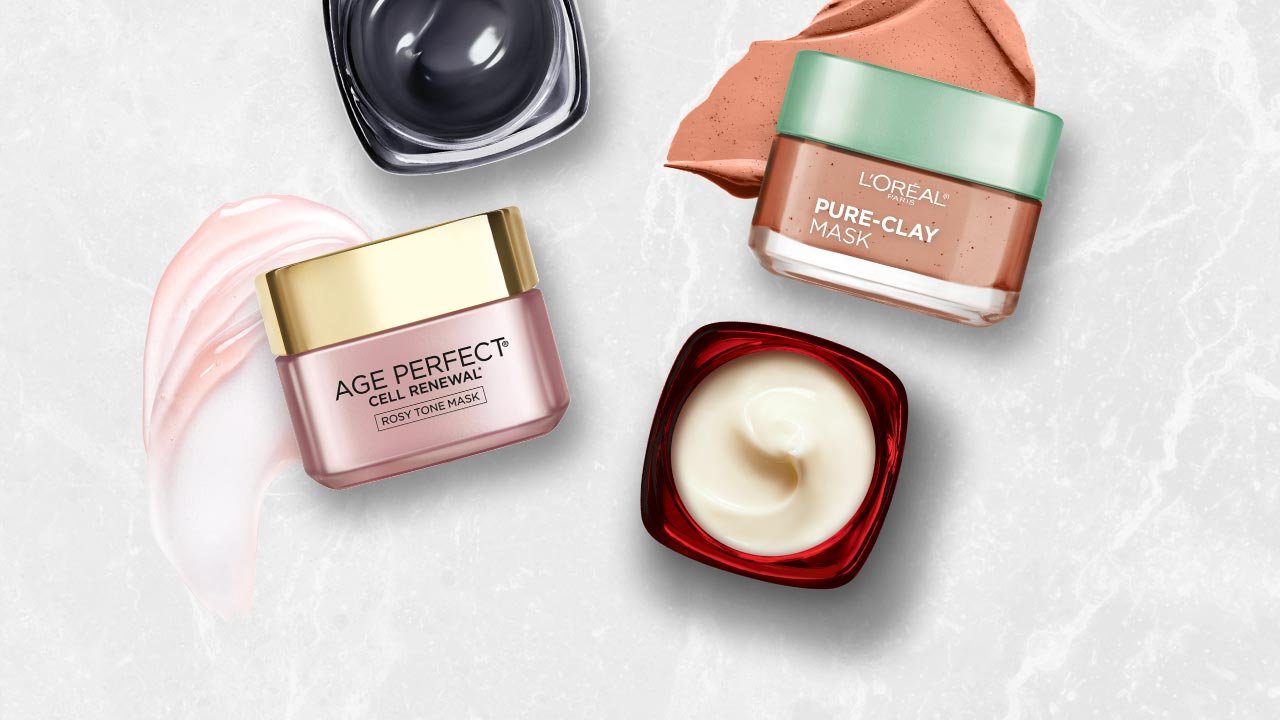 It's a fact: everyone wants to get in on the fun of face masks. Not only are they relaxing, but they're good for your skin. The only downside is having to search for face masks that are right for you. Different skin types call for different moisturizers and facial cleansers, and the same goes for face masks. If you have dry skin, using the wrong face mask will only leave your skin feeling worse than before. But with a hydrating face mask that's right for your dry skin, masking can help nourish and brighten your complexion.
We've rounded up four of our best face masks for dry skin, so you can find your perfect match. Bonus: We're also sharing a few tips to employ when using hydrating facial masks to help avoid common face mask mistakes!
OUR BEST FACE MASKS FOR DRY SKIN
Not sure which face masks to use if you have dry skin? Have your pick from our best options—including brightening and hydrating face masks—below!
L'Oréal Paris Pure-Clay Detox & Brighten Face Mask: If you've ever wondered if charcoal face masks are good for dry skin, the answer is yes! When you have dry skin, you may be met with more than one issue. It can go beyond the tight, uncomfortable feeling of being dry. Not only does skin feel dry, but it looks it. Skin can also become dull and tired-looking. Over time harsh environmental factors, such as pollution and debris, can contribute to this look, and oftentimes, a facial cleanser and moisturizer aren't enough to solve this problem—that's when you can turn to a face mask. This face mask formulated with charcoal draws out impurities, dirt, and pollution, reduces the appearance of dull skin, increases the look of luminosity, and even outs skin tone.
How to use it: Apply an even layer to clean dry skin, avoiding eye and lip area. Leave on for 10-15 minutes then remove with water. For best results, use three times a week.
L'Oréal Paris Pure-Clay Exfoliate & Refining Face Mask: If you're in possession of dry skin, you may be wary of exfoliating. And we wouldn't blame you. When you're direly dry, exfoliating can seem like it would be way too harsh. That's why we suggest opting for a face mask that exfoliates for you. You shouldn't skip exfoliating altogether, as dry skin will have a buildup of dead skin cells on its surface that needs to be sloughed away to absorb moisturizer better. This face mask addresses your skin concerns to reveal a polished, smooth complexion. Dead skin cells are exfoliated, pores are unclogged, and skin looks smoother.
How to use it: Apply an even layer to clean dry skin, avoiding eye and lip area. Leave on for 10-15 minutes then remove with water in circular motions to exfoliate. For best results, use three times a week.
L'Oréal Paris Age Perfect Cell Renewal Rosy Tone Face Mask: Dryness has all sorts of sources, including aging. Dry skin is a visible sign of aging, right alongside fine lines and wrinkles and sagging skin. As you get older, it's likely you'll notice your skin will become drier, and it's possible the skin care products that work for more youthful dry skin won't work for you. For dry skin that's also mature, look for a hydrating face mask with a refreshing gelée texture. This face mask has exactly that, and it's formulated with imperial peony, AHA, and a mineral exfoliant. The face mask sloughs away dull dead skin cells to visibly smooth skin's surface and helps recover skin's natural rosy glow. Immediately, skin looks fresh and hydrated with a radiant look.
How to use it: Apply to your clean face avoiding the eye area. Leave on for five minutes, then gently massage the face mask over your skin using light, circular motions to help exfoliate. Rinse off with water. For best results, use two times per week.
L'Oréal Paris Revitalift Triple Power Anti-Aging Overnight Mask: There's no reason you have to be awake to make a difference in your dry skin. You can sleep, use a face mask, and hydrate all at once. This overnight hydrating facial mask proves such a trifecta isn't too good to be true. Formulated with hyaluronic acid and centella asiatica, the face mask immediately makes skin feel more hydrated and supple. If that's not enough to make you start masking throughout the night, the face mask also helps improve skin's firmness and elasticity for a more youthful look over time.
How to use it: Every evening, apply prior to sleep on cleansed skin. Use alone or as the last step after your eye cream or serum. Smooth over your face, neck, and jawline until absorbed. Leave on overnight to see results.
3 FACE MASK TIPS FOR DRY SKIN
Now that you know about our best face masks for dry skin, let's go over a few tips that apply when it comes to using a face mask on dry skin!
TIP #1: KEEP AN EYE ON THE CLOCK
Ever wonder what happens if you leave a face mask on for too long? In short, it's not good. You see, if you leave a face mask on longer than the specified time, it can actually dry out your skin—which is a serious no-no for those who already have dry skin. So, when you apply your face mask, pay special attention to both the instructions on the jar, tube, or packet and the clock.
TIP #2: MOISTURIZE YOUR SKIN
After using a face mask, you should always moisturize your skin—especially if you have dry skin. Applying a moisturizer post-face mask will give your skin the boost in hydration it needs.
TIP #3: DON'T DIY IT
As tempting as it may be to try a DIY face mask for dry skin, we highly advise against it. In fact, DIY face masks can do quite a bit more harm than good. Instead, stick with a face mask that has gone through the proper formulating and testing to determine that it will benefit dry skin.
Next up: Need help choosing the rest of the skin care products in your routine? Check out Our Best Skin Care Products for Dry Skin.
{ "@context": "https://schema.org/", "@type": "WebPage", "speakable": { "@type": "SpeakableSpecification", "cssSelector": ["speakable-content"] }, "url": "https://es.lorealparisusa.com/revista-de-belleza/cuidado-piel/preocupaciones-de-cuidado-de-la-piel/best-face-masks-for-dry-skin" }
Descubrir más trucos y consejos
Ver todos los artículos
Shop Featured Skin Care products
Discover More
{ "@context": "http://schema.org", "@type": "BreadcrumbList", "itemListElement": [ { "@type":"ListItem", "position": 1, "item": { "@id": "/", "name": "Home" } } , { "@type":"ListItem", "position": 2, "item": { "@id": "https://es.lorealparisusa.com/revista-de-belleza", "name": "Revista de belleza" } } , { "@type":"ListItem", "position": 3, "item": { "@id": "https://es.lorealparisusa.com/revista-de-belleza/cuidado-piel", "name": "Tratamiento de la piel para todas las edades" } } , { "@type":"ListItem", "position": 4, "item": { "@id": "https://es.lorealparisusa.com/revista-de-belleza/cuidado-piel/preocupaciones-de-cuidado-de-la-piel", "name": "Preocupaciones de cuidado de la piel" } } , { "@type":"ListItem", "position": 5, "item": { "@id": "https://es.lorealparisusa.com/revista-de-belleza/cuidado-piel/preocupaciones-de-cuidado-de-la-piel/best-face-masks-for-dry-skin", "name": "best-face-masks-for-dry-skin" } } ] }