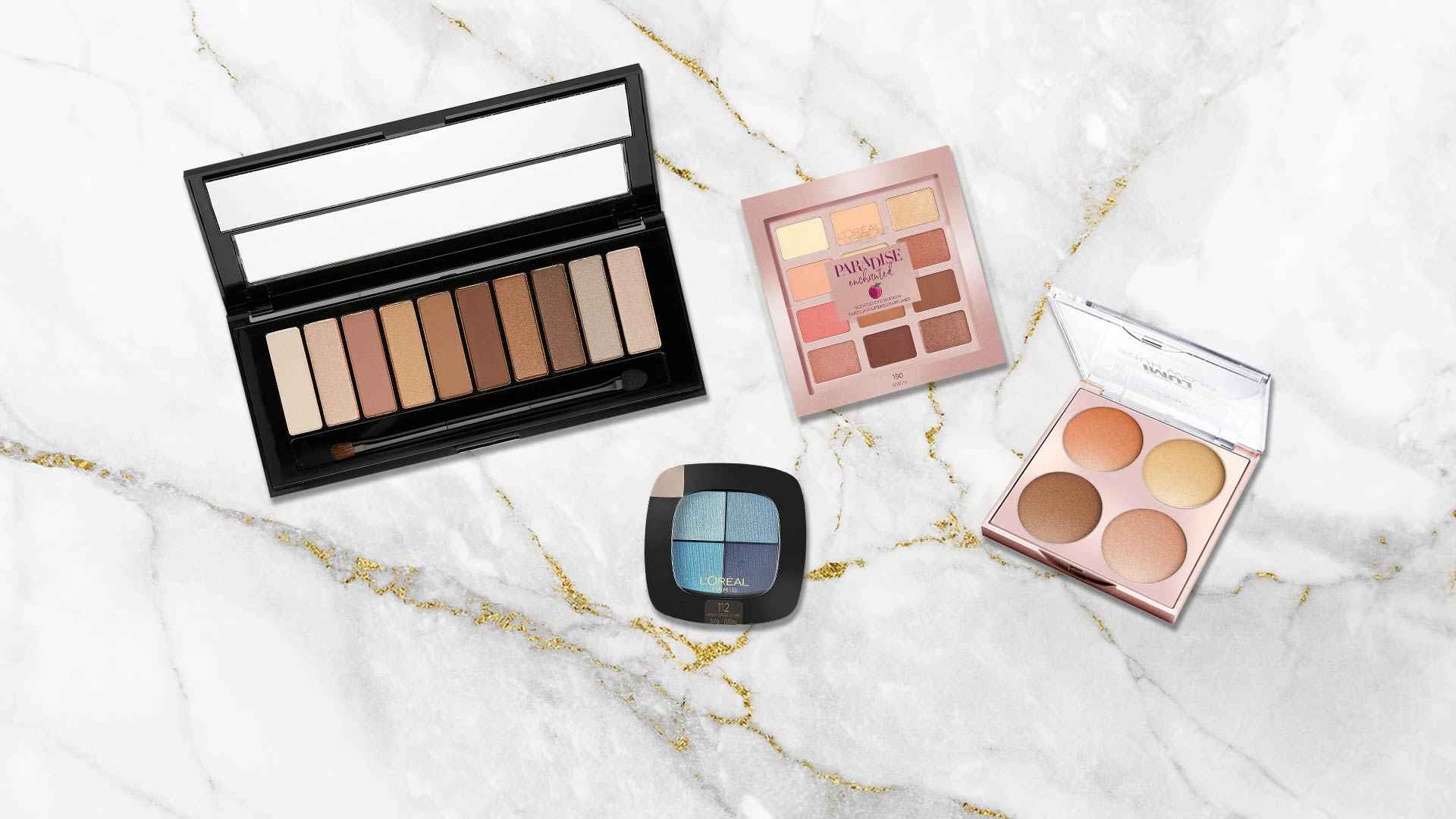 Makeup palettes always seem like they offer so much bang for your buck—and they do—but how often do you actually use all of the colors included in a palette? If you find that you're not sure how to use all the shades in the colorful makeup palettes and nude makeup palettes that stock your beauty collection, you've come to the right place. Below, we share our best makeup palettes and dive into how to use every type of palette to create amazing makeup looks. Bonus: We'll also share how to make your own custom makeup palette!
MAKEUP PALETTE #1: EYESHADOW PALETTE
The first step to knowing how to use an eyeshadow palette or quad is to understand your eye shape. From there, you can create the gorgeous eye makeup look you're after!
Your eyes may seem relatively small when compared to other features on your face, but there are actually several areas around your eye where you can apply makeup. These areas include the brow bone, crease, the area above the crease, outer lid, middle lid, inner lid, lower waterline, outer lower lash line, and inner lower lash line. Once you can identify each area, following along with how-to videos and online makeup tutorials is a breeze—this is the secret to learning how to use an eyeshadow palette for beginners!
Now that you understand the different areas of your eye that are just waiting to be covered in pretty shades from a cool-toned or bright eyeshadow palette, it's time to determine your eye shape so that you can apply your eye makeup in a flattering way.
You have close-set eyes if…your eyes are narrower than one eye width apart. To best complement this shape, use light colors on the inner corners of your eyes and extend dark colors along the outer corners. Finish off by lining and applying mascara to the outer corners to help balance out your look.
You have almond eyes if…they're perfectly proportioned. Lucky you—any eye shadow technique will look gorgeous when paired with your eye shape!
You have deep-set eyes if…your eyes appear sunken. Apply light colors on your entire lid, followed by a slightly deeper color in your crease. If you want to create extra depth, use an even darker color along the outer lid—just be sure to blend it all together.
You have down-turned eyes if…the outer corners of your eyes turn downward. To flatter your eye shape, blend shadow up and out, focusing color along the entire lid and the outer crease. Top it off with liner on the upper lid, finishing with a small upturned flick at the end for an eye-opening effect.
You have hooded eyes if…a fold of skin hangs over your crease. The best way to do makeup for hooded eyes is to work with matte colors. Keep it light along your lid and have your shadow get gradually darker along your crease. Keep in mind, you may have to bring your shadow up a little higher than you normally would, to make sure all of your blending is visible!
You have protruding eyes if…they seem to bulge out a bit. This eye type looks best donning darker, matte colors.
Whichever eye shape you have, you can use a full palette to your advantage. If you want to try a two-toned eye makeup look, apply a lighter color on your lid and a darker color in your crease. If you want to create a smoky eye, swipe a lighter shadow across your lid, followed by a medium hue in your crease and a darker color in the outer corner. You can complete the smoky eye by buffing the darker shadow along your lower lash line and placing a touch of highlighter under the arches of your brows.
Our best eyeshadow palettes: L'Oréal Paris Paradise Enchanted Scented Eyeshadow Palette, L'Oréal Paris Colour Riche La Palette Nude, L'Oréal Paris Colour Riche La Palette Nude Intense, and L'Oréal Paris Colour Riche Pocket Palette Eye Shadow
MAKEUP PALETTE #2: CONTOUR PALETTE
Where using eyeshadow palettes requires a bit of knowledge about your specific facial features, contour palettes are much easier to figure out. These palettes typically come with a light, medium, and dark shade, though some come with one or two additional in-between shades. The trick to using all of the included shades is to blend one of the darker shades around the upper edge of your forehead, down the sides of your nose, along the contour of your cheeks, and on the bottom edge of your jawbone. Contouring these key spots will help give the appearance of a sculpted face and amazing cheekbones.
As for the lighter contour color, that will serve as a highlight. Apply it under your eyes, on the center of your forehead, between your brows, down the bridge of your nose, and above your cheekbones. Ta-da, your visage will instantly look brighter.
MAKEUP PALETTE #3: HIGHLIGHTER PALETTE
While a contour palette will provide you with the basics needed for sculpting your face to perfection, nothing complements a contoured face quite like a bit of glowy highlighter. That's why you'll want to have a highlighter palette on hand, too. A highlighter palette will give you everything you need to take your look from flat and dull to totally radiant. Play around with your palette, wearing different shades alone or mixing them together—you can even use them to illuminate your eyes.
One thing to keep in mind is that different shades of highlighter tend to look best on different skin tones, so it's probable that not every single shade will be your perfect match. It's best to look for a palette with highlighters that complement your skin tone; one easy way to do this is to pick one based on your undertones. If you have warm undertones, opt for a palette that has warm tones. If you have cool undertones, find one with cool tones.
Our best highlighter palette: L'Oréal Paris True Match™ Lumi Glow Nude Highlighter Palette in Sunkissed or Moonkissed
MAKEUP PALETTE #4: COLOR CORRECTING PALETTE
Instead of buying individual color-correcting concealers, a color-correcting palette offers every color of the rainbow needed to neutralize the look of unwanted tones. Use a peach shade to conceal dark circles, a green shade to neutralize the appearance of redness, a lavender shade to counteract the look of dullness, and a yellow shade to hide discolorations. Just remember that the key to working with color-correcting concealers is to apply them underneath your foundation so that the unnatural color of the color correctors ends up completely hidden. The goal isn't to end up with a green tinge!
MAKEUP PALETTE #5: BLUSH PALETTE
One of the best ways to instantly perk up your overall appearance is to dab on some blush. Now, while blush palettes have a wide range of colors, you don't have to use all of them at once. In fact, that would be discouraged. Rather, switch between the colors depending on how you're doing your makeup on a given day. No makeup, makeup calls for slightly lighter hues, while you can go all out for a night on the town by sporting a bright pink blush.
MAKEUP PALETTE #6: LIP PALETTE
A lip palette is a makeup must-have. After all, who doesn't love having a whole slew of lip colors on hand? With so many hues to choose from, there are multiple ways you can use your lip palette to get the most out of it. You can choose a single shade from the palette and use it to give your lips an all-over wash of color, you can mix a few shades together to create a signature shade, or—if you're looking for a slightly more eye-catching look—you can create an ombré lip. To get the look, line the outside of your lips with one of the darker shades and fill in the center of your pout with a lighter color, then blend the edges of the two shades together for a seamless look. This lip look can help create the illusion of a more pillowy pout.
Editor's note: Don't own a lip palette? You can always create your own! Get the details in our article on How to Curate the Perfect Lip Palette.
MAKEUP PALETTE #7: EYEBROW PALETTE
Want to add drama to your eyebrows? When it comes to filling in your brows, it may be overwhelming figuring out what kind of makeup product you want to use and what shade to get, especially if you're new to the eyebrow shaping scene. Luckily, eyebrow palettes do all the work for you when it comes to picking out a product! Brow palettes usually come with a brow powder, an angled applicator brush, and a wax to seal in your color.
To use an eyebrow palette, grab your angled eyebrow brush and apply the powder by lightly tracing the tail of your eyebrows. Then, fill in the tail using light, feathery strokes to mimic hairs. If your palette contains multiple brow powder shades, you can choose a lighter one for filling in the front section of your brows—this can give a more natural look. If you only have one powder, no worries, just be light-handed when picking up product on your brush! Once you've filled in your brows, use an eyebrow comb or spoolie to brush through your hairs and blend the powder. Then, apply your eyebrow wax on top to keep your hairs in place.
MAKEUP PALETTE #8. CUSTOM MAKEUP PALETTE
Taking all of the tips and tricks we shared above, you can make your own makeup palette with custom shades and products that perfectly suit your needs. This is one secret that can help you find the best makeup palette because it will actually be tailored to what you like. You can buy an empty makeup palette or use an empty paint palette and fill it with pots of eyeshadow, your must-have concealer, and more. This DIY takes a bit of work, but the final result is a makeup palette that's curated just for you.
{ "@context": "https://schema.org/", "@type": "WebPage", "speakable": { "@type": "SpeakableSpecification", "cssSelector": ["speakable-content"] }, "url": "https://es.lorealparisusa.com/revista-de-belleza/maquillaje/looks-maquillaje/how-to-use-makeup-palettes" }
Descubrir más trucos y consejos
Ver todos los artículos
Shop Featured Makeup products
Discover More
{ "@context": "http://schema.org", "@type": "BreadcrumbList", "itemListElement": [ { "@type":"ListItem", "position": 1, "item": { "@id": "/", "name": "Home" } } , { "@type":"ListItem", "position": 2, "item": { "@id": "https://es.lorealparisusa.com/revista-de-belleza", "name": "Revista de belleza" } } , { "@type":"ListItem", "position": 3, "item": { "@id": "https://es.lorealparisusa.com/revista-de-belleza/maquillaje", "name": "Consejos de maquillaje para cada look" } } , { "@type":"ListItem", "position": 4, "item": { "@id": "https://es.lorealparisusa.com/revista-de-belleza/maquillaje/looks-maquillaje", "name": "Looks de maquillaje" } } , { "@type":"ListItem", "position": 5, "item": { "@id": "https://es.lorealparisusa.com/revista-de-belleza/maquillaje/looks-maquillaje/how-to-use-makeup-palettes", "name": "how-to-use-makeup-palettes" } } ] }