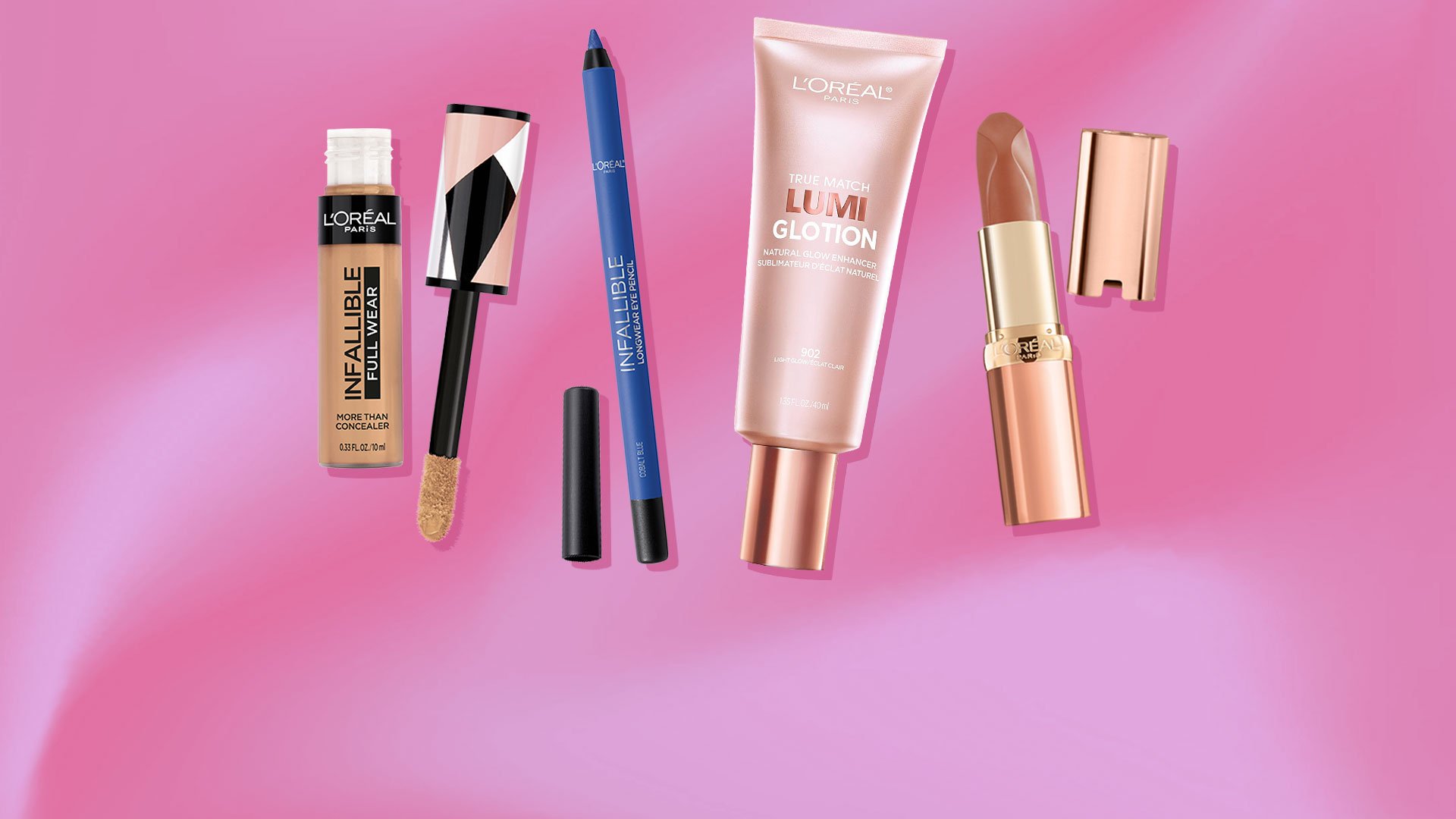 If doing your makeup is your art form, then your makeup products are your medium. And true artists know that manipulating mediums often leads to beautiful outcomes. Let this notion ring true by getting a little bit creative with your favorite makeup products. Not to mention, using your makeup in multiple ways is also a great money saving and time-saving strategy. Below, we're sharing unexpected ways to use your makeup.
Lipstick As Blush
Despite wearing protective face masks, this year seems to be all about blush. And what better way to try out different shades and textures of blush than to use your favorite lipsticks for your cheeks too? Not only does using the same shade on your lips and cheeks make for a gorgeous, cohesive look, but it's also the perfect technique for an on-the-go beauty routine. To try it out, grab your favorite shade from the L'Oréal Paris Colour Riche Les Nus Intense Nude Lipstick collection and apply it straight from the tube to your cheeks and blend up and out with a damp makeup sponge. This formula is perfect for the cheeks because it's ultra pigmented, incredibly smooth and has a soft matte finish.
Editor's Tip: You can make your lipstick even more multifunctional by applying it to the eyelids as well. This makes for the perfect monochromatic makeup look.
Concealer As Eyeshadow Primer
If you wear eyeshadow then you probably know that shadows perform best when applied on top of an eyeshadow primer. Eyeshadow primers come in a variety of different textures and shades (some are even translucent) and are applied to ensure that eyeshadows apply smoothly, appear vibrant and last all day. If you forget your dedicated eyeshadow primer or you're looking to cut down on products in your makeup routine, you can use your concealer as an eyeshadow primer. Not only does doing this simplify your routine, but it also makes your makeup look more cohesive as the concealer should match your skin tone and the other areas of your face.
Eyeliner As An Eyeshadow Base
If you want to make your eyeshadow look vibrant, a great trick is to use a creamy pencil eyeliner as a base for the shadow. Not only will the eyeliner make the shadow stay in place, but it will also make the color of the shadow really pop. For example, if you're creating a blue eyeshadow look and you want it to be bold, apply the L'Oréal Paris Infallible Pro-Last Waterproof up to 24H Pencil Eyeliner in Cobalt Blue to your eyelids and blend out. Then, apply your eyeshadow on top of the base for a gorgeous, intense look.
Editor's Tip: If you're creating a black smokey eye or any dark eyeshadow look, apply a black eyeliner to your eyelids as a base to make the shadows on top appear more rich and sultry.
Lipstick As Contour
Faking sculpted cheekbones is achieved through contouring, and this tip will help you get extra creative—especially if you're in a pinch and don't have a contouring product with you. Considering how popular 90's inspired nude lipstick shades are, you more than likely have a slightly cool toned brown lipstick that will perfectly double as a contour color. Try the L'Oréal Paris Colour Riche Matte Lipstick in Matte-itude if you have light to medium skin. If you have a darker skin tone, an option like the L'Oréal Paris Colour Riche Ultra Matte Highly Pigmented Lipstick in Cutting Edge Cork will complement you beautifully. Swipe the color right below your cheekbones and blend upwards with a brush for a beautiful chiseled look.
Editor's Tip: If you don't have the right lipstick shade to contour with, you can also use a darker concealer to sculpt your cheekbones. Grab a concealer that's two shades darker than your skin and apply it the same way you would with the lipstick or a contour product.
Eyeshadow As Eyeliner
There's no disputing that classic winged eyeliner will always be a staple go-to look, but sometimes softer eyeliner is a nice way to change it up. To use eyeshadow as an eyeliner grab a mid to deep eyeshadow like the L'Oréal Paris Colour Riche Monos Eyeshadow in Noir Cest Noir or Grand Bleu and apply it to your last line with an eyeliner brush. Not only does using eyeshadow as liner create a softer, more diffused look, but it also gives you so many color and texture options.
Liquid Highlighter As Primer
Glowy skin is in and there are many ways to achieve the look, but a simple way to do so is by applying a liquid highlighter like the L'Oréal Paris True Match Lumi Glow Glotion Natural Glow Enhancer as a base underneath your foundation. If you want an all over glow, apply the highlighter generously all over your face with your fingers or a damp sponge. If you prefer to glow in just the high points of your skin, apply the highlighter to your cheekbones, bridge of your nose and cupid's bow. For even extra glow, apply the highlighter on top of your foundation as well.
Photo Credit: Sarah Duvivier
Next: 7 Monochrome Makeup Looks to Try This Spring
{ "@context": "https://schema.org/", "@type": "WebPage", "speakable": { "@type": "SpeakableSpecification", "cssSelector": ["speakable-content"] }, "url": "https://es.lorealparisusa.com/revista-de-belleza/maquillaje/looks-maquillaje/how-to-use-makeup-products-multiple-ways" }
Descubrir más trucos y consejos
Ver todos los artículos
Shop Featured products
Discover More
{ "@context": "http://schema.org", "@type": "BreadcrumbList", "itemListElement": [ { "@type":"ListItem", "position": 1, "item": { "@id": "/", "name": "Home" } } , { "@type":"ListItem", "position": 2, "item": { "@id": "https://es.lorealparisusa.com/revista-de-belleza", "name": "Revista de belleza" } } , { "@type":"ListItem", "position": 3, "item": { "@id": "https://es.lorealparisusa.com/revista-de-belleza/maquillaje", "name": "Consejos de maquillaje para cada look" } } , { "@type":"ListItem", "position": 4, "item": { "@id": "https://es.lorealparisusa.com/revista-de-belleza/maquillaje/looks-maquillaje", "name": "Looks de maquillaje" } } , { "@type":"ListItem", "position": 5, "item": { "@id": "https://es.lorealparisusa.com/revista-de-belleza/maquillaje/looks-maquillaje/how-to-use-makeup-products-multiple-ways", "name": "how-to-use-makeup-products-multiple-ways" } } ] }