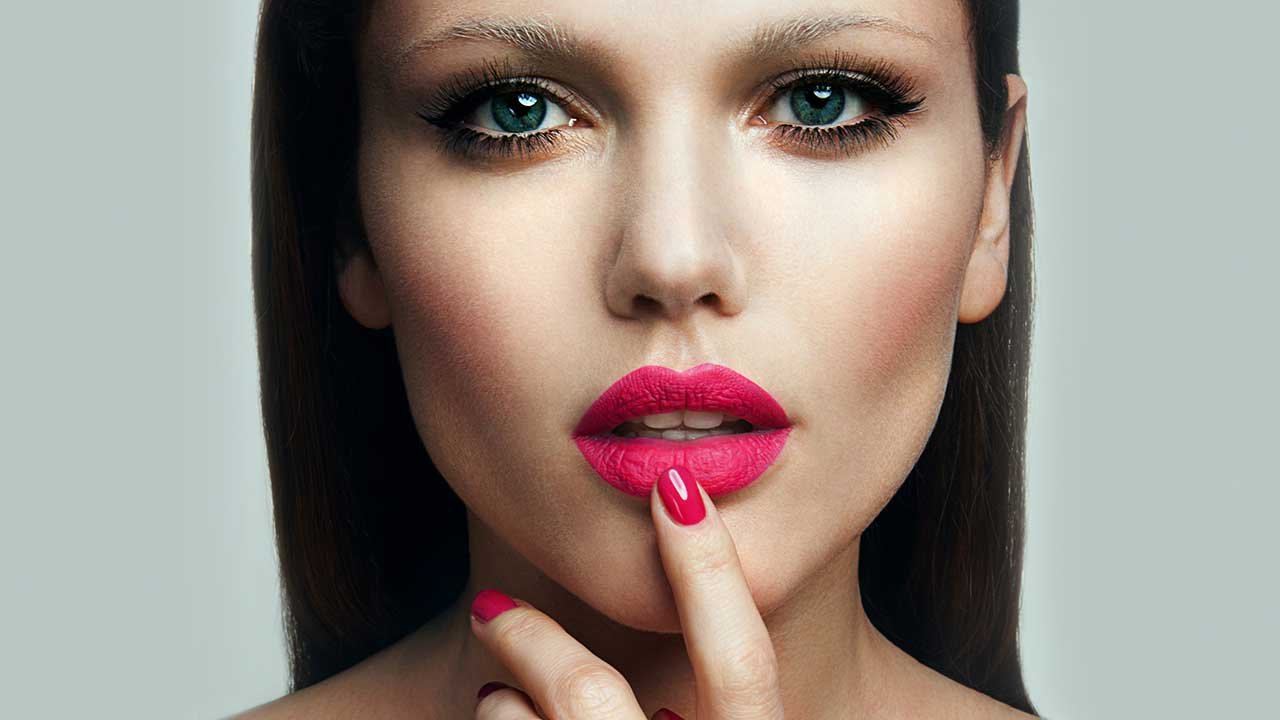 Matte makeup has long been lauded for its shine-free finish, which means you never have to worry about looking like an oil slick midway through the day, but it also doesn't hurt that it's totally trendy. From matte lipstick to matte blush, matte is where it's at. Of course, you don't have to stop there. There's a matte option for almost every kind of makeup product—and there's no reason they can't all be worn together. Below, find out how to wear matte makeup all over your face for a totally on-trend makeup look.
STEP 1: START WITH PRIMER
Before you put on your matte makeup, it's a good idea to start with a primer. Since applying a primer with a glowing finish could negate the effect of your matte makeup, look for a matte primer. The L'Oréal Paris Infallible Pro-Matte Lock Makeup Primer has a matte finish and helps smooth the look of pores and fine lines. Apply it all over your face or to targeted areas (like your T-zone and under your eyes). Primer can help create an even base for the rest of your makeup application as well as allow your makeup to wear more evenly, so it's a step worth doing.
STEP #2: APPLY FOUNDATION
Once you're done priming, work your way through the rest of your makeup routine, starting with foundation. For a matte foundation option, try the L'Oréal Paris Infallible Pro-Matte Foundation. The air-light demi-matte formula offers a flawless-looking finish that is long-lasting. To use it, apply a small amount of foundation onto the L'Oréal Paris Infallible Blend Artist Foundation Blender, then bounce the sponge all over your face to blend and buff the foundation out until you've reached your desired level of coverage.
STEP #3: GRAB A POWDER
To help maximize the wear time of your matte foundation, it's always a good idea to set it with a powder. Pick up the L'Oréal Paris Infallible Pro-Matte Powder, which will pair perfectly with your foundation. This long-lasting powder has a fine texture that never falls flat or appears cakey. Just press the powder onto your face—paying extra attention to any areas that tend to get oily—using the included applicator sponge.
STEP #4: BRUSH ON BLUSH
Give your cheeks a flush of lively color by sweeping a matte blush over the apples of your cheeks. Blend out the blush with a fluffy brush for a natural look sans any harsh lines. Applying a bit of blush will help keep your matte makeup look from appearing too flat, so don't skip this step!
STEP #5: ADD EYE SHADOW
You can't complete an eye-catching look without eye shadow. Choose a matte eye shadow from the L'Oréal Paris Colour Riche La Palette Nude to help define your eyes. Brush the color over your lids and blend out past the crease.
Editor's tip: Matte doesn't have to be boring! Read our article, 6 Colorful Eye Makeup Looks, for a number of vibrant eye makeup ideas you can recreate using matte eye shadow.
STEP #6: COAT YOUR LASHES
Before you start batting those lashes, you'll need mascara. And no, you don't need to stress about finding a matte mascara—just grab whichever one is your favorite. If you want eyelashes with the look of voluptuous volume and lush length (who doesn't?), use the L'Oréal Paris Voluminous Lash Paradise Washable Mascara. Place the brush at the base of your lashes and gently sweep through to the tips.
STEP #7: LINE YOUR LIPS
Layering lip makeup helps lipstick apply more smoothly and last longer, making it a great idea to wear lip liner under your lipstick. Use the L'Oréal Paris Colour Riche Matte Lip Liner to line around the edges of your lips before filling them in completely, priming them for your lip color. To fake the look of larger lips, try lining slightly outside of your natural lip shape.
Editor's tip: Want more lip liner hacks? Read our article, 10 Lip Liner Hacks That Will Make Applying Lipstick Easier.
STEP #8: GRAB YOUR LIPSTICK
It's time to complete your look! Pick the shade of the L'Oréal Paris Colour Riche Matte Lipstick or the L'Oréal Paris Infallible Pro-Matte Liquid Lipstick that best coordinates with your lip liner and apply starting in the center of your upper lip. Work from the center to outer edges of your lips, following the contour of your mouth.
Eight simple steps later and you have a full face of matte makeup! Next, consider giving a glowing look a shot with our article, How to Use Illuminating Makeup for a Glowing Visage.
{ "@context": "https://schema.org/", "@type": "WebPage", "speakable": { "@type": "SpeakableSpecification", "cssSelector": ["speakable-content"] }, "url": "https://es.lorealparisusa.com/revista-de-belleza/maquillaje/looks-maquillaje/how-to-wear-all-over-matte-makeup" }
Descubrir más trucos y consejos
Ver todos los artículos
Shop Featured Makeup products
Discover More
{ "@context": "http://schema.org", "@type": "BreadcrumbList", "itemListElement": [ { "@type":"ListItem", "position": 1, "item": { "@id": "/", "name": "Home" } } , { "@type":"ListItem", "position": 2, "item": { "@id": "https://es.lorealparisusa.com/revista-de-belleza", "name": "Revista de belleza" } } , { "@type":"ListItem", "position": 3, "item": { "@id": "https://es.lorealparisusa.com/revista-de-belleza/maquillaje", "name": "Consejos de maquillaje para cada look" } } , { "@type":"ListItem", "position": 4, "item": { "@id": "https://es.lorealparisusa.com/revista-de-belleza/maquillaje/looks-maquillaje", "name": "Looks de maquillaje" } } , { "@type":"ListItem", "position": 5, "item": { "@id": "https://es.lorealparisusa.com/revista-de-belleza/maquillaje/looks-maquillaje/how-to-wear-all-over-matte-makeup", "name": "how-to-wear-all-over-matte-makeup" } } ] }