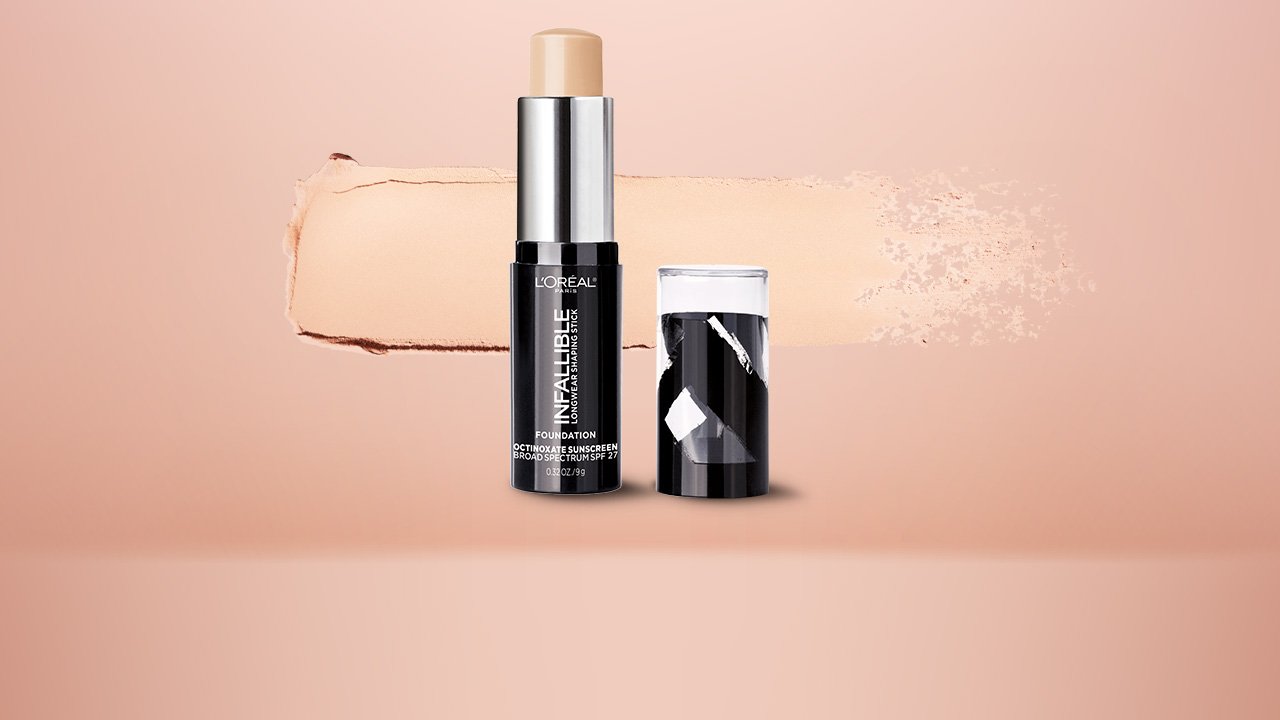 When it comes to foundation, there are quite a few types to choose from, ranging from powder to liquid. One type of foundation you may have crossed paths with as of late? Stick foundation! This nifty, convenient foundation option has been creating quite the buzz in the makeup world. Maybe it's the way it can easily be tossed in your makeup bag or be used to create a sculpted visage with just a few swipes, but we have to admit we've developed a bit of a crush on the product ourselves. Want to get in on the love? Read on to learn everything you need to know about stick foundation, including our best foundation stick to use for quick and easy coverage in your next makeup look.
WHAT IS STICK FOUNDATION?
Before we share our best foundation stick, you may be wondering what exactly stick foundation is in the first place. Well, this type of foundation is exactly what it sounds like, foundation that's in a stick format. The formula is that of a cream foundation, and can be easily swiped on.
WHAT IS STICK FOUNDATION USED FOR?
Generally, foundation sticks can be used just as normal foundation is used, but they're particularly great for creating a contoured, sculpted complexion due to their ability to be precisely applied in an instant. They're also a great on-the-go coverage option if you're stuck applying makeup during your commute or on a spontaneous getaway.
ARE FOUNDATION STICKS BETTER THAN LIQUID FOUNDATION?
While we wouldn't say one type of foundation is better than the other, different types are better for certain situations. When it comes to comparing foundation sticks and liquid foundation, the former tends to be a better option for easy contouring and convenient, quick application. If you're on the go, a stick foundation may also be ideal as they tend to create less mess.
HOW LONG DO FOUNDATION STICKS LAST?
How long foundation sticks last is dependent on the foundation stick and formula in question. You may find you go through a foundation stick slower than you would use up another foundation formula, because you aren't pumping out product or picking up too much on a brush. You can swipe exactly what you need on.
As far as expiration goes, most cream products like foundation sticks will last for somewhere between 12 and 18 months. A quick pro-tip: When you purchase makeup products, look at the bottom of the box they come in. You should see a little jar-shaped icon with a number inside it—that number represents how long the product is intended to be used after opening.
OUR BEST FOUNDATION STICK
Sold on the idea of a foundation stick? Allow us to introduce you to our very best one, the L'Oréal Paris Infallible Longwear Foundation Shaping Sticks. The multi-use stick allows you to easily define features without sacrificing long-wear coverage thanks to the creamy, glide-on formula that melts onto skin and provides weightless, long-lasting coverage that doesn't cake or drag. Available in 12 shades, the line has everything you need to cover, conceal, contour, and highlight your features.
HOW TO USE A FOUNDATION STICK
Now to put your foundation stick to use! Follow the steps below to become a stick foundation pro.
Step #1: Prime. As with any foundation, it's a good idea to start with a makeup primer. Apply the L'Oréal Paris Studio Secrets Professional Magic Perfecting Base all over your face.
Step #2: Highlight. Reach for a color that's one to two shades lighter than your skin tone. This will be used to highlight the high points of your face. Apply it in upside-down triangles under your eyes, to the center of your forehead and chin, beneath the hollows of your cheeks, and down the bridge of your nose.
Step #3: Contour. Grab a second foundation stick in a color that's one to two shades darker than your skin tone. This will be used to create your contour. Apply it to the hollows of your cheeks, temples, sides of your nose, and jawline.
Step #4: Blend. Use a makeup blender, like the L'Oréal Paris Infallible Blend Artist Foundation Blender, to buff and blend out the two shades for a seamless, perfectly contoured complexion. Easy, right?
Step #5: Set. Keep your complexion lasting all day and night with the help of a setting spray. Spritz on the L'Oréal Paris Infallible Pro-Spray and Set Make-Up Oil-Free Setting Spray to seal in your contour.
{ "@context": "https://schema.org/", "@type": "WebPage", "speakable": { "@type": "SpeakableSpecification", "cssSelector": ["speakable-content"] }, "url": "https://es.lorealparisusa.com/revista-de-belleza/maquillaje/maquillaje-facial/foundation-stick" }
Descubrir más trucos y consejos
Ver todos los artículos
Shop Featured Makeup products
Discover More
{ "@context": "http://schema.org", "@type": "BreadcrumbList", "itemListElement": [ { "@type":"ListItem", "position": 1, "item": { "@id": "/", "name": "Home" } } , { "@type":"ListItem", "position": 2, "item": { "@id": "https://es.lorealparisusa.com/revista-de-belleza", "name": "Revista de belleza" } } , { "@type":"ListItem", "position": 3, "item": { "@id": "https://es.lorealparisusa.com/revista-de-belleza/maquillaje", "name": "Consejos de maquillaje para cada look" } } , { "@type":"ListItem", "position": 4, "item": { "@id": "https://es.lorealparisusa.com/revista-de-belleza/maquillaje/maquillaje-facial", "name": "Maquillaje facial" } } , { "@type":"ListItem", "position": 5, "item": { "@id": "https://es.lorealparisusa.com/revista-de-belleza/maquillaje/maquillaje-facial/foundation-stick", "name": "foundation-stick" } } ] }