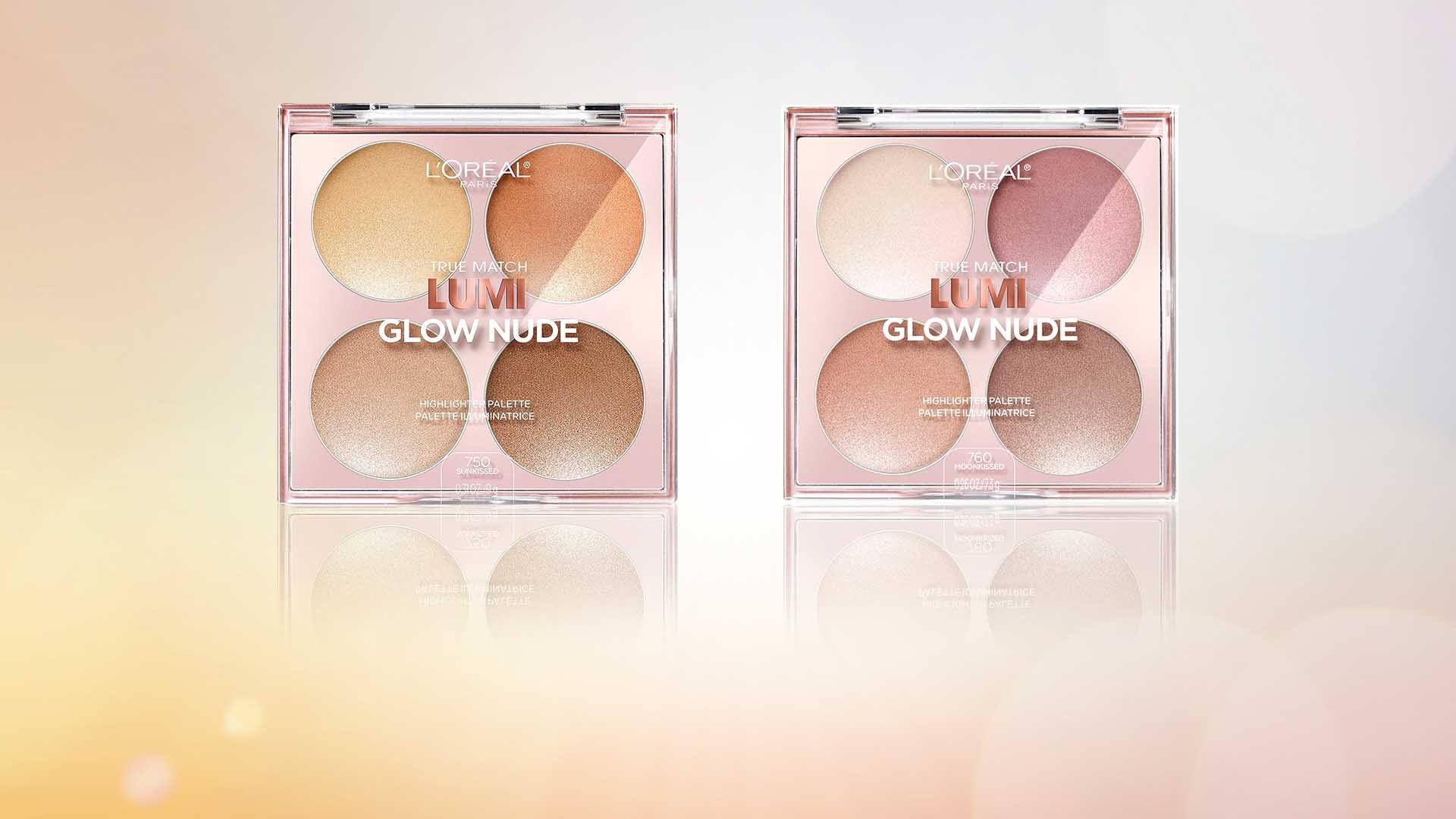 Matte skin had its moment, but today it's all about creating a glowing, radiant complexion. While you may already have highlighter in your makeup bag to achieve a gleaming face, there's one handy product you could be missing out on: a highlighter palette. The best highlighter palettes contain complementing shades of highlighter, blush, and bronzer to achieve that lit-from-within glow. This also means there's no need to lug around individual items in an effort to achieve the look you're after. If you're interested in adding this game-changer to your routine, we have a recommendation worth noting. Ahead, we're sharing our best highlighter palette and how to use it for a luminous complexion.
Our Best Highlighter Palette
Without further ado, allow us to introduce you to our best highlighter palette: the L'Oréal Paris True Match Lumi Glow Nude Highlighter Palette. The palette consists of two highlighters, a bronzer, and a blush—all featuring a blendable powder consistency. It's also available in two color variations for different skin tones and undertones. Sunkissed is a warm color scheme, consisting of a pink and yellow-toned highlighter, shimmering bronzer, and rosy blush. Moonkissed is a cool-toned color palette, showcasing a pale pink and cream highlighter, bronzer, and lilac-pink blush.
How To Use Our Best Highlighter Palette
The best thing about a highlighter palette is how easy it is to use. There's no need to second guess if your blush and highlighter wear well together or scramble to find the product you had in mind in your makeup bag. Everything you need to get your glow on is in one convenient place. Here's how to put our best highlighter palette to use.
Step #1. Bronze away. Use an angled brush to apply bronzer to the hollows of your cheeks, temples, sides of your nose, and jawline. Make sure to blend, blend, blend!
Step #2. Add some color. Reach for a blush brush and dust the powder formula onto the apples of your cheeks for a healthy dose of color.
Step #3. Amp up the glow. You can use a tapered highlighter brush or a fan brush to apply your highlighter shades, depending on your preference. Swipe the darker highlight shade onto your cheekbones. Then, apply the lighter shade just above your cheekbones, sweeping it up to your temples and around your eye sockets. You can also dust it onto your cupid's bow and tip of your nose for added radiance.
Your Full Highlighter Palette Routine
Now that you know how to use our best highlighter palette for a lit-from-within glow, it may be helpful to learn how to incorporate your new-found BFF into your makeup routine. Here's a full radiant regimen to follow.
Step #1. Prime Your Face
It's important to start your routine with a makeup primer to ensure your look lasts. Look for one that has a radiant finish to add in your glow factor, like the L'Oréal Paris Infallible Pro-Glow Makeup Lock Primer.
Step #2. Apply Foundation
Next, give your skin a bit of coverage with the help of foundation. Since a glowing look is what you're after, the L'Oréal Paris Infallible Pro-Glow Foundation is a great option. It has a radiant finish and medium coverage that will help blur imperfections. Apply it with the L'Oréal Paris Infallible Blend Artist Foundation Blender.
Step #3. Use Your Highlighter Palette
You know what to do! Follow the steps below to put our best highlighter palette to work.
Step #4. Groom Your Brows
A bit of brow mascara can go a long way to give your eyebrows a boost. Use the angled brush of the L'Oréal Paris Brow Stylist Boost & Set Brow Mascara to help create the appearance of naturally thicker-looking brows.
Step #5. Color Your Lids
Bring on the shimmer! You can sweep any shade from our L'Oréal Paris Brilliant Eyes Shimmer Liquid Eye Shadow Makeup line onto your lids for a wash of sparkling color.
Step #5. Line Your Eyes
While you don't have to line your eyes, a bit of eyeliner along your upper lash line can do wonders for giving your lashes a thicker appearance. Use the L'Oréal Paris Le Liner Signature Easy-Glide Mechanical Eyeliner, Waterproof in Brown Denim.
Step #6. Coat Your Lashes
One more step: mascara! Sweep on a few coats of the L'Oréal Paris Air Volume Mega Mascara, Lightweight Mega Volume Washable for blown-out volume to finish your look.
Next up: Keep your faux glow going with the help of our article, Glow at Home: Get Glowing, Bronzed Skin Without The Sun.
{ "@context": "https://schema.org/", "@type": "WebPage", "speakable": { "@type": "SpeakableSpecification", "cssSelector": ["speakable-content"] }, "url": "https://es.lorealparisusa.com/revista-de-belleza/maquillaje/maquillaje-facial/highlighter-palette-how-to" }
Descubrir más trucos y consejos
Ver todos los artículos
Shop Featured Makeup products
Discover More
{ "@context": "http://schema.org", "@type": "BreadcrumbList", "itemListElement": [ { "@type":"ListItem", "position": 1, "item": { "@id": "/", "name": "Home" } } , { "@type":"ListItem", "position": 2, "item": { "@id": "https://es.lorealparisusa.com/revista-de-belleza", "name": "Revista de belleza" } } , { "@type":"ListItem", "position": 3, "item": { "@id": "https://es.lorealparisusa.com/revista-de-belleza/maquillaje", "name": "Consejos de maquillaje para cada look" } } , { "@type":"ListItem", "position": 4, "item": { "@id": "https://es.lorealparisusa.com/revista-de-belleza/maquillaje/maquillaje-facial", "name": "Maquillaje facial" } } , { "@type":"ListItem", "position": 5, "item": { "@id": "https://es.lorealparisusa.com/revista-de-belleza/maquillaje/maquillaje-facial/highlighter-palette-how-to", "name": "highlighter-palette-how-to" } } ] }