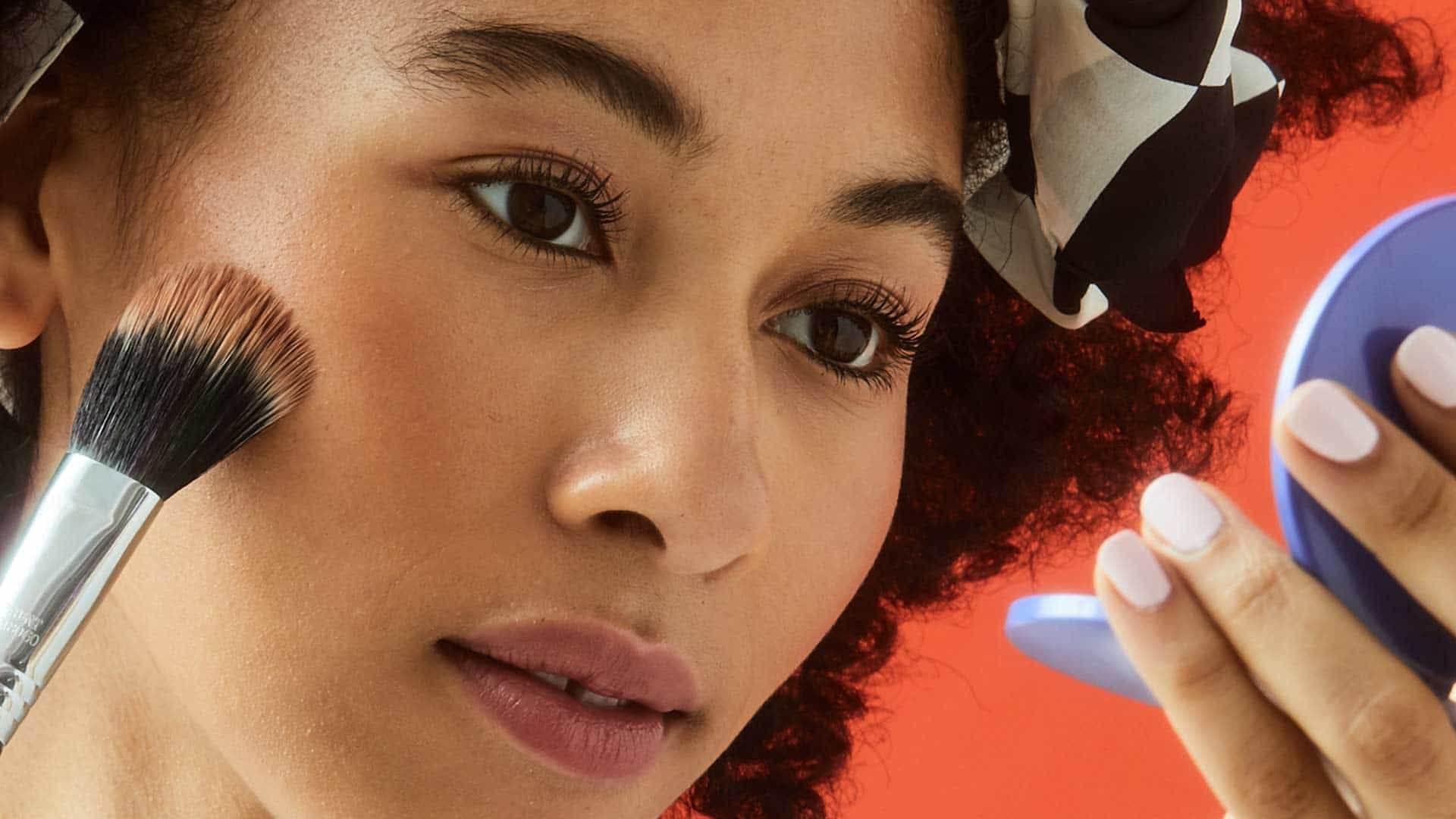 Bronzer is a beloved makeup product—we'd even go so far as to say it's a face makeup essential all year round. And when applied to the right spots, bronzer can make it look as if you just returned from a tropical vacation. But do you know the right way to apply your bronzer to create a natural-looking, bronzy tan? The trick isn't to sweep bronzer all over your face, nor is it to focus solely on your cheekbones. Here, we're sharing five places you can apply bronzer, plus our best product picks for faking a sun-kissed glow 365 days a year.
1. The Eyelids
Face bronzer may be the number one product for adding a sun-kissed glow to your complexion, but it also looks really pretty when used on the eyes. It's a quick way to create a sultry look and help relieve the appearance of tired eyes by adding some warmth to the area. To try it out, reach for the L'Oréal Paris True Match Lumi Bronze It Bronzer and use a fluffy eyeshadow brush to blend the product starting from the lash line and up towards your crease. This bronzer comes in three shades and its formula includes light shimmer, which will help draw attention to your peepers.
2. The Jawline
Applying bronzer on your jawline will help create the illusion of a more chiseled face. Try it out for yourself by using a fluffy face brush and the L'Oréal Paris Summer Belle Makeup Bronze Please! matte bronzer. Sweep the bronzer onto both sides of your jawline, running from underneath your chin to about an inch from your ears. If you want a more contoured look, choose a bronzer that's about two shades darker than your skin tone. After you apply it, run a clean powder brush along your jawline to blend everything together—the goal isn't harsh dark lines but rather to accentuate the natural shadow of your jawline.
3. The Temples and Hairline
Your temples and hairline are some of the best places to apply bronzer, especially if you want to create the appearance of a smaller forehead. The darker color will create a shadow-like effect around the areas, making the forehead appear lower. We recommend using the three-shape technique. Imagine the shape of the number three on both sides of your face with your temples, cheekbones and jawline each being one part of the number. Visualize the shape, then sweep your bronzer on in that pattern. Be sure to extend the bronzer from the temples and across the hairline for an even and blended makeup look.
4. The Collarbone
Applying bronzer isn't limited to just your face. Try bronzing around your collarbone and chest to bring more definition and glow to the area (it will look great in photos especially for weddings or prom). Apply your bronzer onto the divots on either side of your collarbones. The tops of your collarbones (and even your shoulders) are also a great place to dust on a little highlighter for some extra jazz and shimmer—might as well while you're at it!
5. The Cheekbones
You already know about this one, but the most popular spot for bronzer is on your cheekbones. For a sculpted and defined look, swipe bronzer onto your lower cheekbones, then swipe a little bit of highlighter onto the tops of your cheekbones. As a general rule for sculpting and contouring with makeup, the lighter shades (and highlighter) should be applied to the higher points of your face, while the darker ones go where shadows naturally occur.
How To Get An All-Over Bronzed Glow
If you're looking for a way to get all-over glowing, bronzed skin, self-tanner is exactly what you need. And don't worry, all self-tanners won't leave you looking bright orange and streaky. Plus, there are different types of formulas you can choose from, like a serum, mousse, or facial drops.
Reach for the L'Oréal Paris Sublime Bronze Self-Tanning Serum for a quick-dry, streak-free tanner that can be used on your face and body. It offers a natural-looking tan that can last up to two weeks. If you prefer mousse formulas, try the L'Oréal Paris Sublime Bronze Self-Tanning Water Mousse, which works to smooth and soften the skin. It also gradually tans the skin within four to eight hours. For those looking for a product specifically made to give your face a natural glow, use the L'Oréal Paris Sublime Bronze Self-Tanning Facial Drops, Fragrance-Free. This serum can be mixed in with moisturizer for a customizable application and helps your skin stay hydrated thanks to its dose of hyaluronic acid.
Photo Credit: Chaunte Vaughn
{ "@context": "https://schema.org/", "@type": "WebPage", "speakable": { "@type": "SpeakableSpecification", "cssSelector": ["speakable-content"] }, "url": "https://es.lorealparisusa.com/revista-de-belleza/maquillaje/maquillaje-facial/where-do-you-apply-bronzer" }
Descubrir más trucos y consejos
Ver todos los artículos
Shop Featured Makeup products
Discover More
{ "@context": "http://schema.org", "@type": "BreadcrumbList", "itemListElement": [ { "@type":"ListItem", "position": 1, "item": { "@id": "/", "name": "Home" } } , { "@type":"ListItem", "position": 2, "item": { "@id": "https://es.lorealparisusa.com/revista-de-belleza", "name": "Revista de belleza" } } , { "@type":"ListItem", "position": 3, "item": { "@id": "https://es.lorealparisusa.com/revista-de-belleza/maquillaje", "name": "Consejos de maquillaje para cada look" } } , { "@type":"ListItem", "position": 4, "item": { "@id": "https://es.lorealparisusa.com/revista-de-belleza/maquillaje/maquillaje-facial", "name": "Maquillaje facial" } } , { "@type":"ListItem", "position": 5, "item": { "@id": "https://es.lorealparisusa.com/revista-de-belleza/maquillaje/maquillaje-facial/where-do-you-apply-bronzer", "name": "where-do-you-apply-bronzer" } } ] }