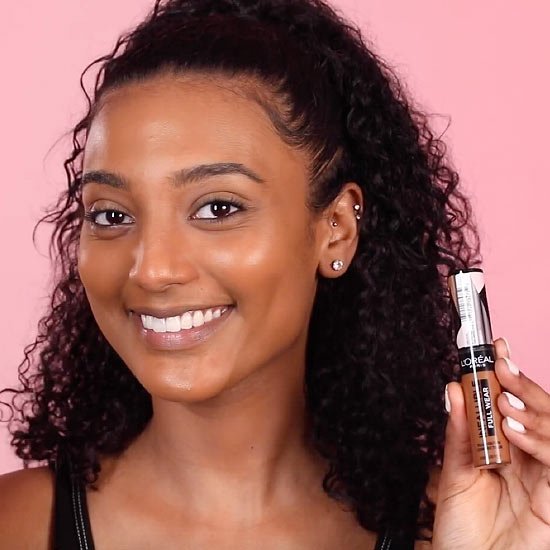 There's no reason to be wary of the hype surrounding contouring. This makeup technique is just about as close to magic as you can get—and it doesn't hurt that you can master a flawless contour in minutes. Seriously, with the help of the right contour tutorial and a few shades of concealer, you're only six simple steps away from showing off a sculpted, chiseled visage. Intrigued? Watch the video above, then read our step-by-step contouring tutorial to master this must-know makeup technique.
STEP 1: SELECT TWO CONCEALER SHADES
If you're even vaguely familiar with contouring, you already know that this face-defining technique will necessitate more than one product. You'll need one concealer in a lighter shade to highlight and a darker shade to contour. When choosing your concealers, look for one that's two shades lighter than your skin tone, and another that's two shades darker than your skin tone. Opting for shades far outside those ranges is likely to lead to a look that's nowhere near natural—which, if it must be said, isn't what you want. Here are some of our best contouring concealer options:
L'Oréal Paris Infallible Full Wear Concealer Waterproof, Full Coverage: This formula is high-coverage and long-lasting, so once you've spent the time getting your contours right, you won't have to worry about them smudging or fading. It also comes with an extra-large applicator, making it easier to contour with just a few strokes.
L'Oréal Paris True Match™ Super-Blendable Multi-Use Concealer: With 14 different shades in warm, cool, and neutral undertones, you're bound to find two that will suit your complexion for contouring.
If you don't happen to have two concealer shades on hand, another great contouring option is using foundation that comes in stick form, like the L'Oréal Paris Infallible Longwear Foundation Shaping Sticks. A bonus of this method is that because it's a stick, it can be easier (and more fun!) to draw on your contours and highlights. If you're taking this route, follow the same rule of thumb when choosing your two different shades.
STEP 2: APPLY FOUNDATION
Typically, when you've chosen to contour and highlight your face, it's safe to say it won't be a no makeup, makeup kind of day. Rather, you'll be wearing a full face of products. So, before you start using the concealers you picked, apply your foundation. It's the perfect way to get started since it'll leave you with a nice, even base for the products to come. Apply an even layer of the L'Oréal Paris Infallible Up to 24HR Fresh Wear Foundation, Lightweight over your entire complexion; then you're free to move on to contouring.
STEP 3: CREATE "SHADOWS" WITH A DARKER CONCEALER
Remember the darker shade you picked out a bit ago? Now's the time to reach for it. Apply the darker of the two concealers to key spots where your face naturally has shadows. Those include beneath your cheekbones, around your hairline, down the sides of your nose, along your jawline, and just below your bottom lip. When you've finished, there should be stripes—or dots, if you prefer—of concealer strategically placed around your face. Of course, you won't be leaving your face in such a state for long!
STEP 4: ILLUMINATE HIGH POINTS WITH A LIGHTER CONCEALER
You can probably guess the gist of what you need to do next. Pick up the remaining concealer, the lighter one, because you're going to use it to brighten your face. Instead of placing the product in spots where there are shadows, you'll want to use it on areas that naturally catch the light. Draw upside-down triangles under your eyes, place lines above your cheekbones and down the bridge of your nose, then hit the rest of your face's high points: the center of your forehead, your chin, and your cupid's bow.
STEP 5: BLEND, BLEND, BLEND
At this point in our contour tutorial, your face should be accented with various dots and lines of both dark and light concealer shades. After you snap a selfie, it's time to blend it all together. Using the L'Oréal Paris Infallible Blend Artist Foundation Blender, begin by blending out the areas that are covered with the lighter shade of concealer. As a general rule, you'll want to blend everything going from light to dark. Once the highlighted areas of your face—your forehead, cupid's bow, upper cheekbones, and under-eye areas—are well blended, you can move on to blending out the areas where you placed your darker concealer. Blending is essential for achieving the subtle, natural-looking shadows and highlights that contouring is known for.
STEP 6: FINISH WITH MAKEUP SETTING SPRAY
You did it! You successfully followed this contouring tutorial and are now in possession of a beautifully sculpted visage. All that's left is locking your makeup into place. After all that hard work, you wouldn't want it to disappear as you go about your day. And of course, setting your makeup is especially important when you're working with creamy products like concealer. So, go ahead and give your face a few spritzes of the L'Oréal Paris Infallible Pro-Spray and Set Make-Up Oil-Free Setting Spray before applying your eye makeup or settling on a lip color.
Wondering about other ways you aren't thinking to use concealer? Check out our 11 Concealer Hacks to Add to Your Makeup Routine.
{ "@context": "https://schema.org/", "@type": "WebPage", "speakable": { "@type": "SpeakableSpecification", "cssSelector": ["speakable-content"] }, "url": "https://es.lorealparisusa.com/revista-de-belleza/maquillaje/maquillaje-facial/how-to-contour-and-highlight-with-concealer" }
Descubrir más trucos y consejos
Ver todos los artículos
Shop Featured Makeup products
Discover More
{ "@context": "http://schema.org", "@type": "BreadcrumbList", "itemListElement": [ { "@type":"ListItem", "position": 1, "item": { "@id": "/", "name": "Home" } } , { "@type":"ListItem", "position": 2, "item": { "@id": "https://es.lorealparisusa.com/revista-de-belleza", "name": "Revista de belleza" } } , { "@type":"ListItem", "position": 3, "item": { "@id": "https://es.lorealparisusa.com/revista-de-belleza/maquillaje", "name": "Consejos de maquillaje para cada look" } } , { "@type":"ListItem", "position": 4, "item": { "@id": "https://es.lorealparisusa.com/revista-de-belleza/maquillaje/maquillaje-facial", "name": "Maquillaje facial" } } , { "@type":"ListItem", "position": 5, "item": { "@id": "https://es.lorealparisusa.com/revista-de-belleza/maquillaje/maquillaje-facial/how-to-contour-and-highlight-with-concealer", "name": "how-to-contour-and-highlight-with-concealer" } } ] }