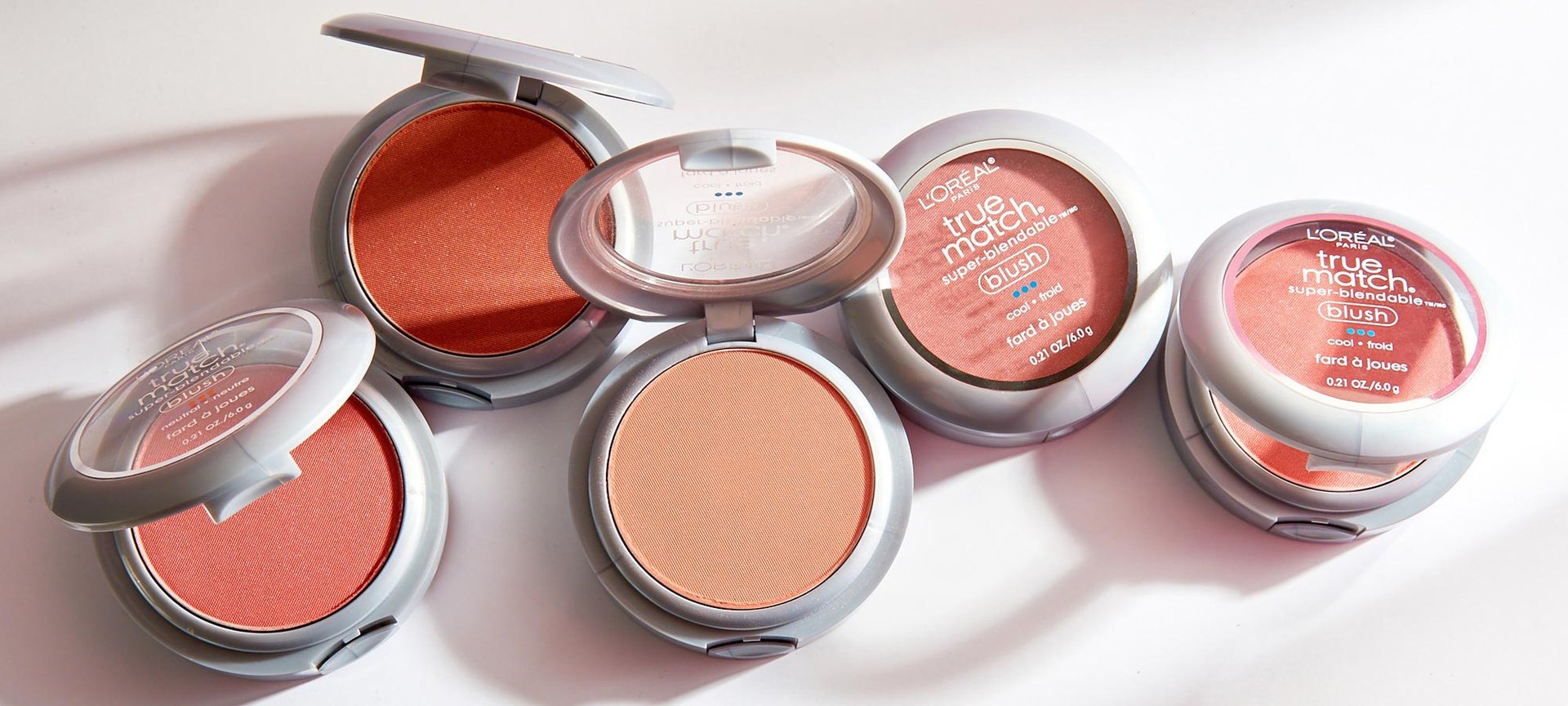 maquillaje facial
11 Best Blush Tips You've Never Tried
It's for more than just your cheeks.
You may not realize it but one of the most versatile products in your makeup bag is blush! That's right, those peachy pink powders and creams can go way beyond their traditional task of brightening your cheekbones. From a quick lip tint to eye makeup in a pinch, thinking outside the compact can turn a basic blush into a makeup multitasker. Ready to break the rules when it comes to where to apply blush? We've got you covered with some creative ways to use your favorite blush in more places than just your pretty face.
1. Sweep On As Eyeshadow
Bright eyeshadows are all the rage, but there's no need to run to the store if you don't already have any sitting at the bottom of your makeup bag. Instead of buying something new, you can repurpose your blush. Use your fingers or a makeup brush to apply blush to your eyelids and blend out at the crease.
2. Create A Lip Tint
Imagine this: You have a product that's the perfect color for your lips, the only problem is it's not a lip color—it's blush. Well, All you need to do is apply a coat of lip balm, then press the blush into your lips to create a subtle tint. Top it off with a lip gloss, like the L'Oréal Paris Infallible Pro Gloss Plump in Mirror, and you're good to go.
3. Put It Below The Neckline
Don't be afraid to draw some attention below your cheeks by adding a bit of blush to your chest. This will add a bit of definition and help to cover up or even out any discoloration below your neckline. Using a satin blush like
L'Oréal Paris Age Perfect Radiant Satin Blush in Amber
is perfect for a subtle glow and the addition of camellia oil adds a hint of moisture to the delicate skin on your chest.


4. Put It Front And Center
While it used to be a face makeup faux pas, when used correctly a light dusting of blush over your nose is actually encouraged. By adding blush to the tip of your nose, you can create a more youthful look, as if you just spent a day under the sun. Instead of using your standard rosy blush, try a bronze shade, like the L'Oréal Paris True Match Blush in Soft Sun.
5. Color Correct In A Pinch
Color correcting concealers are a total must-have, especially if you're dealing with dark spots or dark circles. But what are you to do if something unsightly pops up and you don't have a color corrector within reach? You can use blush in place of color correcting concealer! All you'll need is the L'Oréal Paris Summer Belle Makeup Blush Please! and L'Oréal Paris Infallible Full Wear Concealer Waterproof, Full Coverage. To cover up dark circles under eyes, apply a red blush under your eyes, packing on the color. The red hue will help counteract the blueish tint of dreaded dark circles. Once your under-eye area is covered in blush, you obviously can't leave it as is. Apply concealer directly over top and no one will be the wiser.

6. Use As Nail Color
This tip is a perfect way to use a
broken blush palette
or the very last bit of an old blush. Just crush up your blush into a fine powder and mix with a clear or neutral nail polish to create a brand new nail tint. The sparkle from the blush can even be a great addition to a colorful nail color if you are feeling more creative!

7. Balance Your Forehead
After blending blush onto your cheeks and nose, your forehead may start to look out of place. To create more balance, you can add a bit of blush to your forehead too. (Plus, you wouldn't want your forehead to feel left out!) Use a nude blush, like the L'Oréal Paris Colour Riche La Palette Nude in Nude with subtle shimmer to warm up the area above your brows.
8. Chisel Your Cheekbones
We all know that dusting your cheeks is one of the easy ways to apply blush but the new trend of blush draping takes it to the next level. For this technique, you use blush the same way you would a contour powder or cream to chisel your cheekbones. It works just as well to give your face more definition but offers a warmer, flushed look. To try it out for yourself, grab a cream blush like, L'Oréal Paris Infallible Longwear Blush Shaping Sticks . Suck in your cheeks and pucker up your lips (a.k.a. make a fishy face) to pinpoint where your cheekbones are, then apply the blush along your cheekbones and temples.
9. Use On Your Chin
While you're adding color to the rest of your face, don't forget about the bottom (now that you can remove your protective face mask more often these days). Not only does adding a touch of blush to the chin make your face appear longer but by applying a small amount of a darker color along your chin line you can give your face some contour which can help shape your face.
10. Add Some Pow To Your Brow
If you aren't quite ready to take on the trend of
rainbow eyebrows
, try testing it out with a hint of blush. Using your fingertip to sweep a light dust of color to your brows will add some shimmer and definition to your eyebrows and help them stand out from the rest of your face.


11. Wear Under Your Foundation
When it comes to the best practices for applying blush, we often think of blush as the last step. But depending on if you are using a cream or powder blush, it could be the first thing you apply to your face. For a natural glow, apply cream blusher in a brighter shade like
L'Oréal Paris Age Perfect Makeup Radiant Satin Blush with Camellia Oil in Berry
to your cheeks before your foundation. The under blush will serve as more of a highlight and allow for a light glow to show under your base.

Photo Credit: Matthew Kelly, Art Direction: Hannah Packer, Associate Creative Producer: Becca Solovay
{ "@context": "https://schema.org/", "@type": "WebPage", "speakable": { "@type": "SpeakableSpecification", "cssSelector": ["speakable-content"] }, "url": "https://es.lorealparisusa.com/revista-de-belleza/maquillaje/maquillaje-facial/unexpected-places-to-apply-blush" }
Descubrir más trucos y consejos
Ver todos los artículos
Shop Featured Makeup products
Discover More
{ "@context": "http://schema.org", "@type": "BreadcrumbList", "itemListElement": [ { "@type":"ListItem", "position": 1, "item": { "@id": "/", "name": "Home" } } , { "@type":"ListItem", "position": 2, "item": { "@id": "https://es.lorealparisusa.com/revista-de-belleza", "name": "Revista de belleza" } } , { "@type":"ListItem", "position": 3, "item": { "@id": "https://es.lorealparisusa.com/revista-de-belleza/maquillaje", "name": "Consejos de maquillaje para cada look" } } , { "@type":"ListItem", "position": 4, "item": { "@id": "https://es.lorealparisusa.com/revista-de-belleza/maquillaje/maquillaje-facial", "name": "Maquillaje facial" } } , { "@type":"ListItem", "position": 5, "item": { "@id": "https://es.lorealparisusa.com/revista-de-belleza/maquillaje/maquillaje-facial/unexpected-places-to-apply-blush", "name": "unexpected-places-to-apply-blush" } } ] }