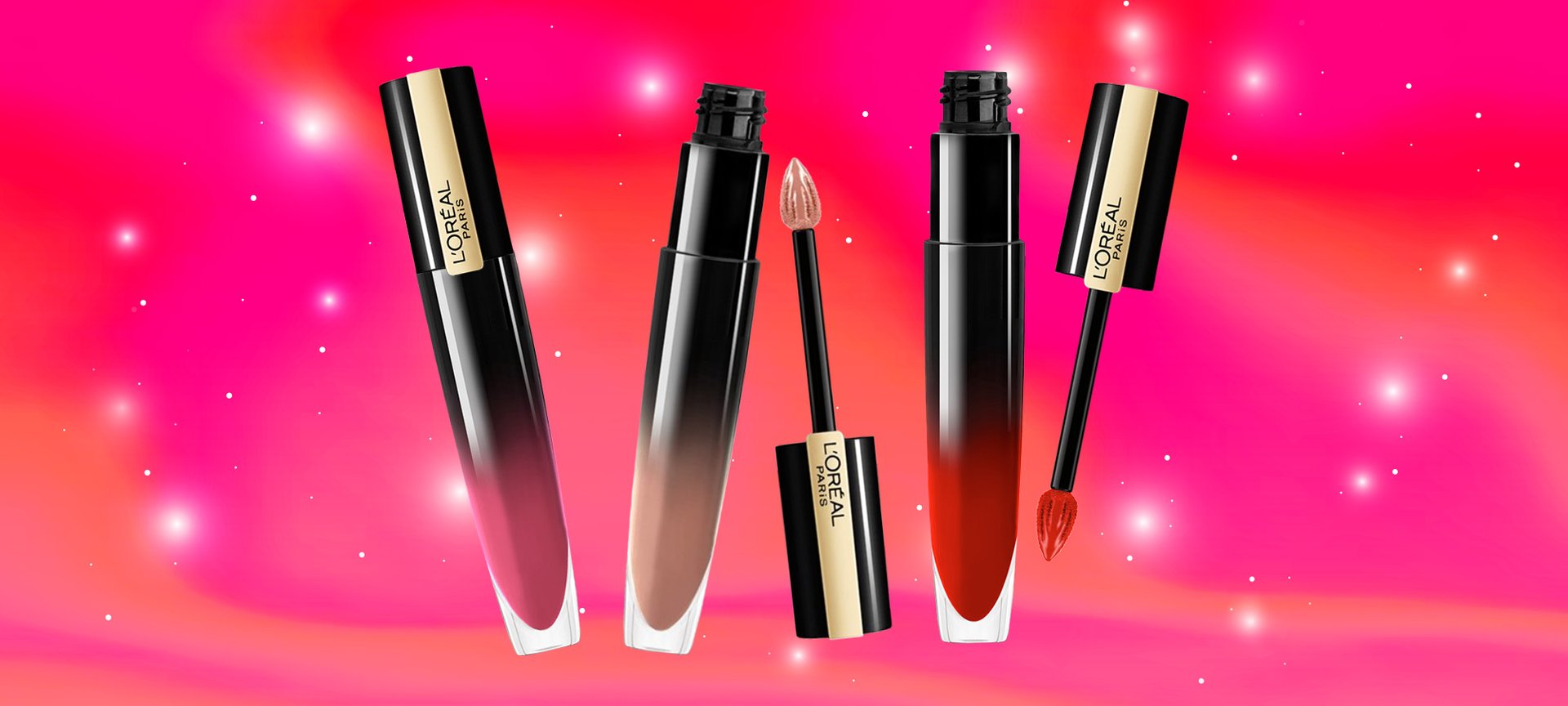 Maquillaje de labios
7 Reasons Why A Lip Stain Is A Must-Have For The Holidays
Make a lasting impression.
Whether your holiday plans involve back-to-back parties or just waiting under the mistletoe, a lip stain is the perfect seasonal makeup accessory. Lip stains are the ultimate product for low-maintenance beauty lovers who want to add color to their lips without having to worry about touch-ups throughout the day (or night). And with so many celebrations to attend, there are certain occasions when nothing short of a shiny, long-wearing lip color will do. The L'Oreal Paris Brilliant Signature Shiny Lip Stain Lipstick combines the best of the best: the glossy, high-shine finish of a lip gloss, the lasting wear of a lip stain, and the bold color impact of a liquid lipstick. It's the lip color gift that keeps on giving, so you can focus on wrapping presents and not reapplying your pout. Keep reading for all the reasons why this lip stain is a must-have to add to your wishlist.



1. It Allows for Long-Lasting Wear
True to its name, a lip stain temporarily dyes your lips which results in its long-lasting color properties. What sets a lip stain formula apart from traditional lipstick is that the color is absorbed into the skin, rather than just forming a layer over the lips. One application of a lip stain is enough to endure every course of a holiday dinner and all the drinks in between.
2. It Stays In Place
A lip stain is the perfect holiday makeup that leaves a mark in people's minds and not on their drinking glass. The long-lasting color doesn't bleed, feather, or transfer easily onto your teeth, silverware, or other people's cheeks. So you keep eating and drinking all through the season without the worry of leaving your lip color behind.
3. A Little Goes A Long Way
Lip stains are known for their intense color pigments, so it doesn't take a lot of product to create the perfect pout. For a subtle color, you can apply a light coat and then build more to make your lips stand out. Also, since you don't need to reapply a lip stain as often they tend to have a longer makeup bag life span. Not only do lip stains save time on touch ups but they can put some stuffing back in your holiday gift fund.


4. The Wide Range Of Colors
With over twelve captivating colors to choose from, 'tis the season to try all of the L'Oreal Paris Brilliant Signature Shiny Lip Stain Lipstick shades until you find your statement red, bold berry, pretty pink, or perfect nude. If you need some help narrowing them down, let your undertones be your guide. If your veins are blue and silver jewelry complements you best, then you've got cool undertones and blue or purple-based hues will flatter you the most. If your veins are green and gold jewelry looks best against your skin, then you have warm undertones. In that case, opt for red or orangey hues.


5. It Shines Without Being Sticky
A bright glossy lip can make your festive makeup look really shine but the stickiness and smearing that comes with regular lip gloss is nothing to celebrate. Instead, reach for a lip stain that dries completely once applied, provides bold, shiny color, a next-to-nothing feel, and a high-shine look all wrapped up in one.d.


6. It Can Be Used All Over Your Face
Thanks to its blendable formula and texture, a lip stain can be used to complete a pretty makeup look in numerous ways. From using it as a contour tool to dabbing it on your cheeks as an alternative to blush, you've got options. Check out our article, 3 Liquid Lipstick Hacks You Need To Know for more ways to use liquid lipstick in other places than your lips.


7. It's Easy To Remove When Ready
While your lip stain was made to stay in place, once you're ready to take it off, it's surprisingly easy to remove. Reach for a no-rinse cleansing option formulated to remove long-wear makeup, like the L'Oréal Paris Micellar Water Cleansing Water Complete Cleanser Waterproof for All Skin Types. Micellar water is powered by tiny micelles—oil molecules—that act as a magnet to lift dirt, oil, and makeup up and away from your skin. Just pour some onto a cotton pad and wipe the pad across your lips until all the color is gone.
Next: 13 Lipstick Shades To Channel Your Inner Vamp
Written by: Lauren Paige Richeson, Photo Credit: Sarah Duvivier
{ "@context": "https://schema.org/", "@type": "WebPage", "speakable": { "@type": "SpeakableSpecification", "cssSelector": ["speakable-content"] }, "url": "https://es.lorealparisusa.com/revista-de-belleza/maquillaje/maquillaje-labios/holiday-lip-stain" }
Descubrir más trucos y consejos
Ver todos los artículos
Mejora tu rutina
Muestra más amor a tu nuevo look:
makeup
{ "@context": "http://schema.org", "@type": "BreadcrumbList", "itemListElement": [ { "@type":"ListItem", "position": 1, "item": { "@id": "/", "name": "Home" } } , { "@type":"ListItem", "position": 2, "item": { "@id": "https://es.lorealparisusa.com/revista-de-belleza", "name": "Revista de belleza" } } , { "@type":"ListItem", "position": 3, "item": { "@id": "https://es.lorealparisusa.com/revista-de-belleza/maquillaje", "name": "Consejos de maquillaje para cada look" } } , { "@type":"ListItem", "position": 4, "item": { "@id": "https://es.lorealparisusa.com/revista-de-belleza/maquillaje/maquillaje-labios", "name": "Maquillaje de labios" } } , { "@type":"ListItem", "position": 5, "item": { "@id": "https://es.lorealparisusa.com/revista-de-belleza/maquillaje/maquillaje-labios/holiday-lip-stain", "name": "holiday-lip-stain" } } ] }