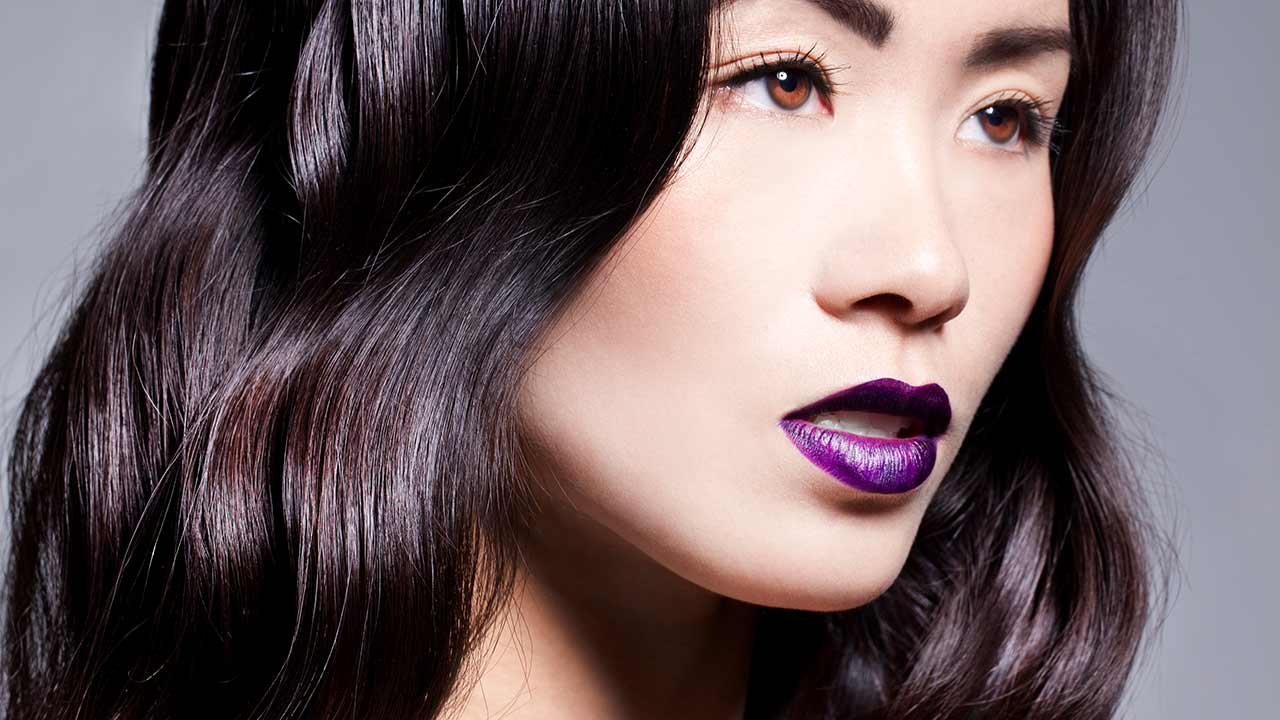 Do you consider yourself to be a risk-taker when it comes to lip makeup trends? Are you someone that's constantly eyeing rich and vibrant lipstick shades to add to your collection? If you've answered yes, it may be time to jump on the bandwagon and welcome a purple hue into your lip makeup routine. See, purple is having a major moment right now—from pastel hues to dark shades—and we think purple lipstick is the perfect way to upgrade your makeup look.
While you may be asking yourself whether purple lips will look good on you, the answer is a resounding yes. The key to rocking this popular lip color is to find a shade that will complement your complexion. Need help? Read on to find your purple lipstick match—and learn how to wear it.
HOW TO WEAR PURPLE LIPSTICK FOR EVERY SKIN TONE
Since purple lipsticks are offered in a variety of shades, just about anyone can rock this hue to perfection—from those with ultra-fair skin to people with dark complexions. As we mentioned above, the key is to find the shade that flatters your skin tone and gives your beauty look just the right amount of oomph! Below, we're sharing the best purple lipstick shades to keep you ahead of the game.
OUR BEST PURPLE LIPSTICKS FOR FAIR SKIN TONES
While you may feel like you need to play it safe with your fair skin, there's no need to shy away from purple lipstick. We're serving up our best purple shades to help you step outside your comfort zone while complementing your skin.
L'Oréal Paris Colour Riche Matte Lipstick in Matte-Jestic: Dare to go bold with this stunning lip color. See, with the combination of your fair skin and a bold shade like this one, you can try out the purple lipstick trend and emulate the fresh off the runway look. It's a win-win for those with cool undertones!
L'Oréal Paris Colour Riche Shine Lipstick in Splendid Blackberry: Warm undertones get ready to give your lips a glossy shine! The shade is great for those who want to rock a classic purple hue with a playful spin.
L'Oréal Paris Rouge Signature Lightweight Matte Colored Ink, High Pigment in I Rebel: This berry shade will instantly add a touch of warmth to your look. Perfect for cool undertones, you can flaunt this shade as your everyday color or pair it with your formal attire.
OUR BEST PURPLE LIPSTICKS FOR LIGHT SKIN TONES
It can be hard to find the right purple shade to complement your light skin tone. With the fear of going too dark or too light at the top of mind, we're here to steer you in the right direction.
L'Oréal Paris Colour Riche Ultra Matte Highly Pigmented Nude Lipstick in Lilac Impulse: This purple lipstick blends hints of pink and grey hues to complement cool undertones with ease. This creamy formula offers great hydration and high pigmentation for color that lasts.
L'Oréal Paris Infallible Matte Lip Crayon, Lasting Wear, Smudge Resistant in Sizzling Sugar: Want to rock a bold color without going overboard? This dark grape hue looks amazing on light skin with neutral undertones. Offering the perfect balance of color, this lipstick will become your new favorite in no time.
L'Oréal Paris Colour Riche Matte Lipstick in At The Drop Of A Matte: If you're working with warm undertones, this pinkish-red toned purple is worth a try. Perfect for highlighting your unique skin tone, this shade works wonders for those willing to give purple a go with a classic touch.
OUR BEST PURPLE LIPSTICKS FOR MEDIUM SKIN TONES
Medium skin tones, this one is for you! Since you can get away with almost any purple shade ranging from pale purple to deep violet, the sky is the limit for a gorgeous purple pout. Here are some of our favorites.
L'Oréal Paris Infallible Pro-Matte Les Macarons Scented Liquid Lipstick in Blackcurrant Crush: This liquid lipstick adds a touch of mauve to the popular shade to add dimension and depth to your lip makeup. A nice contrast to your gorgeous complexion, you can also count on this formula to stay put with no smudging or feathering.
L'Oréal Paris Infallible Pro-Matte Liquid Lipstick in Plum Bum: Ready to take a step on the dark side? This gorgeous plum hue will add effortless intensity to your look, all with one swipe. The perfect catch for those with neutral undertones, you can't go wrong with adding this lipstick to your collection.
L'Oréal Paris Colour Shine Lipstick in Gleaming Plum: For those looking to brighten up their look a bit, this shade is your perfect match. A nice change of pace for those with cool undertones, the lipstick adds a touch of shimmer and pizzazz that will have all eyes on you.
OUR BEST PURPLE LIPSTICKS FOR DEEP SKIN TONES
Calling all of our deep skin tone readers, purple lipstick was made for your rich, dark complexion. Get ready to explore a variety of shades that will take your makeup look to the next level.
L'Oréal Paris Colour Riche Ultra Matte Highly Pigmented Nude Lipstick in Berry Extreme: This purple offering is an absolute must-have for those with warm undertones. Serving up a vampy aesthetic, this color will add depth to your look.
L'Oréal Paris Rouge Signature Lightweight Matte Colored Ink, High Pigment in I Enjoy: Violet lipstick anyone? If you're working with neutral undertones, consider this violet shade your perfect match. Matte lipsticks are always fun, and this color provides the ideal picture-perfect look.
L'Oréal Paris Infallible Matte Lip Crayon, Lasting Wear, Smudge Resistant in No Fig Deal: Try a plum shade with a matte finish like this fruit-inspired hue. The easy-to-use lip crayon makes swiping on a creamy purple formula a breeze.
CAN REDHEADS WEAR PURPLE LIPSTICK?
We covered that every skin tone can pull off purple lips, but what about hair color? A common question we hear is whether redheads should embrace the purple trend. After all, it's pretty common to see redheads on social media and IRL playing it safe and wearing pinks and nudes. While you may be skeptical about giving purple lipstick a try, we're here to tell you that this rich shade will complement your red hair perfectly. The key to bringing this look to life without stepping into clown territory is to pair your purple pout with neutral eye and face makeup. It's all about balance! Think of soft glam makeup for the perfect inspiration.
The truth is, no matter what hair color you're working with, you can rock a purple shade. It's all about allowing your bold lip color to be the center of attention.
HOW TO WEAR PURPLE LIPSTICK
Now that you know the best purple lipstick(s) for your complexion, let's go over how to apply it for an eye-catching lip look. Here's how it's done.
STEP #1: LIP SCRUB
The starting point for any lip makeup look should be a lip scrub. After all, you want your lips to be as smooth as possible for an even lipstick application. Use a lip scrub to slough away dead skin cell buildup from your lips.
STEP #2: PRIME, PRIME, PRIME
Just as your face makeup requires primer, your lip makeup deserves the same treatment—especially if you want your lip color to last. Grab a primer or a dab of foundation or concealer to get the job done.
STEP #3: LINE YOUR POUT
To keep your color in place and prevent bleeding, reach for a lip liner that matches your lipstick. Be sure to define your cupid's bow for precise application.
STEP #4: PACK ON THE COLOR
Now it's time for the main event: your purple lipstick. Starting at the center of your lip, swipe the color on and work toward the outer edges of your lips. Repeat on your upper lip, making sure to follow the contour of your pout.
STEP #5: BLOT LIKE A PRO
You're almost at the finish line! Once your lip color is beautifully in place, it's time to blot. Place a tissue between your lips and smack them together to remove excess color. This will keep your purple hue from accidentally transferring to your teeth. No thanks!
STEP #6: GRAB YOUR TRANSLUCENT POWDER
Finish off your look with a touch of translucent powder, like the L'Oréal Paris Infallible Pro-Sweep Lock & Loose Setting Face Powder, to set your lips. Grab a fluffy brush and lightly tap the product onto your lips to lock in your lip color. Voila!
Since your fear of purple lipstick is officially old news, why not explore neutral makeup looks to complement your colorful pout? Check out our article, How to Create a Neutral Cat Eye.
{ "@context": "https://schema.org/", "@type": "WebPage", "speakable": { "@type": "SpeakableSpecification", "cssSelector": ["speakable-content"] }, "url": "https://es.lorealparisusa.com/revista-de-belleza/maquillaje/maquillaje-labios/how-to-wear-purple-lipstick" }
Descubrir más trucos y consejos
Ver todos los artículos
Shop Featured Makeup products
Discover More
{ "@context": "http://schema.org", "@type": "BreadcrumbList", "itemListElement": [ { "@type":"ListItem", "position": 1, "item": { "@id": "/", "name": "Home" } } , { "@type":"ListItem", "position": 2, "item": { "@id": "https://es.lorealparisusa.com/revista-de-belleza", "name": "Revista de belleza" } } , { "@type":"ListItem", "position": 3, "item": { "@id": "https://es.lorealparisusa.com/revista-de-belleza/maquillaje", "name": "Consejos de maquillaje para cada look" } } , { "@type":"ListItem", "position": 4, "item": { "@id": "https://es.lorealparisusa.com/revista-de-belleza/maquillaje/maquillaje-labios", "name": "Maquillaje de labios" } } , { "@type":"ListItem", "position": 5, "item": { "@id": "https://es.lorealparisusa.com/revista-de-belleza/maquillaje/maquillaje-labios/how-to-wear-purple-lipstick", "name": "how-to-wear-purple-lipstick" } } ] }