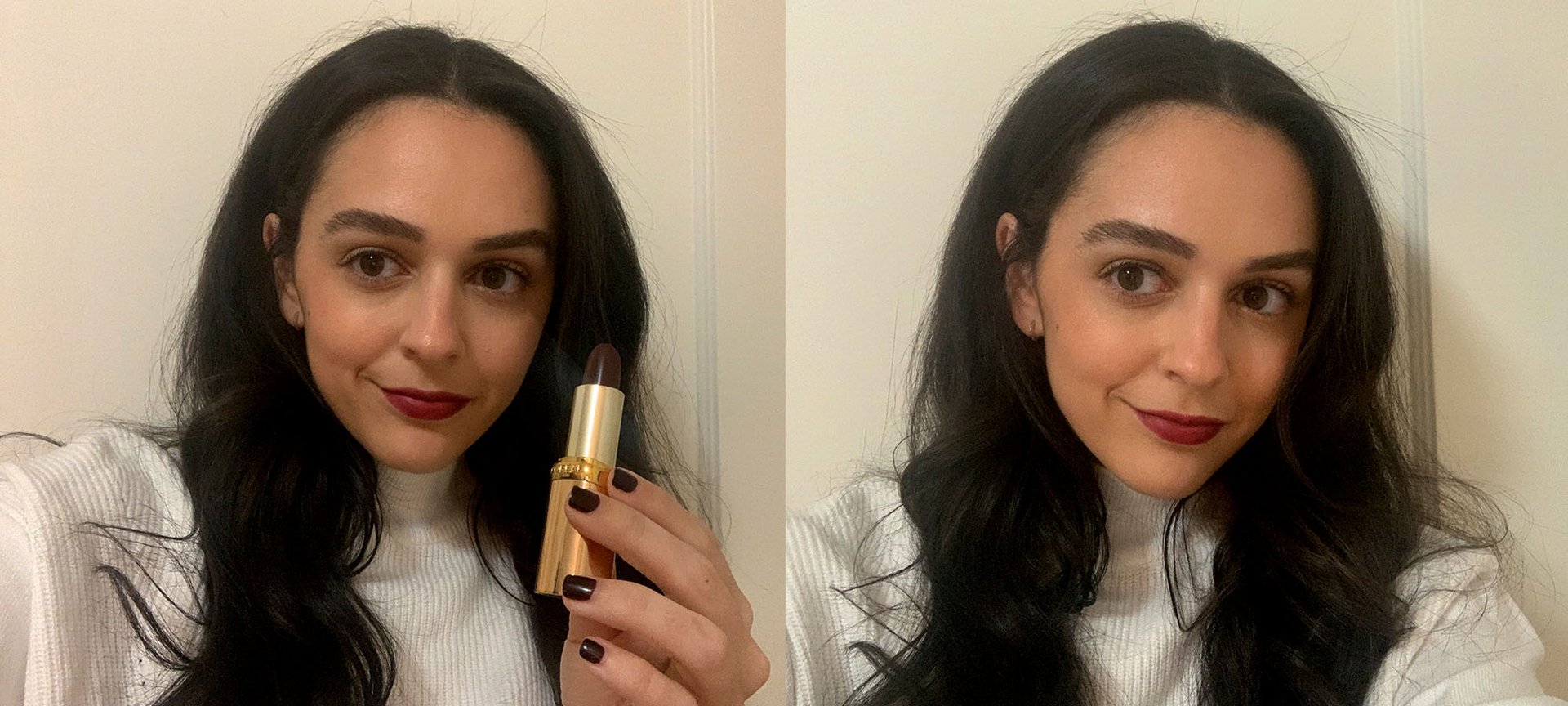 Maquillaje de labios
Your Ultimate Guide to Pulling Off a Dark Red Lip
Plus, our best vampy lipstick options.
There's nothing like a classic, dark red lip. While glossy lipsticks and tinted lip balms are making a major comeback right now, one lip color we know will never get pushed to the back of the trends line is a beautiful dark red lipstick.
If you're intimidated by the bold color, you don't have to be! With the right prep work and application technique, anyone can master this sassy red lipstick look. Plus, it's super flattering with all sorts of glams and sure to turn heads — you just need the right pick.
Below, we share our best sassy dark red lipsticks, along with tips for applying this makeup must-have like a pro.

Our Best Dark Red Lipsticks
Fact: Everyone needs a dark red lipstick in their makeup bag. Need a suggestion? We have plenty! Read on for our best options, depending on your favorite finish.
Behold, a satin lippie that saturates your pout and stays put! If a satin finish is what you prefer, your best bet is the Colour Riche Reds of Worth Lipstick. It's formulated with a luxurious cocktail of argan oil and vitamin E that saturates lips with moisture, while rich pigments deliver intense color with a stunning, satin finish.
Prepare for all eyes to be on you when you wear this dark berry hue. Not only does it look incredibly flattering on all skin tones, but you'll never have to worry about a dry pout since it provides flawless color while conditioning your lips.
If you're looking for a lipstick finish that won't budge, look no further than this beloved matte lippie in this berry hue. This lip crayon features a creamy formula that glides seamlessly onto lips and provides a full coverage, splash of vivid color. Unlike many matte lipsticks, this one doesn't dry out your pout and feels super comfortable on.
A dark red lipstick that is a statement maker, yet is also great for everyday wear? Yes please! Infused with argan oil and sesame seed oil, this oh-so-soft lipstick melts onto your lips to provide a bold and beautiful color that never disappoints. Another impressive feature? It has a smudge-proof formula that never bleeds, migrates or feathers.
Time to let your lips shine in this red wine-stained hue! The oil-infused formula provides the same glossy finish of a lip gloss and delivers the same radiant color of a lipstick. Just one swipe and you'll be left with a gorgeous, high-shine finish that isn't sticky.
Treat your pout to the luxurious feel of this hydrating lipstick. It's infused with a load of nourishing ingredients, such as vitamin B5, that provide long-lasting hydration to your lips. Expect a silky smooth pout every time you apply the lippie.
Another stunning dark red lipstick you need to add to your lippie collection is this dark cherry-inspired color. You can depend on this matte option to never smudge, fade or feather throughout the day.
If you ask us, there's nothing like appliyng a good ole fashion creamy lipstick to your pout. This classic formula feels pillowy-soft on the lips and delivers a gorgeous merlot-like color.
When it comes to the perfect satin dark red lipstick, this one checks all the boxes. It provides a spectacular blast of color, hydrates your pout and stays in place no matter what. So in other words, it does it all.
One coating of this ultra-buttery lipstick delivers the same beautiful lip stain you'd get from drinking a glass of your favorite Bordeaux. Bonus: It has anti-aging properties that leaves your lips looking and feeling smoother over time.
Introducing your new favorite berry lipstick! It's a super bold hue that looks subdued and flattering at the same time. Plus, we love that the formula is pillowy soft and creamy.
Perhaps a lip color as vibrant as dark red is too extreme for you — and that's okay. For something a bit toned-down, try this lip balm-lipstick hybrid. The pomegranate extract-infused product glides effortlessly across lips and melts on contact to instantly hug and hydrate lips with a glowy finish. Wear one coat for a sheer finish or build the color for a more dramatic look.
How To Apply A Sassy Red Lipstick
Now that you've chosen your perfect red lipstick shade, it's time to learn how to apply it for your prettiest pout yet. Follow these tips for applying dark red lipstick, then show off your gorgeous pucker!
1. Exfoliate Your Lips
One of the easiest ways to disrupt the look of a beautiful red pout is by applying your dark red lipstick over flaky lips. No thanks! Luckily, buffing away those flakes is a breeze. Just massage the L'Oréal Paris Pure-Sugar Resurface & Energize Kona Coffee Scrub onto your lips, then rinse it off thoroughly with lukewarm water and pat dry.
2. Use A Lip Primer
Primer isn't just for foundation or eye makeup — it can also help to keep lipstick in place and create a smooth canvas for lipstick application. Look for a primer that's specifically designed to be used on the lips and tap on a small amount all over your pout before painting any color onto your lips.
3. Apply Lip Liner
Lip liner can be a game-changer when it comes to dark red lipstick application. Outlining your lips before applying lipstick can help to keep your color from seeping outside the lines. Just make sure your lip liner isn't too dark.
Try using the L'Oréal Paris Age Perfect Anti-Feathering Lip Liner or L'Oréal Paris Colour Riche Matte Lip Liner (depending on your finish) in a shade that closely matches your chosen lipstick to put this beauty tip to the test.
4. Put Your Lipstick On The Right Way
When you start at the corners of your lips, you're more likely to veer outside the lines. To avoid this dilemma, start applying your dark red lipstick at the center of your lips, moving outward towards the corners. You'll get the hang of this with practice.
5. Touch Up Your Lips
Even when you apply dark red lipstick using all the best beauty tips and tricks, there's still a chance that your lines won't be quite as precise as you'd like. If you notice any color outside the lines, simply dip a cotton swab into some of the L'Oréal Paris Micellar Cleansing Water Complete Cleanser Waterproof - All Skin Types to touch up the edges.
Then make your mouth look even crisper with a bit of the L'Oréal Paris Infallible Full Wear Concealer Waterproof, Full Coverage to clean up the edges and lines, and you're good to go.
Next: How to Clean and Organize Your Makeup Bag
Written and photographed by: Sophie Dweck
{ "@context": "https://schema.org/", "@type": "WebPage", "speakable": { "@type": "SpeakableSpecification", "cssSelector": ["speakable-content"] }, "url": "https://es.lorealparisusa.com/revista-de-belleza/maquillaje/maquillaje-labios/how-to-wear-sassy-dark-red-lipstick" }
Descubrir más trucos y consejos
Ver todos los artículos
Shop Featured Skin Care products
Discover More
{ "@context": "http://schema.org", "@type": "BreadcrumbList", "itemListElement": [ { "@type":"ListItem", "position": 1, "item": { "@id": "/", "name": "Home" } } , { "@type":"ListItem", "position": 2, "item": { "@id": "https://es.lorealparisusa.com/revista-de-belleza", "name": "Revista de belleza" } } , { "@type":"ListItem", "position": 3, "item": { "@id": "https://es.lorealparisusa.com/revista-de-belleza/maquillaje", "name": "Consejos de maquillaje para cada look" } } , { "@type":"ListItem", "position": 4, "item": { "@id": "https://es.lorealparisusa.com/revista-de-belleza/maquillaje/maquillaje-labios", "name": "Maquillaje de labios" } } , { "@type":"ListItem", "position": 5, "item": { "@id": "https://es.lorealparisusa.com/revista-de-belleza/maquillaje/maquillaje-labios/how-to-wear-sassy-dark-red-lipstick", "name": "how-to-wear-sassy-dark-red-lipstick" } } ] }