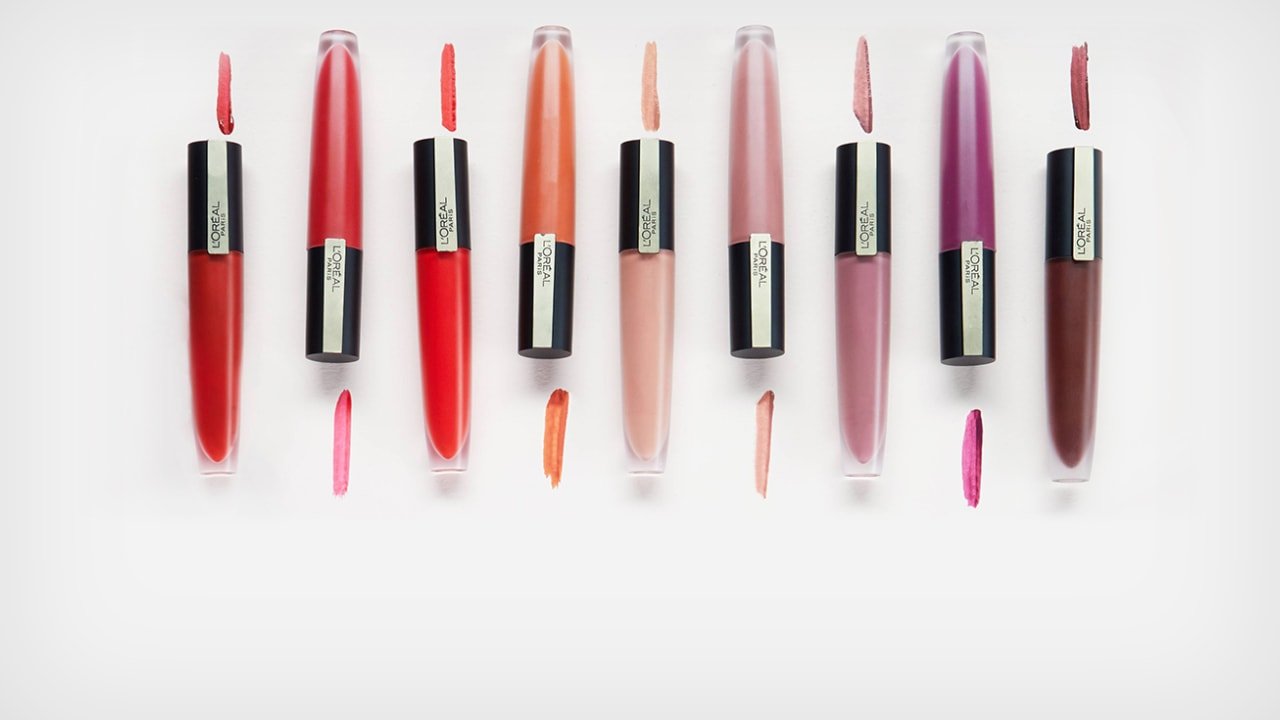 One of the quickest ways to brighten your day? A good lipstick! Whether you've had a long day at work or are panicking over winged eyeliner gone wrong, a coat of lipstick always seems to make just about everything better. In search of your next favorite lipstick? The L'Oréal Paris Rouge Signature Matte Lip Stain has a long-lasting, matte formula that feels light on your lips—what more could you want? With over 20 captivating colors to choose from, you may need some help narrowing down your favorites. After all, it can be a challenge to determine how the color in the tube will look on your lips, which is why makeup swatches are a serious lifesaver. Here, we're sharing swatches of nine colors in the line to help you find your new lipstick match. Oh, and if you want to give this lip stain a try, make sure to sign up for a free sample!
L'ORÉAL PARIS ROUGE SIGNATURE MATTE LIP STAIN SWATCH BREAKDOWN
Can a gal ever have enough lipstick? We'll give you a hint—definitely not! Below, we're sharing the details on our L'Oréal Paris Rouge Signature Matte Lip Stain swatches so you can find your favorites and stock your makeup collection with a few new shades. Want to see how each shade would look on your lips without leaving your house? Head over to our Makeup Virtual Try-On for a digital test drive.
SWATCH #1: I AM WORTH IT
Are you on the hunt for a new red lipstick? If so, I Am Worth It is certainly worth adding to your makeup bag. The classic deep-red hue has a blue base that will be supremely flattering on anyone with cool undertones.
SWATCH #2: I REPRESENT
If you're looking for a popping pink, pop this hue onto your pout. With neutral undertones, I Represent looks good on just about anyone, and it's perfect for summer!
SWATCH #3: I DON'T
For a candy red shade, look no further than I Don't. This red, which evokes images of Hollywood glam, is similar to the shades sported by your favorite celebs on the red carpet. Next time you're looking to glow up, give it a try!
SWATCH #4: I ACHIEVE
In case you haven't heard, coral is one of the biggest trends for 2019—and that certainly holds true when it comes to lip color. We particularly adore coral shades, like this one, for summer. It's easy to see why since with its orange base, I Achieve puts a sun-kissed twist on classic rouge.
SWATCH #5: I EMPOWER
Sometimes, you want a lip color that resembles your natural lips—but better! I Empower is exactly that kind of lip. The light, nearly nude hue will define your pout without taking attention away from the rest of your makeup look.
SWATCH #6: I CREATE
If you want a lip color that'll stand out a little more but still want to keep things neutral, I Create may be the perfect shade for you. The light pink lipstick will give your pout a subtle, flirty touch that's perfect for date night or completing any romantic makeup look.
SWATCH #7: I RULE
Looking for an eye-catching hue? Consider veering outside of your comfort zone with a lilac lipstick. I Rule, a decidedly royal hue, will give you the confidence boost you need to feel as if you're sitting on a throne.
SWATCH #8: I REBEL
For a different take on the purple lip trend, swipe on I Rebel. This popping purple shade will instantly become the center of your makeup look, just as it should be.
SWATCH #9: I STAND
Brown lips were all the rage in the '90s, but the chocolate lipstick trend has brought them back. To sweeten up your pout, try I Stand, which is a chocolate hue with red undertones that's particularly beautiful on those with olive or deep skin tones.
5 TIPS FOR FINDING YOUR LIPSTICK MATCH
Now that you have the inside scoop on some of the L'Oréal Paris Rouge Signature Matte Lip Stains, you may be wondering if there's a science to picking the best lipstick shade for you. Below, find five tips for finding the best lipstick for you.
TIP #1: CONSIDER YOUR UNDERTONES
Your skin tone isn't the only thing to consider when finding a flattering lip shade. Keep your undertones in mind, too! If you have cool undertones, reach for a blue or cool-toned hue. If you have warm undertones, opt for a shade that has an orange (or another warm hue) base.
TIP #2: FIND A TESTER
Testers are a serious lifesaver when you're unsure of how a specific lip color will look on you. If you can't find a tester in-store, consider using our virtual try-on app to test out different shades.
TIP #3: SWITCH IT UP WITH THE SEASONS
While there's an exception to every rule, certain colors are better fit for different seasons. As a rule of thumb, darker lip colors tend to look more appropriate during fall and winter, whereas bright, popping shades shine in the spring and summer.
TIP #4: CONSULT YOUR COLLECTION
One foolproof way to determine the best lipstick for you is to take a peek at your collection. If you have a shade that's similar (that you actually wear), chances are the hue will be flattering! Of course, you may also want to take that as your cue to try a different shade and expand the range of colors in your collection.
TIP #5: KEEP THE LIGHTING IN MIND
When looking at and trying on lip colors in a store, be mindful of the lighting. Bad lighting can make a shade look totally different. For the most accurate shade, look at the swatch in natural light. If that means trying on the color and coming back later, so be it!
HOW TO APPLY L'ORÉAL PARIS ROUGE SIGNATURE MATTE LIP STAIN
Want to step up your application game? We've got you covered. Apply your lipstick starting in the center of your upper lip. Then, work from the center to the outer edges of your lips, following the contour of your mouth. Finally, glide the applicator across the bottom lip and fill everything in. To take it off, use an oil-based makeup remover or the L'Oréal Paris Micellar Cleansing Water Complete Cleanser Waterproof - All Skin Types.
Next: L'Oréal Paris Infallible Up to 24HR Fresh Wear Foundation Swatches
{ "@context": "https://schema.org/", "@type": "WebPage", "speakable": { "@type": "SpeakableSpecification", "cssSelector": ["speakable-content"] }, "url": "https://es.lorealparisusa.com/revista-de-belleza/maquillaje/maquillaje-labios/rouge-signature-lipstick-swatches" }
Descubrir más trucos y consejos
Ver todos los artículos
Shop Featured Makeup products
Discover More
{ "@context": "http://schema.org", "@type": "BreadcrumbList", "itemListElement": [ { "@type":"ListItem", "position": 1, "item": { "@id": "/", "name": "Home" } } , { "@type":"ListItem", "position": 2, "item": { "@id": "https://es.lorealparisusa.com/revista-de-belleza", "name": "Revista de belleza" } } , { "@type":"ListItem", "position": 3, "item": { "@id": "https://es.lorealparisusa.com/revista-de-belleza/maquillaje", "name": "Consejos de maquillaje para cada look" } } , { "@type":"ListItem", "position": 4, "item": { "@id": "https://es.lorealparisusa.com/revista-de-belleza/maquillaje/maquillaje-labios", "name": "Maquillaje de labios" } } , { "@type":"ListItem", "position": 5, "item": { "@id": "https://es.lorealparisusa.com/revista-de-belleza/maquillaje/maquillaje-labios/rouge-signature-lipstick-swatches", "name": "rouge-signature-lipstick-swatches" } } ] }