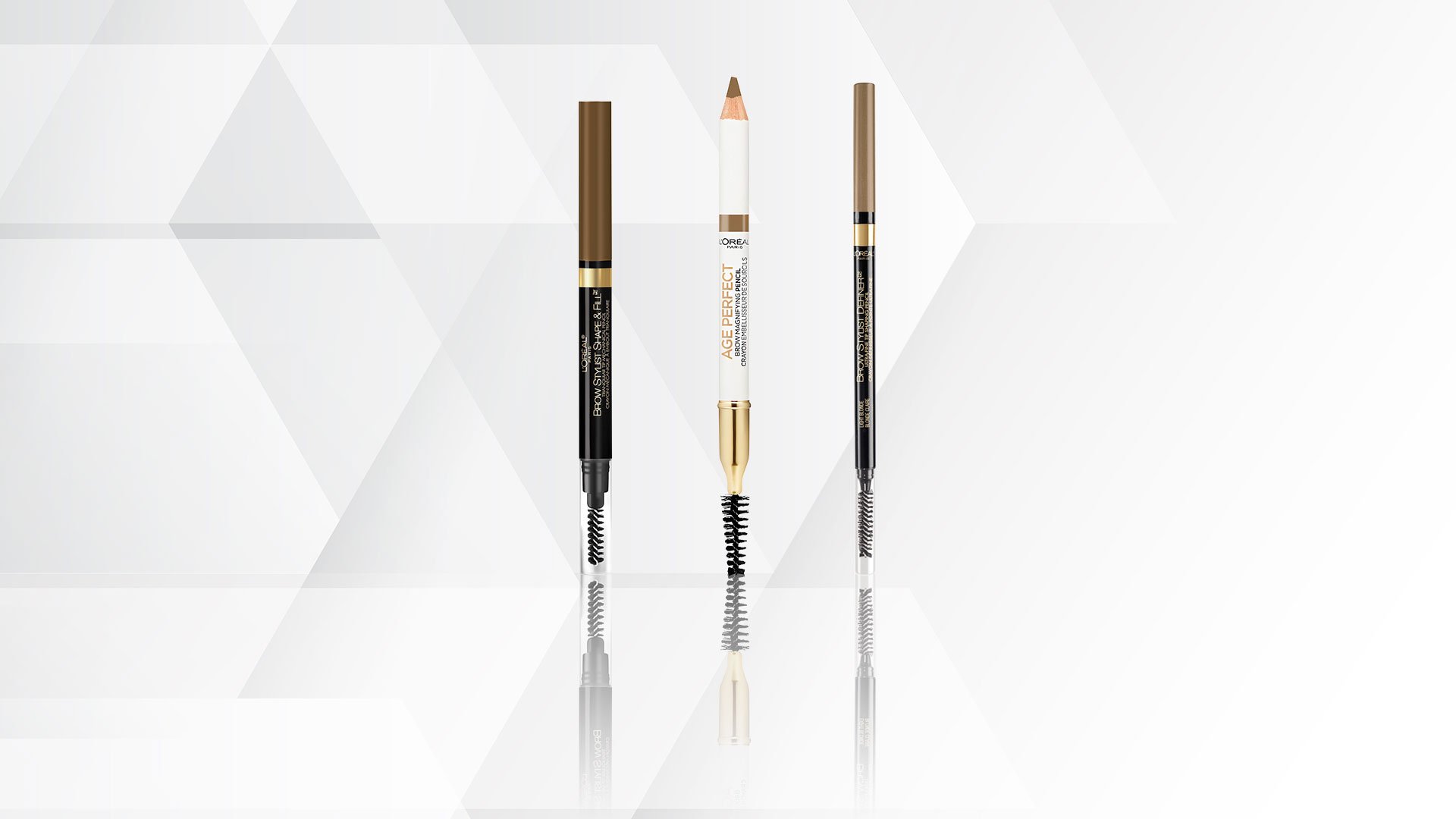 Long gone are the days of foregoing eyebrow makeup as part of your daily routine. Grooming your brows now goes way past the occasional tweeze and trim—it involves filling in sparse areas, curating a flawless arch, and fine-tuning the shape of your brows to match the beauty look you're aiming for. If you're on the hunt for the perfect makeup product to help you achieve all of the above, you may want to scope out the best drugstore eyebrow pencils. Below, we're sharing three of our best drugstore eyebrow pencils. Bonus: We'll also explain how to use an eyebrow pencil.
OUR BEST DRUGSTORE EYEBROW PENCILS
Finding the right eyebrow pencil can be difficult, so we're here to help narrow down your options. Keep reading for three of our best L'Oréal Paris eyebrow pencils, as well as tips on how to use them for your next makeup look.
DRUGSTORE EYEBROW PENCIL #1: STYLIST DEFINER MECHANICAL PENCIL
If you're worried an eyebrow pencil won't be precise enough for you to draw tiny, realistic hairs, we'll be the first to tell you that isn't the case with the L'Oréal Paris Brow Stylist Definer Waterproof Eyebrow Mechanical Pencil. This ultra-fine mechanical brow pencil has a 0.5mm tip, which is perfect for drawing tiny brow hairs and filling in sparse areas. Flip the pencil over, and the soft spoolie brush can be used to style your brows for a more defined look, as well as to blend out any harsh lines.
The eyebrow pencil also features a formula that's waterproof, ophthalmologist-tested, suitable for sensitive eyes and contact lens wearers, and available in seven shades. What's not to love?
How to use it: Start with clean, brushed brows (you can use the spoolie to comb them into place). Using the ultra-fine tip pencil, draw the outline of your brow shape, then fill in your brows with light, feathered strokes. Use the spoolie brush again to comb up, following your arch shape to get a natural, yet defined look.
DRUGSTORE EYEBROW PENCIL #2: BROW STYLIST SHAPE & FILL MECHANICAL PENCIL
For an eyebrow product that wears multiple hats, try the L'Oréal Paris Brow Stylist Shape & Fill Mechanical Pencil. The three-in-one mechanical pencil makes the art of brows easy—seriously! The triangular-tip brow pencil precisely outlines, easily shades, and evenly fills in your arches, while the soft styling spoolie helps blend for seamlessly-shaped brows.
How to use it: Start with clean, brushed brows. Outline the edge of your brows using the pencil's triangular tip, which is perfect for creating precise lines. Then, shade sparse areas with the flat side of the pencil for even coverage. Make sure to finish by combing through your brows with your spoolie to blend.
DRUGSTORE EYEBROW PENCIL #3: AGE PERFECT MAKEUP BROW MAGNIFYING PENCIL WITH VITAMIN E
The L'Oréal Paris Age Perfect Makeup Brow Magnifying Pencil with Vitamin E is another one of our best brow pencils. It's formulated with vitamin E and ultra-blendable mineral pigments to create soft definition. The ultra-fine point tip makes precise application easy, while the blending spoolie lets you gently brush hairs into place. It's available in four shades and is suitable for sensitive eyes and skin.
How to use it: Starting with clean, brushed brows, use the precise pencil tip to fill in uneven areas with light feathered strokes. Comb and blend using the soft spoolie brush for a subtle and natural effect.
HOW TO MAKE PENCILED-IN BROWS LAST
Chances are you wouldn't want to spend all that time perfecting your brows only for some stray hairs to ruin the look. With a bit of clear eyebrow mascara, you can go about your day knowing that your brows are on fleek the entire time. Our best drugstore eyebrow mascara, the L'Oréal Paris Brow Stylist Boost & Set Brow Mascara in Clear, will keep your brow hairs from budging. The mousse formula easily glides onto brows to boost volume and sets the hairs for a natural eyebrow makeup look. Swipe it on with its angled skinny brush to style brow hairs with precise and controlled application.
The formula provides comfortable, all-day wear and is smudge-resistant, ophthalmologist-tested, and suitable for sensitive eyes and contact lens wearers. And don't worry, since the brow mascara is clear, it won't take away from the brow look you already have going.
How to use it: After filling in and shaping your brows with your drugstore eyebrow pencil of choice, use the angled skinny brush in short, upward strokes to boost volume and set your brows.
Next: Upgrade your eyebrow makeup game with a few new looks. Here are 3 Brow Looks for Achieving On-Trend Arches.
{ "@context": "https://schema.org/", "@type": "WebPage", "speakable": { "@type": "SpeakableSpecification", "cssSelector": ["speakable-content"] }, "url": "https://es.lorealparisusa.com/revista-de-belleza/maquillaje/maquillaje-ojos/best-drugstore-eyebrow-pencil" }
Descubrir más trucos y consejos
Ver todos los artículos
Shop Featured Makeup products
Discover More
{ "@context": "http://schema.org", "@type": "BreadcrumbList", "itemListElement": [ { "@type":"ListItem", "position": 1, "item": { "@id": "/", "name": "Home" } } , { "@type":"ListItem", "position": 2, "item": { "@id": "https://es.lorealparisusa.com/revista-de-belleza", "name": "Revista de belleza" } } , { "@type":"ListItem", "position": 3, "item": { "@id": "https://es.lorealparisusa.com/revista-de-belleza/maquillaje", "name": "Consejos de maquillaje para cada look" } } , { "@type":"ListItem", "position": 4, "item": { "@id": "https://es.lorealparisusa.com/revista-de-belleza/maquillaje/maquillaje-ojos", "name": "Maquillaje de ojos" } } , { "@type":"ListItem", "position": 5, "item": { "@id": "https://es.lorealparisusa.com/revista-de-belleza/maquillaje/maquillaje-ojos/best-drugstore-eyebrow-pencil", "name": "best-drugstore-eyebrow-pencil" } } ] }