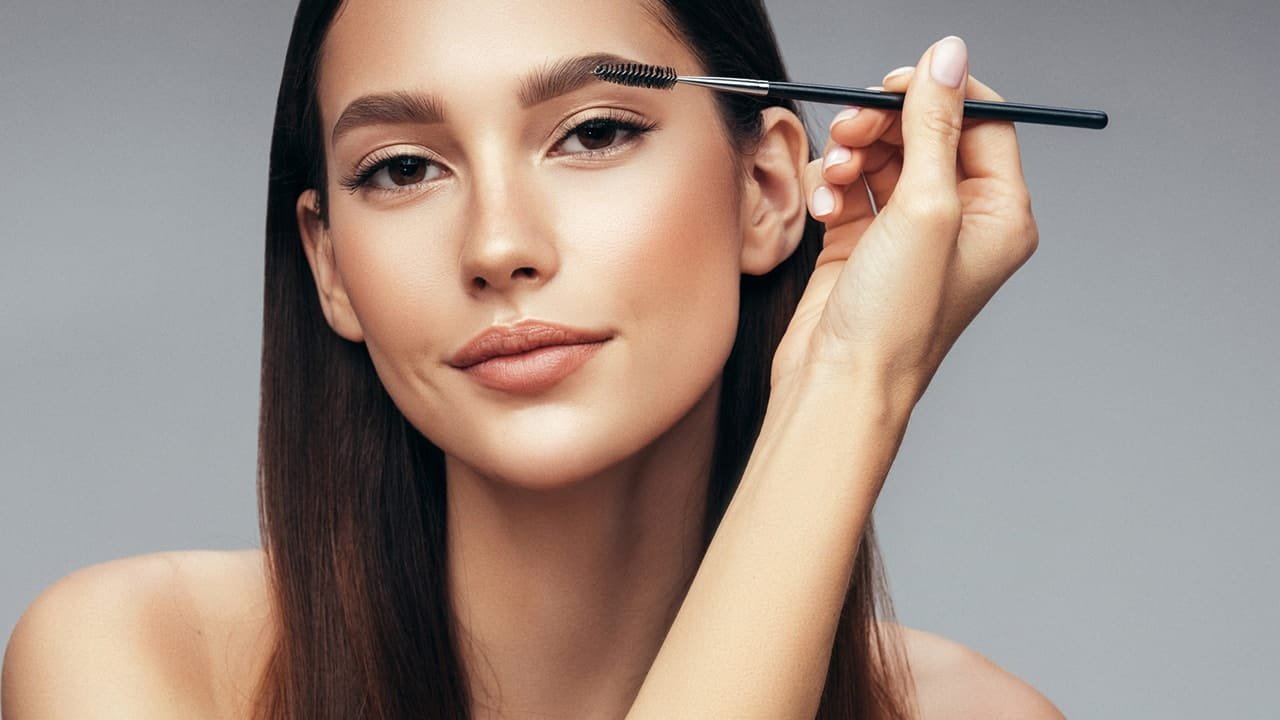 If you're on the hunt for a new makeup look to try, thick eyebrows have been one of the biggest beauty trends for quite a while now—and it doesn't appear they're going away anytime soon. Long gone are the days of tweezing your brows into a thin line of perfection. But what do you do if you don't have natural, thick eyebrows? And if you do, how do you go about flaunting what you've got? Lucky for you, we're here with all the details on how to get thick eyebrows, including the right makeup—eyebrow makeup, that is—to use and instructions on how to fill in thick eyebrow shapes.
HOW TO GROOM YOUR EYEBROWS
The days of tweezing like crazy may have come to an end, but that doesn't mean you should nix eyebrow grooming altogether. Take our pointers based on how thick your eyebrow shape is and you'll be an eyebrow grooming pro!
If you have thick eyebrows…you may have the urge to constantly tweeze them to perfection. After all, the thin eyebrow trend wasn't all that long ago. But as much as you want to, you're going to have to resist over-grooming. The thick eyebrow beauty trend may put you out of your comfort zone as far as grooming goes, but you'll be thankful you didn't pluck away when you have more natural brow to work with later on. When it comes to grooming, carefully trim unruly, long hairs and tweeze only to maintain your shape (in-between your eyebrows and below their arch).
If you have thin eyebrows…make sure you're taking note of this hack, too. Trim long hairs first, then tweeze only to maintain your shape! While you may not have much to work with, you want to make filling in your brows as simple as possible when the time comes.
HOW TO FAKE THICK EYEBROWS
There are quite a few different types of eyebrow makeup on the market. From powders to pencils to mascara to gel, there's a good chance you're overwhelmed with all the options. What's the best product for faking thick brows? Take your natural brows into consideration. Here's how to fake thick eyebrows and work with what you've got.
If you have patchy eyebrows…use a product that will fill in sparse spaces and also won't budge throughout the day. Try using the L'Oréal Paris Unbelieva-Brow Longwear Waterproof Brow Gel. Apply the gel to patchy spots using the doe foot applicator, then use the included angled brush to outline the shape of your brows and define your arch. Once you've filled and shaped your eyebrows, brush through them using your spoolie (conveniently located on the opposite end of the angled brush) to blend the product for a natural-looking, thick brow.
If you have medium-fullness eyebrows...you should start by lightly outlining your natural brow to create a thicker look. The L'Oréal Paris Brow Stylist Shape & Fill Mechanical Pencil has a triangular tip to precisely outline and fill in your eyebrows. Start at the front of your brow and use light strokes to outline your desired brow shape. Keep in mind that you should stay close to your original eyebrow shape to ensure they look natural. After, fill in any spaces. Finish with the L'Oréal Paris Brow Stylist Boost & Set Brow Mascara to boost the volume of your natural brows for overall thickness.
If you have barely-there eyebrows...the key to getting this look is patience and a light hand. It's very easy to go overboard when it comes to applying eyebrow makeup, which can lead to the appearance of having drawn-on brows. To fake thick eyebrows that actually look natural, use the L'Oréal Paris Brow Stylist Definer Mechanical Pencil. This eyebrow pencil has a 0.5mm tip that's perfect for drawing tiny brow hairs. Use light, precise strokes to draw your desired outline keeping it close to your natural eyebrow. Fill in the area inside your outline using the same light, featured strokes to create soft lines in the direction of your hairs. Hello, faux thick brows!
Editor's tip: To give your brows some extra drama and get thick, arched eyebrows, finish with the L'Oréal Paris Brow Stylist Brow Raiser Highlighter Duo. Trace the matte concealer along the outer edge of your brow for a more defined shape. Then, apply the shimmer highlighter above and below the arch of your eyebrow. Make sure to blend both products out, then you're good to go!
HOW TO FILL IN NATURALLY THICK EYEBROWS
Blessed with a naturally thick eyebrow shape? You may be wondering how to fill your brows in without going overboard. After all, a little product will go a long way for your brows. To perfect the thick brow look, you'll want to simply focus on filling in any sparse areas of your brows. Use a powder eyebrow product, like the brow powder in the L'Oréal Paris Brow Stylist Prep & Shape Pro Kit, and make light, feathered strokes in the direction of your hairs with the applicator brush. Continue to do this, keeping in mind that less is more when creating a natural-looking, full brow! Then, use the brow wax from the same kit to help tame any stubborn brow hairs.
Next: 5 Makeup Mistakes That Could Happen When You Fill in Your Eyebrows
{ "@context": "https://schema.org/", "@type": "WebPage", "speakable": { "@type": "SpeakableSpecification", "cssSelector": ["speakable-content"] }, "url": "https://es.lorealparisusa.com/revista-de-belleza/maquillaje/maquillaje-ojos/fake-thick-eyebrows-with-makeup" }
Descubrir más trucos y consejos
Ver todos los artículos
Shop Featured Makeup products
Discover More
{ "@context": "http://schema.org", "@type": "BreadcrumbList", "itemListElement": [ { "@type":"ListItem", "position": 1, "item": { "@id": "/", "name": "Home" } } , { "@type":"ListItem", "position": 2, "item": { "@id": "https://es.lorealparisusa.com/revista-de-belleza", "name": "Revista de belleza" } } , { "@type":"ListItem", "position": 3, "item": { "@id": "https://es.lorealparisusa.com/revista-de-belleza/maquillaje", "name": "Consejos de maquillaje para cada look" } } , { "@type":"ListItem", "position": 4, "item": { "@id": "https://es.lorealparisusa.com/revista-de-belleza/maquillaje/maquillaje-ojos", "name": "Maquillaje de ojos" } } , { "@type":"ListItem", "position": 5, "item": { "@id": "https://es.lorealparisusa.com/revista-de-belleza/maquillaje/maquillaje-ojos/fake-thick-eyebrows-with-makeup", "name": "fake-thick-eyebrows-with-makeup" } } ] }