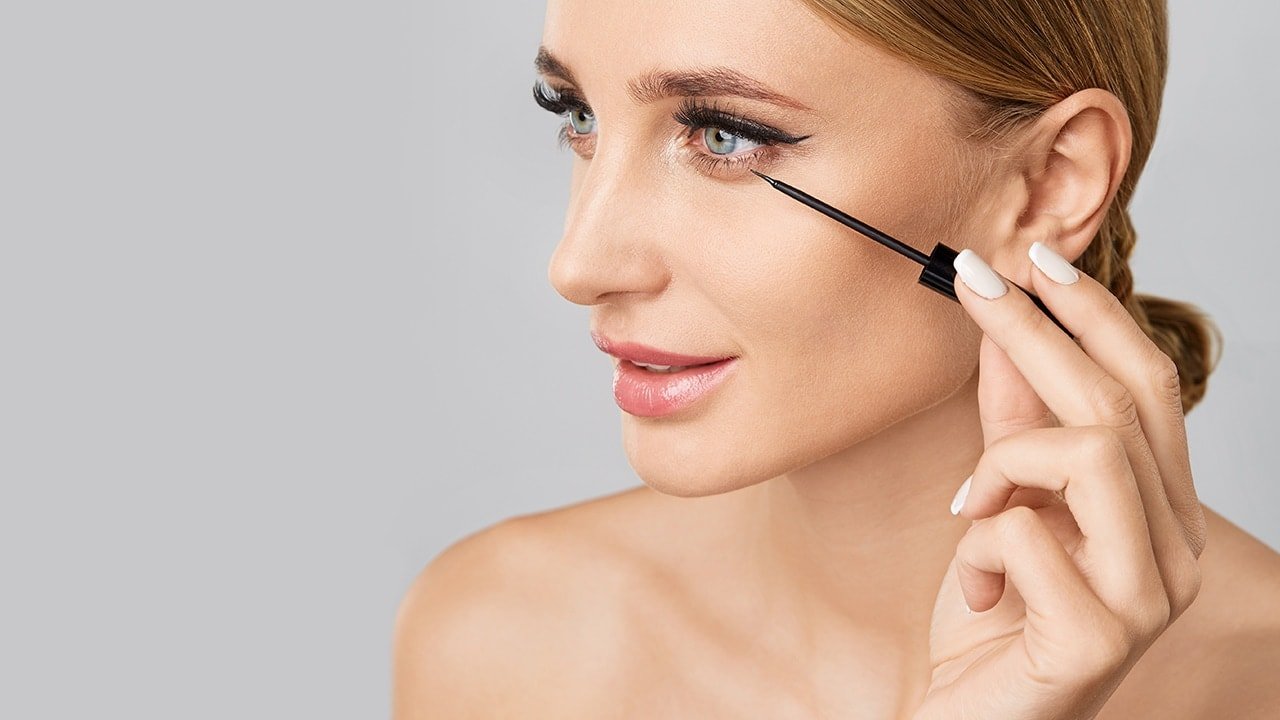 We won't deny it, not every aspect of applying makeup comes naturally. You can probably manage to powder your face or apply lipstick without too much trouble, but other products take a bit more practice—one of those being liquid eyeliner. No one, and we mean no one, guesses how to apply liquid liner and creates a perfect wing on the first try—although one can dream. Of course, that doesn't mean you should give up on lining your lids with liquid eyeliner.
With the right steps, a little dedication, and the very best liquid eyeliner in your arsenal, we're confident you can master this makeup essential. Ready to give it a try? Read on to find out how to put on liquid eyeliner. Plus, stick around for our best drugstore liquid eyeliners—including waterproof liquid eyeliner options—and favorite liquid eyeliner-centric makeup looks.
HOW TO APPLY LIQUID EYELINER
Applying liquid eyeliner doesn't require any complicated hacks, simply follow these four steps for how to put on liquid eyeliner until you have it down:
STEP 1: PRIME YOUR EYES
Surprise, eye primer isn't only for eye shadow. It's true that primer can make eye shadows wear evenly and apply easier, and the same can be said for eyeliner. Dab a small amount of primer onto your lids to create a base for your eyeliner. That way, you'll lessen the likelihood of your eyeliner smudging or shifting as the day goes on. After all, no one wants to end the day with their eyeliner only semi-intact.
STEP 2: CAREFULLY LINE YOUR UPPER LASH LINE
It's time to break out your liquid eyeliner. With the eyeliner in hand, begin creating a thin line along your upper lash line. Press the eyeliner into your lashes, getting as close as you can to avoid having a gap between your lashes and eyeliner. Once you have a slim line all the way across your lid, it's up to you if you want to keep going. Stick with a thin line if you're after a subtle, lash thickening effect. If you'd prefer a bolder look, or want to add a wing, don't stop just yet. Continue lining, gradually increasing the thickness of your eyeliner until you're satisfied.
Editor's tip: If you want to learn how to apply liquid eyeliner for beginners, you'll want to break this down. Simply start by getting as close to your lash line as possible and create a line at the center of your lid. Follow up by extending the line from the center to the outer corner of your lid. Finish up by lining the inner third of your lash line and connect it to the center line your first created.
STEP 3: CLEAN UP WITH A COTTON SWAB
Is your eyeliner not quite as perfect as you had hoped? Don't worry, it happens to the best of us. A cotton swab dipped in micellar water is all you need to fix any mistakes. Saturate a swab in the L'Oréal Paris Micellar Cleansing Water Complete Cleanser Waterproof - All Skin Types, then clean up your line. When you're done, you'll have this oh-so-simple tip to thank for everyone assuming you're an expert at applying liquid eyeliner.
STEP 4: REPEAT!
Like we said, applying liquid eyeliner flawlessly requires practice. So, don't wait until you have a special occasion to give it a try. Whenever you have the chance, practice. And then practice some more. The first few times might be a struggle, but after repeating these steps enough, they'll practically be instinctive.
HOW TO APPLY LIQUID EYELINER ON YOUR LOWER LASH LINE
Congratulations, you finally learned how to apply liquid eyeliner on your upper lash line. Now it's time to focus on your lower lash line. Here's how to do it!
STEP #1: START AT THE OUTER EDGE
Instead of starting at the inner corner of your eye, you'll need to start from the outer corner. Using your go-to liquid eyeliner, line the outer third of your lash line. If you have a winged look, be sure to extend the line outward to connect the wing.
STEP #2: LINE THE CENTER OF YOUR LASH LINE
Now that your outer edge is lined, continue the line from your outer third and extend it toward the center of your lash line. Be sure to place the brush as close as possible to the roots of your lashes for an even finish.
STEP #3: FINISH UP WITH THE INNER CORNERS
Your look is almost complete! Extend the line from the center of your lash line toward the inner corner of your eye. If you want to add some extra pizazz to your look, extend the line diagonally at your tear duct and connect it with your upper lash line to create a cat-like appearance—voila!
OUR BEST LIQUID EYELINERS
If you're hoping to sharpen your liquid eyeliner skills, you'll need a liquid eyeliner that you really love. Here are our best liquid eyeliner options:
L'Oréal Paris Infallible Flash Cat Eye Waterproof Brush Tip Liquid Eyeliner: This long-lasting, brush tip waterproof liquid eyeliner is just what you need to create a smudge-free cat eye look. The removable wing stencil helps you get perfectly precise wings, every time—though the look can be achieved with or without the cat eyeliner stencil.
L'Oréal Paris Voluminous Lash Paradise Liquid Eyeliner: This felt tip liquid eyeliner has a long-lasting, waterproof formula with a high shine finish, and it comes in classic black and trendy rose gold. Apply it using the flexible control tip for both subtle and sharp lines.
L'Oréal Paris Infallible The Super Slim Liquid Eyeliner: This skinny liquid eyeliner, available in black, brown, and gray, allows you to create precise, smudge-proof makeup looks.
L'Oréal Paris Lineur Intense Brush Tip Liquid Eyeliner: Prefer a brush tip? This eyeliner's tapered natural brush gives you control to create precise lines for dramatically bold looks.
L'Oréal Paris Matte Signature Liquid Dip Eyeliner, Waterproof: Can't get enough of matte eye makeup? Seal the deal with this liquid eyeliner. Equipped with a precision applicator and shortened stem that gets you closer to the eye, you'll sculpt flawless eyeliner looks with every use.
9 LIQUID EYELINER TIPS
If you wouldn't consider yourself a liquid eyeliner expert just yet, we can help with that. Here are nine tips on how to put on liquid eyeliner for a flawless application with every use.
1. APPLY LIQUID EYELINER AFTER EYE SHADOW
One of the easiest ways to ruin your liquid eyeliner look is to apply it before your eye shadow. Simply put, blending eyeshadow with liquid eyeliner in place can ruin your precise lines and leave you with a smudged makeup look. Think of liquid eyeliner as the finishing touch to your eyeshadow look.
2. MAKE ADHESIVE TAPE YOUR BFF
Struggling to create a winged effect with your eyeliner? No biggie! If you don't have a liquid eyeliner with a wing stencil, simply apply a small piece of tape diagonally against your lower lash line for a precise winged look. Easy, peasy!
3. LINE YOUR EYE WITH SMALL DASHES FIRST
If you have a shaky hand, it can be a bit tricky to apply liquid eyeliner. That's why starting off with a few small dashes along your lash line is a great way to map out your line. As a result, you'll be able to trace over them to create a flawless line. This tip also comes in handy to prevent uneven lines.
4. SLOW AND STEADY
While you may see your favorite beauty gurus create a gorgeous liquid eyeliner look in seconds, that doesn't mean you should follow suit. It's best to take your time and move slowly to avoid any mistakes.
5. CONCEALER ALWAYS SAVES THE DAY
Worried about uneven lines? This is where concealer picks up the slack. Simply dip a small, angled brush in concealer and gently clean up your lines for an instant fix.
6. USE A PENCIL PRIOR TO LIQUID EYELINER
Another way to create a gorgeous eyeliner look sans mistakes: using pencil eyeliner. That's right; some people may have more of a steady hand when using pencil eyeliner. Simply line your eyes with pencil eyeliner and follow up with your liquid offering, using the pencil as a guide. Voila!
7. REST YOUR ELBOW ON A TABLE
Shaky hands on the bane of your existence? No need to fret. All you need to do is rest your elbow on a table or vanity as you line your eyes to make your hand steadier.
8. DRAW THE LINE AS CLOSE TO YOUR LASHES AS POSSIBLE
Gaps between your lashes and liner is not a good look. To prevent the makeup faux pas, simply draw the line as close to your lashes as possible for the perfect look.
9. OPT FOR WATERPROOF & SMUDGE PROOF OFFERINGS
Speaking of makeup mishaps, there's almost nothing worse than your eyeliner smudging or dripping throughout the day. To help avoid this embarrassing look, simply reach for waterproof and smudge-proof options to keep your eyeliner right where you need it.
4 LIQUID EYELINER LOOKS TO TRY
Not sure how to put your liquid eyeliner to use? We're sharing four ideas for how to wear liquid eyeliner below.
LIQUID EYELINER LOOK #1: BLACK ALL THE WAY AROUND
Don't you just love an edgy, rock 'n roll look? Thankfully, you don't have to be in an ultra-cool band to try the look for yourself. All you'll need is black liquid eyeliner. Instead of only lining along your upper lash line, continue your eyeliner all the way around your eyes—even in the inner corner. The best part is, if you're going for a grungy look, you don't even have to be perfect with your application. A little messiness lends itself to the look. Just finish up with a couple of coats of mascara, and you're good to go!
LIQUID EYELINER LOOK 2: ROSE GOLD CAT EYE
Cat eyes are always black…or are they? There's no reason your winged eyeliner absolutely has to be black. In fact, rocking a lighter hue is perfectly suited to summer. To stay on-trend, try using a rose gold liquid eyeliner to line your eyes. The classic eyeliner shape will be totally reinvented when paired with an of the moment color. All you'll need to round out the look is a metallic rose gold lip color to match.
LIQUID EYELINER LOOK 3: TEAL LOWER LASH LINE
Most of the time, when you see someone wearing liquid eyeliner, it's on their eyelids. However, there's nothing stopping you from sporting it on your lower lash line instead. Take any boring makeup look to the next level by adding a pop of color with a swipe of teal liquid eyeliner on your lower lash line.
LIQUID EYELINER LOOK 4: BROWN AGAINST YOUR LASHES
If most liquid eyeliner looks are a little too noticeable for your taste, we have just the thing for you. Place a super-thin line of brown liquid eyeliner against your upper lashes for a subtle effect. Your lashes will look a little thicker, but it won't be too obvious. Wear a little brown mascara, too, and you'll have the eye makeup portion of your no makeup, makeup look down.
Next up: Liquid eyeliner doesn't go on the waterline, which is why you won't see mention of it here. To get the scoop on that topic, click over to our article, How to Apply Eyeliner to Your Waterline.
{ "@context": "https://schema.org/", "@type": "WebPage", "speakable": { "@type": "SpeakableSpecification", "cssSelector": ["speakable-content"] }, "url": "https://es.lorealparisusa.com/revista-de-belleza/maquillaje/maquillaje-ojos/how-to-apply-liquid-eyeliner" }
Descubrir más trucos y consejos
Ver todos los artículos
Shop Featured Skin Care products
Discover More
{ "@context": "http://schema.org", "@type": "BreadcrumbList", "itemListElement": [ { "@type":"ListItem", "position": 1, "item": { "@id": "/", "name": "Home" } } , { "@type":"ListItem", "position": 2, "item": { "@id": "https://es.lorealparisusa.com/revista-de-belleza", "name": "Revista de belleza" } } , { "@type":"ListItem", "position": 3, "item": { "@id": "https://es.lorealparisusa.com/revista-de-belleza/maquillaje", "name": "Consejos de maquillaje para cada look" } } , { "@type":"ListItem", "position": 4, "item": { "@id": "https://es.lorealparisusa.com/revista-de-belleza/maquillaje/maquillaje-ojos", "name": "Maquillaje de ojos" } } , { "@type":"ListItem", "position": 5, "item": { "@id": "https://es.lorealparisusa.com/revista-de-belleza/maquillaje/maquillaje-ojos/how-to-apply-liquid-eyeliner", "name": "how-to-apply-liquid-eyeliner" } } ] }