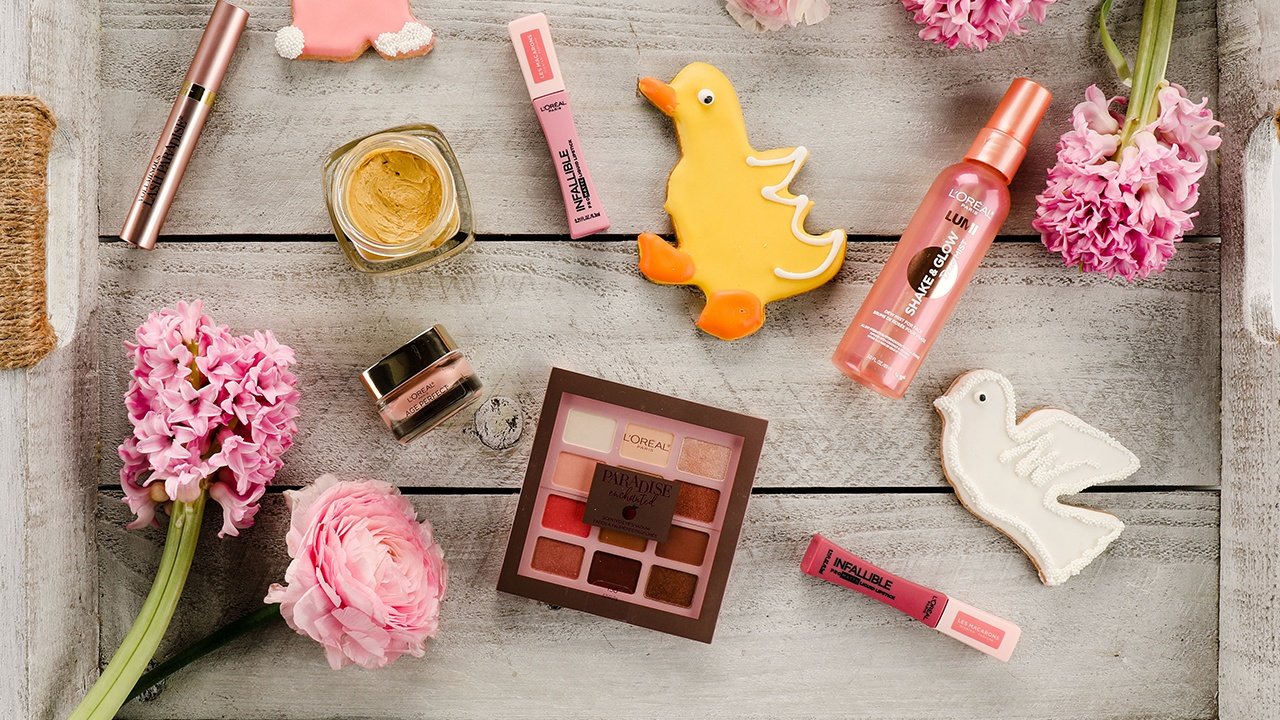 The Easter bunny is about to make his rounds, and while colorful eggs and festive sweets are nice, we have a feeling there's a certain Easter basket theme that will have the makeup lovers in your life hopping for joy. We're talking about makeup Easter baskets! Think you can't combine this holiday tradition with lipsticks and eyeliners? Think again. Before heading to Pinterest in search of some inspo, we've done the work for you by putting together seven makeup-themed Easter basket ideas for your favorite cosmetic enthusiasts. Looks like the Easter bunny got a rundown on the hottest makeup trends this year!
#1. FOR THE MAKEUP NOVICE
Is the makeup lover in your life a newbie to the world of highlighter and mascara? The perfect makeup Easter basket idea involves stocking them up on some essentials for their collection. Start things off by using a super cute makeup bag as the basket. Not only will it look totally adorable, but it'll also be practical! Stuff the bag with festive tinsel or confetti, fake flowers, and (of course) makeup necessities! One must-have that every makeup beginner needs is a tried-and-true eyeshadow palette with plenty of neutral shades. Consider adding the L'Oréal Paris Paradise Enchanted Scented Eyeshadow Palette to your Easter makeup bag.
#2. FOR THE GLOW GETTER
It's no secret that radiant, glowing skin is one of the hottest looks for 2020, so why not pull together a makeup Easter basket in honor of your favorite glow getter? Stock the basket high with all things glowing, from foundation with a radiant finish to a dewy setting spray like the L'Oréal Paris True Match Lumi Shake & Glow Dew Mist. You can also add a few holographic or glittery Easter eggs into the mix!
#3. FOR THE MAKEUP PRO
If it seems as though the makeup-obsessed gal or guy in your life already owns everything under the sun, we have a few tricks up our sleeve for putting together a worthy makeup Easter basket. Focus on out-of-the-box statement products that are perfect for creating a signature look, like the L'Oréal Paris Infallible Pro-Matte Les Macarons Scented Liquid Lipstick in Dose of Rose and Framboise Frenzy. Aside from makeup, if you want to add a bit of skin care into the mix, we recommend the L'Oréal Paris Pure-Clay Clarify & Smooth Face Mask. This face mask is specifically formulated to tackle uneven skin that can be caused by makeup and improper care.
#4. FOR THE LASH LOVER
It's safe to say most of us are committed to getting a long and voluminous, totally envy-worthy lash look, but there are certain makeup lovers who take their lash game a tad more seriously. For the lash devoted, be sure to put together a makeup Easter basket full of classic mascaras, like the L'Oréal Paris Voluminous Lash Paradise Washable Mascara. Of course, you'll want to pop a few non-traditional options in there too. Throw in a colorful tube like the L'Oréal Paris Voluminous Original Bold Eye Mascara in Cobalt Blue.
#5. FOR THE MINIMALIST
Just because someone loves makeup doesn't necessarily mean they want to be loading on product after product. Use a simple wooden basket to match your minimalistic vibes and fill it with a few sweet treats and products fit for a no makeup, makeup look. Want to add a bit of skin care into the mix? Pop the L'Oréal Paris Age Perfect Rosy Tone Anti-Aging Eye Brightener Paraben Free, which helps brighten and reduce the appearance of dark circles in a quick swipe, into your basket.
#6. FOR THE TRENDSETTER
Do you have someone in your life that's always sporting an edgy, ahead-of-their-time makeup look? You'll want to pile their Easter makeup basket high with products meant to make a statement, like one (or a few) of the shimmering shades from the L'Oréal Paris Brilliant Eyes Shimmer Liquid Eye Shadow Makeup line. You can also throw in a few trendy accessories to give their overall beauty look a boost!
#7. FOR THE LIP LOVER
Can anyone truly have enough lip products? We think not! Whether a new shade or finish, we'll be the first ones to admit that a new lippie is at the top of our list of makeup products to collect. If you're looking to create a makeup Easter basket for the lip lover in your life, allow us to suggest covering all your bases. We're talking lipsticks, lip glosses, and lip liners like the L'Oréal Paris Colour Riche Lip Liner. Consider putting a clear plastic makeup organizer inside your basket to have each lip essential perfectly displayed—and to act as an amazing gift in its own right.
{ "@context": "https://schema.org/", "@type": "WebPage", "speakable": { "@type": "SpeakableSpecification", "cssSelector": ["speakable-content"] }, "url": "https://es.lorealparisusa.com/revista-de-belleza/maquillaje/tendencias-maquillaje/easter-basket-ideas-for-makeup-lovers" }
Descubrir más trucos y consejos
Ver todos los artículos
Shop Featured Makeup products
Discover More
{ "@context": "http://schema.org", "@type": "BreadcrumbList", "itemListElement": [ { "@type":"ListItem", "position": 1, "item": { "@id": "/", "name": "Home" } } , { "@type":"ListItem", "position": 2, "item": { "@id": "https://es.lorealparisusa.com/revista-de-belleza", "name": "Revista de belleza" } } , { "@type":"ListItem", "position": 3, "item": { "@id": "https://es.lorealparisusa.com/revista-de-belleza/maquillaje", "name": "Consejos de maquillaje para cada look" } } , { "@type":"ListItem", "position": 4, "item": { "@id": "https://es.lorealparisusa.com/revista-de-belleza/maquillaje/tendencias-maquillaje", "name": "Tendencias de maquillaje" } } , { "@type":"ListItem", "position": 5, "item": { "@id": "https://es.lorealparisusa.com/revista-de-belleza/maquillaje/tendencias-maquillaje/easter-basket-ideas-for-makeup-lovers", "name": "easter-basket-ideas-for-makeup-lovers" } } ] }