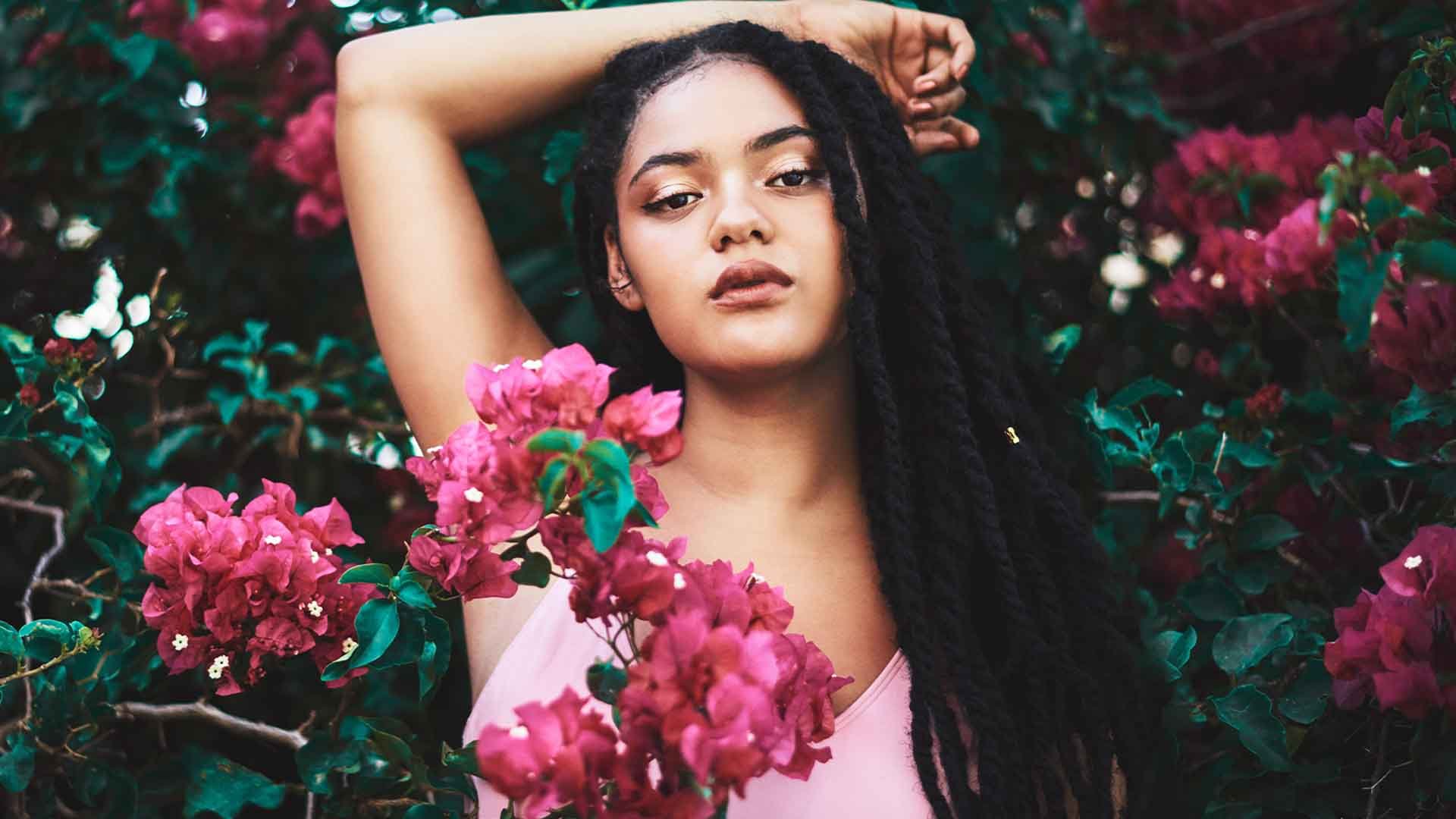 There are so many things that we love about protective styles—shielding your natural hair from the elements, experimenting with different looks, and minimizing your styling time are a few. One of our favorite go-to protective styles, especially for summer, is the Senegalese twist. This style keeps your strands tucked away while making a chic statement. Ahead, we're sharing everything you need to know about this gorgeous hairstyle, plus 10 ways to wear Senegalese twists.
WHAT ARE SENEGALESE TWISTS?
Senegalese twists (a.k.a rope twists) use the two-strand twist technique with synthetic Kanekalon braiding hair to give you twists with a sleek and textured appearance. Senegalese twist hair is dense, making it a bit heavier than Havana twists (another two-strand twisted style that involves thick, full hair with a lightweight feel). It's a versatile, low maintenance style that you can wear in micro or jumbo width, and in any length. The twists typically last for six weeks, but you can extend their wear if you wrap your hair properly at night.
10 SENEGALESE TWIST HAIRSTYLES TO TRY
Now that you know the basics on Senegalese twists, check out these Senegalese twist styles to transform your mane.
1. SENEGALESE TWIST BOB
Why we love it: Short hair is seriously in and this twisted bob variation is a chic way to play with texture. It also helps to keep your strands out of the way.
How to get the look: Make an appointment with your stylist. Since bobs can end at the chin or below the tips of your ears, they'll be able to style your twists to flatter your face shape.
2. SENEGALESE TWIST LOB
Why we love it: This medium Senegalese twist lob is a remix of the twist bob style that serves as a happy medium to give you a bit of length without going too short.
How to get the look: Enlist the help of a professional and ask for your Senegalese twists to fall just above or below your shoulders.
3. FLAT SENEGALESE TWISTS
Why we love them: This style combines the '90s flat twist style at the roots with Senegalese twists on the lengths and ends. It's a great way to give both looks an upgrade.
How to get the look: Ask your stylist to twist the hair against the scalp like a cornrow braid and then add hair at the lengths for long, cascading twists. Keep some hair gel handy, like the L'Oréal Paris Advanced Hairstyle LOCK IT Extreme Style Gel, to help give your twists some hold.
4. SENEGALESE TWIST PIXIE
Why we love them: We are always here for a chic pixie and trying it with Senegalese twists makes the style that much more playful and unique.
How to get the look: Have your stylist twist shorter hair into your lengths and use bobby pins to hold them in place for a piecey pixie look.
5. KNOTLESS SENEGALESE TWISTS
Why we love them: Knotless twists are a playful spin to knotless box braids that allows you to keep pressure off of your scalp to prevent hair breakage.
How to get the look: Ask your stylist to use the feed-in technique that adds small amounts of hair as you go. Just be sure to seek out someone who specializes in Senegalese twists or knotless twists since technique is key in preventing your hair from unraveling.
6. JUMBO SENEGALESE TWISTS WITH OMBRÉ
Why we love them: Jumbo Senegalese twists cut down your time in the salon chair. The ombré transition of color will leave you with a bold look.
How to get the look: Ask your stylist to weave a dark Kanekalon hair color toward the top of your twists, then gradually transition to a lighter shade. You can also buy hair pre-colored into an ombré style to make it easier.
7. SENEGALESE TWISTS WITH AN UNDERCUT
Why we love it: Adding an undercut to Senegalese twists gives the style a cool-girl edge. You can shave one or both sides of your head and add a creative design for a bold look.
How to get the look: Since this style requires cutting your hair, it's best to consult with a stylist.
8. MICRO SENEGALESE TWISTS
Why we love them: These super-small twists add a playful vibe to your look and can be styled just like your natural hair.
How to get the look: Instead of taking matters into your own hands, leave it to the pros.
9. SENEGALESE TWIST BUNS
Why we love it: This hairstyle helps to keep your strands stylishly tucked away while calling attention to your facial features. The buns are easy to create and give your hair a playful touch.
How to get the look: Split your hair into two sections at either side of your head. Gather your twists in one section into a ponytail and wrap the length of your hair around the base of your ponytail to form a bun. Secure loose strands with bobby pins. Repeat on the other side until you have two similar buns.
10. WAIST-LENGTH SENEGALESE TWISTS
Why we love it: Waist-length twists give hair the same touch of drama as knee-length styles without the danger of putting too much tension on your roots.
How to get the look: It's all about adding the right length of hair for this style, so book an appointment with your twist specialist and bring a book—you will be in the chair for a while for this extra-long style.
HOW TO CARE FOR SENEGALESE TWISTS
Now that you have plenty of Senegalese twist hair options in mind, let's talk maintenance. You need to know how to properly wash your hair to keep your twists looking their best. Massaging twists during the wash process can ruin your hairstyle and unravel your hair, so you'll need to switch things up when cleansing your strands. Here's how to do it.
STEP #1: CLEANSE YOUR HAIR WITH AN APPLE CIDER VINEGAR RINSE
An apple cider vinegar rinse makes a solid pairing for Senegalese twists. ACV cleansers help to remove buildup and boost shine without disturbing your style. Simply apply the apple cider vinegar rinse to your twists and carefully rub our scalp. Leave it on for 10 minutes, and rinse out with lukewarm water.
STEP #2: ADD MOISTURE WITH A LEAVE-IN CONDITIONER
Next, you'll want to reach for a leave-in conditioner that can provide lasting moisture. Try the L'Oréal Paris Elvive Dream Lengths Super Curls Cream Leave-In, which moisturizes and provides your strands with luminous shine. Gently apply a small amount to your twists and let them air dry.
Photo Credit: Maiya Carmichael/IG@_MCQN
{ "@context": "https://schema.org/", "@type": "WebPage", "speakable": { "@type": "SpeakableSpecification", "cssSelector": ["speakable-content"] }, "url": "https://es.lorealparisusa.com/revista-de-belleza/peinado/peinados-tendencias/senegalese-twist-hairstyles" }
Descubrir más trucos y consejos
Ver todos los artículos
Shop Featured products
Discover More
{ "@context": "http://schema.org", "@type": "BreadcrumbList", "itemListElement": [ { "@type":"ListItem", "position": 1, "item": { "@id": "/", "name": "Home" } } , { "@type":"ListItem", "position": 2, "item": { "@id": "https://es.lorealparisusa.com/revista-de-belleza", "name": "Revista de belleza" } } , { "@type":"ListItem", "position": 3, "item": { "@id": "https://es.lorealparisusa.com/revista-de-belleza/peinado", "name": "Encuentra tu próximo look sexy" } } , { "@type":"ListItem", "position": 4, "item": { "@id": "https://es.lorealparisusa.com/revista-de-belleza/peinado/peinados-tendencias", "name": "Tendencias de peinado" } } , { "@type":"ListItem", "position": 5, "item": { "@id": "https://es.lorealparisusa.com/revista-de-belleza/peinado/peinados-tendencias/senegalese-twist-hairstyles", "name": "senegalese-twist-hairstyles" } } ] }