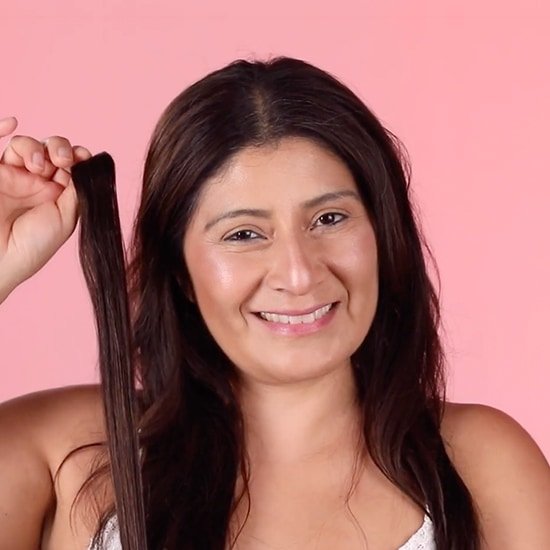 From tape in hair extensions to clip-ins, there are plenty of options available to instantly achieve the look of long locks. Speaking of the latter, clip-in hair extensions are a quick and easy way to revamp your beauty look. If you're tired of waiting for your hair to grow out or would rather rock a short hairstyle most days—with only the occasional day with lots of length—they're the perfect option for you. Of course, there's one issue that could arise: with hair extensions comes the challenge of how to put in clip in hair extensions and how to choose hairstyles that will blend your natural hair with your fake strands. But don't let that dissuade you from wearing extensions. If you're wondering how hair extensions work, you've come to the right place. Here, we're sharing how to put hair extensions in as well as styling tips you can use on your clip-ins.
HOW TO PUT IN HAIR EXTENSIONS
First thing's first—let's cover how to put in clip-in hair extensions to instantly extend the length of your locks. It's really quite simple!
Step 1: Part Your Hair
Section your hair into a top and bottom section starting just above the tops of your ears. Clip the top section up and out of the way.
Step 2: Tease Your Roots
Gently tease the roots of the bottom section of hair, then spritz with the L'Oréal Paris Elnett Precious Oil Satin Hairspray for added grip.
Step 3: Clip in Your First Weft
Grab a weft (a hair extension with multiple clips) with four clips. Open the clips, then comb them into the roots of the section you just teased, lining them up with your part before clipping them closed.
Step 4: Let Your Hair Down
Release the top section of hair, then create a new top section, leaving one to two inches behind to cover your extensions.
Step 5: Tease and Clip
Tease and spray your roots, then reach for a weft with three clips. Clip it along your new part.
Step 6: Let More Hair Down
You know what to do—let your top section of hair down.
Step 7: Frame Your Face
To make sure you have plenty of length at the front of your face, lift your face-framing strands and place a single clip weft on each side of your head. All done!
HOW TO STYLE HAIR EXTENSIONS
Now that you know how to clip in your hair extensions, let's go over how to blend and style them with your natural locks for a flawless mane.
HAIR EXTENSION STYLE #1: OVERNIGHT BRAIDS
If you're worried about hair extension hairstyles being high maintenance and time consuming—there's no need to fret! An overnight braid hairstyle is one of the quickest and easiest ways to blend your hair extensions with your mane.
Step 1: Braid Your Hair
Start by braiding your hair as you normally would. The number of braids you put in your hair depends on how thick your hair is and how tight you want your waves to be. The smaller the braid, the tighter the wave. If you want this style to create waves all the way up to your roots, make sure to French or Dutch braid your strands.
Step 2: Apply a Hair Gel
Use a hair gel, like the L'Oréal Paris Advanced Hairstyle LOCK IT Clean Style Gel, to seal in your wave. Apply the gel over each braid. This way, when you unravel them in the morning, you'll be left with perfectly formed waves that will last throughout the day.
Step 3: Braid Your Extensions
Just as you braided your hair, you want to braid your hair extensions so that in the morning they'll match the texture and style of your natural hair. Make sure to braid your extensions in the same size braids as your mane, so the size of the waves matches seamlessly.
Step 4: Grab Your Hair Gel
Apply hair gel to your extensions just as you did to your hair!
Step 5: Get Some Beauty Sleep
Now that your hair (and hair extensions) are styled and ready to go, it's time to sleep and let those waves form! Sleep on a silk or satin pillow to keep your hair frizz-free throughout the night.
Step 6: Unravel Your Braids
Good morning! It's time to unravel your braids. Remove the braids from both your hair and your hair extensions to reveal effortless waves. Put your extensions in and run your fingers gently through your hair to loosen and blend the waves. Hooray! You'll be out the door in 10 minutes.
HAIR EXTENSION STYLE #2: STRAIGHT HAIR
If you want to rock a straight 'do while wearing your hair extensions, you'll have to straighten your hair in a particular way to ensure the look is seamless.
Step 1: Use a Frizz Cream
Before straightening your hair, apply the L'Oréal Paris Advanced Hairstyle SLEEK IT Iron Straight Heatspray to damp hair, then blow-dry away. This heat protectant will help keep your hair smooth and frizz-free while protecting against heat damage.
Step 2: Straight Your Hair
Straighten your hair—this part isn't anything new.
Step 3: Straighten Your Extensions
By straightening your hair and hair extensions separately, you'll have less work to do when it comes to blending!
Editor's note: Not all hair extensions are created equal! It's possible that your extensions aren't safe to use heat on, so be sure to check prior to straightening or curling them.
Step 4: Apply Your Extensions
Put your hair extensions in and then reach for your straightener one last time. Straighten any areas you missed while making sure to pay extra attention to where the ends of your hair meet your extensions. Slightly curl your ends inward to blend together.
HAIR EXTENSION STYLE #3: BRING ON THE CURLS
Just as when you straighten your mane, curling hair with extensions may require a few extra steps.
Step 1: Apply Your Extensions
The first thing you'll want to do when curling your hair with extensions is to apply your clip-ins.
Step 2: Use a Heat Protectant
Apply a heat protectant, like the L'Oréal Paris Advanced Hairstyle BOOST IT Volume Inject Mousse, to protect your hair from heat damage. This mousse will also add volume to your hair—which is perfect for this look. Apply it to your entire mane, hair extensions and all.
Step 3: Curl Away!
Curl your hair as you typically do, only this time, make sure to include your hair extensions in each chunk of hair you curl. It's important not to curl your natural hair and the clip-ins separately, as this will leave your hair unblended.
Step 4: Apply a Hairspray
Use a hair spray to ensure your curls last the whole day! Mist the L'Oréal Paris Elnett Satin Hairspray Strong Hold 12 inches away from your hair.
HAIR EXTENSION STYLE #4: USE A WAVE SPRAY
If you're in a rush and forgot to put in your overnight braids, another heat-free way to add waves to your hair and hair extensions is by using an air-dry hair styling product.
Step 1: Apply Your Extensions
Begin by applying your extensions.
Step 2: Dampen Your Hair and Extensions
To dampen your hair, run your fingers under the faucet and apply a little water to your hair. Don't overdo it; you don't need soaked strands to achieve this look.
Step 3: Apply a Wave Spray
Use the L'Oréal Paris Advanced Hairstyle AIR DRY IT Wave Swept Spray to enhance the shape and texture of your hair (and hair extensions). Spray the product throughout your hair and scrunch it to form waves. Once the spray dries, you're all set!
HAIR EXTENSION STYLE #5: BRAIDS FOR DAYS
Another simple and quick way to blend your hair extensions with your hair is to select a hairstyle that disguises where the ends of your hair and your extensions meet. Our pick? Braids of (almost) any kind!
Step 1: Apply Your Extensions
Put your extensions in your hair as per usual.
Step 2: Braid
Braid your hair! This step is pretty self-explanatory. Whether you're in the mood for braided pigtails, a fishtail braid, or a traditional braid, you have plenty of options.
Editor's tip: Avoid doing French or Dutch braids as these can expose the clips of your hair extensions!
Next up: Want long hair that's all yours? Here's The Truth About How to Grow Hair Faster.
{ "@context": "https://schema.org/", "@type": "WebPage", "speakable": { "@type": "SpeakableSpecification", "cssSelector": ["speakable-content"] }, "url": "https://es.lorealparisusa.com/revista-de-belleza/peinado/peinados-largos/how-to-put-in-hair-extensions" }
Descubrir más trucos y consejos
Ver todos los artículos
Shop Featured Hair Style products
Discover More
{ "@context": "http://schema.org", "@type": "BreadcrumbList", "itemListElement": [ { "@type":"ListItem", "position": 1, "item": { "@id": "/", "name": "Home" } } , { "@type":"ListItem", "position": 2, "item": { "@id": "https://es.lorealparisusa.com/revista-de-belleza", "name": "Revista de belleza" } } , { "@type":"ListItem", "position": 3, "item": { "@id": "https://es.lorealparisusa.com/revista-de-belleza/peinado", "name": "Encuentra tu próximo look sexy" } } , { "@type":"ListItem", "position": 4, "item": { "@id": "https://es.lorealparisusa.com/revista-de-belleza/peinado/peinados-largos", "name": "Peinados largos" } } , { "@type":"ListItem", "position": 5, "item": { "@id": "https://es.lorealparisusa.com/revista-de-belleza/peinado/peinados-largos/how-to-put-in-hair-extensions", "name": "how-to-put-in-hair-extensions" } } ] }