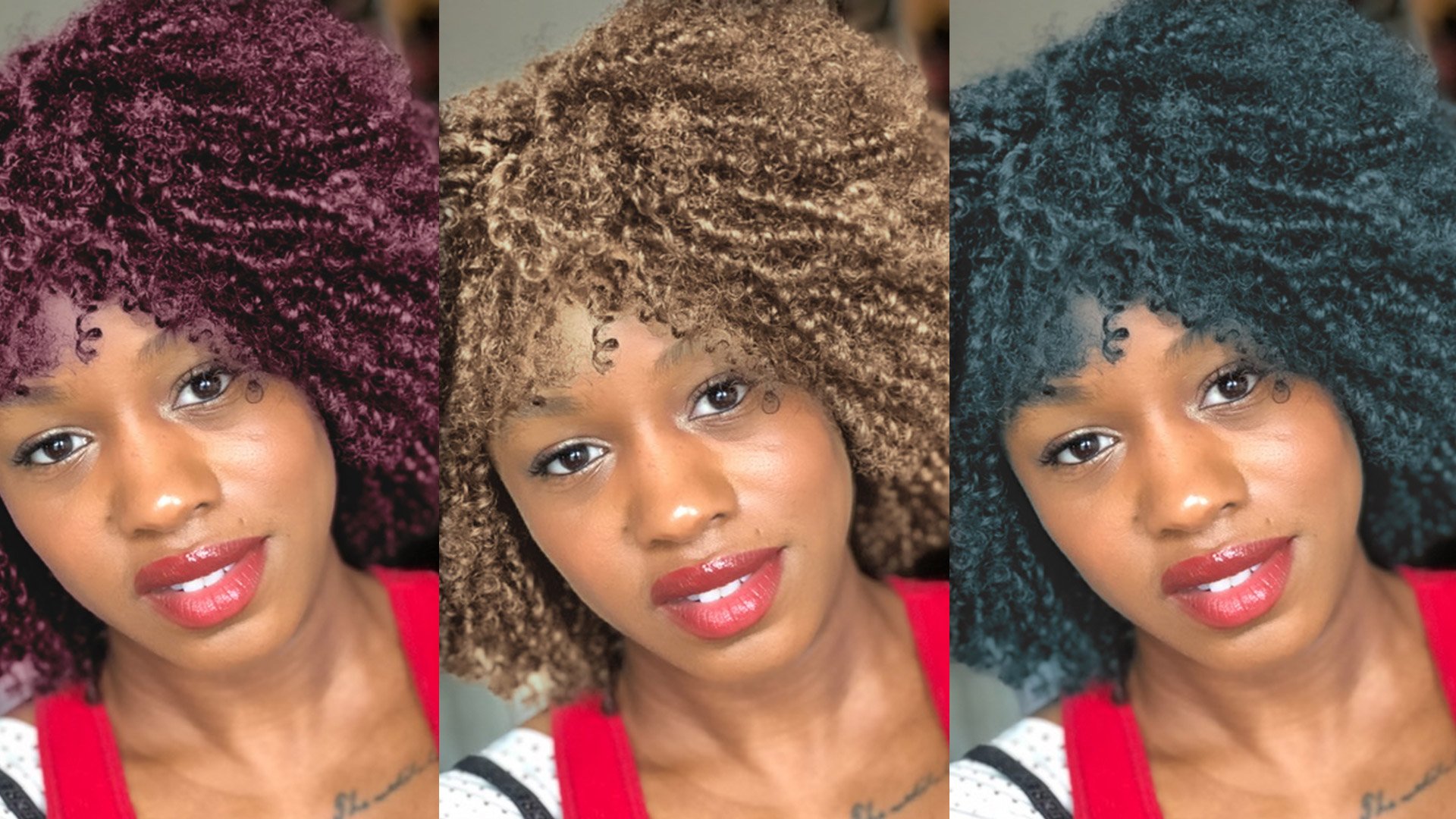 New hair, who dis? Isn't that just fun to say? What's more fun is actually getting a new hair color to start your year off just right. What's not fun is trying at-home hair color and not getting the results you imagined. In an effort to make sure 2021 doesn't rapidly decline the way 2020 did you need to take precautions. Fortunately for something as simple as dyeing your hair at home, you can use L'Oréal Paris Beauty Genius to get it right. The L'Oréal Paris Hair Color Genius Virtual Try-On tool lets you virtually test out different L'Oréal Paris hair colors so you can get an idea of the result before going through with the process. Read on to find out more about how it works and to discover some of our favorite at-home hair color products to help you achieve the shade of your dreams.
How to Use Hair Color Genius Virtual Try-On Tool
The L'Oréal Paris Hair Color Genius Virtual Try-On feature lets you compare the brand's hair color shades through an easy-to-use hair color try-on tool. Think about it like the way you would "try-on" paint swatches for your living room, except you don't have to go to the store for samples or color over any hideous hues once you've made a decision. Just upload a photo of yourself in your current hair color (this is important for the outcome of your shade) or use your camera for the live try-on option. You can play with hues in different categories (temporary, permanent and semi-permanent) to see how they'll look applied to your hair color.
You can even capture and share the results with friends or on social media to save and reference later. It's a great way to compare and contrast between shades in the same color family or completely contrasting hues. But it's also a great way to see how a color will actually pick up on your current hair tone and undertone—that pink might be way more vivid on your blonde than it will be on your bestie's ash brown. Use the split-screen slider to check out the difference between your current shade and the one you're considering.
Our Best At-home Hair Color Products To Try
After you've had all that fun using the Hair Color Genius and made a color choice, grab an at-home hair color kit that suits your needs. Check out the different types of hair dye available to you.
Semi-Permanent Hair Color
If you're still working from home it might be a great time to indulge in an edgy color for a day or two. Dreaming of a pastel green or coral pink? The L'Oréal Paris Colorista Hair Makeup Temporary 1-Day Hair Color Spray lets you get a fun and bright temporary color that will wash out with just one shampoo.
Permanent Hair Color
Had a vision of red locks in your (near) future? Or maybe you're finally going for that vanilla lilac hue you've been wanting for months? Use the Hair Color Genius to get a visual of how your next color will cover your current shade (or if you'll need to bleach to get your desired hue). L'Oréal Paris Féria Multi-Faceted Shimmering Permanent Hair Color delivers bold and brilliant color without the need for a salon visit. It won't wreck or ravage your strands and comes in more than 40 scroll-stopping hues for you to play with.
Hair Color Bleaches
We know that blondes don't necessarily have more fun, but we know that they sure do have a fun hair color. And with all the gorgeous blonde hues to choose from, it's understandable why you might want to join team #blondehairdontcare. L'Oréal Paris Féria Hyper Platinum Advanced Lightening System Bleach can lift up to eight levels without stripping the darkest base. It's formulated with sunflower seed oil, avocado oil and grapeseed oil to prevent parched tresses while you go your best platinum. It's also a great option if you need to lighten dark hair to achieve another color.
Hair Color Gloss
No matter what color you choose, how you care for your color-treated hair will determine how long it keeps its luster and tone. Luckily, you no longer have to head to your colorist for a toning touch-up. Next time you shower (or on your next wash day) grab the L'Oréal Paris Le Color Gloss One Step In Shower Toning Gloss to give your color a boost while deeply conditioning your hair. All you need is 15 minutes—no gloves, no mixing.
Still need some professional help? We've got you covered there too. The L'Oréal Paris Haircolor Concierge can connect you with live experts and online tools to help you get your best at-home hair color results. You can even schedule a one-on-one video consultation with a professional colorist.
Photo Credit: Shalwah Evans
{ "@context": "https://schema.org/", "@type": "WebPage", "speakable": { "@type": "SpeakableSpecification", "cssSelector": ["speakable-content"] }, "url": "https://es.lorealparisusa.com/revista-de-belleza/coloracion/aplicacion-coloracion/test-new-hair-colors-with-virtual-try-on-tool" }
Descubrir más trucos y consejos
Ver todos los artículos
Shop Featured Hair Color products
Discover More
{ "@context": "http://schema.org", "@type": "BreadcrumbList", "itemListElement": [ { "@type":"ListItem", "position": 1, "item": { "@id": "/", "name": "Home" } } , { "@type":"ListItem", "position": 2, "item": { "@id": "https://es.lorealparisusa.com/revista-de-belleza", "name": "Revista de belleza" } } , { "@type":"ListItem", "position": 3, "item": { "@id": "https://es.lorealparisusa.com/revista-de-belleza/coloracion", "name": "Ideas atrevidas de profesionales de la coloración" } } , { "@type":"ListItem", "position": 4, "item": { "@id": "https://es.lorealparisusa.com/revista-de-belleza/coloracion/aplicacion-coloracion", "name": "Aplicación de coloración" } } , { "@type":"ListItem", "position": 5, "item": { "@id": "https://es.lorealparisusa.com/revista-de-belleza/coloracion/aplicacion-coloracion/test-new-hair-colors-with-virtual-try-on-tool", "name": "test-new-hair-colors-with-virtual-try-on-tool" } } ] }