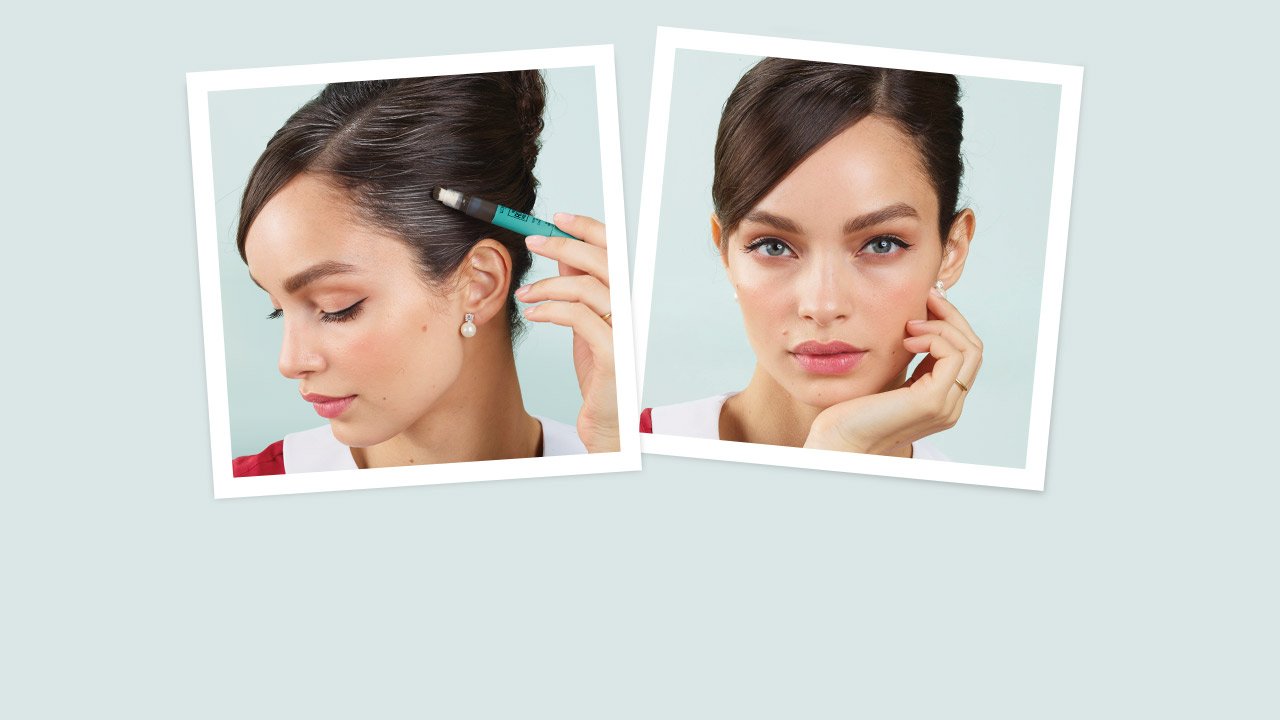 Some things are inevitable, so we can say with confidence that someday you'll spot your first gray hair—if you haven't already, that is. Noticing that you're starting to go gray, even if it's just a few silvery strands, can result in a mix of emotions. Gray hair is most often associated with aging, but sometimes grays show up sooner due to genes or lifestyle. For plenty of women, the goal is to always look as youthful as possible, while others may feel conflicted about something that happens to everyone. Basically, going gray can be a tricky subject, especially when it's all new to you. Don't stress; we're here to help. Read on to learn what to do when you spot your first gray.
HOW TO OWN YOUR GRAYS
Since going gray is something universal that we all face, it's best not to hate your grays—instead, you can learn how to own them.
As of late, women are learning to love the skin they're in and showing off their acne, pointing out their cellulite on social media, and being honest about their grays. This trend of embracing imperfections is directly related to the internal conflict that many women deal with when starting to go gray. As more women are open about going gray and choose to rock gray hair without any intervention (it's actually a seriously popular hair color choice), it can seem like hiding your grays is almost a faux pas. But the truth is, owning your gray can mean whatever you want it to. As long as you aren't beating yourself up over the fact that you've started to notice gray hairs, you can color your hair with permanent hair color, temporarily hide grays, or leave them be—it's all up to you.
1. Start Small with Temporary Cover-Up
Sometimes, when you're new to something, it's best not to choose the most permanent solution straight out of the gate—and that logic applies to going gray, too. Especially if you're not yet 100% sure of the best way to own your gray, opting for a temporary fix may be a good idea. Both of the following options allow you to cover grays quickly and completely but will wash out with your next shampoo.
L'Oréal Paris Magic Root Precision Pen: If you've only just noticed gray hairs starting to come in, you probably don't yet have a full head of gray hair, maybe just a gray strand here and there. In that case, it's best to use a product that allows for precise application. This root touch-up pen lets you conceal grays just where you need it. It's also perfect for on-the-go use thanks to its convenient size and mess-free application.
L'Oréal Paris Magic Root Cover Up: If your grays cover a wider area, a root cover up spray may be the way to go. This root concealer can be saved for days when you don't feel like having visible grays, or, if you're a fan of the next option we're talking about—permanent hair color—it can be used to hide new growth until you have time for a more lasting touch-up.
2. Cover Grays More Permanently—And Consider Changing Your Hair Color While You're at It
Maybe you would prefer an option that allows you to think about your gray hairs less often. With a permanent hair color that covers grays, you won't have to give your graying mane any thought until it's time to dye again. And yes, you can do this at home! Grab a box of the L'Oréal Paris Excellence Creme in a shade that matches your natural color, or go for a totally different shade (we hear coffee-inspired hues are all the rage right now) and mix up your look while you're at it. Both options are great!
3. Add Highlights for a Beautifully Blended Mane
Are you familiar with the concept of hiding in plain sight? That's sort of how highlights can help to hide your gray hairs. If you love ultra-dimensional hair colors full of lightened strands, this may be the option for you! Instead of actually covering your grays, via a temporary or permanent solution, you can blend your grays in with the help of highlights. It's an ultra-pretty look—trust us. For more on this option, click through to our article, How to Blend Gray Hair with Highlights and Lowlights.
UNDERSTAND THE SOURCE OF YOUR SILVER STRANDS
One day, your hair is the same color its always been, the next it's speckled with grays. So, what's the deal? To understand the source of your gray hairs, it's important to recognize that there are different types of grays. Below, we're breaking down four types of grays that could be what you're noticing.
Premature grays: If your grays really caught you by surprise, it could be because they're premature. This type of gray hair typically appears in one's late teens or early 20s and can be associated with genetics. Think: Did your mother experience gray hair early on, too?
Self-inflicted grays: You've probably heard the little tidbit that every president leaves office with more grays than they entered with, and it really is true—stress can lead to graying hair. You don't even have to run the country for this to be factual; any source of excessive stress in your 20s or 30s can be responsible for graying hair.
Mommy grays: Your little bundle of joy is just that, joyful, but pregnancy and motherhood undeniably change your body—and not always in ways you're happy about. A prime example of this would be going gray after having a baby, which is something many women experience.
Aging grays: Gray hairs aren't always related to aging, but they certainly can be. If you start to go gray in your 40s, this is often seen as an appropriate time to have gray hair and the internal conflict we mentioned earlier is not quite as present.
And…that's a wrap! Whether you've just found your first gray or are preparing for the future, now you know how to deal with those initial gray hairs. Next, we have a feeling you'll want to learn Our 15 Best Tips and Tricks to Help Hide Roots Between Coloring.
{ "@context": "https://schema.org/", "@type": "WebPage", "speakable": { "@type": "SpeakableSpecification", "cssSelector": ["speakable-content"] }, "url": "https://es.lorealparisusa.com/revista-de-belleza/coloracion/cobertura-canas/first-grays-help" }
Descubrir más trucos y consejos
Ver todos los artículos
Shop Featured Hair Color products
Discover More
{ "@context": "http://schema.org", "@type": "BreadcrumbList", "itemListElement": [ { "@type":"ListItem", "position": 1, "item": { "@id": "/", "name": "Home" } } , { "@type":"ListItem", "position": 2, "item": { "@id": "https://es.lorealparisusa.com/revista-de-belleza", "name": "Revista de belleza" } } , { "@type":"ListItem", "position": 3, "item": { "@id": "https://es.lorealparisusa.com/revista-de-belleza/coloracion", "name": "Ideas atrevidas de profesionales de la coloración" } } , { "@type":"ListItem", "position": 4, "item": { "@id": "https://es.lorealparisusa.com/revista-de-belleza/coloracion/cobertura-canas", "name": "Cobertura de canas" } } , { "@type":"ListItem", "position": 5, "item": { "@id": "https://es.lorealparisusa.com/revista-de-belleza/coloracion/cobertura-canas/first-grays-help", "name": "first-grays-help" } } ] }