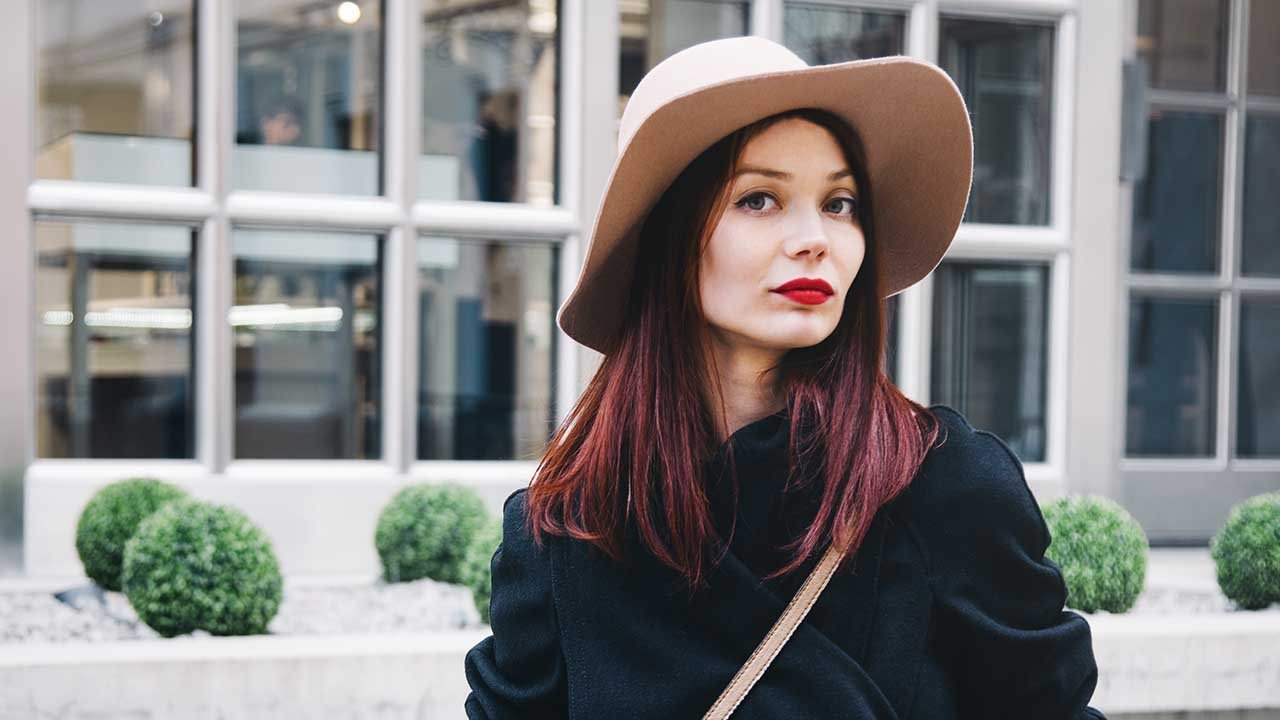 The latest hair color trend is as sweet as the gourmet chocolate bar it's named after. Whether you're a natural brunette or are looking to switch up your beauty look with a new brown hue, this hair color is for you. Keep reading to find out everything you need to know about chili chocolate hair, including how to get the color and how to update your hair care routine afterward.
WHAT IS CHILI CHOCOLATE HAIR?
Chili chocolate hair involves using the balayage highlighting technique to add warm, red tones into a brown base. The color focuses on a sun-kissed look that's perfect for fall and allows you to still keep a hint of summer around. Picture a deep brown with layers of auburn for a brunette mane that's full of rich dimension. Rather than using bright, vibrant reds, this color uses natural-looking red tones to highlight your strands.
HOW TO GET CHILI CHOCOLATE HAIR
Want to rock this gorgeous hair color trend for fall? This hair color involves strategic highlight placement in order to get that natural, sun-kissed look, so it's probably best to leave this one to the pros.
Want to try this hair color at home or aren't too sure if chili chocolate hair is for you? Use a temporary hair color, like the L'Oréal Paris Colorista Hair Makeup 1-Day Color in Bronze Auburn, to add some red-brown strands into your mane. The color will wash out in just one shampoo—so you can test the waters without any commitment required!
HOW TO TAKE CARE OF CHILI CHOCOLATE HAIR
When it comes to taking care of your newly colored locks, you'll want switch your hair care routine to keep your hair looking its best. Swap your go-to shampoo, conditioner, and hair mask for a line that's safe for color-treated hair. Try using the L'Oréal Paris EverPure Repair & Defend Shampoo, L'Oréal Paris EverPure Repair and Defend Conditioner, and L'Oréal Paris EverPure Repair Remedy Balm.
HOW TO STYLE CHILI CHOCOLATE HAIR
Of course, with a new hair color comes the need to show off your mane with the help of trendy hairstyles. And since this hair color is full of dimension, it won't be hard to find styles that showcase your new 'do. Here are a few hairstyles to try pairing with your chili chocolate hair:
Hairstyle Idea #1: Double Dutch Braids
Doubling up on Dutch braids is totally in. This dimensional braided hairstyle will show off the rich red highlights throughout your mane while getting your hair out of your face. This style is super cute to wear for a workout class, errands, work, or even a night out.
Step #1: Part your hair
Use your comb to create a middle part. A rat tail comb will help you create a perfect, even part. Then split your hair into two even sections.
Step #2: Start braiding
Take your first section of hair and start braiding. For this hairstyle, you want to start at the front of your head and work your way back and down. Once you finish braiding your first section of hair, secure the ends with a clear elastic.
Editor's note: Rusty on your Dutch braiding skills or don't know how to Dutch braid just yet? Read our article, Braiding Basics: How to Braid Your Hair, to learn how to create not only Dutch braids but traditional, French, and fishtail braids too.
Step #3: Repeat
Braid the second section of your hair, securing it with a clear elastic once you finish.
Step #4: Seal the deal
Spritz a hairspray, like the L'Oréal Paris Elnett Satin Hairspray Strong Hold, over your style to keep any fly-aways or stray strands in place throughout the day.
Hairstyle Idea #2: Beach waves
Waves are one of the best ways to show off a multi-tonal hair color, and beach waves are a trendy, carefree option for rocking the look. Read our article, How to Get Beachy Waves in 5 Easy Steps, for a step-by-step tutorial.
Hairstyle Idea #3: Sleek and straight
In contrast to beachy waves, sleek, straight hair is another great way to put your hair color on display. Straight locks will draw attention to the seamless blend of red tones throughout your mane. Get the look by reading our article, Super-Straight Strands Are In: Here's How to Get the Look.
Want another brunette hair color idea to try? Head over to our article, How to Get Cold Brew Hair.
{ "@context": "https://schema.org/", "@type": "WebPage", "speakable": { "@type": "SpeakableSpecification", "cssSelector": ["speakable-content"] }, "url": "https://es.lorealparisusa.com/revista-de-belleza/coloracion/ideas-coloracion/chili-chocolate-hair" }
Descubrir más trucos y consejos
Ver todos los artículos
Shop Featured Hair Care products
Discover More
{ "@context": "http://schema.org", "@type": "BreadcrumbList", "itemListElement": [ { "@type":"ListItem", "position": 1, "item": { "@id": "/", "name": "Home" } } , { "@type":"ListItem", "position": 2, "item": { "@id": "https://es.lorealparisusa.com/revista-de-belleza", "name": "Revista de belleza" } } , { "@type":"ListItem", "position": 3, "item": { "@id": "https://es.lorealparisusa.com/revista-de-belleza/coloracion", "name": "Ideas atrevidas de profesionales de la coloración" } } , { "@type":"ListItem", "position": 4, "item": { "@id": "https://es.lorealparisusa.com/revista-de-belleza/coloracion/ideas-coloracion", "name": "Ideas de coloración" } } , { "@type":"ListItem", "position": 5, "item": { "@id": "https://es.lorealparisusa.com/revista-de-belleza/coloracion/ideas-coloracion/chili-chocolate-hair", "name": "chili-chocolate-hair" } } ] }