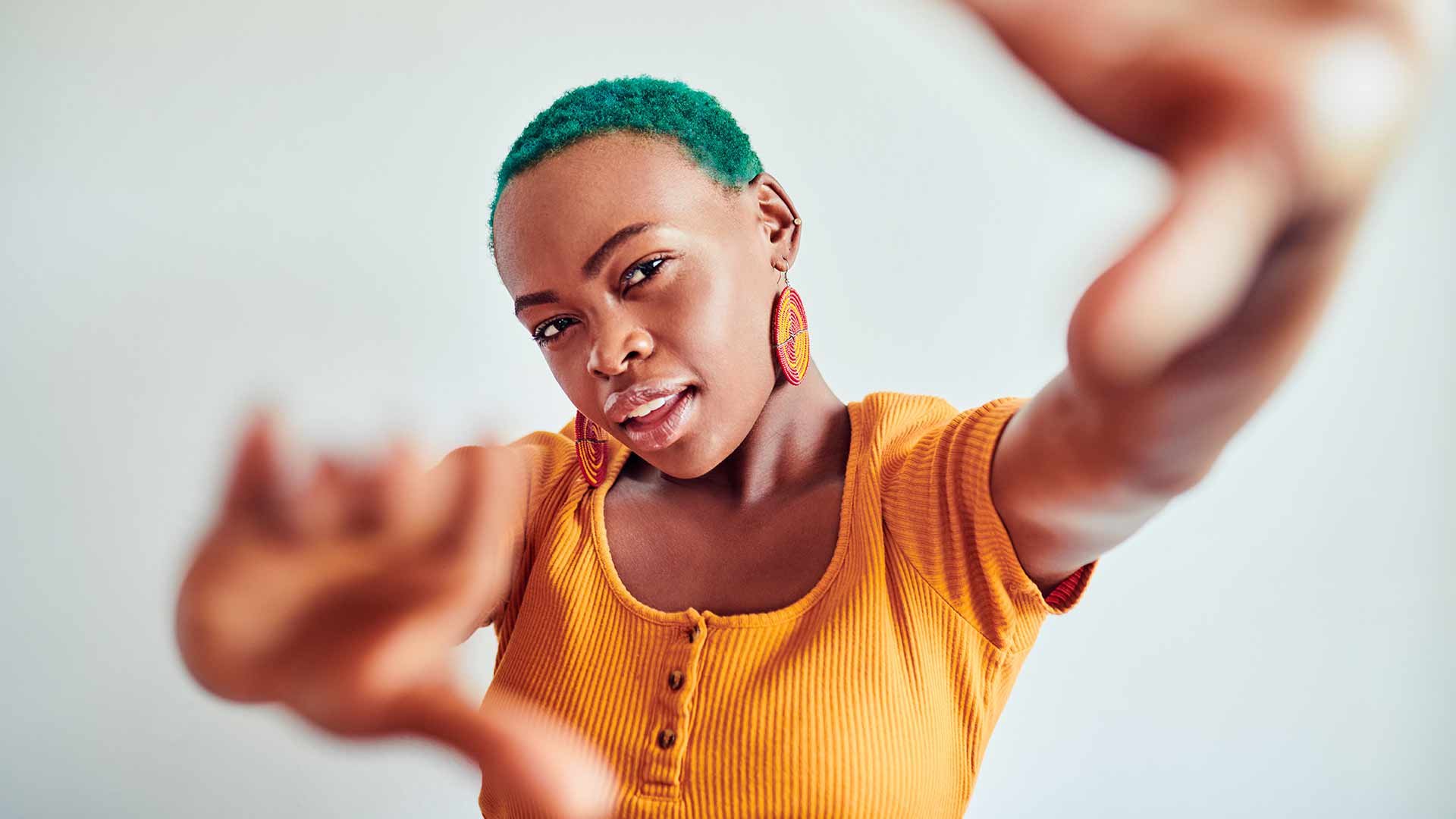 Point-blank: Finding the right hair color inspiration can be overwhelming. Sure, inspiration is everywhere, but landing on a shade that's flattering, trendy, and undeniably you is a whole other obstacle. If you've scrolled through countless Pinterest boards and never-ending Instagram pages in search of your mane match to no avail, we may be able to help. In fact, there are a few hues we plan on seeing a lot of in 2021—and even beyond. Ahead, we're sharing hair color inspiration worthy of your mane makeover.
1. Jade Green
Why we love it: Green hair is the bold color we didn't see coming in 2020, and we have no doubt this eye-catching shade will continue to grab attention in 2021. Jade green hair, specifically, is a color we're keeping tabs on for the New Year. It's a true green shade with blue undertones that makes for a striking mane. This is an ideal option for those who love to make a statement.
How to get the look: In order for this to appear its most vibrant, turn to the pros. Your colorist will be able to lighten then color your mane for the ultimate jade green hue.
2. Violet-Brown
Why we love it: We have no doubt hybrid hair colors will continue to rein in 2021. It is the ultimate pick for anyone who is torn between two hues. Violet-brown in particular mixes brunette and purples tones that can be customized based on your skin tone, making it a flattering option for virtually anyone.
How to get the look: Since violet-brown hair requires the two shades involved to be seamlessly blended into one trendy color, your best bet is to head to the salon.
3. Black Balayage
Why we love it: While blonde balayage still has its place in the hair color world, black balayage is the dark, edgy alternative that's sure to be trending in 2021. This color option can be customized based on your preference, whether you prefer blonde or red highlights throughout your black mane. The balayage hand-painted technique creates a seamless dimension in the hair. It's also a smart option for lightening black strands without having to worry about root growth.
How to get the look: Black balayage hair is best achieved in the salon, since your colorist will have the professional eye to hand-paint your highlights of choice.
4. Copper Lowlights
Why we love them: This is a trendy way to add dimension to your hair with less damage, since there's no need to bleach the hair. Copper lowlights are also extremely flattering, and the look pairs well with both blonde and brunette hues.
How to get the look: Ask your colorist to add copper lowlights throughout your mane.
5. Chunky Highlights
Why we love them: Thin, barely-there highlights are being put on the backburner in the hair color world with bold, chunky highlights at the forefront. This color option is a fun way to make a hair statement, while adding dimension and movement. It's a nostalgic look that's made a major comeback.
How to get the look: You can DIY chunky highlights with the help of a highlighting cap, like our L'Oréal Paris Frost & Design kit.
6. eGirl Hair
Why we love it: On the note of chunky highlights, this color trend is all about thick, face-framing highlights that contrast against the rest of your hair. It's a great option for those who want to switch up their mane without a full color change. eGirl hair also helps to draw attention to your facial features, since the statement is at the front of your face.
How to get the look: Since an eGirl hair color involves lighter strands that contrast against the rest of your hair, it's a smart idea to turn to the pros since bleach will be needed to create the look.
7. Warm Blonde
Why we love it: Platinum hair is undeniably stunning, but icy blonde locks can be difficult to upkeep. Warm blonde hair, on the other hand, tends to be less maintenance and more universally flattering. It's particularly complimentary on those with olive complexions.
How to get the look: You can DIY the color with an at-home hair coloring kit, like our L'Oréal Paris Superior Preference Fade-Defying Shine Permanent Hair Color in Light Reddish Blonde or L'Oréal Paris Excellence Créme Permanent Triple Protection Hair Color in Medium Golden Blonde.
8. Espresso
Why we love it: Brown hair is having a moment. In fact, more and more people are swapping blonde locks in favor of seeing if brunettes actually have more fun. Espresso hair is a cool, near-black shade that lets you fully embrace the brown craze.
How to get the look: Use the L'Oréal Paris Superior Preference Fade Defying Shine Permanent Hair Color in Cool Darkest Brown to DIY the hue.
Next up: If you want more hair inspo, here are 22 Pinterest Hairstyles We're Obsessed With Right Now.
{ "@context": "https://schema.org/", "@type": "WebPage", "speakable": { "@type": "SpeakableSpecification", "cssSelector": ["speakable-content"] }, "url": "https://es.lorealparisusa.com/revista-de-belleza/coloracion/ideas-coloracion/hair-color-inspiration" }
Descubrir más trucos y consejos
Ver todos los artículos
Shop Featured Hair Color products
Discover More
{ "@context": "http://schema.org", "@type": "BreadcrumbList", "itemListElement": [ { "@type":"ListItem", "position": 1, "item": { "@id": "/", "name": "Home" } } , { "@type":"ListItem", "position": 2, "item": { "@id": "https://es.lorealparisusa.com/revista-de-belleza", "name": "Revista de belleza" } } , { "@type":"ListItem", "position": 3, "item": { "@id": "https://es.lorealparisusa.com/revista-de-belleza/coloracion", "name": "Ideas atrevidas de profesionales de la coloración" } } , { "@type":"ListItem", "position": 4, "item": { "@id": "https://es.lorealparisusa.com/revista-de-belleza/coloracion/ideas-coloracion", "name": "Ideas de coloración" } } , { "@type":"ListItem", "position": 5, "item": { "@id": "https://es.lorealparisusa.com/revista-de-belleza/coloracion/ideas-coloracion/hair-color-inspiration", "name": "hair-color-inspiration" } } ] }