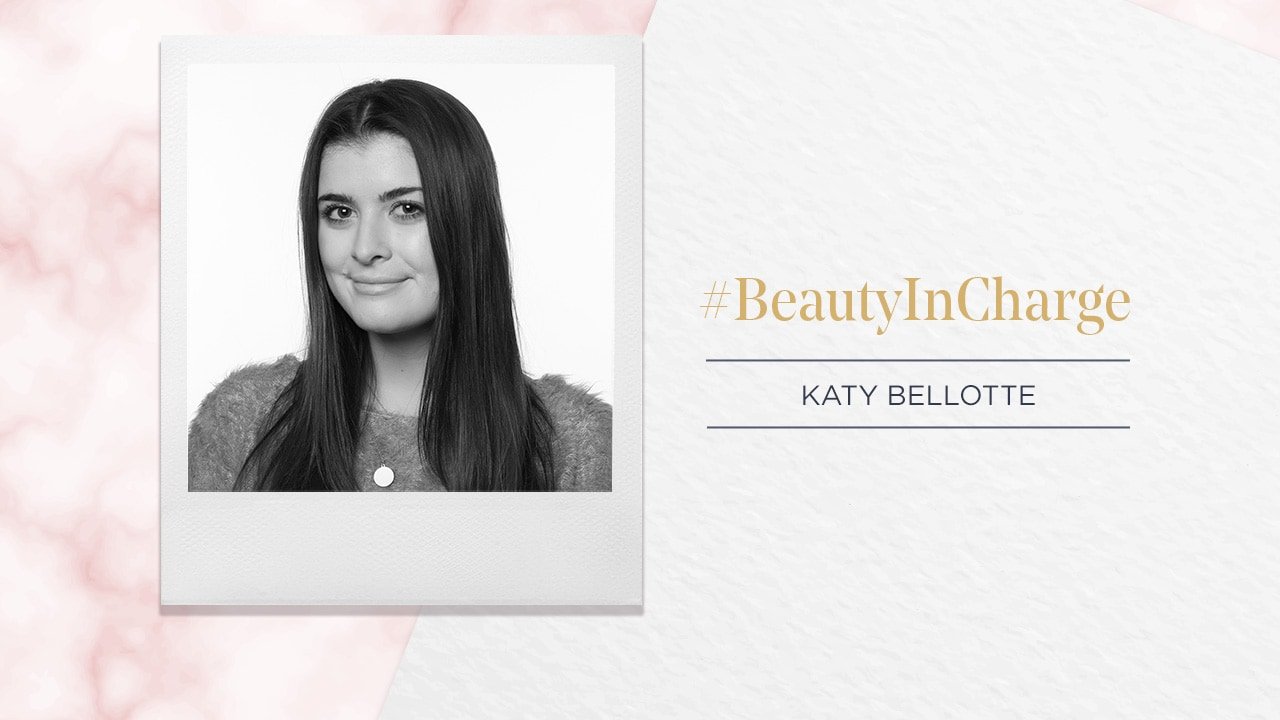 Our #BeautyInCharge series takes a look at how people in a wide range of roles are able to take charge and own their positions. In the series, we speak with L'Oréal Paris employees at all levels, from those who've been with the brand for years to those who are just getting their foot in the door, and unsurprisingly, they all have amazing career advice, beauty product faves, and so much more to share.
The world is fascinated by stories of people who live two lives, whether it's someone who's a high school student by day and a pop star by night or an author working under a mysterious pseudonym. We're equally as fascinated by people who manage to juggle two jobs—even if one of them isn't an intrigue-filled secret like our examples. That's why Katy Bellotte, who has a packed schedule thanks to her two roles—as an influencer via her own social channels and as the Social Media Coordinator for L'Oréal Paris—was one of our first picks for our #BeautyInCharge series. Here, Katy who went from making YouTube videos in her hometown bedroom to working at L'Oréal fresh out of college, shares her career journey, as well as all of her best beauty tips. So, what are you waiting for? Read on for your introduction to this social media star.
ON WORK
What is your current position and what was the path that got you there?
"I'm Social Media and Digital Content Coordinator for L'Oréal Paris cosmetics, but I'm also an influencer and a blogger and a podcaster and a lot of things on the side. And I guess the way that I got there was, I previously was on the L'Oréal Paris League for almost two years and I worked very closely with the social media team. Callan Green [former Director of Social Media and Digital Content for L'Oréal Paris – Ed.] especially, really saw something in me and helped me get to where I am today."
Is this what you always envisioned you'd be doing?
"I always knew that I wanted to be in either beauty or fashion, just because I've had a passion for that for a long time. I guess if you asked me maybe five years ago if I saw myself working in social media I wouldn't say yes just because it wasn't where it is today. It's quite literally created jobs and an entire industry which is something so interesting. I guess the answer is no, I don't think I ever envisioned getting here—but I'm happy about it."
How did your friends and classmates react when you started making YouTube videos and pursuing your career?
"They definitely didn't understand, again because social media and YouTube was not where it is now. I started making videos in 2009 when I was 14, which I will admit was pretty weird of me, like very random. When other kids were doing a number of things, I was like, 'I want to make videos every single week on YouTube.' It got me where I am now, so I'm happy I didn't listen to anyone but it wasn't received well at the time."
What advice would you give to someone being bullied or torn down over their passion?
"It gets better. Yes, you're allowed to feel hurt by what they say because you're a human being after all. You have emotion and you have feelings, it would be weird if you weren't upset. But I think the biggest thing to remember is that you aren't the people who don't understand you. You shouldn't feel that you're a reflection of what they say because you're a million times better than what they say. Eventually, if you want to, you can be miles and miles away from where you are right now, being bullied. I grew up in Maryland and I'm miles and miles away in New York City living my dream life. I can be a testament to you that it gets better and that you just have to hang in there and keep creating."
Describe a typical workday.
"I work 9 to about 6 at my L'Oréal Paris job. I'd say we do shoots about twice a month or so, which is really great. Those days are a little different than my typical day. On a typical day, I go in around 9 and then usually the morning consists of catching up on emails and doing some creative work. I'm constantly pulling selects and editing photos, creating pins for Pinterest, things like that. I do a lot of the graphic design work. And then around lunch and after lunch there are a lot of meetings and then answering more emails, creating more pin creative, stuff like that. Every day is different which is what's great about L'Oréal. I've noticed that you don't fall into a really exhausting routine, especially in social media, things are constantly changing. After work, I head home to work on my podcast, videos, and other side projects. I have an alarm set for 11:30, which is when I force myself to go to bed and get my 8 hours of sleep!"
What is the biggest challenge you've faced in your career?
"The biggest challenge I face is having two jobs. Being able to balance everything and finding times to also relax and not think about work every five seconds."
How do you juggle being an influencer and YouTuber, working at L'Oréal, and hosting a podcast?
"I have a very balanced planner that is always with me. I think time management is something I luckily learned in college because I was balancing classes, I was editor of a newspaper, I was doing a lot so I learned that skill early on, even in high school to be honest. A valuable skill that I've developed is, I've always had good time management skills and just knowing when to say no to things. I think that's the biggest thing, to learn when to say no. I have a problem with saying no and it's been my New Year's resolution for…I don't know how many years, just to say no more and recognize when I have too much on my plate.
"If you're doing too many things, your work in all of those things will start to suffer and you just won't be putting out the same quality of work in all areas. There will be weeks when I don't post a podcast episode and I'm like, 'Sorry guys, need to recharge.' And while people can protest a bit, they understand where I'm coming from. I think I was always so nervous to disappoint people. I just don't want anyone to be upset or think 'oh, Katy's a slacker.'
"We also live in a society these days where it's glorified to be exhausted and be overworked and just be constantly complaining about how much work you have. It's a sad thing because so many people are burnt out and they're constantly asking why. I have people who comment all the time, 'How are you not burnt out all the time?' I think the answer to that, besides learning to say no, is understanding that you don't need to push yourself to the point of burnout. Take time to sleep in on the weekends, don't feel like you need to do something all the time. As much as you feel guilty sometimes for taking a day off, you need that to recharge in the creative industry. It's essential to your growth as an individual."
Do your different roles—as an employee of L'Oréal and as an influencer—create any conflict?
"It's obvious, as an influencer, now I don't work with beauty brands. It's a conflict of interest. I'm also very cautious about the brands I work with, but then again, I've always been very cautious about the brands I work with. I never work with anyone that I don't either use organically or at least understand what they stand for and do a lot of research and know that they're a good brand. I would never promote something that I don't use or I don't think anyone should use because that's just dishonest. I've always been very honest about my partnerships and I think working at L'Oréal and working with other brands, they really go hand in hand. Working with influencers from a L'Oréal side, now I know how to work with people because I am one of those people. It actually makes it a lot easier since I know the mind of an influencer. It's helpful working with PR to either put on events, or on social content in general, just having that dual mindset. So, if anything, it's helped."
What's been your proudest career moment to-date?
"My most exciting career moment was—I mean obviously getting this job was really great, right out of college which was very exciting for me and my parents were very excited, too. I think aside from that, the most exciting thing I've gotten to do because of my career was going to an award show with L'Oréal in 2017. I went and walked the red carpet. I saw Leonardo DiCaprio and was like, 'This is it, this is my proudest moment.'"
Let's talk #WorkPerks - What are the best ones at L'Oréal Paris?
"I'm a nerd and I love trying things out before they launch. I think that's a very cool thing, there are floor tests where people come around with new products and they're like, this is a work in progress, it might not even come out, but try it. Also, just the company store and getting free products. And overall the building, Hudson Yards is so cool. The view from my desk is a big perk."
Do you have a mentor at L'Oréal? What have they taught you?
"Callan Green was a big mentor to me and still is. I'm starting to see that every person who is above me, even in marketing—we sit with marketing—they teach me so much about the business and about even the smallest ins and outs of working at a large company. My blogging is completely solo work and I think I've learned a lot about working with a team at L'Oréal. The marketing leads and my fellow social team members, Shannon Gallico [Digital Content and Social Media Manager for L'Oréal Paris – Ed.] and Amanda Boyce [Director of Social Media and Digital Content for L'Oréal Paris – Ed.], have taught me so much about how to work collaboratively and a lot that I didn't learn in college. I never took marketing classes or business classes in college, I was very strictly a communications major. So, it's very cool learning things I didn't learn in a classroom straight from a person's mouth."
What's something that might surprise someone about working at L'Oréal?
"Previous to working at L'Oréal, not including being an influencer, I looked at the company as being this huge, very daunting, crazy successful company that might be very hard on its employees to keep that success going. A lot of pressure. I was nervous going into my first couple of meetings thinking people were going to be very harsh about my ideas. Not to say I pictured The Devil Wears Prada but…a little bit. I'm happy to report that in my seven months I haven't experienced any Devil Wears Prada moments. Every critique or method of criticism I've experienced has been very constructive and I don't feel like everyone just has money on the brain all the time. At the end of the day, L'Oréal employees all have a common goal: They want people everywhere to feel beautiful. They want to create products that consumers will truly love and trust. People understand that creative ideas take time and they take failure and I don't think anyone here at L'Oréal is afraid of failure which is something that I find so comforting. Especially in social media and the creative realm, you have to be able to make mistakes and be okay with that, and everyone here is very receptive of that."
Best piece of career advice for someone who wants to make it big in beauty.
"To get where I am in the social media beauty space—this sounds bad considering how much our generation is critiqued for being on social media a lot—just be on a lot and look at every platform, not just one. You'll be surprised how many trends you miss if you aren't on all platforms. Give yourself time where you aren't on any screens. I think a lot of my most creative ideas have happened when I'm not on my phone, when I'm just walking around, thinking of other things.
"The biggest piece of advice is to create your own content. A lot of people are so excited about working for a company and creating content for brands and other people, but I think it's most important to create your own content as well, if that means blogging or writing or even just posting a lot on Instagram. Eventually, if you're in the space that I am and you get learnings from that, it will help you in your career."
ON BEAUTY & STYLE
L'Oréal has a killer company store. What are the products you stock up on there?
"I'm going today, I need shampoo and conditioner. I love Matrix products for hair, not to cheat on L'Oréal hair. I love Matrix Biolage, the green bottles. I always get those!"
What are your favorite L'Oréal Paris products?
"I will always adore Lash Paradise mascara, I've loved it since I was just an influencer at L'Oréal and I've gotten so many of my friends to convert. It's a beautiful thing when I'm like, 'Oh, is that Lash Paradise in their makeup bag?' I also am a huge fan of our new foundation, the Infallible Fresh Wear Foundation. I'm not a huge fan of heavy foundations because I actually have decent skin at the moment which is something I pride myself on—my skin care. So, it's really great having a longwear foundation that isn't drying and isn't heavy, especially since it's winter now."
Any new launches you're excited for/wish were in the pipeline?
"Something I wish were in the pipeline, I wish we would do more lip gloss—I hope we do more lip gloss. Glosses are so in!"
Favorite beauty trends right now...
"The less is more mentality, I love that. Also, I've had a relationship with my eyebrows since middle school. I've been obsessed with them because I was bullied a lot for my eyebrows because I had a full on unibrow until I was like 15 years old. My mom thought it was totally cute and normal and I was like, 'Mom, why did you do that?' My eyebrows have been on a very long road from being overplucked to being underplucked and it's really great these days that the stigma of the eyebrow has changed. You can have messy brows and it's cool, which also justifies that I don't have time to get them done as much. The natural eyebrow and face look overall has been something I really appreciate.
"And this is just a trend I've decided is a trend: I love sparkles, always. Around the clock. I always have it on my face. I didn't even know that anyone noticed until someone was like, 'Katy and her sparkles.'"
How would you describe your typical beauty/grooming routine?
"It depends on the day. The biggest thing for me is my skin care. If you have a good skin care routine, your makeup routine will be a lot faster and a lot easier because if you have good skin, you have a better canvas to paint on. I'm very big on my night masks. I use all the Kiehl's products. I'm very, very big on just taking care of my skin throughout the night. Then I wake up in the morning and set my face, I started to use a stick foundation recently after a makeup artist on set told me to. I'm very sparing with my makeup because after a day it's all gone anyway. I'm very simple, to be honest."
Do you feel like you have a signature look? How did you cultivate it?
"It's changed as I've grown but I've always been pretty good about not putting too much makeup on my face. A pretty understated yet sparkly look. I always wear my hair the same way, straight, middle part. My signature look is always adding a little bit of sparkle to every outfit whether it be an accessory, or makeup, or just in my attitude."
ON EVERYTHING ELSE
You're stranded on a desert island - what are the top five things you have with you?
"Definitely some sort of notebook, because I feel at that point I'd probably write a novel once I'm saved. I would have the normal things you'd need, like flares to send help. I was very tempted to say my computer but then I'd have no signal so what's the point of that? Probably a camera or something to document things. At this point, I have a lot of questions about this deserted island. Do I need food and water, I don't even know. I'm assuming that's there, in the wild. I guess my top things would be a camera, for sure, pen and paper, some mode of getting help—flares or something—and a portable stove. I've seen a lot of shows where you boil water to make it drinkable."
What's your favorite karaoke song?
"I'm never at karaoke without my best friends, so I'd say we're definitely going to do Spice Girls."
What's your guilty pleasure?
"I feel like guilty pleasures aren't a thing anymore because people are so honest about their lives, it's not guilty. I guess, I don't know about how guilty this is because I post it on my Instagram stories, I'm not nervous about it. I watch a lot of dramatic doctor shows—and I cry."
What's your favorite book?
"My goal for 2019 is to read a book every two weeks—very ambitious, but I'm going to try it. My favorite book recently is Into the Water. It's a thriller, I love crime/thriller novels."
If you had been awarded one, what would your high school superlative have been?
"I was actually awarded one, I got 'Most Likely to Be Remembered', which is interesting considering I was bullied by all of these people and then they gave me Most Likely to Be Remembered, like 'thanks, I guess.'"
Want to keep up with Katy? Here's where you can find her:
YouTube- HelloKaty
Instagram- @katybellotte
Twitter, Snapchat- @hellokaty
Next: #BeautyInCharge: Meet L'Oréal Paris' Senior Vice President of Marketing
{ "@context": "https://schema.org/", "@type": "WebPage", "speakable": { "@type": "SpeakableSpecification", "cssSelector": ["speakable-content"] }, "url": "https://es.lorealparisusa.com/revista-de-belleza/consejos-de-belleza/tendencias-belleza/beauty-career-advice-katy-bellotte" }
Descubrir más trucos y consejos
Ver todos los artículos
Shop Featured Makeup products
Discover More
{ "@context": "http://schema.org", "@type": "BreadcrumbList", "itemListElement": [ { "@type":"ListItem", "position": 1, "item": { "@id": "/", "name": "Home" } } , { "@type":"ListItem", "position": 2, "item": { "@id": "https://es.lorealparisusa.com/revista-de-belleza", "name": "Revista de belleza" } } , { "@type":"ListItem", "position": 3, "item": { "@id": "https://es.lorealparisusa.com/revista-de-belleza/consejos-de-belleza", "name": "Ideas profesionales para tu look único" } } , { "@type":"ListItem", "position": 4, "item": { "@id": "https://es.lorealparisusa.com/revista-de-belleza/consejos-de-belleza/tendencias-belleza", "name": "Tendencias de belleza" } } , { "@type":"ListItem", "position": 5, "item": { "@id": "https://es.lorealparisusa.com/revista-de-belleza/consejos-de-belleza/tendencias-belleza/beauty-career-advice-katy-bellotte", "name": "beauty-career-advice-katy-bellotte" } } ] }