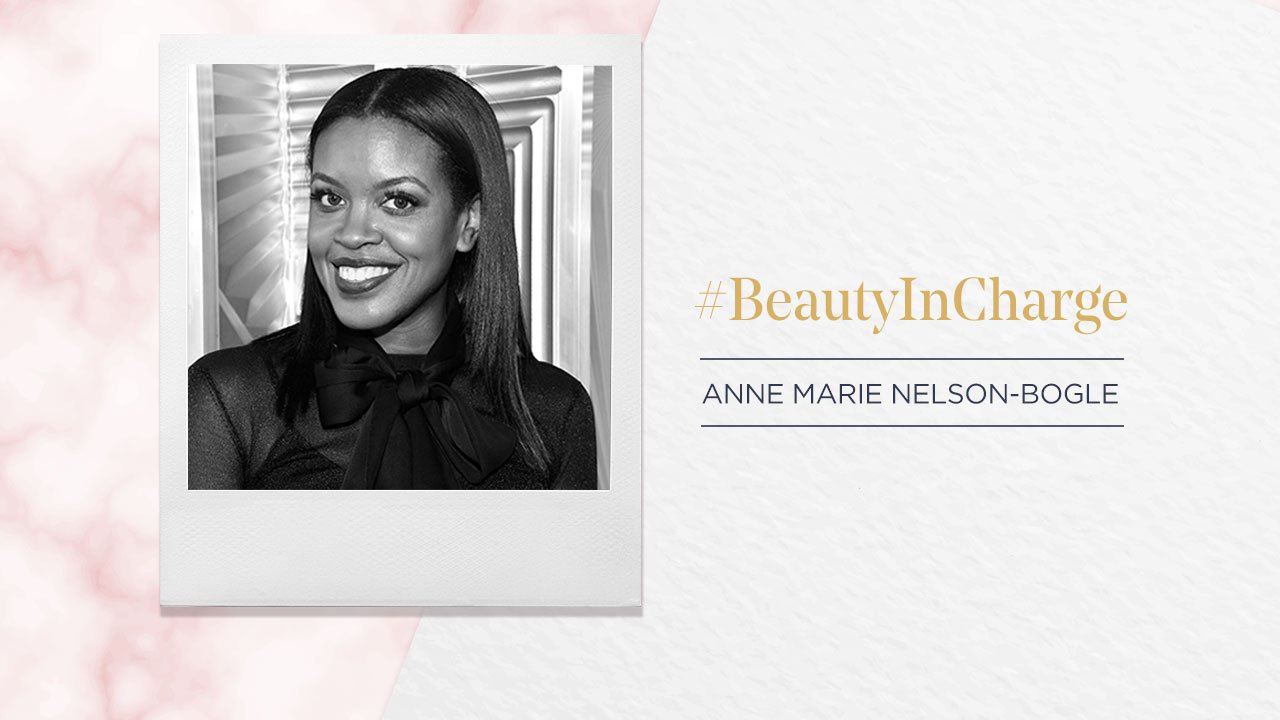 Our #BeautyInCharge series takes a look at how people in a wide range of roles are able to take charge and own their positions. In the series, we speak with L'Oréal Paris employees at all levels, from those who've been with the brand for years to those who are just getting their foot in the door, and unsurprisingly, they all have amazing career advice, beauty product faves, and so much more to share.
The subject of our first installment of #BeautyInCharge is Anne Marie Nelson-Bogle. She's spent more than a decade working in different areas of L'Oréal, leading brand initiatives for top skin care, hair color, and makeup brands along the way. Now, she brings her global expertise, strategic vision, and passion for beauty to her role as L'Oréal Paris' Deputy General Manager. Her wisdom—both beauty-related and otherwise—also offers a lot we can all learn from. In fact, at a recent lunch event with Oprah Winfrey, Oprah herself quoted Anne Marie, stating, "People are always going to want to be transformed, as Anne Marie said. People are always going to want to look better and feel better." Isn't that the truth? If you're ready to hear more of what Anne Marie has to share—and pick up a bit of fantastic career advice in the process—read on for our interview with this beauty boss.
ON WORK
What is your current position and what was the path that got you there?
"I'm the Deputy General Manager for the L'Oréal Paris brand in the US. I've been at L'Oréal for 15 years. I originally began my career with L'Oréal in Canada, where I started this journey on the L'Oréal Paris brand, where I was able to touch both the skin care and hair care businesses. I've also had experiences working in other divisions, such as our Active Cosmetics Division as well as Maybelline. But truly, I would say this is where I belong. I have a love affair with this brand. In my career, over half of it I would say has been spent working on the L'Oréal Paris brand."
Is this what you always envisioned you'd be doing?
"I think the magic about L'Oréal is you can dream to work on a multitude of different brands that touch a lot of different consumers and that give you endless opportunities. When I first began working on L'Oréal Paris, I always looked up to people in this position who were overseeing the total brand, the brand vision, brand equity. And so yes, I would say this is a dream come true."
Describe a typical workday.
"I don't think there is a typical workday. If there were one, it wouldn't be as exciting as what we do. The beauty of this role is that as an inclusive brand that truly services all women, every day you get to tap into the four categories where L'Oréal Paris is present, from cosmetics to hair care to hair color to skin care. We get to constantly look at how we can adapt and reinvent the ways that we communicate with our consumer. We create new communication elements to educate our consumers on the innovation we're bringing to market and hopefully persuade her to buy. What's great on a day-to-day basis is we're always in contact with our consumer is some way, shape, or form. We learn about who she is and really put the consumer at the heart of everything we do."
What is the biggest challenge you've faced in your career?
"I don't know if I can name the biggest challenge that I've faced in my career, I think that with 15 years of experience in this company, you face challenges. I think what's important is what you learn from them and how they contribute to your growth. I see challenges as opening doors to opportunities and to me, challenges shouldn't knock you down, they should only make you stronger."
What's been your proudest career moment to-date?
"I think definitely all that we've achieved on the L'Oréal Paris brand, to think that this brand has existed for decades and we're still, even more so today, relevant for the consumer in the market. I think that's a huge achievement, not just from myself but from the amazing teams that we have on this brand. We still continue to be the #1 beauty brand globally and in the US, and for me to be a part of that and really help shape how we continue to achieve this in the future is just amazing. It's also been incredibly rewarding to be part of a brand that empowers women. As you know, the brand has been celebrating and fueling women's worth through our iconic tagline "Because I'm Worth It." We've made a commitment to our next generation of women, to do more to make the world worthy of women—through signature programs that strive to once and for all drive gender equality."
Let's talk #WorkPerks - What are the best ones at L'Oréal Paris?
"I think that if you look from the outside, people would say your life is so busy, it's crazy but I think that's what keeps me motivated and keeps the job exciting. One day we're sitting and speaking with spokes about ways they can be more involved and be a voice of the brand. The other days you're sitting down with agencies and coming up with creative new ideas that are hopefully going to break through the market. Those are elements that from the outside may not look like perks, but I think that's what keeps the job exciting and allows us to grow and innovate in the market."
What's something that might surprise someone about working at L'Oréal?
"The fact that when we talk about the entrepreneurial spirit of L'Oréal, it is something that truly runs through the veins of everybody here. It's an environment that allows you to dream, to push the limit, to truly treat this like it's your own business, so you make decisions as if it was your business. And I think that could be one of the surprising things for people."
Best piece of career advice for someone who wants to make it big in beauty.
"Working in beauty is not all glamour and glitz. You have to be willing to roll up your sleeves along the way and work hard and never forget who your consumer is and embrace the beautiful diversity of this market. Be sure to have a voice, be sure to understand the voice of your consumers and always put them first. Never compromise on the quality of the products you're putting on the market or the quality of the content you want to use to interact with your consumer. I would say, it's also a balance of managing your business effectively but having fun as well."
ON BEAUTY & STYLE
L'Oréal has a killer company store. What are the products you stock up on there?
"I clearly use a lot of L'Oréal Paris products, but I also try a lot of different brands. I definitely use a lot of Kiehl's too. I worked on La Roche-Posay, so I still use a lot of their skin care products. I definitely indulge in the company store on a lot of the luxe brands too."
What are your favorite L'Oréal Paris products?
"Before the launch of Lash Paradise, my all-time favorite L'Oréal Paris product was Voluminous. But I interchange between the two. I think there's a reason it's America's #1 mascara. It's your go-to daily mascara, it gives you the right amount of volume, but a very subtle, clean volume. It's easy to build and it's very gentle on your lashes."
Any new launches you're excited for/wish were in the pipeline?
I'm really excited about all the innovations that are hitting the market as we speak. What's great about L'Oréal is, we are truly that luxury brand made accessible and our innovations are the epitome of that, with prestige-inspired trends brought to the mass market for the first time.
"In skincare, what's great about Derm Intensives is we're showcasing the power of our L'Oréal labs and working with dermatologists, going through a very rigorous process where they're able to validate our testing protocols, as well as the scientific evidence behind our products. We did this specifically on two products, our hyaluronic acid serum which is at a 1.5% concentration and a vitamin C serum which is at 10%. Not only do you have great efficacy of these products but you have a great sensorial experience. Your hyaluronic acid, which is something I use daily, is great because not only is it helping to plump skin, it's actually helping to adjust wrinkles.
"In cosmetics, I am obsessed with our latest face innovations. With my hectic days, I need foundation and concealer that will wear effectively all day, while looking natural and never cakey—yet I was never a "long wear" user until now! Our new Infallible Fresh Wear Foundation offers all-day wear, that looks natural and fresh from morning to night due to our innovative breathable technology. And our Infallible Full Wear Concealer has an amazing XL applicator that allows you to do it all—from shape to cover to conceal!"
Favorite beauty trends right now...
"I think that beauty always starts with caring for your skin, so I definitely love to have a great serum under my moisturizer. I think that serums, while they've been in the market for a while, they're kind of having a resurgence. The hyaluronic acid serum that I mentioned before is a great way to help build the efficacy in your total skin care regimen. And I always use an SPF, that's a non-negotiable.
"Outside of that, I would say for me, one beauty trend I am loving right now is wearing a bold lip but still having something that's very comfortable. There are a lot of great technologies hitting the market, in particular our Rouge Signature, Lasting Matte Liquid Lipstick [Anne Marie's favorite shade is I Am Worth It] gives you very strong color intensity but with an unbelievable, weightless feel."
How would you describe your typical beauty/grooming routine?
"My morning routine is more simplified because I have three kids at home. But, I always start with cleansing my face. I always use a toner because I do have oily skin and I feel it helps rebalance my skin after cleansing. I start with my hyaluronic acid serum. I use an eye cream—both day and night. Then I'll typically use a moisturizer and layer an SPF on top of it. I do have quite an involved skin care routine, but I always feel that beauty starts with great skin. That's why I invest a lot there.
"Then I start my makeup routine, and it's quite simple. Just a concealer to touch-up, a light foundation, and I always use a finishing powder because of my oily skin. It just helps to control the oil throughout the day. And then a very light contour. It's simple in my mind but probably not to other people. I'll then finish with my brows and mascara. That's it."
You're stranded on a desert island - what are the top five things you have with you?
"I think number one, I would want my family there with me. Even though I don't want to put them in a bad situation, I feel like I can't be there without them—my husband and my kids. I definitely need to have my brow definer; I cannot do without my brows. Even if I don't put lipstick on, I need to have my brows done. I need my SPF, even if I have nothing else. I'm hoping I get rescued and my skin will still be in good condition. I guess mascara. I can go without mascara though."
Do you feel like you have a signature look? How did you cultivate it?
"For sure, my red lip. Usually, it's a bold lip, but primarily it's a red lip. That's my signature look. What's amazing about lipstick is it can really change your mood—it transforms you! It can help you say something without speaking. It can be both powerful and subtle. A red lip allows me to show my power without necessarily having to flex my muscles. It's always that little reminder that I can do anything, I can achieve anything, I'm fierce, I'm bold."
Next: Master Class with Jonathan Colombini: An Expert's Guide to Color-Treated Hair
{ "@context": "https://schema.org/", "@type": "WebPage", "speakable": { "@type": "SpeakableSpecification", "cssSelector": ["speakable-content"] }, "url": "https://es.lorealparisusa.com/revista-de-belleza/consejos-de-belleza/tendencias-belleza/beauty-career-advice-anne-marie-nelson-bogle" }
Descubrir más trucos y consejos
Ver todos los artículos
Shop Featured Makeup products
Discover More
{ "@context": "http://schema.org", "@type": "BreadcrumbList", "itemListElement": [ { "@type":"ListItem", "position": 1, "item": { "@id": "/", "name": "Home" } } , { "@type":"ListItem", "position": 2, "item": { "@id": "https://es.lorealparisusa.com/revista-de-belleza", "name": "Revista de belleza" } } , { "@type":"ListItem", "position": 3, "item": { "@id": "https://es.lorealparisusa.com/revista-de-belleza/consejos-de-belleza", "name": "Ideas profesionales para tu look único" } } , { "@type":"ListItem", "position": 4, "item": { "@id": "https://es.lorealparisusa.com/revista-de-belleza/consejos-de-belleza/tendencias-belleza", "name": "Tendencias de belleza" } } , { "@type":"ListItem", "position": 5, "item": { "@id": "https://es.lorealparisusa.com/revista-de-belleza/consejos-de-belleza/tendencias-belleza/beauty-career-advice-anne-marie-nelson-bogle", "name": "beauty-career-advice-anne-marie-nelson-bogle" } } ] }