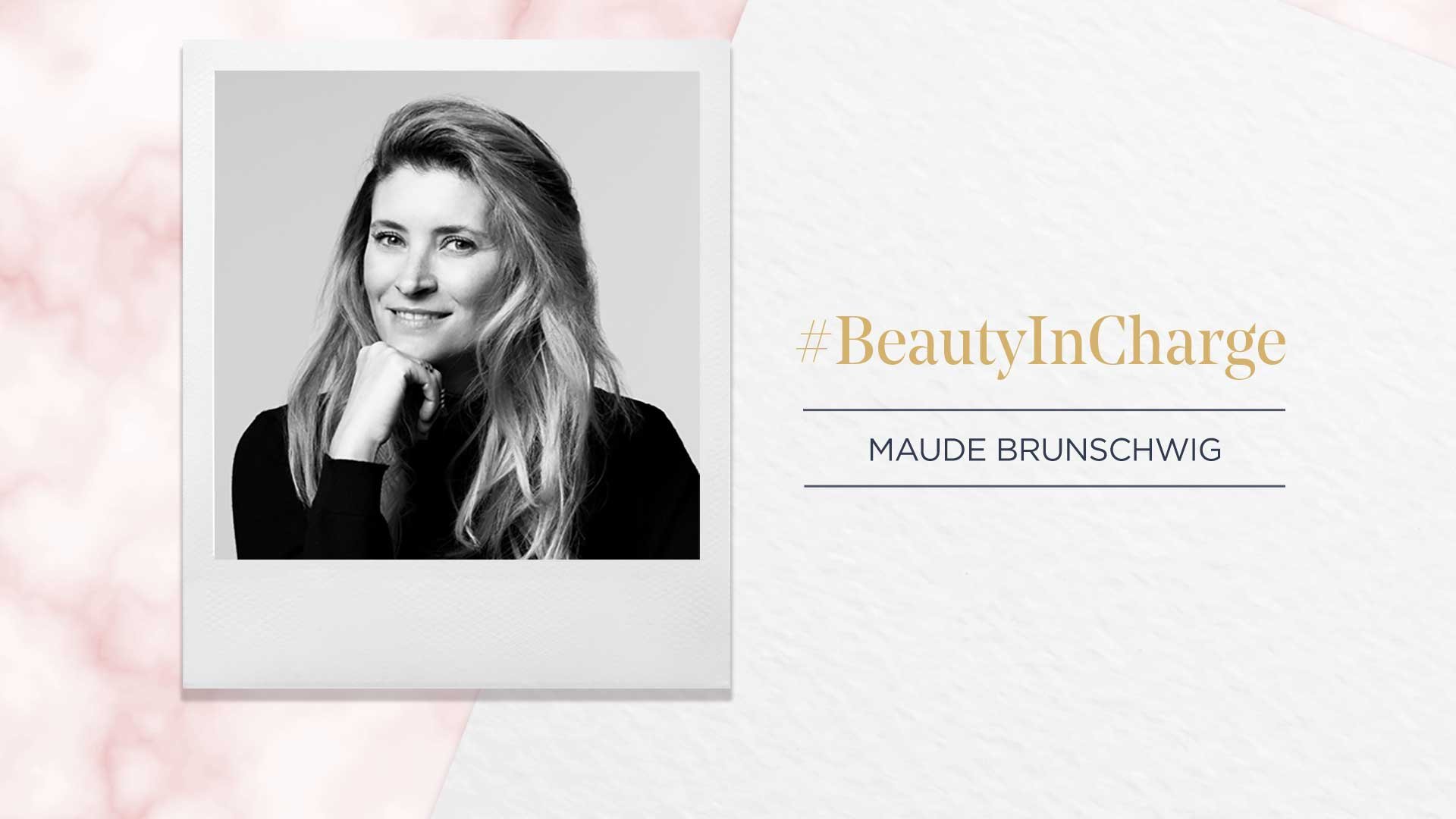 tendencias-belleza
#BeautyInCharge: Meet L'Oréal Paris' Senior Vice President of Marketing
Our #BeautyInCharge series takes a look at how people in a wide range of roles are able to take charge and own their positions. In the series, we speak with L'Oréal Paris employees at all levels, from those who've been with the brand for years to those who are just getting their foot in the door, and unsurprisingly, they all have amazing career advice, beauty product faves, and so much more to share.
Do you know what it takes to make it at L'Oréal Paris? The road to success isn't paved in lipstick alone, for Maude Brunschwig—the brand's new Senior Vice President of Marketing—it's been a long journey to her current role. Born in France, Maude started out as an intern and has been working her way up since. In the process, she's worked on the launches of some of your favorite beauty products (Maybelline The Falsies Mascara, anyone?) and dealt with the intensity of L'Oréal's fast-paced culture. Here, she's sharing what she's learned, from her best career advice to how to strike a work-life balance. Keep reading to meet Maude.
WORK
What is your current position and what was the path that got you there?
"My current position is as the L'Oréal Paris Senior Vice President of Marketing. I started at L'Oréal eighteen years ago. I had an internship, and then I was hired afterward. I interned at Garnier in France, where I worked on hair color and skin care, and I did a sales rotation at the beginning. You start out in the field, you're literally in stores, and you take care of the products; that's where you start your career when you start in marketing in France.
"I did that for six months, and then I worked on Garnier hair color, and pretty fast, I moved into L'Oréal Paris on what we call the DMI. It's the development part of marketing. This was in 2005 in the L'Oréal Paris Headquarters in Clichy, and at this time, I was working on skin care, skin care for the body, and then on Revitalift. By the way, that's when I met my husband because he was working on Revitalift in the U.S., and I was working on Revitalift in France. That's also part of the magic of L'Oréal is that you do make great friends, and you can even find your husband.
"Then I did makeup for the L'Oréal Paris DMI, where I worked on face. I worked on True Match and Infallible. All of this time, was in France. Then, I moved to the U.S. 10 years ago and I moved onto the Maybelline DMI team. I was in charge of eye, so I worked on Colossal. I launched Falsies mascara and then I went on maternity leave. When I came back, I was still on Maybelline, but in charge of Asia, based in New York, so I was overseeing the hubs. The Japanese hub, the Chinese hub, the Indian hub. And I did this for two years. It was a bit intense because I was working at night with a deadline, with a newborn at home, so after three years, HR was like, okay, it's time that you go back to the U.S. business. So, I went to Garnier.
"I took over the Garnier hub, and on Garnier, I developed micellar water and the Whole Blends line, which was quite an adventure. And then I moved to L'Oréal Paris, where I was in charge of the hub for three and a half years. I was overseeing the four categories: makeup, skin care, hair care, and hair color. And in this period of time, what did we develop? All of the Derm Intensives collection. In makeup, the great initiatives were Unbelievabrow, Fresh Wear, and Full Wear concealer. In hair care, we developed the Dream Lengths collection and Wonder Water. For hair color, there is more cooking that we can't reveal now…"
How has working for L'Oréal in the USA differed from your experience in France?
"I've actually been working in the U.S. longer than I worked in France. I think what's different is the way that the company has evolved to be more consumer-centric. In the U.S., on a daily basis we are really in contact with consumers all the time via different contact points, like looking at the reviews. I would say that would be the biggest difference, and also how we are much more digitally savvy, even when we develop products."
Is this what you always envisioned you'd be doing?
"It is a tough question for me because…I am going to tell you a story. L'Oréal has always been the dream; my dream since I was a little girl, so it's a very personal thing. When I was a kid we would go on vacation to Corsica, which is a small island in the South of France, because my mother is from there. And our neighbor was the VP of L'Oréal Professionnel. And in his garage, he would have all of the Kérastase shampoos, and for me, it was such a dream because he would give me the best shampoos, and I was like, okay when I grow up I want to work with L'Oréal.
"Then I went to business school. In France, when you want to do marketing, L'Oréal is just the best. I would say every woman who wants to work in beauty would love to work there. It matched the dream of a little girl, and combined with my passion for marketing, it was obvious, and it's funny that it all became true."
Describe a typical workday.
"There is no typical workday. Because of the time zone difference, I wake-up and I have a couple of emails from Paris to discuss the strategy on the product, some advertising. Usually I start my day with that. There's a lot of diversity in the meetings that we can have, from meeting with the labs to meetings to discuss the product and the formula to meetings about advertising to meeting with the plants. It's super diverse. I also travel to Paris pretty often to discuss the strategy and the launch plan, and I attend some commercial shoots."
What is the biggest challenge you've faced in your career?
"The biggest challenge was when I moved to the U.S. I knew it was the right decision for my career, and it would bring me so much more, but I had so many high expectations, and I was discovering a new team and new brands—working on Maybelline—and also new ways of working. Learning how to adapt to American culture, it was a challenge.
"It was almost kind of a physical challenge because, I remember, I was so tired. I would put all of myself into the days, and I would go to sleep at 9:30 p.m. I would crash. My boyfriend—my husband—was like, "Okay, what is happening with you?" It was intense, but I got so much out of it, and I'm so happy to have moved here because I made two American kids."
What's been your proudest career moment to-date?
"There is one moment I was so proud of when I was in charge of Maybelline Asia, we had this meeting with our CEO in Japan on the Maybelline brand, and the results were fantastic. We were a really diverse team because it was the Japanese, American, and Chinese teams, and the energy and the collaboration skills were so strong that the CEO gave the team a medal, because we were able to work together even though we were not based in the same country. As a very diverse team, we managed to bring amazing results. It was a team moment, and that's something that I am very proud of. We were on fire."
Let's talk #WorkPerks - What are the best ones at L'Oréal Paris?
"I would say the products because I am a beauty addict. I have access to all of the L'Oréal Paris product, which is really amazing."
"Then, I would say, a work perk is the people you work with. It's a privilege, and after eighteen years, the lines are blurred between my professional and my real life because I have so many friends. The L'Oréal family is the greatest privilege."
What's something that might surprise someone about working at L'Oréal?
"Something surprising would be how passionate we are. The L'Oréal culture is so strong that I know my friends who don't work at L'Oréal think we're really intense. It's the passion. We go to work every day—I go to work every day—with so much excitement and passion, and I think that is what is driving the loyal culture and the intensity. It's intense in the good moments and the not so good moments."
Best piece of career advice for someone who wants to make it big in beauty.
"Try to think outside of the box and put yourself out of your comfort zone. For instance, traveling to the U.S. and traveling to Asia, I was able to discover more diversity and be more curious. That's what I pay so much interest to when I interview people; I look for the dreamers. Be curious, be a dreamer, and travel internationally and on U.S. soil."
How do you strike the right work-life balance?
"I'm very disciplined. I try to live every day at decent times. I have two young kids, a four-year-old and a seven-year-old and I want to make sure that I spend time with them in the morning and in the evening, so I drop them off at school in the morning, and I see them in the evening for at least an hour, and then I work a little bit again after I put them in bed.
"Work-life balance is super important, and I want to be a model for the team so that everyone understands that you can have family, and you can have children. You have to find this balance. It's key because at L'Oréal we have so many mothers and fathers, and the teams need to make sure that it's possible by showing the way. Show the team that you can make it happen by being disciplined and not staying too late."
BEAUTY & STYLE
How did your Parisian upbringing impact your outlook on beauty and fashion?
"I bring a little bit of the effortless French style to my beauty look. I wear a lot of makeup, but I don't project as if I'm wearing a lot of makeup. It has this natural and effortless touch. I wear makeup that you can see your skin through and my hair is not too perfect. That's the Parisian twist."
How would you describe your typical beauty routine?
"It's pretty fast. Fast and furious, since I have two kids. I use micellar water in the morning to wash my face, and I use the Hyaluronic Acid serum. Then it's True Match or Infallible Fresh Wear. I love blush, so I wear lots of blush and mascara—I like Paradise. Depending on my mood, I'll go for either strong lips or strong eyes, but not both at the same time."
Favorite beauty trends right now...
"I would say the face serum trend because it's one we've participated in. I like the trend of playing with serums, using a glycolic serum at night and hyaluronic acid in the morning. The way serums have been able to become part of an everyday routine is amazing."
L'Oréal has a killer company store. What are the products you stock up on there?
"I love Kiehl's. The Original Musk fragrance by Kiehl's, I've been wearing it for years. I also use body wash from Kiehl's and I love Garnier Whole Blends. The Oat Delicacy line in particular, because it's what I use on my kids. They love it, so I love it."
You're stranded on a desert island—what are the top five things you have with you?
"First, I would love a good book, a good French book. Something by a classical author. I keep reading classical authors that you normally read in school; I always go back to them.
"What else? I would bring my family, my husband and my kids, for sure. It's not going to be a deserted island anymore if I bring them. In terms of beauty products, I would bring a good mascara. I would bring SPF. What else I would bring on a desert island? Cheese."
OTHER
If you could only eat one thing for the rest of your life, what would it be?
"Cheese."
What's your favorite karaoke song?
"It's a French one; I'm very French in this interview. The singer is Vanessa Paradis, and the song is Joe le Taxi."
What's your guilty pleasure?
"Cheese, again."
What's your favorite book?
"My favorite book is one by Stefan Zweig. It's a French book, Twenty-Four Hours in the Life of a Woman. I think that's one of my favorites. It's a short book, and it's really great."
(Interested in working at L'Oréal? Find your dream job with L'Oréal Careers.)
Next: #BeautyInCharge: Say Hello to L'Oréal Paris' Assistant Brand Manager of Lip Cosmetics
{ "@context": "https://schema.org/", "@type": "WebPage", "speakable": { "@type": "SpeakableSpecification", "cssSelector": ["speakable-content"] }, "url": "https://es.lorealparisusa.com/revista-de-belleza/consejos-de-belleza/tendencias-belleza/beauty-career-advice-maude-brunschwig" }
Descubrir más trucos y consejos
Ver todos los artículos
Shop Featured Makeup products
Discover More
{ "@context": "http://schema.org", "@type": "BreadcrumbList", "itemListElement": [ { "@type":"ListItem", "position": 1, "item": { "@id": "/", "name": "Home" } } , { "@type":"ListItem", "position": 2, "item": { "@id": "https://es.lorealparisusa.com/revista-de-belleza", "name": "Revista de belleza" } } , { "@type":"ListItem", "position": 3, "item": { "@id": "https://es.lorealparisusa.com/revista-de-belleza/consejos-de-belleza", "name": "Ideas profesionales para tu look único" } } , { "@type":"ListItem", "position": 4, "item": { "@id": "https://es.lorealparisusa.com/revista-de-belleza/consejos-de-belleza/tendencias-belleza", "name": "Tendencias de belleza" } } , { "@type":"ListItem", "position": 5, "item": { "@id": "https://es.lorealparisusa.com/revista-de-belleza/consejos-de-belleza/tendencias-belleza/beauty-career-advice-maude-brunschwig", "name": "beauty-career-advice-maude-brunschwig" } } ] }