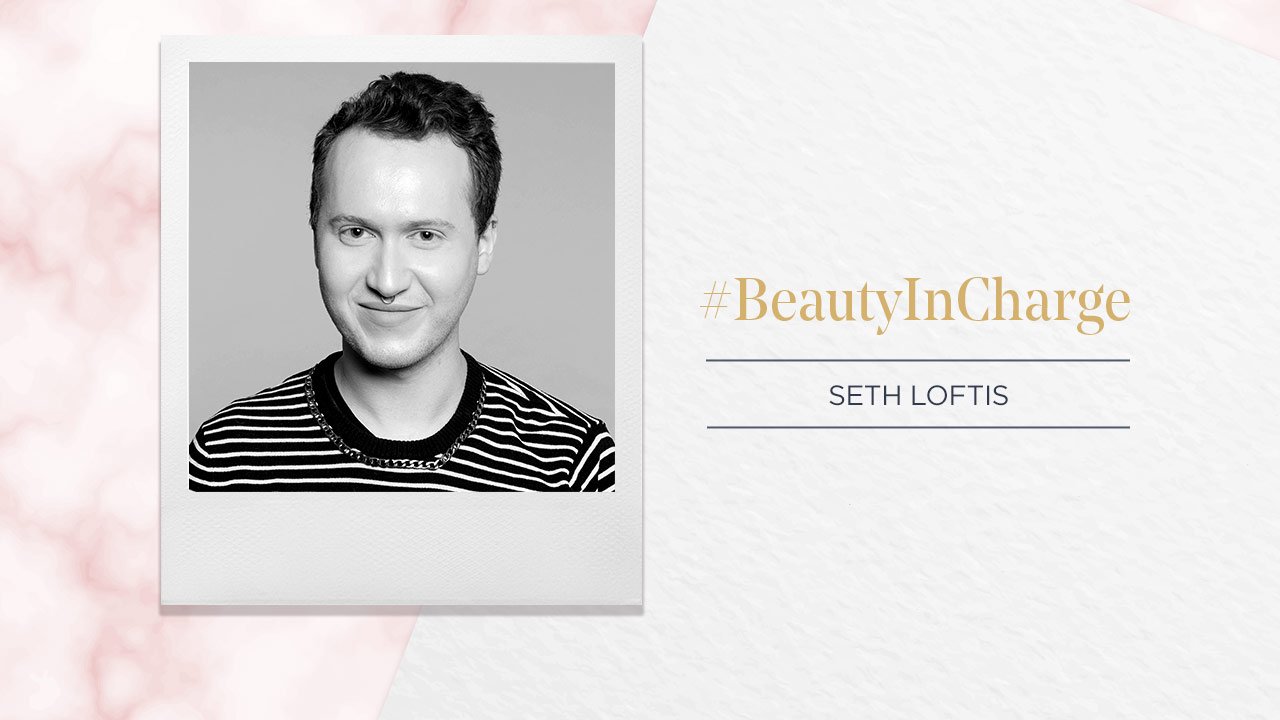 tendencias-belleza
#BeautyInCharge: Say Hello to L'Oréal Paris' Assistant Brand Manager of Lip Cosmetics
Our #BeautyInCharge series takes a look at how people in a wide range of roles are able to take charge and own their positions. In the series, we speak with L'Oréal Paris employees at all levels, from those who've been with the brand for years to those who are just getting their foot in the door, and unsurprisingly, they all have amazing career advice, beauty product faves, and so much more to share.
What would your life be like if your middle school passions translated into your adult life? Well, that's exactly what happened for Seth Loftis. Seth started wearing makeup in middle school, and where is he now? Working as Assistant Brand Manager of the L'Oréal Paris lip business. It seems safe to say his younger self would be proud.
If you've ever wondered what it's like to be a male working for the world's largest beauty company, this is your chance to get an inside look. For this installation of our #BeautyInCharge series, get the inside scoop on all things Seth—from his best career advice to his most-ardent product recs.
ON WORK
What is your current position and what was the path that got you there?
"I'm currently Assistant Brand Manager of the L'Oréal Paris cosmetics lip business. I'm an operational marketer, meaning I handle all of the advertising and marketing logistics of our lip business. Since I work on a global brand, it's my job to adapt product launches to ensure we're going to market with the right tools to make each product a success.
"I started at L'Oréal as an intern a little while after I graduated from college, working on special projects and new ventures. As an intern, I worked on the product development of the LOP x Camila Cabello Havana collection. I also worked on the conception of a new brand—that's still confidential, though!
"After my internship, I joined the L'Oréal Management Development Program, which was an amazing way to learn about different aspects of the cosmetics business, such as retailer relationships. I spent a lot of time on the road traveling to various stores. While in the office, I worked on L'Oréal Paris cosmetics e-commerce business, focusing on all categories—eye, face, and lip.
"After I completed the program, I joined the team as Assistant Brand Manager, where I'm able to go in-depth with the marketing strategy of our lip business."
Is this what you always envisioned you'd be doing?
"Not exactly, but I've always tried to be open to new experiences. I studied culture and creative writing at NYU, and I planned on getting a Ph.D. in cultural studies after undergrad. I think I wanted to be a professor, but I've always been so passionate about makeup and representation of men who use makeup in the beauty industry. When I had the opportunity to intern at L'Oréal, the world's largest beauty company, I felt it was a sign that I needed to follow my desire to make change and show that men can wear makeup and work in the industry."
What drew you to the lip category in particular?
"The lip category is unique in the way that it's truly the most color-based. You have to have an eye for color to make lipstick choices! It's also empowering. I feel so much more confident when I'm wearing a bold lipstick. I also love all things glitter and glossy—I'm definitely a lip gloss person. Lip is the best category for me, and it's also the most fun!"
Describe a typical workday.
"There is no typical workday! Sometimes I start my day off with meetings back-to-back, sometimes it starts by working with my counterparts in product creation to come up with the most gorgeous and most inclusive color palette for a new lip launch. Every day definitely always starts with an iced coffee."
What is the biggest challenge you've faced in your career?
"We were going to launch a lip product that I personally loved so much. But after we worked on adapting the concept and advertising to our market, we realized it wasn't the right fit for what our consumers want. So, I had to look past my personal attachment and make the right business choice for it. After all, never say never, because it may make a comeback later down the line!"
What's been your proudest career moment to-date?
"My first official lip launch is coming—Infallible Matte Lip Crayon—and I am so proud of the 18 shades in the range. It's inclusive for people of all skin tones. Representation and shade diversity are two of the most important things to me."
Let's talk #WorkPerks - What are the best ones at L'Oréal Paris?
"One of the best perks I use every day is just the incredible intelligence and expertise among my coworkers. I truly work with the best of the best and being able to collaborate, ask questions, and learn from those around me is one of the best perks. And also, the company store!"
What's something that might surprise someone about working at L'Oréal?
"I specifically speak for makeup, but each makeup brand is so business-oriented—especially the lip business. There are such interesting dynamics to my business that I am honestly learning things every day. You never stop learning here!"
Best piece of career advice for someone who wants to make it big in beauty.
"Be passionate and approach every challenge as open-mindedly as possible. Things change all the time in beauty—actually, things change every day. So, be as open as possible and always follow your passion."
How do you strike the right work-life balance?
"Realizing there will always be something to do, and that most things can be done in the morning is key—and if not, you better do it now and stop procrastinating! I'm also a pawrent to my precious rescue pup Meta who requires a very set schedule—and I feed her wet food because she's very spoiled—so I have to balance that with my work life. It helps that I am truly passionate about makeup, and that's the driving factor behind why I do what I do every day."
ON BEAUTY & STYLE
How did your interest in makeup and beauty start?
"I grew up in a really small town, so wearing makeup as a kid wasn't really an option. Actually, in middle school, I would sneak into my sister's makeup bag and use her foundation, which absolutely did not match me. It was the Maybelline Dream Mousse, so it kind of blended in, but not really. I begged my mom to let me wear concealer, and she finally let me in middle school. I hope she's happy because now I let her use my discounts.
"I never really thought it was weird that I wanted to wear makeup until I did it for the first time at school and saw everyone's reaction. I remember thinking, 'Why is this such a big deal to people?' But it really was a big deal where I'm from, so I think my passion for representing men and gender diversity in makeup started at that point.
"We've definitely come a long way since then, but I honestly remember sitting at home when makeup brands started signing men as spokesmodels. I think at that point, I realized what my life could be if I just followed what I loved.
"Even though we've come so far, it is unfortunate that it took this long. I want to dedicate my career and honestly my life to challenging the status quo so every person in the world—regardless of gender identity—can be their most beautiful self."
Favorite beauty trends right now...
"I'm a big fan of drag culture, so naturally, any drag makeup is a favorite. I'm also loving the Euphoria-inspired makeup looks I keep seeing on Instagram! It's so fun and glittery and avant-garde. Totally up my alley."
How would you describe your typical beauty/grooming routine?
"I am equally as passionate about skin care as I am makeup. I go to a dermatologist, use a few prescription actives, and receive preventative Botox treatments. In terms of products I use, I try to use as gentle of products as possible because my actives serve as exfoliants.
"I love the SkinCeuticals Gentle Cleanser, and if I'm wearing heavy makeup I'll use a cleansing oil before. I also love the L'Oréal Paris Hyaluronic Serum, which makes every step of your skin care routine work even better. The SkinCeuticals C E Ferulic is a holy grail, too, as is La Roche-Posay Redermic-R Eye Cream. CeraVe AM Moisturizing Lotion with SPF 30 is also a true necessity.
"For makeup, I really am such a L'Oréal Paris super fan. For a full face, I prime the skin with Magic Perfecting Base, which has such a beautiful pore-blurring texture. For foundation, I am obsessed with Infallible Fresh Wear Foundation. It is leagues above any other foundation I've tried! I conceal the under-eyes with concealer and set my face with L'Oréal Paris Hydra Perfecte Loose Powder. This powder has been around for decades for a reason! I'll add some dimension with the L'Oréal Paris Bronze It Bronzer and always double highlight with two highlighters. To lock it all in, I always use Urban Decay All Nighter Setting Spray.
"If I'm not doing a full face, I'll prime and just throw on some concealer. I'm very extreme when it comes to makeup—either a very light, natural look or full-out full coverage."
Do you feel like you have a signature look? How did you cultivate it?
"I guess my signature look would also include my personality, which I'm told is loud. I cultivated it by just trying to be myself at all times—personally or professionally—and I think people respect that! It's very hard for me to hide my opinion because my face usually says it all."
L'Oréal has a killer company store—which you mentioned. What are the products you stock up on there?
"I love my L'Oréal Paris lip products! I also love Maison Margiela fragrances."
What are your favorite LOP products?
"Well, all of my lip products, of course! But especially right now I'm loving Colour Riche Plump & Shine. The balmy color is fantastic, and I love the fresh cooling sensation. I also love Lash Paradise mascara."
Any new launches you're excited for/wish were in the pipeline?
"I'm really excited for the Infallible Matte Lip Crayon we're launching, and a lot of other exciting lip launches I wish I could talk about."
ON EVERYTHING ELSE
You're stranded on a desert island—what are the top five things you have with you?
"Oh my, that's hard! I'm not going to say my family because that's unfair to put them on a desert island with me, so I'd have to go full-on materialistic and say SPF, a notebook and a pen to write, glasses so I can see, lip gloss, and a bottle of tequila! That's six, but I'm considering it five."
What's your favorite karaoke song?
"'Party in the USA' by Miley Cyrus. I didn't even have to think."
What's your guilty pleasure?
"I know it's probably no surprise I'd say makeup or skin care, but I'd be embarrassed if people found out how much time I spend outside of work researching it. I'm truly obsessed with everything—ingredients, formulations, chemistry."
What's your favorite book?
"I'm going to give you one for each genre because I love reading and can't choose just one.
"My really close friend and mentor Carley Moore just published The Not Wives, which is an amazing novel that features super feminist and dynamic characters at its core. It quickly became one of my faves!
"For nonfiction, a book that changed my life is Just Kids by Patti Smith. Read it and find out why.
"For poetry, I love Maggie Nelson and her book The Argonauts, which changed my life for similar reasons."
What would your high school superlative have been?
"I was actually voted most dramatic, and I truly don't see why."
(Interested in working at L'Oréal? Find your dream job with L'Oréal Careers.)
Next: #BeautyInCharge: Meet L'Oréal Paris' Assistant Manager of Cosmetics
{ "@context": "https://schema.org/", "@type": "WebPage", "speakable": { "@type": "SpeakableSpecification", "cssSelector": ["speakable-content"] }, "url": "https://es.lorealparisusa.com/revista-de-belleza/consejos-de-belleza/tendencias-belleza/beauty-career-advice-seth-loftis" }
Descubrir más trucos y consejos
Ver todos los artículos
Shop Featured Makeup products
Discover More
{ "@context": "http://schema.org", "@type": "BreadcrumbList", "itemListElement": [ { "@type":"ListItem", "position": 1, "item": { "@id": "/", "name": "Home" } } , { "@type":"ListItem", "position": 2, "item": { "@id": "https://es.lorealparisusa.com/revista-de-belleza", "name": "Revista de belleza" } } , { "@type":"ListItem", "position": 3, "item": { "@id": "https://es.lorealparisusa.com/revista-de-belleza/consejos-de-belleza", "name": "Ideas profesionales para tu look único" } } , { "@type":"ListItem", "position": 4, "item": { "@id": "https://es.lorealparisusa.com/revista-de-belleza/consejos-de-belleza/tendencias-belleza", "name": "Tendencias de belleza" } } , { "@type":"ListItem", "position": 5, "item": { "@id": "https://es.lorealparisusa.com/revista-de-belleza/consejos-de-belleza/tendencias-belleza/beauty-career-advice-seth-loftis", "name": "beauty-career-advice-seth-loftis" } } ] }