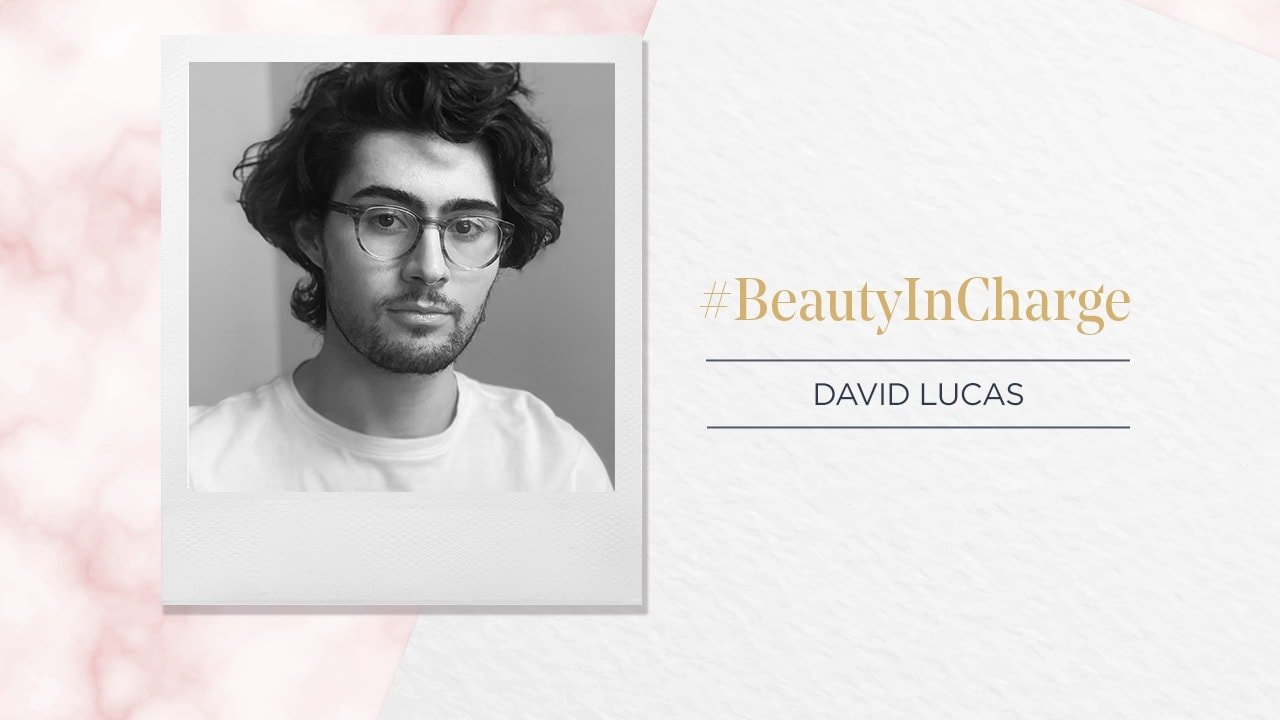 Our #BeautyInCharge series takes a look at how people in a wide range of roles are able to take charge and own their positions. In the series, we speak with L'Oréal Paris employees at all levels, from those who've been with the brand for years to those who are just getting their foot in the door, and unsurprisingly, they all have amazing career advice, beauty product faves, and so much more to share.
It's no secret that job searching and picking a career can be all too overwhelming at times. Of course, you know how the saying goes, if you love what you do, you'll never work a day in your life. Who wouldn't want to pursue a career in a field they love? That's exactly what David Lucas, L'Oréal Paris' Assistant Manager of Cosmetics, did. With an interest in makeup dating back to high school, David has been able to accomplish the ultimate goal: turning a passion into a career. For this installation of our #BeautyInCharge series, get to know David as he talks career advice, beauty trends, and more.
ON WORK
What is your current position and what was the path that got you there?
"I'm currently an Assistant Manager on the L'Oréal Paris cosmetics US marketing team. I manage the lip category and trend collections.
"I went to college at FIT and studied Cosmetics and Fragrance Marketing. My last semester of college, I interned on the Maybelline Global Marketing team and was put up for the Junior Marketing Associate program after finishing my internship. I got into it, and the rest is history"
Did you have an interest in working in beauty before college?
"Yes. In high school, I worked at Cosmetic Company Outlet—that kind of triggered it all. I've always had an interest in beauty. I would watch YouTube videos—makeup tutorials and all of that—throughout high school, and I became very focused on it throughout college. I worked as a makeup artist at Sephora during college as well as posting looks on Instagram."
Is this what you always envisioned you'd be doing?
"When I was younger, I hadn't thought this far into my career. As my career progressed, I realized I am doing exactly what I need to be doing. I never imagined living in New York or working in the beauty industry, but as things fall into place, it just makes more and more sense for me."
Describe a typical workday.
"On a day-to-day basis, it's a lot of meetings because it takes a lot of different parties to make a product come to life. Lab meetings, creative statuses, and making sure that everything's aligned—making sure that what we're working on makes sense for the consumer and her needs. My counterparts and I are keeping things going and making sure things are on time and moving forward. I feel like I'm the troubleshooter that finds the solutions to any issues that arise."
What is the biggest challenge you've faced in your career?
"The biggest challenge I've faced so far has been trying to be too much of an expert, rather than relying on the expertise of others. There are so many moving parts when it comes to developing a product that you need checks and balances to make sure everything is going smoothly. I've had times when my expertise and judgment was wrong, and I've realized that it's not that you have to know everything, it's how you handle the situations that arise.
Men in makeup is an increasingly large niche. Do you think that has helped or hurt you?
"I think it's helped me in the sense that if there hadn't been men in beauty —specifically on social media—I might have never felt like I had the opportunity to work in it. From a business standpoint, there may be stigmas about men working in beauty, but if you want to work in it, there's room for everyone in the beauty industry.
"When you think of men wearing makeup, if I hadn't seen it as a young person, I wouldn't have thought this was an option for me. Having that visibility helped give me the permission and confidence I needed to start posting. It's important to have a community that uplifts each other, and I found that in the beauty world. That's what's special, and keeps me in it.
"One thing that could be hurting me is the increased competition, but personally feel comfortable with my fellow makeup junkies winning. To me, it means more visibility for other men who are interested in makeup to have the same chance as me to feel there are others like him."
What's been your proudest career moment to-date?
"For me, every next moment is the proudest in my career. Maybe that's because I love products and I'm so deep in it. With every launch, it's my new baby, and it's a product that I'm so proud of. That's kind of how I feel with the Summer Belle collection. With every project, I'm so excited for people to get them and love them as I do."
Let's talk #WorkPerks - What are the best ones at L'Oréal Paris?
"It might be a weird one, but working on a brand that may not necessarily be for you as a consumer. I think that it pushes me to think differently about who the brand is and what the brand embodies. Creating a product that's perfect for the consumer, even if it may not be perfect for me, is a perk."
What's something that might surprise someone about working at L'Oréal?
"We're not just playing with makeup all day long! That is probably something that would surprise most people. No—we're actually working really hard. It's fun and games sometimes, but we're mostly busting our butts!"
Best piece of career advice for someone who wants to make it big in beauty.
"I haven't made it big yet—but I'm on track. From my personal experience, find your advocates. There are always people that believe in you. I've had people believe in me more than I've believed in myself. That's been super impactful, and I think it's helped me learn how to believe in myself and all that I've done. It's important to remember that you do so much, and you should take the time to sit and recognize how much value you add."
How do you strike the right work-life balance?
"I think it's about being honest. As long as you demonstrate that you are capable and really on top of your work, there's no reason that your manager would ever say no to you leaving in a timely manner or taking vacation when you want to. There have been vacations that I've needed to take around a big meeting, and my manager has never asked me to change them because I've proven to her that I will always get my work done beforehand."
ON GROOMING & STYLE
When did your love for makeup begin?
"I guess it was in high school. Even before I played with makeup, I was naturally interested in it. Probably even before then—there are pictures of me as a child with Halloween makeup drawn all over my face. I was more in tune with art and singing and painting, and then it naturally translated to my face."
What is your earliest memory of using makeup?
"I remember driving in the car with my mom, being in the passenger seat, and going through her makeup bag, pulling out her mascara, and asking to put it on. My mom said, "Sure, but just this one time." I always wanted to put it on, and she tried to explain to me why I couldn't and why boys didn't wear makeup—and here we are."
How did you get started sharing your makeup looks on social media, and how has that experience been?
"I started by being on Instagram, seeing men doing makeup looks, and finding inspiration. Then, working at a makeup store, using the makeup products, and doing makeup on others. This encouraged me to start posting and see what would happen. At first, it was mostly just for me, and I didn't really think that it would become something big, but I started getting traction. Now, working, I have less time, so I just do it for fun, to be creative and express myself. When I have the free time, I love to do it."
Where do you go to stay on top of the latest trends?
"All of the amazing artists on Instagram, honestly. @tamarawilliams1 has such beautiful, clean editorial makeup, @mariaartistry does fun things with glitter and more blurry pictures/lighting, and @beautybekky has such intricate looks and doesn't edit her skin, which I admire a lot."
Favorite beauty trends right now...
"I love glass skin. I try to keep it very minimal, usually with glass skin and bold eye makeup."
How would you describe your typical beauty/grooming routine?
"Brushing up my eyebrows and using some clear brow gel is my go-to. I don't really like wearing makeup day-to-day.
"As far as skin care, I work very hard on my skin. I went to a dermatologist for acne, and she prescribed tretinoin that I use every single night. It can cause dryness and peeling, but I luckily didn't have that reaction. I use benzoyl peroxide every day to treat my acne. For cleanser, I normally just use CeraVe. With using my prescription, I like to keep my cleanser and moisturizer as mild as possible."
Do you feel like you have a signature look? How did you cultivate it?
"I don't know if I have a signature look other than always having bold eyebrows. My hair is always changing; I'm a bit of a chameleon. For makeup, bold eyes, and a nude lip is my go-to."
Where do you find inspiration for the makeup looks you post on Instagram?
"I normally go about finding inspiration either one of two ways. I attempt to recreate looks from some of my favorite artists, or I pull out a palette—normally one of my most colorful palettes—and use that as inspiration. I'll usually have a general eye shape that I'm trying to go for, like rounded, winged out, or a cut crease, and then let the colors kind of take over."
L'Oréal has a killer company store. What are the products you stock up on there?
"The Atelier Cologne Vanilla Incense is my go-to fragrance—it's my signature. I've worn it for the past five years and haven't stopped. I love the La Roche-Posay Active–C Eye Cream. The Urban Decay One & Done is amazing. It's like a BB cream, but it has a bit more coverage that looks super good, especially if you're oily because it's pretty mattifying. The Maybelline Brow Precise Fiber Volumizing Eyebrow Gel is also amazing."
What are your favorite LOP products?
"I love the True Match Powder. It mattifies you without looking too powdery and looks very skin-like. I really like True Match foundation and Fresh Wear is wonderful, too. I use the True Match crayon concealer in a darker shade as a cream contour / bronzer."
Any new launches you're excited for/wish were in the pipeline?
"Another collection we are currently working on—a lip gloss collection. It has really fun packaging, but isn't official yet."
You're stranded on a desert island. What are the top five things you have with you?
"It's not a necessity at all but coconut water—Taste Nirvana to be exact. I love it when I'm on a beach. I would also bring a cell phone and WiFi or some kind of machine for reception, and probably some form of shelter like a tent."
ON EVERYTHING ELSE
What's your favorite karaoke song?
"I would want my friends to sing it with me, Lady Marmalade—the version with Christina Aguilera."
What's your guilty pleasure?
"Video games. I'm not an actual gamer, I just like really fun, little kid games like Mario Kart and Animal Crossing."
What's your favorite book?
"I'm not a huge reader. From high school, one of my favorites was Go Ask Alice."
What would your high school superlative have been?
"I'm pretty sure I got a superlative in high school that was "most likely to be a fashion designer." I never expressed being interested in designing fashion, so I'm not sure why I got it."
What are your social media handles?
Instagram: @davicrocket
Next: #BeautyInCharge: Meet L'Oréal Paris' Senior Manager of Digital Content and Innovation
{ "@context": "https://schema.org/", "@type": "WebPage", "speakable": { "@type": "SpeakableSpecification", "cssSelector": ["speakable-content"] }, "url": "https://es.lorealparisusa.com/revista-de-belleza/consejos-de-belleza/tendencias-belleza/beauty-career-advice-david-lucas" }
Descubrir más trucos y consejos
Ver todos los artículos
Shop Featured Makeup products
Discover More
{ "@context": "http://schema.org", "@type": "BreadcrumbList", "itemListElement": [ { "@type":"ListItem", "position": 1, "item": { "@id": "/", "name": "Home" } } , { "@type":"ListItem", "position": 2, "item": { "@id": "https://es.lorealparisusa.com/revista-de-belleza", "name": "Revista de belleza" } } , { "@type":"ListItem", "position": 3, "item": { "@id": "https://es.lorealparisusa.com/revista-de-belleza/consejos-de-belleza", "name": "Ideas profesionales para tu look único" } } , { "@type":"ListItem", "position": 4, "item": { "@id": "https://es.lorealparisusa.com/revista-de-belleza/consejos-de-belleza/tendencias-belleza", "name": "Tendencias de belleza" } } , { "@type":"ListItem", "position": 5, "item": { "@id": "https://es.lorealparisusa.com/revista-de-belleza/consejos-de-belleza/tendencias-belleza/beauty-career-advice-david-lucas", "name": "beauty-career-advice-david-lucas" } } ] }