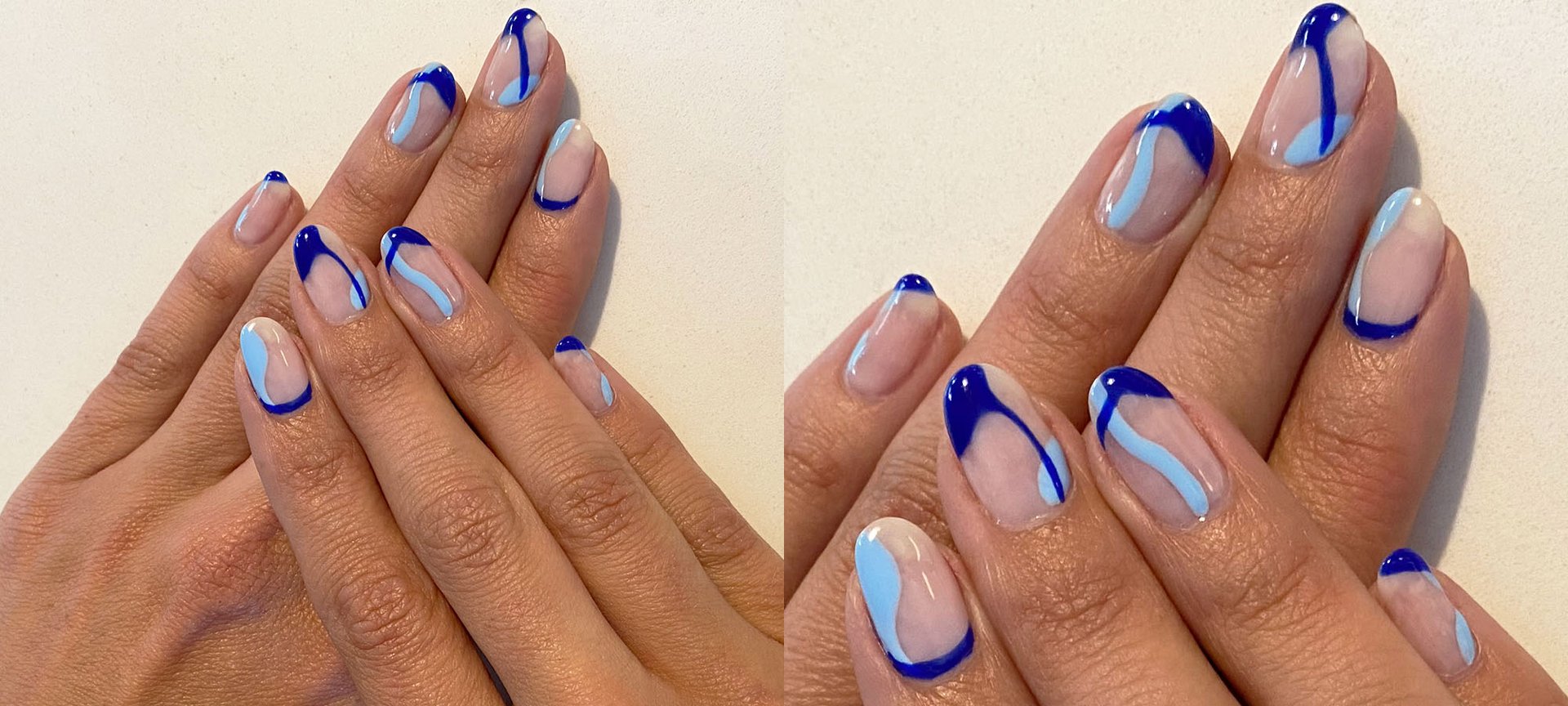 tendencias-belleza
15 Fall Nail Ideas To Inspire Your Next Manicure
Nail designs you can easily fall into.
When a new season calls for new nail art, it's easy to turn to social media for some inspiration. One quick scroll through Instagram or Pinterest will reveal so many cool and trendy new nail designs to try this season. Whether you prefer a gel manicure or you're still sticking with your tried-and-true acrylic nails, we've made the nail art search easy for you and cut out the endless scroll. Here, check out 15 fall nail ideas that'll give your mani the autumn-inspired feel you're looking for as the weather cools down and your beauty looks heat up.
Fall Nail Idea #1: Swirl Nails
Swirl patterns are cute and easy to do if you can't get a salon appointment, or want to save a few coins with some DIY nails. Mix two colors to give it a two-tone upgrade.
Fall Nail Idea #2: Olive and Gold Two-Tone
Speaking of two-tone, when it comes to nails, this is just a style we can't resist during any season. And with olive being one of this season's hottest colors, we think two-tone nails look extra enticing in the hue. Add a touch of gold to bring the opulence level up to that worthy of a nail queen.
Fall Nail Idea #3: Royal Blue Negative Space
Prepare to turn heads with blue nails that also offer a feminine and soft look with a gorgeous pop of color. Think of it as a negative space cut crease for your nails!
Fall Nail Idea #4: Fallen Leaves
Resembling some of our favorite elements of the season, we'd bet money that this creative nail art design never goes out of style when it comes to fall beauty trends. Incorporate it into your look with a rich maroon nail polish, which also happens to pair beautifully with gold.
Fall Nail Idea #5: Ankara Print
Definitely one that'll require a salon visit, this intricate design is a nod to the African fabrics that boast designs that represent wealth, royalty, family, fertility and more. It's a small detail with big style impact and even bigger meaning.
Fall Nail Idea #6: Sunflowers
Depending on where you live, you might have noticed an abundance of flower shops carrying these oversized, bright yellow florals. But in case you missed it, it's sunflower season. So what better time than the fall to indulge in a little sunflower nail art?
Fall Nail Idea #7: Milky Ombré
If subtle, eye-catching autumn nail designs are your forte, milky ombré nails should definitely be on your radar. A foolproof pick for those who like the idea of rocking two shades in one, this design can't be beat. You can DIY with a milky off-white nail polish, sheer glitter polish and a makeup sponge.
Fall Nail Idea #8: Stripes
If you love the idea of minimalist fall nail designs then stripes may be your perfect match for the season. Think about it: The design is versatile, chic, stylish, and pretty easy to create. Simply start with a base coat, then layer a bold nail polish color with diagonal or straight lines for a trendsetting look.
Fall Nail Idea #9: Matte Black Pumpkins
Sure, black may seem a little goth, but it's actually seriously on-trend for fall. One way we recommend switching up this edgy color is opting for a matte finish. If you really want to give it an extra fall-inspired look, marry your matte black with pumpkins—a treat that screams all things fall, from your tasty spiced latte to your favorite holiday.
Fall Nail Idea #10: Ink Blot Nails
If you're game for stepping outside of the box with your autumn nail designs, ink blot nails are where it's at. A sophisticated way to incorporate nail art into your look, this design is all about using a nail brush and black nail polish to create the perfect ink blots. Whether you decide on small or big ink blots, you'll be sure to make a statement.
Fall Nail Idea #11: Rust Orange Landscape Nails
It's no secret that orange is a big go-to color for fall beauty, including variations like orange eyeshadow and orange lipstick. It's especially pretty on nails too. Try it in cactus shapes, mimic the redwoods, or give the horizon some serious orange tones for some beautiful landscape nails.
Fall Nail Idea #12: Emerald French Tips
Your friends are sure to be green with envy when they see your luxurious emerald tips. It's a ritzy nail look with a rich, deep green hue that demands attention. On just the tips, it brings the right amount of drama without being over-the-top.
Fall Nail Idea #13: Lunar Nails
When we have less daylight hours we crave more sun. Summon the star with your manicure while also shining some light on the moon and planets by trying lunar nail designs. Whether in black or white or bright colors, it's sure to be a statement making look.
Fall Nail Idea #14: Crystal Manicure
Equal parts glamorous and luxurious, this mani combines neutral nail shades with gorgeous stones for an unforgettable look. Paint your nails in a neutral hue then add crystals at the base or tip of your nails to complete the look.
Fall Nail Idea 15: Pastel Half-Dip Nails
You don't have to stick to earth tones and jewel-tones because the weather is getting colder. Fall nails are all about showing off your personality, and half-dip nails won't disappoint in pastel hues. This look flaunts a neutral color on one half of your nail with a pretty pastel color on the other side for a seriously stylish look.
Next: 15 Fun Nail Designs For Almond-Shaped Nails
Written and Photographed by: Shalwah Evans
{ "@context": "https://schema.org/", "@type": "WebPage", "speakable": { "@type": "SpeakableSpecification", "cssSelector": ["speakable-content"] }, "url": "https://es.lorealparisusa.com/revista-de-belleza/consejos-de-belleza/tendencias-belleza/fall-nails-colors-and-designs" }
Descubrir más trucos y consejos
Ver todos los artículos
{ "@context": "http://schema.org", "@type": "BreadcrumbList", "itemListElement": [ { "@type":"ListItem", "position": 1, "item": { "@id": "/", "name": "Home" } } , { "@type":"ListItem", "position": 2, "item": { "@id": "https://es.lorealparisusa.com/revista-de-belleza", "name": "Revista de belleza" } } , { "@type":"ListItem", "position": 3, "item": { "@id": "https://es.lorealparisusa.com/revista-de-belleza/consejos-de-belleza", "name": "Ideas profesionales para tu look único" } } , { "@type":"ListItem", "position": 4, "item": { "@id": "https://es.lorealparisusa.com/revista-de-belleza/consejos-de-belleza/tendencias-belleza", "name": "Tendencias de belleza" } } , { "@type":"ListItem", "position": 5, "item": { "@id": "https://es.lorealparisusa.com/revista-de-belleza/consejos-de-belleza/tendencias-belleza/fall-nails-colors-and-designs", "name": "fall-nails-colors-and-designs" } } ] }