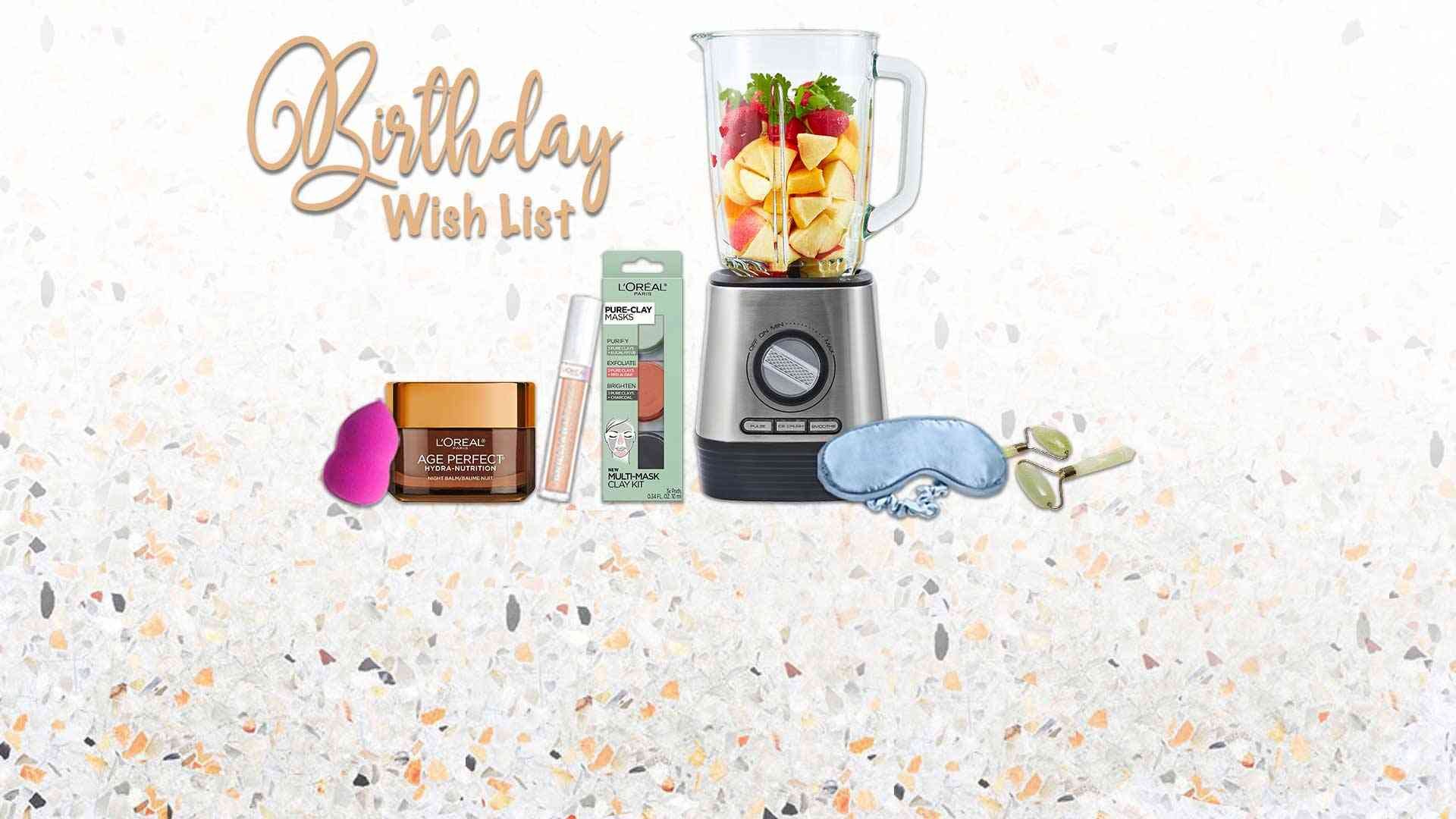 If your birthday is coming up, you may be wondering what your friends and family plan on gifting you. But why wait for the perfect gift when you can buy it for yourself? Simply put, your birthday is all about celebrating you. And there is no better way to do just that than to spoil yourself with gifts that you'll cherish.
Think about it: No one knows you better than you, so shopping for yourself will be a real treat. Of course, you may need help finding said perfect gift. If you've been asking yourself, "What do I want for my birthday?" you've come to the right place! From new makeup brush sets and skin care tools to self-care picks and everything in between, the possibilities are truly endless. Ready to ring in your birthday the right way? Keep reading for 20 birthday gift ideas that will make you wish your special day was every day.
1. JADE ROLLER
If you're a gal that loves to take time to pamper yourself, then it's time to add a jade roller to your birthday list. This trendy facial massage tool takes the art of massage to the next level. Not only does it help to stimulate your skin, but it's also a hygienic way to apply skin care products evenly over your face and can be a great way to practice self-care. Head on over to our article, Do Jade Rollers Really Work? for all the deets.
2. FACIAL
Speaking of self-care, there is no better way to work some me-time into your schedule than with a facial. This beauty treatment combines traditional skin care steps with other products and methods to improve the overall look and feel of your skin. You can get a gift certificate for a facial or gift yourself with the supplies for a DIY one. If you choose to visit a pro, here's What To Expect When Getting a Facial. If you prefer to go the at-home facial route, check out our article on How to Do a DIY Facial at Home.
3. KABUKI MAKEUP BRUSH SET
Tired of using your old ratty and beat up makeup brushes to sculpt a flawless beauty beat? Trade in your old tools for a gorgeous kabuki makeup brush set. Kabuki makeup brushes are great for applying various makeup products such as foundation, face powders, highlighters, and so much more. Made with dense bristles, kabuki brushes ensure that your makeup is flawlessly blended. What's not to love?
4. MAKEUP BLENDING SPONGES
Now that we have makeup tools on the brain, it's only right to add makeup blending sponges to your birthday list. Like it or not, makeup sponges have an expiration date, just like your other beauty products. So, it's best to give your collection an upgrade to avoid using anything old. Start fresh with the help of the L'Oréal Paris Infallible Blend Artist Foundation Blender. Designed with plush material and an easy to grip shape, you'll be able to dab and roll your foundation onto your face with ease.
5. SHIMMER EYE SHADOW
If you ask us, no makeup collection is complete without gorgeous shimmer eye shadows. This beauty essential allows you to create stunning makeup looks that can transition from day to night without missing a beat. However, not all shimmer eye shadow formulas are created equal, so it's best to use a product that provides a comfortable wear, huge color payoff, and a buildable formula. This is where L'Oréal Paris Brilliant Eyes Shimmer Liquid Eye Shadow Makeup comes in. Available in 12 gorgeous shades, this liquid formula goes on beautifully for an eye makeup look that won't go unnoticed. Wondering about product fall out? You can consider it a thing of the past.
6. MAKEUP ORGANIZER
Guilty of keeping your makeup products in a junk drawer? You probably struggle to find your makeup must-haves every morning. Consider cleaning things up a bit with the help of a makeup organizer. Makeup organizers come in all shapes and sizes to keep your essentials all in one place. Now you don't have to spend unnecessary time searching for your signature red lippy!
7. MINI SKIN CARE FRIDGE
If you're totally over making trips to the kitchen to retrieve your skin care goodies out of the fridge, a mini skin care fridge will come in handy. Instead of having to store your eye creams, face masks, and face serums next to your favorite snacks, this trendy beauty appliance keeps your beauty must-haves close. Not to mention, beauty fridges will up the ante when it comes to your bedroom décor. After all, who doesn't love an aesthetically pleasing vanity?
8. FACE MASK SET
What's better than one face mask? Three face masks, of course! This beauty staple is the perfect way to show your skin some extra love. Whether you use one mask at a time or you're ready to hop on the multi-masking bandwagon, a face mask set can easily address a variety of skin care concerns you may have. That's why we love the L'Oréal Paris Pure-Clay Multi-Mask Clay Tripod Kit, which comes with three pure-clay masks that work to brighten, exfoliate, and soothe skin for a balanced feel.
9. NIGHT CREAM
As far as keeping your skin in proper shape goes, a night cream lands high on the list of products that can help. See, night creams provide the skin with an extra layer of moisture while you get some shut-eye. Who wouldn't love that? They can also help to address your skin's unique needs to help you flaunt the complexion of your dreams. Have your pick from three of our best night creams.
L'Oréal Paris Age Perfect Cell Renewal Night Cream: Battling dull-looking skin? This night cream will get your skin back on track. Formulated with LHA, this offering helps to improve the skin's surface cell renewal to boost radiance and nourish skin all in one month's use.
L'Oréal Paris Age Perfect Hydra Nutrition Honey Night Balm: If dry skin has become the bane of your existence, consider it handled with this night cream. This luxurious face moisturizer is formulated with manuka honey and nurturing oils that melt onto skin for long-lasting hydration.
L'Oréal Paris Revitalift Triple Power Anti-Aging Overnight Mask: Take your skin care game up a few notches with this overnight cream. Formulated with Pro-Retinol, hyaluronic acid, and vitamin C, this mask works to reduce wrinkles, firm, and brighten skin visibly. It also envelops the skin with moisture that goes the distance.
10. SATIN SLEEP MASK
Can't resist a chic beauty accessory? Then it's time to add a satin sleep mask into the mix. This luxurious find helps to block out light as you get your beauty sleep and works double-duty as the perfect travel companion.
11. BATH BOMB SET
For days when you're looking to unwind and de-stress, a bath bomb will rise to the occasion. This bathtime staple is formulated with a mix of butters, oils, colorants, and salts to upgrade your bath experience. All you have to do is pop a bath bomb into a tub full of warm water and watch it break apart. A fabulous addition to any self-care routine, a bath bomb is a great way to soak your cares away.
12. BLOW-DRYER BRUSH
There is no denying that blow-drying your hair can eat up your time. And with a busy schedule, spending too much time styling your hair is a no-go. Instead of incorporating multiple tools into your styling routine, stay ahead of the game with a blow-dryer brush. This tool dries your strands and gives you a bouncy blowout for a fresh out of the salon look.
13. CLIP-IN EXTENSIONS
In the mood to add some length to your mane? Clip-in extensions are a great place to start. This chic trend helps you change your look in a matter of minutes without the drama. Simply part your strands and clip your extensions in for a longer mane. When you're ready to take them out, unclip and remove the extensions, and you're good to go.
14. LACE FRONT WIG
Protective styles are an absolute game-changer. Perfect for those who are working with natural hair, these styles allow you to experiment with different hairstyles while keeping your hair protected from the elements. One of the most popular protective styles is none other than a lace front wig. A wig install gives you free rein to experiment with a wide range of styles while maintaining a natural look. It's a win-win!
15. DEEP CONDITIONING CAP
Calling all natural haired gals! If you have not invested in a deep conditioning cap, consider this your sign to get one ASAP. Like it or not, natural hair needs all the moisture it can get. And while traditional conditioners and leave-ins can get the job done, sometimes you need some extra help. A deep conditioning cap allows your products to deeply penetrate your strands to boost moisture for a soft and manageable mane.
16. PRESS-ON NAILS
Heading to the salon every two weeks for a fresh manicure can get expensive. This is why we're always game for a press-on nail set. Available in various shapes and sizes, press-on nails give you the option to get stylish with your manicures all in the comfort of your own home. And of course, press-on nails will save you a few bucks down the road.
17. YOGA MEMBERSHIP
Whether you consider yourself to be a yogi or are looking to get on top of your fitness goals, a yoga membership will do you justice. You can even try a virtual subscription! With so many benefits for your mind and body, yoga is a fun way to get in shape and improve your overall mood. Get ready to downward dog your way to a new and improved you for your birthday.
18. SMOOTHIE BLENDER
Now that you're another year older, you may be thinking about adopting a healthier lifestyle. Since your lifestyle choices can show up on your skin, sticking to healthy habits can go a long way in improving your beauty look. A great way to start your healthy lifestyle journey is with a smoothie blender. Smoothies packed with fruits and veggies fall right in line with healthy diet choices. Not to mention, they make for a delicious treat.
19. OIL DIFFUSER
If relaxation is a top priority for you this year, it's time to get acquainted with an oil diffuser. This device breaks down essential oils to give your home a sweet smell. With a myriad of benefits, including complementing your self-care practice, it's no surprise that oil diffusers have become a must-have. Simply choose your essential oil of choice, plug it into your oil diffuser, and enjoy the effects.
20. CANDLE SET
Looking to complete your self-care routine? Look no further than a candle set. Candles are great for creating a calm ambiance and giving your space a pleasant scent. They also can be used as a home décor accent, which is a great way to show off your creative side.
Next: Cheers to You, Here are 4 Birthday Makeup Looks for Your Big Day
{ "@context": "https://schema.org/", "@type": "WebPage", "speakable": { "@type": "SpeakableSpecification", "cssSelector": ["speakable-content"] }, "url": "https://es.lorealparisusa.com/revista-de-belleza/consejos-de-belleza/tendencias-belleza/what-do-i-want-for-my-birthday" }
Descubrir más trucos y consejos
Ver todos los artículos
Shop Featured Makeup products
Discover More
{ "@context": "http://schema.org", "@type": "BreadcrumbList", "itemListElement": [ { "@type":"ListItem", "position": 1, "item": { "@id": "/", "name": "Home" } } , { "@type":"ListItem", "position": 2, "item": { "@id": "https://es.lorealparisusa.com/revista-de-belleza", "name": "Revista de belleza" } } , { "@type":"ListItem", "position": 3, "item": { "@id": "https://es.lorealparisusa.com/revista-de-belleza/consejos-de-belleza", "name": "Ideas profesionales para tu look único" } } , { "@type":"ListItem", "position": 4, "item": { "@id": "https://es.lorealparisusa.com/revista-de-belleza/consejos-de-belleza/tendencias-belleza", "name": "Tendencias de belleza" } } , { "@type":"ListItem", "position": 5, "item": { "@id": "https://es.lorealparisusa.com/revista-de-belleza/consejos-de-belleza/tendencias-belleza/what-do-i-want-for-my-birthday", "name": "what-do-i-want-for-my-birthday" } } ] }