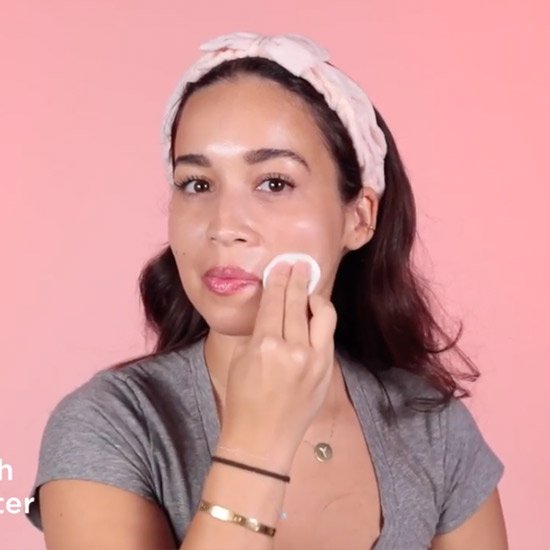 Even if you follow a consistent skin care routine of cleansing and moisturizing, stepping it up from time to time with a facial could be beneficial. Oftentimes, facials target specific skin care concerns that are bothering you like blackheads and fine lines and wrinkles. The thing is, getting to the spa for regular facials isn't always an option. But you can always give yourself a DIY facial at home. All you need are a few key skin care products, like micellar water and face masks. Keep reading for a complete lesson in homemade facials, covering what a facial is, how to do one at home, what the benefits are, and how you can create a complete spa experience.
WHAT IS A FACIAL?
Like we mentioned, a facial is a skin care treatment that's typically done at a spa. This skin treatment can be customized based on your skin's needs, but overall is meant to leave you with a healthy-looking, glowing complexion. Generally, a facial involves deep cleansing, skin smoothing, and intense hydration, among other things. Sounds pretty relaxing, huh?
HOW TO DO A FACIAL AT HOME
Just because facials are typically done at the spa doesn't mean they have to be! You can give yourself a DIY facial in the comfort of your own home. Here's how:
Step #1: Cleanse with Micellar Water
The first step for a spa facial is cleansing the skin—and you should do the same if you're giving yourself a DIY facial. Use a micellar water, which is powered by tiny micelles to lift dirt, oil, and makeup up and away from your skin—no rinsing required. The L'Oréal Paris Micellar Cleansing Water Complete Cleanser - Normal to Oily Skin purifies and mattifies while the L'Oréal Paris Micellar Cleansing Water Complete Waterproof Cleanser - All Skin Types intensely purifies. All you have to do is saturate a cotton pad with your micellar water of choice and wipe the pad across your face.
Step #2: Exfoliate with a Face Scrub
Follow cleansing with gentle exfoliation, using a sugar scrub as the next step in your homemade facial. Choose from the L'Oréal Paris Pure-Sugar Nourish & Soften Cocoa Scrub, L'Oréal Paris Pure-Sugar Purify & Unclog Kiwi Scrub, L'Oréal Paris Pure-Sugar Resurface & Energize Kona Coffee Scrub, and L'Oréal Paris Pure-Sugar Smooth & Glow Grapeseed Scrub, all of which are formulated with a blend of three pure sugars.
Step #3: Spray on a Facial Mist or Essence
Skip the steam during your at-home facial and instead add an extra boost of hydration by spritzing on a facial mist or essence. A facial spray with an invigorating scent can help perk up your senses and prep your skin for the rest of your DIY facial experience. Give your complexion a few spritzes of the L'Oréal Paris True Match Lumi Shake & Glow Dew Mist to do just that.
Step #4: Apply a Face Mask (Or Two—Or Three!)
Now, onto the really fun part of your homemade facial. It's time to apply a face mask—or three! Multi-masking involves applying different face masks to different areas of your face—all at the same time—to address various skin care concerns. Choose from the L'Oréal Paris Pure-Clay Detox & Brighten Face Mask, L'Oréal Paris Pure-Clay Exfoliate & Refining Face Mask, L'Oréal Paris Pure-Clay Clear & Comfort Face Mask, and L'Oréal Paris Pure-Clay Clarify & Smooth Face Mask. Apply an even layer of your face mask(s) of choice onto clean, dry skin, leave on for 10-15 minutes, then rinse off thoroughly with lukewarm water and pat dry.
Editor's note: Think you want to add a homemade face mask to your routine? Think again. While DIY face masks are on-trend, they can actually have adverse effects on your skin. See, homemade masks don't go through the same testing as over-the-counter options, so there is no way to know how your skin will react. Head on over to our article, Are DIY Face Masks Safe?, for the full scoop.
Step #5: Put on a Serum
Face serums generally have highly concentrated formulas, and applying one can help allow you to address any skin care concerns you may have. Try the L'Oréal Paris Revitalift Derm Intensives 10% Pure Vitamin C Serum, which effortlessly glides onto skin to restore skin's radiance and reduce the appearance of wrinkles.
Step #6: Give Yourself a Facial Massage
Once you've applied your serum, pamper your skin even further by giving yourself a face massage. Take 10 minutes to relax and revive your skin with circulating movements. Gently work your fingers up and out and try to avoid dragging the skin in sagging directions. For a step-by-step tutorial, here's How to Give Yourself a Face Massage.
Step #7: Finish with Moisturizer
Finish your DIY facial experience by applying moisturizer, just as you should at the end of any skin care routine. If you're going to bed, consider applying an overnight face mask, like L'Oréal Paris Revitalift Triple Power Anti-Aging Overnight Mask. Alternatively, if you're going about your day after your DIY facial, try a lightweight hydrating moisturizer, like the L'Oréal Paris Hydra Genius Daily Liquid Care - Normal/Dry Skin, L'Oréal Paris Hydra Genius Daily Liquid Care - Normal/Oily Skin, or L'Oréal Paris Hydra Genius Daily Liquid Care - Extra Dry Skin.
3 HOMEMADE FACIAL BENEFITS
After learning about facials and how to give yourself one at home, you're probably wondering what the benefits of this skin care treatment are. Find three major facial benefits, below.
Facial Benefit #1: Clean skin. The first steps of a facial typically involve deeply cleansing your skin. This is a great way to rid your complexion of any buildup of makeup, dirt, oils, and impurities!
Facial Benefit #2: Intense hydration. Bring on the serums, moisturizers, and nourishing face masks! Facials are a great way to load up on moisture and pamper your skin with some much-needed hydration.
Facial Benefit #3: Relaxation. Facial massage—need we say more? Aside from the massage aspect of a facial, there's just something about taking time out of your day to treat yourself that's totally relaxing. A little self-care goes a long way!
HOW OFTEN SHOULD YOU GET A FACIAL?
Ready to book a facial (or give yourself a homemade facial) ASAP and wondering how often you should be getting one? Getting quarterly or seasonal facials is the general recommendation. Of course, your aesthetician may suggest you come in at a different frequency depending on your skin's needs. If you're doing DIY facials, you can pay attention to your skin and treat yourself as you see fit. Since your at-home facial doesn't include extractions or any intense treatments, you can get away with giving yourself one more often than you can get a professional facial. Even if you need one to unwind every week, that's okay!
HOW TO HAVE AN AT-HOME SPA DAY
Want to incorporate your homemade facial into a DIY spa day? With a few extra add-ons, you can truly indulge in a full day of pampering.
DIY Spa Day Tip #1: Paint Your Nails
There's just something about having freshly painted fingers and toes that allows you to instantly feel more put-together. Give yourself a manicure and pedicure during your at-home spa day, being sure to incorporate a few tips from our article, 10 Ways to Show Your Hands and Nails Some Major TLC.
DIY Spa Day Tip #2: Use a Bath Bomb
Sitting back and taking a bath allows you to indulge in some serious self-care and can help you carve out dedicated time for relaxation. To take your bath to the next level, toss in a bath bomb that will turn the water filling your tub into a work of art. Throw some rose petals in for an extra dose of self-love, then grab a good book and put on your most calming playlist to really relax. Check out our article, How to Use a Bath Bomb, for more inspiration.
DIY Spa Day Tip #3: Put on a Hair Mask
Your skin isn't the only thing that can benefit from masking—your hair can, too! So, why not work a hair mask into your at-home spa day activities? To mix things up, try the L'Oréal Paris Elvive Color Vibrancy Repair and Protect Balm, which is specially formulated for dry, damaged, color-treated hair to repair visible damage from processing in just one use.
DIY Spa Day Tip #4: Wine Down
Let's be honest—sometimes (or a lot of the time) a glass of wine after a long week is so needed. Grab a glass, pour your favorite, and "wine" down! Combine this tip with your bath, and you'll really have yourself an amazing spa day with max relaxing.
DIY Spa Day Tip #5: Light Candles
Top off your home spa day by lighting scented candles. After all, what's a spa without indulging all your senses? Try using candles with spa-like scents, aka lavender and ocean mist.
Next up: Now that you know how to treat yourself to the ultimate home spa day, you can start planning your next self-care day. Need more guidance? Here's How to Spend Self-Care Sunday Based on Your Sign.
{ "@context": "https://schema.org/", "@type": "WebPage", "speakable": { "@type": "SpeakableSpecification", "cssSelector": ["speakable-content"] }, "url": "https://es.lorealparisusa.com/revista-de-belleza/cuidado-piel/fundamentos-del-cuidado-de-la-piel/facial-at-home-for-spa-day" }
Descubrir más trucos y consejos
Ver todos los artículos
Shop Featured Skin Care products
Discover More
{ "@context": "http://schema.org", "@type": "BreadcrumbList", "itemListElement": [ { "@type":"ListItem", "position": 1, "item": { "@id": "/", "name": "Home" } } , { "@type":"ListItem", "position": 2, "item": { "@id": "https://es.lorealparisusa.com/revista-de-belleza", "name": "Revista de belleza" } } , { "@type":"ListItem", "position": 3, "item": { "@id": "https://es.lorealparisusa.com/revista-de-belleza/cuidado-piel", "name": "Tratamiento de la piel para todas las edades" } } , { "@type":"ListItem", "position": 4, "item": { "@id": "https://es.lorealparisusa.com/revista-de-belleza/cuidado-piel/fundamentos-del-cuidado-de-la-piel", "name": "Esenciales del cuidado de la piel" } } , { "@type":"ListItem", "position": 5, "item": { "@id": "https://es.lorealparisusa.com/revista-de-belleza/cuidado-piel/fundamentos-del-cuidado-de-la-piel/facial-at-home-for-spa-day", "name": "facial-at-home-for-spa-day" } } ] }