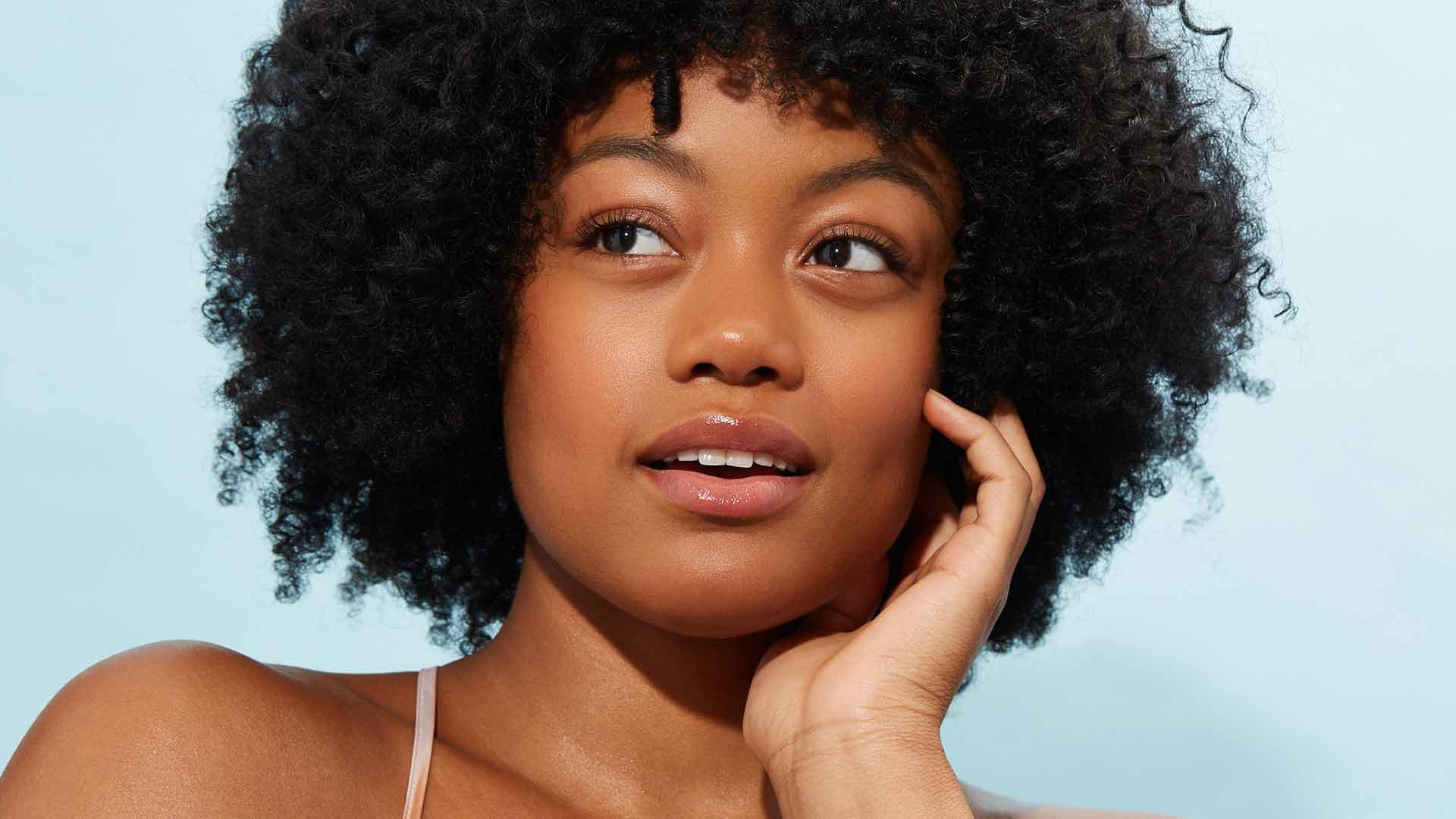 Whether you've had natural hair all your life or you're going back to your natural curls or coils, there's still a new thing or two to learn about caring for your natural hair. From learning the best way to care for transitioning natural hair to using the maximum hydration method for long-lasting moisture, giving your strands the love they need comes with some trial and error. And we've all made mistakes—maybe not as epic as putting construction glue in your hair, but you've done damage nonetheless. So in order to help you keep your gorgeous natural hair in its healthiest state we've rounded up some of the mistakes you could be making (and not know how they're harming your strands) so you can avoid doing them in the future.
1. ONLY CO-WASHING TO CLEANSE HAIR
Co-washing your hair comes with many benefits, such as helping your strands retain their shape and keeping frizz under control. However, a cleansing conditioner can only go so far as to give your hair the attention it deserves. Now, we're not saying that you should stop co-washing altogether, but you need to use a cleansing shampoo to get rid of product build-up, dirt, and debris on your scalp and hair. Consider using a sulfate-free shampoo for gentle cleansing. We recommend the L'Oréal Paris EverPure Sulfate Free Scalp Care + Detox Shampoo to treat your scalp and curls to a deep cleanse that won't strip your natural oils.
2. DETANGLING WITH SMALL-TOOTH COMBS
Stop, put down the comb, and move away from the curls! While detangling is a crucial part of natural hair care, using the wrong tools can break your hair and cause split ends. Not just any comb will do the job. Always use a wide-tooth comb for a smooth detangling process, and start from the tips, working your way up your length to the roots.
3. AVOIDING REGULAR TRIMS
As scary as it may be to lose your length, you need to visit your stylist to get regular trims. Trimming your hair gets rid of split ends, keeps breakage at bay, and minimizes damage to help your tresses grow healthy and strong. Consider booking appointments with your stylist for every six to eight weeks and just get a little bit trimmed off your ends each time.
4. TOWEL-DRYING YOUR HAIR
If you've been towel-drying your hair, consider this your sign to stop! Towel-drying wet hair can lead to breakage and hair loss, which is the opposite of what you want. Opt for air-drying, using a blow-dryer on the cold setting, or soaking up excess water with a soft T-shirt to keep your strands intact. If you absolutely must use a towel, always opt for a microfiber version that's friendlier to your curls.
5. DRY COMBING YOUR HAIR
Since natural hair can break easily, you always want to handle your hair with care. Instead of dry combing your hair, which can cause breakage and split ends, stick to detangling your strands during your hair care routine. Need a comb outside of wash day. Add a bit of L'Oréal Paris Elvive Dream Lengths Super Curls Leave-In conditioner for added moisture and slip while you detangle.
6. CONSISTENTLY HEAT STYLING YOUR HAIR
While we understand that some hairstyles call for heat-styling tools, too much heat can damage your hair. Not to mention, when you apply heat consistently, you run the risk of losing your natural curl pattern. Rocking your natural hair is all about embracing your texture. Use hair care products that work hand in hand with air drying like the L'Oréal Paris Advanced Hairstyle BOOST IT Volume Inject Mousse. Simply apply an egg-sized amount to your strands, scrunch, and let hair air dry. Once dry, style your mane as usual.
For those days when you just can't resist your blow-dryer or hair straightener, always protect your strands with heat protectant before applying. Spritz your hair with the L'Oréal Paris Advanced Hairstyle SLEEK IT Iron Straight Heatspray, which helps to calm frizz, condition your hair, and protect against heat damage.
7. WEARING YOUR HAIR IN HIGH TENSION STYLES
As much as you may love a sleek bun or box braids, high-tension styles can wreak havoc on your hair—especially your edges. Try experimenting with low-tension hairstyles like, twist outs, and other protective styles that won't pull on your roots. And when you do want to wear a high ponytail or braids, avoid making them too tight. After all, you don't want to lose—or damage—your baby hairs!
8. RELYING ONLY ON OILS FOR MOISTURE
Using only oils on your hair is not enough to keep your mane moisturized for the long haul (remember the hair grease days of the '80s and '90s?). Since it's hard for natural hair to maintain moisture, you need to add a few more steps to your routine to get the job done. Try out the LOC method or the LCO method to seal your strands with long-lasting moisture.
9. SKIPPING DEEP CONDITIONING
Speaking of moisture, deep conditioning should be a key part of your natural hair care routine. While some hair textures only need a deep conditioner once every two weeks, some can benefit from using one once a week—it's all about finding what works for you. The best way to figure out your deep conditioning schedule is to pay attention to your hair.
10. USING TOO MUCH PRODUCT
One of the biggest natural hair mistakes you can make is using too much product. Not only can this cause your strands to sport a stiff look with a weighed down feel, but too much product can also offset your moisture levels and cause harm to your hair. Be sure to follow the instructions on your products when applying them to remain in the clear.
11. OVERMANIPULATION
There is something about defined curls that makes you want to play around with different styles. And some of those styles necessitate manipulating your hair quite a bit, but touching your hair too much can lead to dry strands, breakage, frizz, and product build-up. Of course, this all can take a toll on your hair growth progress. Try to keep your hair healthy by opting for styles that don't require a lot of pulling or combing to achieve.
Photo Credit: Chaunte Vaughn
{ "@context": "https://schema.org/", "@type": "WebPage", "speakable": { "@type": "SpeakableSpecification", "cssSelector": ["speakable-content"] }, "url": "https://es.lorealparisusa.com/revista-de-belleza/cuidado-capilar/todos-los-tipos-de-cabello/natural-hair-mistakes" }
Descubrir más trucos y consejos
Ver todos los artículos
Shop Featured Hair Style products
Discover More
{ "@context": "http://schema.org", "@type": "BreadcrumbList", "itemListElement": [ { "@type":"ListItem", "position": 1, "item": { "@id": "/", "name": "Home" } } , { "@type":"ListItem", "position": 2, "item": { "@id": "https://es.lorealparisusa.com/revista-de-belleza", "name": "Revista de belleza" } } , { "@type":"ListItem", "position": 3, "item": { "@id": "https://es.lorealparisusa.com/revista-de-belleza/cuidado-capilar", "name": "Todo sobre el cabello sano" } } , { "@type":"ListItem", "position": 4, "item": { "@id": "https://es.lorealparisusa.com/revista-de-belleza/cuidado-capilar/todos-los-tipos-de-cabello", "name": "Todos los tipos de cabello" } } , { "@type":"ListItem", "position": 5, "item": { "@id": "https://es.lorealparisusa.com/revista-de-belleza/cuidado-capilar/todos-los-tipos-de-cabello/natural-hair-mistakes", "name": "natural-hair-mistakes" } } ] }