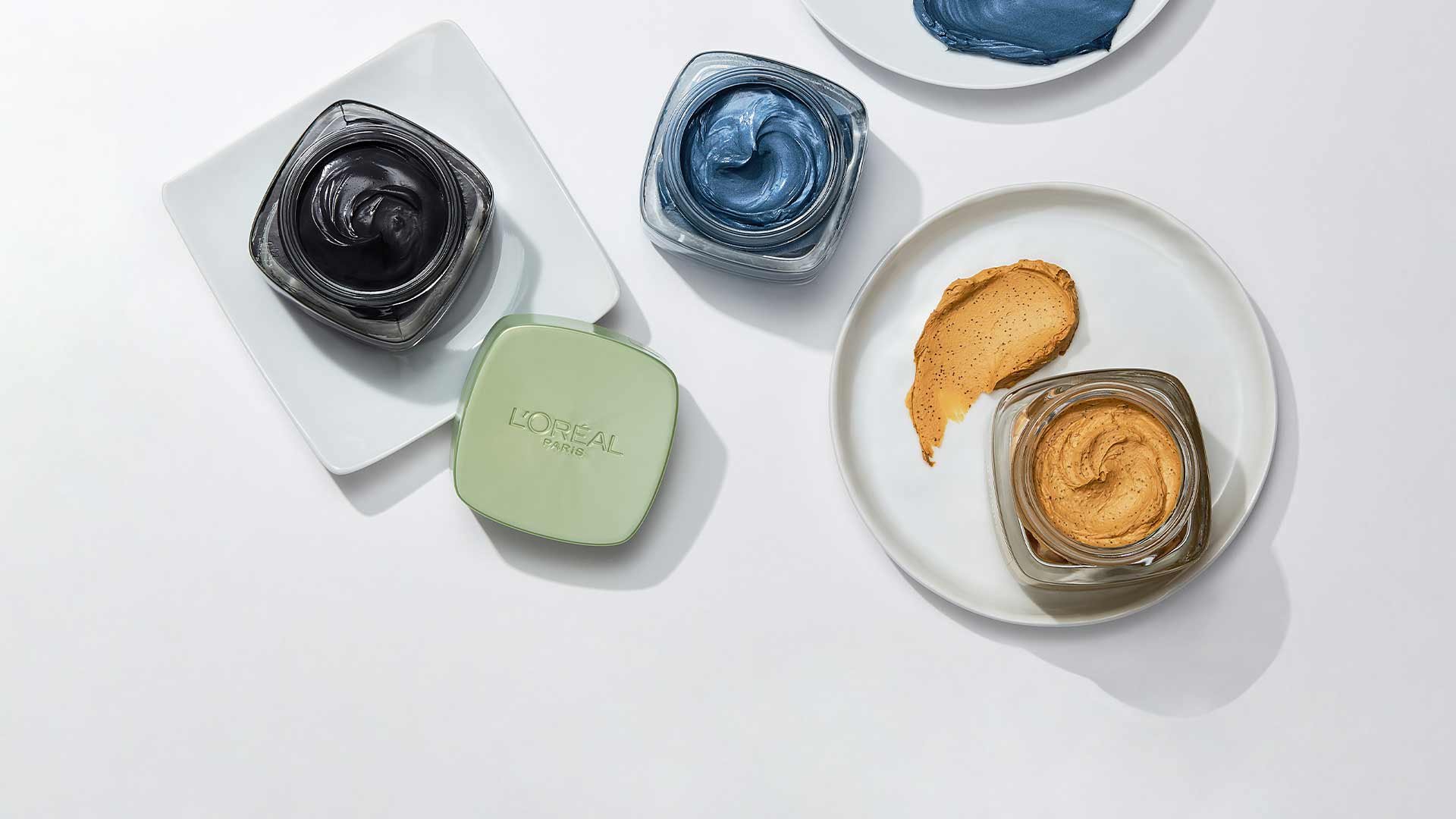 Developing a solid skin care regimen goes beyond your facial cleanser and moisturizer. Adding face masks into the mix can also be beneficial. Indulging in a face mask is one of our favorite activities— it's a perfect opportunity to hop on the self-care bandwagon as you work from home or give your skin some extra love before a virtual date night. While you may already use face masks as part of your routine, there are a few hacks that can help you get even more out of this essential. Ahead, we're sharing nine face mask hacks to elevate your skin care routine. Here's to treating yourself to an at-home spa day sometime soon!
FACE MASK HACK #1: BRIGHTEN THE APPEARANCE OF YOUR SKIN WITH A CHARCOAL MASK
When it comes to using a face mask, finding one that addresses your skin concerns—dry skin, fine lines and wrinkles, and dark spots to name a few—is key. If you have dull skin, in particular, consider using a charcoal mask. Over time, harsh environmental factors like pollution and debris can damage skin, leaving your complexion looking dull and tired. The L'Oréal Paris Pure-Clay Detox & Brighten Face Mask is enhanced with charcoal and can help draw out the buildup of impurities, dirt, and pollution and reduce the look of dullness. Immediately, skin looks more radiant. Apply an even layer to clean, dry skin and leave the face mask on for 10 to 15 minutes. Rinse off thoroughly with lukewarm water.
FACE MASK HACK #2: TRY MULTI-MASKING
When it comes to face masks, sometimes using two—or three—at the same time is better than limiting yourself to just one. Multi-masking is a skin care trend that involves applying different face masks to different areas of your face at the same time to target various concerns. Try multi-masking with our charcoal mask, as well as the following three options, all of which are formulated with three types of clay (kaolin, montmorillonite, and Moroccan lava). To use any of the below face masks, apply an even layer to clean, dry skin, and leave on for 10 to 15 minutes. Rinse and pat dry.
L'Oréal Paris Pure-Clay Clarify & Smooth Face Mask: Daily wear and tear—makeup and improper care—can leave skin looking uneven with roughness and imperfections. When a facial cleanser isn't enough to solve this problem, a face mask can pick up the slack. This option is formulated with yuzu lemon extract and helps to draw out impurities from your skin. As a result, you'll be left with a smooth and even-looking complexion with clarified tone and improved texture.
L'Oréal Paris Pure-Clay Clear & Comfort Face Mask: Over time, harsh cleansing can be drying and sensitizing, leaving skin feeling uncomfortable. So, using gentle and effective products like this face mask is a must. It's enhanced with seaweed and can help draw out the buildup of impurities, dirt, and oils and gently cleanse stressed areas.
L'Oréal Paris Pure-Clay Exfoliate & Refining Face Mask: Day after day, dead skin cells can accumulate on the surface of your skin, leaving your complexion feeling rough. This offering is formulated with red algae extract and can help draw out the buildup of impurities, dirt, and oils. It also works to exfoliate dead skin cells, smooth the look of imperfections, and allow skin to breathe.
FACE MASK HACK #3: INDULGE MORE THAN ONCE A WEEK
No rule says that you should only use a face mask once a week. Instead of only indulging in this essential before a special event or during a girls' night in—make it a more consistent part of your skin care routine! Our Pure-Clay Face Mask line should be used two to three times a week for best results.
FACE MASK HACK #4: EXFOLIATE MATURE, DULL SKIN FOR A GLOWING LOOK
As skin matures, it can end up looking dull. So, you'll want to reach for a face mask that can rejuvenate your complexion. Enter the L'Oréal Paris Age Perfect Cell Renewal Rosy Tone Mask. This face mask is formulated with imperial peony, AHA, and a mineral exfoliant. It sloughs away dull, dead skin cells from the skin's surface and instantly refreshes with a gelee texture. Apply it onto clean skin and leave the face mask on for five minutes. Gently massage onto skin using light, circular motions to help exfoliate. Rinse off with lukewarm water and use twice a week for best results.
FACE MASK HACK #5: USE A FOUNDATION BRUSH TO APPLY IT
There's no need to get your hands messy or potentially transfer bacteria from your fingers to your face. Using a clean foundation brush to apply a face mask can get the job done without the fuss. In addition to helping make application more hygienic and minimize any mess, a brush can help you apply an even layer to your skin. Just make sure to clean the brush properly after use to keep your tool in mint condition.
FACE MASK HACK #6: SLEEP WITH ONE ON
Sleeping with a face mask on may seem like a no-go, but it can actually be a smart idea. All you need is the right option to snooze your way to healthy-looking skin. And we're talking all about overnight face masks. The L'Oréal Paris Revitalift Triple Power Anti-Aging Overnight Mask is a luxurious, hydrating leave-on creamy mask that forms a virtual protective layer to cradle skin. Immediately, skin feels hydrated and looks fresh. Every evening, apply the formula onto skin prior to sleeping. Use it alone or as the last step in your skin care routine. Smooth it over your face, neck, and jawline until absorbed. Leave it on overnight to see results.
FACE MASK HACK #7: KEEP SHEET MASKS COOL
Your fridge isn't only a place for food—it can be home to skin care products, too. Pop hydrating and calming sheet masks into the fridge before using, or a mini skin care fridge if you prefer to keep your snacks and skin care essentials separate. If you chose the latter, this trendy offering can keep your beauty products in reach and add a cute accent to your home decor. The coolness can make for a refreshing sensory experience and may also help temporarily reduce the look of puffiness. For more information, click over to our article, Which Skin Care Products Should Be Refrigerated?.
FACE MASK HACK #8: SNIP SHEET MASKS
If you've ever worn a sheet mask, you may have dealt with one that didn't fit quite right. Don't be afraid to cut your mask and adjust it to fit your face. A few snips along the perimeter of the mask can be a total game-changer.
FACE MASK HACK #9: ADD AN EYE OR LIP MASK
While you're wearing your favorite face mask, there's no harm in extending the pampering to your eyes and your lips. Try soothing gel patches for your under-eye area to help brighten and hydrate skin. When it comes to lip masks, you can choose from moisturizing sheets, creams, or gels to suit your needs. Depending on the formula, you can score hydration and plump up your pout.
Next up: If you're always in the mood to learn a few new skin care hacks, we can help. Check out our article, How To Use a Makeup Sponge: 15 Hacks and Tips, to get some pointers.
{ "@context": "https://schema.org/", "@type": "WebPage", "speakable": { "@type": "SpeakableSpecification", "cssSelector": ["speakable-content"] }, "url": "https://es.lorealparisusa.com/revista-de-belleza/cuidado-piel/fundamentos-del-cuidado-de-la-piel/face-mask-hacks-to-try" }
Descubrir más trucos y consejos
Ver todos los artículos
Shop Featured Skin Care products
Discover More
{ "@context": "http://schema.org", "@type": "BreadcrumbList", "itemListElement": [ { "@type":"ListItem", "position": 1, "item": { "@id": "/", "name": "Home" } } , { "@type":"ListItem", "position": 2, "item": { "@id": "https://es.lorealparisusa.com/revista-de-belleza", "name": "Revista de belleza" } } , { "@type":"ListItem", "position": 3, "item": { "@id": "https://es.lorealparisusa.com/revista-de-belleza/cuidado-piel", "name": "Tratamiento de la piel para todas las edades" } } , { "@type":"ListItem", "position": 4, "item": { "@id": "https://es.lorealparisusa.com/revista-de-belleza/cuidado-piel/fundamentos-del-cuidado-de-la-piel", "name": "Esenciales del cuidado de la piel" } } , { "@type":"ListItem", "position": 5, "item": { "@id": "https://es.lorealparisusa.com/revista-de-belleza/cuidado-piel/fundamentos-del-cuidado-de-la-piel/face-mask-hacks-to-try", "name": "face-mask-hacks-to-try" } } ] }