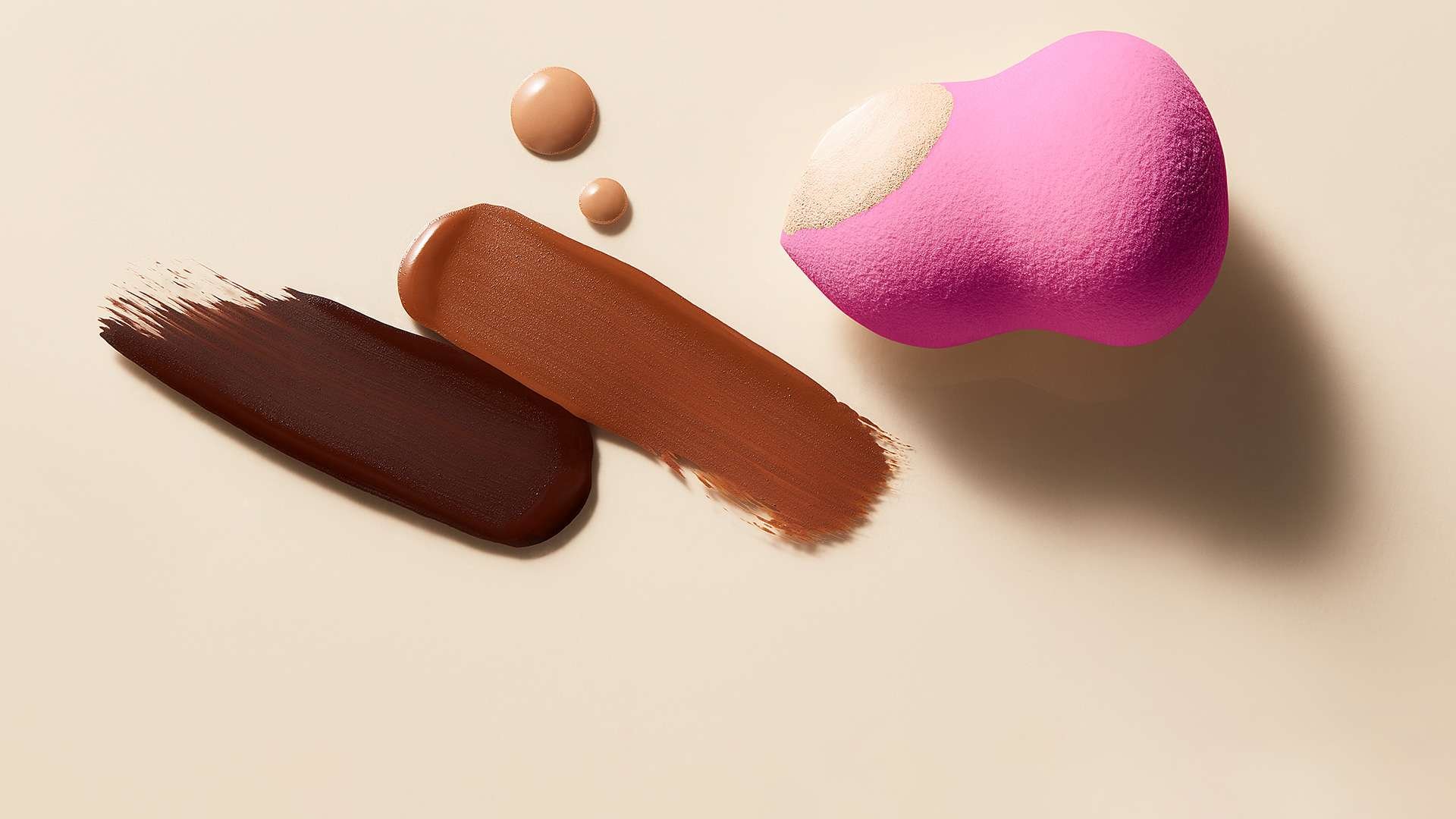 It's no surprise that makeup blenders have garnered a cult-like following in the beauty world. With the right makeup sponge, you can give your skin the airbrushed finish that you may have never dreamed possible (unless you happen to be an A-lister who has a glam squad following you around, of course). If you haven't used this essential before, there's no time like the present to start—and we're here to help.
The best part about learning how to use a makeup sponge is that you'll realize there are so many uses for them. You can use a makeup blender to apply concealer, foundation, blush, and highlighter with ease. Not to mention, some of the best makeup sponges can be used for things you wouldn't even think of right off the bat. We've rounded up 15 easy makeup blender tips and tricks that will totally upgrade your beauty game. Happy blending!
MAKEUP SPONGE HACK #1: CHOOSE THE RIGHT MAKEUP BLENDER
First thing's first, you need to pick the right makeup sponge to use. Our best makeup sponge is the L'Oréal Paris Infallible Blend Artist Foundation Blender, which has rounded edges that help make face makeup application effortless. It's made with a plush material and features an easy-to-grip shape that can make your foundation routine easier. Pair it with L'Oréal Paris Infallible Up to 24HR Fresh Wear Foundation, Lightweight for long-lasting, full coverage with a lightweight finish.
If you're fond of natural-looking coverage, you can also use a blender with a tinted moisturizer. The L'Oréal Paris Skin Paradise Water Infused Tinted Moisturizer is formulated with water, aloe vera, witch hazel, and SPF 19. It helps to provide your skin with the maximum level of hydration while giving your complexion a radiant, fresh-looking glow. This product is also suitable for sensitive skin, is oil-free, and won't clog your pores. You can wear this offering solo or under the rest of your makeup. Plus, it's available in 12 blendable shades.
MAKEUP SPONGE HACK #2: TAP THE SPONGE ON YOUR SKIN
Like it or not, how you use your makeup sponge matters. To get a natural, airbrushed finish, you should tap the sponge onto your skin, not rub or swipe. This tapping technique (a.k.a stippling) involves blending with quick patting motions. The stippling motion helps deposit the makeup onto your face and blend it at the same time, which is key for getting a flawless complexion without leaving any lines or smudges.
MAKEUP SPONGE HACK #3: USE BOTH ENDS OF THE MAKEUP BLENDER
Make the most of your makeup blender by utilizing it as much as you can. When you're applying foundation, place the product on the pointed end of the sponge and apply it directly to your skin. Then, use the rounded side to dab, roll, and stipple the foundation onto your face.
MAKEUP SPONGE HACK #4: APPLY CONCEALER TO GIVE SKIN RADIANCE
If you're after a well-rested and awake beauty look, learning how to use a makeup sponge with the right products can save the day. Apply concealer, like the L'Oréal Paris Infallible Full Wear Concealer Waterproof, Full Coverage, with a makeup sponge. Dab your concealer on in a triangular shape underneath each eye and blend. Next, set the concealer with face powder so it won't crease. And yes, you can use your blender to apply the powder too. Just press it against your skin to apply the powder and lock in your makeup.
MAKEUP SPONGE HACK #5: CONTOUR FOR A SCULPTED FACE
Not to state the obvious, but chiseled cheekbones can add gorgeous dimension to your beauty look. Apply a small amount of a cream contour product to your makeup sponge, then draw lines around your cheekbones, jawline, and nose. Use circular motions to blend out any harsh lines. If you're using a contour stick, you can also apply the product directly to your skin, then blend it out using your makeup sponge to avoid messy hands.
For a sculpted look, try the L'Oréal Paris Infallible Longwear Foundation Shaping Sticks. Use one in a shade lighter than your natural skin tone and another that's a shade darker to contour.
Editor's note: If you're not skilled in the art of contouring, we can help. Check out our article, How To Contour Like a Pro Makeup Artist in 8 Easy Steps, for a step-by-step tutorial.
MAKEUP SPONGE HACK #6: PRIME YOUR SPONGE
Just as it can be a wise idea to prime your face before makeup, the same goes for your makeup sponge. Before applying product, dot some makeup primer onto your blender. Priming your blender will act as a shield to help prevent your essentials from being absorbed by the sponge. As a result, you'll end up needing less product in the long run.
MAKEUP SPONGE HACK #7: INVEST IN MULTIPLE MAKEUP BLENDERS
As you now know, you can use makeup blending sponges for more than just foundation. So, invest in a few different shapes and sizes to use for other parts of your makeup routine. If you're applying a liquid highlighter, like the L'Oréal Paris True Match Lumi Glotion Natural Glow Enhancer with a makeup blender, don't use the same one to apply your foundation. You could end up with a super shiny visage.
Editor's note: We also recommend having multiple sponges on hand for hygienic purposes! If you have a few sponges, you can rotate and wash them all at the end of the week and not have to worry about cleaning them after every use.
MAKEUP SPONGE HACK #8: BLEND YOUR SELF-TANNER
If you prefer to keep things hygienic in your skin care routine, a makeup sponge can make things simple. This essential can actually be used to expertly blend and buff out your self-tanner for a guaranteed seamless finish—without dreaded self-tanner-stained palms.
MAKEUP SPONGE HACK #9: CAMOUFLAGE FLAKY SKIN
Dry, flaking patches of skin and makeup are not an ideal match, since it can put your imperfections on full display. To avoid this, apply a bit of facial oil to your makeup sponge and press it onto dry skin. This will provide a smoother surface for you to apply your makeup, making all the difference when it comes to achieving a flawless makeup look.
MAKEUP SPONGE HACK #10: CUT IT IN HALF
Eventually, you will have learned how to use your makeup sponge so much that you'll feel the need to purchase a replacement. Instead, cut your makeup sponge in half for two new, clean slates to work with.
MAKEUP SPONGE HACK #11: CLEAN YOUR MAKEUP BLENDERS
We touched on this a bit earlier, but the importance of cleaning your makeup sponges cannot be stressed enough. Just like makeup brushes, dirty makeup blenders can wreak havoc on your complexion. They can also have a negative impact on your makeup application. When your makeup blender is already full of product, it won't pick up new pigments nearly as well. Further, cleaning your makeup sponges (and your makeup brushes while you're at it) will help them last longer and save you some coins in the long run.
MAKEUP SPONGE HACK #12: ERASE DEODORANT MISHAPS
Putting on a shirt—especially one that's black—and realizing that you accidentally got deodorant marks on it can be a pain. Thankfully, you can easily say adios to those unflattering white marks with the help of a makeup sponge. Simply dampen the sponge and dab it wherever needed for a fresh start—no wardrobe change needed.
Editor's note: Speaking of getting things off your clothes, here's How To Get Makeup Out of Your Clothes.
MAKEUP SPONGE HACK #13: TOUCH UP YOUR ROOTS
Root touch-up products can be total lifesavers when you're in a pinch, and your makeup sponge can come into play, too. Next time your roots are showing, try using a sponge to help blend the root touch-up product with your hair color.
MAKEUP SPONGE HACK #14: BLOT OIL FROM HARD-TO-REACH PLACES
Oily skin is no fun—especially if you have a killer makeup look in place. Wrap a blotting paper around your makeup sponge to easily blot oil from hard-to-reach areas, such as the contours of your nose.
MAKEUP SPONGE HACK #15: USE IT FOR SKIN CARE, TOO
As we mentioned, makeup sponges can be used in your skin care routine. Aside from self-tanner, you can use your sponge to apply moisturizer, serums, and eye cream while giving yourself a soft, relaxing massage in the process.
{ "@context": "https://schema.org/", "@type": "WebPage", "speakable": { "@type": "SpeakableSpecification", "cssSelector": ["speakable-content"] }, "url": "https://es.lorealparisusa.com/revista-de-belleza/maquillaje/maquillaje-facial/how-to-use-makeup-sponge" }
Descubrir más trucos y consejos
Ver todos los artículos
Shop Featured Makeup products
Discover More
{ "@context": "http://schema.org", "@type": "BreadcrumbList", "itemListElement": [ { "@type":"ListItem", "position": 1, "item": { "@id": "/", "name": "Home" } } , { "@type":"ListItem", "position": 2, "item": { "@id": "https://es.lorealparisusa.com/revista-de-belleza", "name": "Revista de belleza" } } , { "@type":"ListItem", "position": 3, "item": { "@id": "https://es.lorealparisusa.com/revista-de-belleza/maquillaje", "name": "Consejos de maquillaje para cada look" } } , { "@type":"ListItem", "position": 4, "item": { "@id": "https://es.lorealparisusa.com/revista-de-belleza/maquillaje/maquillaje-facial", "name": "Maquillaje facial" } } , { "@type":"ListItem", "position": 5, "item": { "@id": "https://es.lorealparisusa.com/revista-de-belleza/maquillaje/maquillaje-facial/how-to-use-makeup-sponge", "name": "how-to-use-makeup-sponge" } } ] }